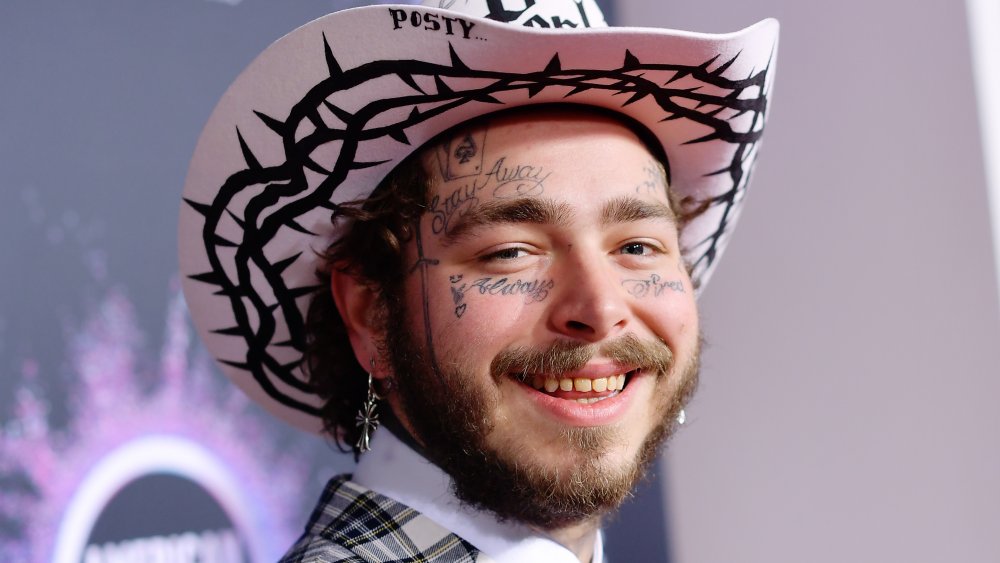 Musicians can be a testy bunch. You'd think that by getting to do a creative pursuit they love as a means to earn a fabulous living, they'd be pretty serene. And yet, entertainment history is full of individuals with no chill. Whether it's Chuck Berry punching Keith Richards (the Rolling Stone touched Berry's guitar without permission) or how Johnny beat the devil at a fiddling contest when he went down to Georgia, looking for a soul to steal, there's a lot of hostility generated by famous musicians.
Successful rapper, singer, and facial tattoo enthusiast Post Malone is no exception. Despite churning out lots of hits — "Sunflower," "Congratulations," "rockstar" — that millions of people really like, Post Malone has a few industry colleagues who just don't like him… and who aren't afraid to go public with their criticisms or vitriol. Here are all of the rappers and singers who just cannot be wowed by Post Malone.
Starlito accused Post Malone of cultural insensitivity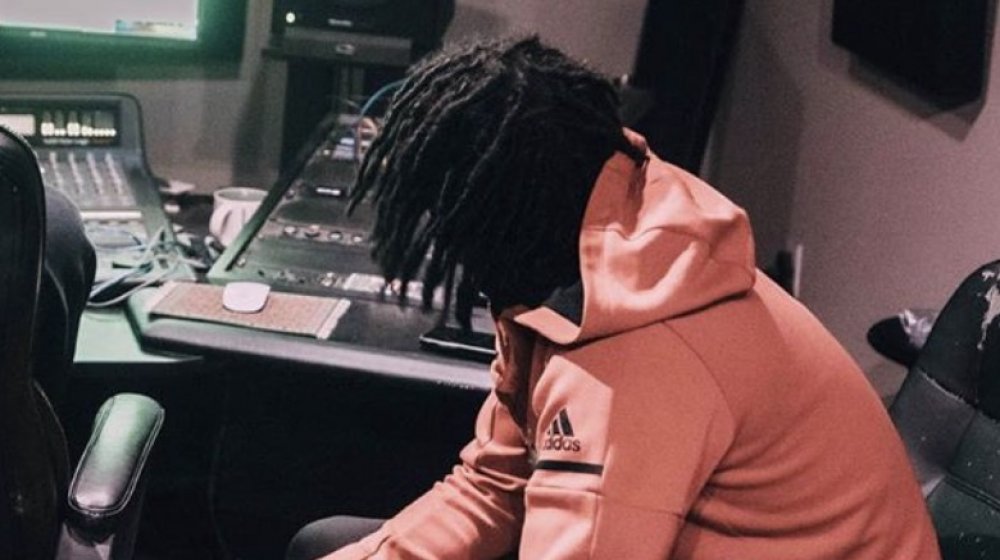 Post Malone announced himself to the world in 2015 with "White Iverson," a song the rapper self-released on his SoundCloud account. It racked up 17 million listens, and eventually went quintuple platinum and peaked in the top 20 of the pop chart. That proved to many that Post Malone was a new talent to contend with, but he may have also invited controversy comparing himself right out of the gate to Allen Iverson, one of the greatest basketball players of all time. It certainly didn't help that Post Malone, a white man attempting to break into a predominantly African-American art form, was comparing himself to an African-American athlete.
"I thought it was a little bit exploitative. On a lot of cultural levels," Nashville rapper Starlito told HipHopDX. He pointed out that rap duo Sauce Twinz were theretofore the only musicians to use the word "saucin'," which figures prominently in "White Iverson." "Then, like, 'White Iverson'? I don't think I could make a 'Black John Stockton' record." Starlito added, before comparing what Post Malone did to "some blackface type s***."
Earl Sweatshirt started a Twitter feud
Another non-fan of Post Malone's "White Iverson," if not all that it represents: Earl Sweatshirt, one of the most innovative hip-hop figures of the era, both for his acclaimed solo records like Doris and I Don't Like S***, I Don't Go Outside, and as part of the progressive musical collective Odd Future. Not only did Earl not seem to like the tune, he seemed baffled by the rise in popularity of the song and performer. "just heard the song 'white iverson' who mans is this lol, who let this slide," he tweeted, before seemingly dismissing the song as inconsequential. "lmao I'm a grown a** man, y'all have fun slappin that one."
Post Malone embraced the feud in the making, briefly changing his Twitter profile name to "Post Sweatpants," and turning around the name of an Earl Sweatshirt LP to throw shade and tell the world this too shall pass, tweeting "i don't sweat s***."
Lil B has no love for Post Malone
Lil B is a prolific rapper, releasing 17 albums over the past decade — and that's not even including the dozens of mixtapes. He's almost as active on Twitter as he is on the microphone, tweeting an amazing 235,000 times (and counting) since 2009. In October 2017, Lil B praised his favorite white hip-hop artists, such as Mac Miller ("a red heart human brother"), the Beastie Boys (who "pushed the culture forward"), and Eminem ("he legit"). Post Malone is one major Caucasian rapper who didn't get any love from Lil B. "Post Malone is slowly turning into a white dude!" Lil B wrote. "Lol he's pushing, it give a few years he got be full country and hate blacks lol."
At first, Posty seemed bewildered by Lil B's remarks, tweeting back a response that indicates he thought somebody else had gotten a hold of the rapper's account: "this is not lil b nerd. Die." Lil B confirmed that it was him, and that he stood by his words. "Hey hey hey this is Lil B and I love u too but got u," he said.
Tyler Armes took Post Malone to court
It's not only major rappers that have a problem with Post Malone and his art. A little-known session musician also took umbrage with the rapper's music, and asked the court system to intervene.
In 2019, Post Malone scored one of his biggest hits yet with "Circles," his fourth single to top the Billboard Hot 100. Posty started to lay down the track in a recording studio on August 8, 2018, and Canadian musician Tyler Armes was there, invited by Post Malone's manager Dre London, where he played bass guitar during an all-night session. Armes also claims to have helped write the keyboard chords used in the song, which informed his bass playing on the record. But he was never credited as a songwriter on the extremely successful song, and so he sued for a share of the royalties. Post Malone responded in kind, countersuing Armes for what he says are untrue claims that he had anything to do with writing the song, and is thus not entitled to any further financial compensation.
Yelawolf attacked Post Malone in song
In March 2019, Yelawolf released a freestyle song called "Bloody Sunday" — a good old-fashioned diss track. The Alabama rapper went after seemingly everyone in modern-day hip-hop he doesn't care for, including rappers Machine Gun Kelly and G-Eazy. He reserved his most pointed words for Post Malone. "F*** it f*** Post Malone, just because," Yelawolf rapped, before taking Post Malone to task for being a "poseur, biter, appropriation thief" but also, counterintuitively, stealing everything about his act from Yelawolf. "Every fan you made is a leaf off of my tree," he accused, adding, "Boy you're my seed, another mullet in the gang."
After receiving that earful, Post Malone responded on Twitter. "Yelawolf is a nerd, and this tweet is the only support I will offer," he wrote. "Last I heard you was talking about how you wanted your s*** like mine." In an additional tweet, Posty kept the feud going by passive-aggressively trying to steal Yelawolf's backup musicians, quipping, "lmk when your band is done with your dookie and wants to play some actual good music."
Russell Vitale thinks Post Malone pulled a bait and switch
Charlamagne tha God isn't a rapper, but as a host of the syndicated hip-hop-oriented radio show The Breakfast Club, he's an influential figure in the genre. He's been critical of Post Malone, derisively referring to Posty on a 2020 episode of Where's Wallo as a "Great White Hype" and said that, if it were up to him, he'd throw the rapper out of hip-hop.
A few weeks later, Charlamagne welcomed rapper Russell Vitale (otherwise known as Russ) onto his podcast, Brilliant Idiots with Charlamagne tha God and Andrew Schulz. The subject of cultural appropriation — such as white artists performing historically African-American styles of music — came up. "If you're white in hip-hop, you have to contribute to black culture in some sort of fashion," Vitale said. "Otherwise, you are simply repeating history by coming into black culture, using that as a medium to steal and profit for self." Charlamagne pressed Vitale, asking if he was specifically referring to Post Malone, who the rapper said was a "fair example" of the phenomenon, pointing out how the rapper emerged "with braids and gold to the point people are thinking you're mixed and now you drink Bud Light and wear cowboy boots." Vitale was quick to add that while he thinks there's something "caricature"-esque about Post Malone's image, he does think his recorded output is "phenomenal."