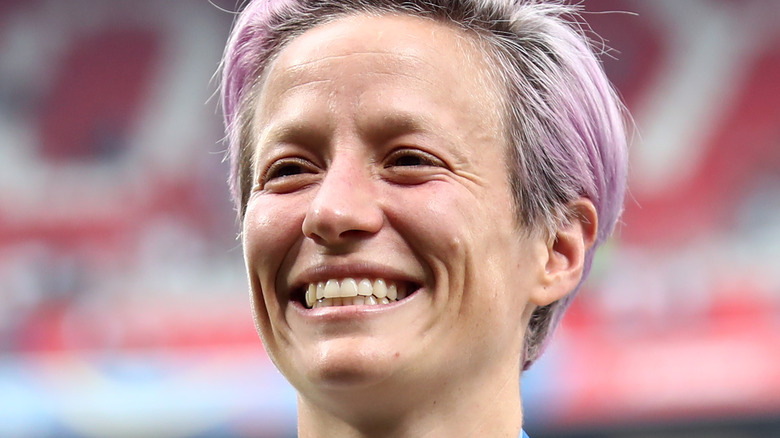 Superstar soccer player Megan Rapinoe has accomplished a lot in her 36 years, and she's not slowing down anytime soon. The California native is expected to be a key player in the Summer Olympics in Tokyo, Japan. Those who have followed her career know she's been passionate about soccer since she was a young child and she's got the moves to prove it.
As Players Bio detailed, Rapinoe was born in July 1985 in Redding, Calif. Yahoo! Life noted she grew up in nearby Palo Cedro, Calif. in a Christian family that resided across the street from a church in a very conservative area of Northern California. Megan has a twin sister named Rachael (who has also played soccer) and several other siblings, according to her Team USA bio. Megan's mother, Denise, had two children from an earlier marriage, and she completed her family after marrying her husband Jim. In addition to her twin sister Rachael, Megan has two brothers, Michael and Brian, along with sister Jennifer. As she wrote in her book "One Life," there's also CeCe, "who I think of as my oldest sister but is actually my youngest aunt on my mother's side and by far the sweetest of us all."
Here's more on Rapinoe's life and transformation!
Megan Rapinoe embraced soccer at a very young age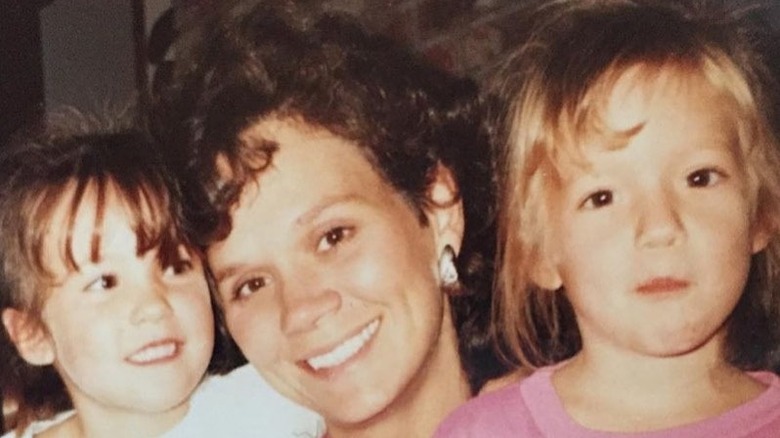 Megan Rapinoe and her siblings were quite sporty and active as young children, shared Yahoo! Life. She and her twin sister Rachael swam, fished, rode bikes, and played football, hockey, soccer, and basketball whenever they had the opportunity. As Players Bio detailed, the young twin sisters started soccer when they were about 3 years old and it quickly became a favorite of theirs. As she told Believer Mag, "I got into soccer because my older brother Brian played, so my [twin] sister, Rachael, and I kinda followed in his footsteps, and then that just became our thing. We never went back."
The twins discovered quite early they were very good at soccer, even though there wasn't necessarily much of an opportunity to play on organized teams where they lived. Their dad frequently coached, and she told NPR she and Rachael often played with anybody who was around throughout elementary school. "I think from a very early age, my sister, Rachael, and I were always the best. Like, there was no question," Megan explained. In those early years, there wasn't any significant sort of gender conflict about playing, and the twins played whenever they could. The boys didn't balk at losing to girls (at that point). In fact, it seemed their take was, as Rapinoe put it, "well, yeah, those are the twins, and, like, they're better than everyone."
Major soccer success throughout her teen years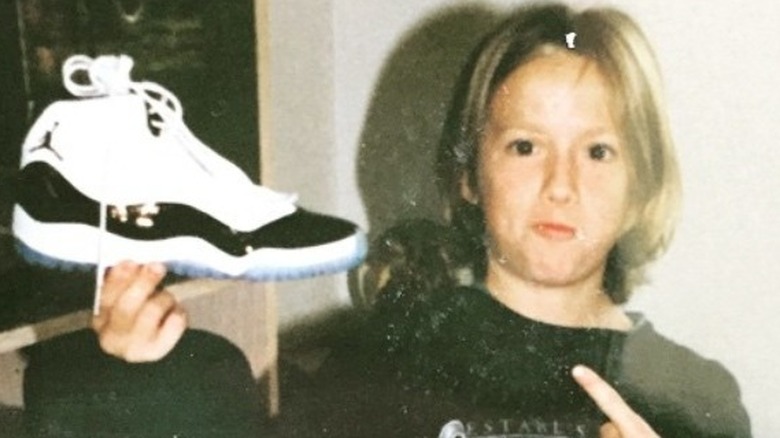 When Megan Rapinoe and her twin sister were "maybe 11 or 12," they started playing traveling soccer on a boy's team, as she told NPR. The group traveled a couple of hours away to Sacramento, Calif. where the teams were typically split by gender. As a result, "the parents on the other team and even the boys on the other team were really kind of taken aback by it," Rapinoe explained. The parents would call out from the sideline that their sons shouldn't let the girls beat them, and Rapinoe could tell the boys "were just uncomfortable with the fact that they were being beaten or being bettered by a girl."
It did not take long for Rapinoe to progress to higher levels of competition. In 1999, she joined the Northern California under-14 Olympic Development Program (per Players Bio). As the U.S. Youth Soccer site noted, the program is an "elite player development program" that has developed a significant number of national team members over the years. In 2002, she played for the program's regional team and throughout high school, she played for a club team rather than her high school's. Rapinoe told Believer Mag she started playing for the national team during her junior and senior years in high school, and it became clear soccer would get the twins through college. They both attended the University of Portland while also earning team spots and accolades outside of school.
Megan Rapinoe goes for the gold and publicly comes out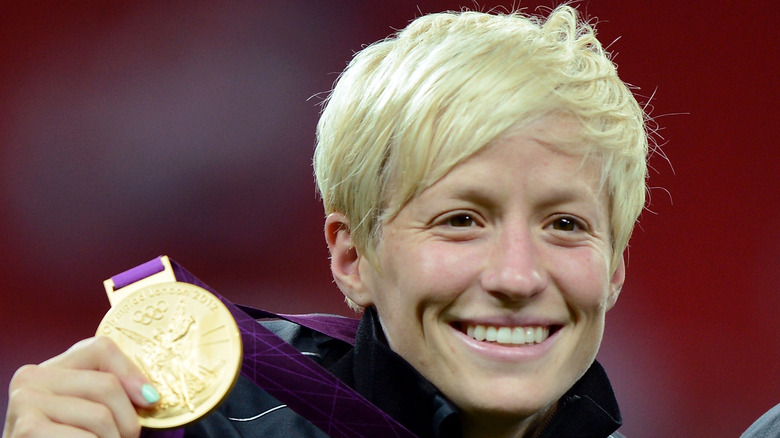 Players Bio detailed that Megan Rapinoe entered the Women's Professional Soccer Draft rather than play her final eligible season at the University of Portland. In 2009, she landed on the Chicago Red Stars team and played for two seasons. A couple of team changes followed, and Rapinoe played for Australia's Sydney FC team for a bit before landing in Seattle, Wash. to continue playing in the U.S.
Rapinoe also played with the women's team during the London Olympic Games in 2012. That event was not only significant in Rapinoe's life for the action on the field, but it also was when she decided to come out as part of the LGBTQ+ community publicly. She told NPR, "even going back to when I first sort of discovered I was gay myself, which happened very shortly after I got to college, I never struggled with that. I was actually thrilled." She embraced a confidence that "kind of bloomed and exploded in me," and she had a "whole new sense of myself."
It wasn't until a few years later, however, that Rapinoe decided coming out could have "a really positive impact." As she explained to Believer Mag, she wasn't hiding it in her personal life, and "It started to feel very awkward to me that I wasn't out" publicly. "I think that's the best way to describe it: it became very weird and not very authentic for me not to be out."
Big, life-changing pursuits shake up the soccer star's life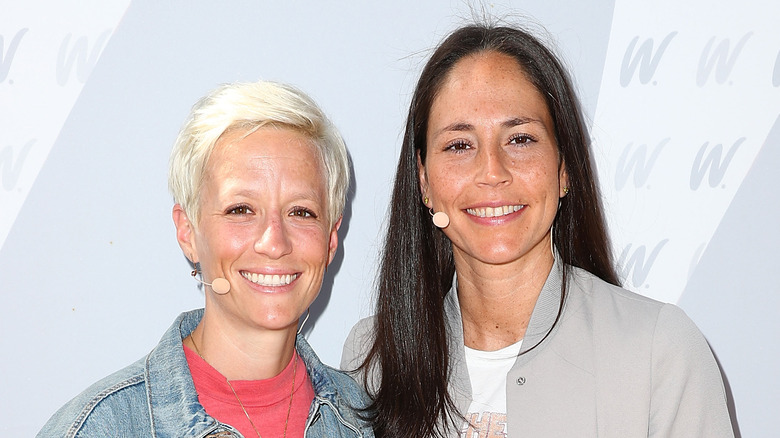 Megan Rapinoe continued her soccer career after the 2012 Olympics and, as Yahoo! Life shared, she became increasingly comfortable with her passion for advocacy. In September 2016, she felt inspired by former NFL star Colin Kaepernick and his movement to battle racial inequity. Rapinoe took a knee during the national anthem ahead of an exhibition game, making her the first female athlete as well as the first white athlete to follow Kaepernick's lead. She hadn't given anybody in her family a heads-up, and the surprise move generated a lot of backlash. Rapinoe admitted that period of time "wasn't easy for me," but added, "But it shouldn't be. Whenever you're trying to be an ally, and it's super easy and comfortable for you, you're not an ally."
There was another significant event that took place in 2016 for Rapinoe. Heading into the 2016 Summer Olympics in Rio de Janeiro, Brazil, she crossed paths with basketball player Sue Bird. As Rapinoe told GQ, the initial impression she made on Bird wasn't as impressive as she had intended, but she managed to overcome it. The two connected during a victory party for Bird's team and made plans to spend time together when they both returned home to Seattle, Wash. They fell for each other almost immediately, with Rapinoe admitting to GQ, "it was just immediately like, 'Oh, this is home.'" The two became virtually inseparable from there!
Megan Rapinoe makes a bold move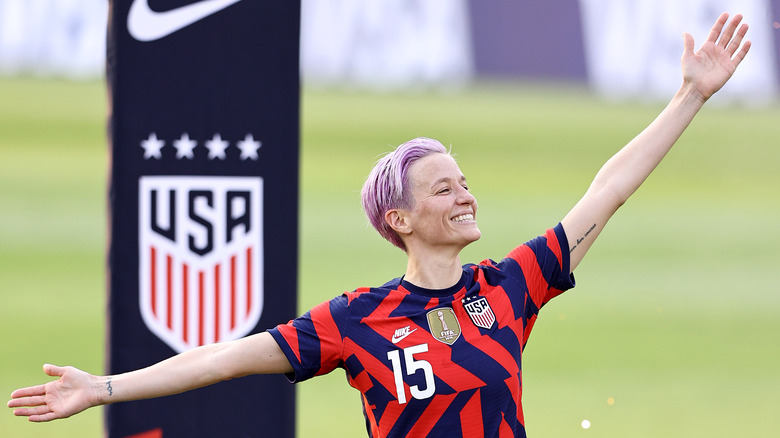 After kneeling at that 2016 game, Megan Rapinoe had to fight her way back onto the roster for the U.S. women's national soccer team, shared GQ. "I was in a pretty precarious situation, soccer-wise," Rapinoe admitted. She'd "never felt insecure in my career in that way," but her relationship with Sue Bird strengthened and let her feel "safe in this very unsafe world that I was living in." Rapinoe returned to soccer in the spring of 2017 and later acknowledged, "I have benefited from kneeling. I don't think there's any doubt about that."
Rapinoe and Bird isolated together throughout the pandemic in 2020. Soon after leaving the WNBA team isolation "bubble" in October 2020, Rapinoe proposed to Bird. They both shared a glimpse of the moment on Instagram, Ranpioe on bended knee. According to Out, they plan on enjoying life together. "We would like to have the type of life where we can just, on a whim, go on a vacation or do some of the things that sports inhibited us from doing," Bird explained.
Before that time comes, however, Bird and Rapinoe will be in Tokyo at the Olympics, noted NBC. Of her life, Rapinoe told NPR, "I've been able to do some really, truly special and amazing, incredible things in my life. And I try not to take any of them for granted." Rapinoe seems quite happy and content in life, ready to embrace whatever comes next.