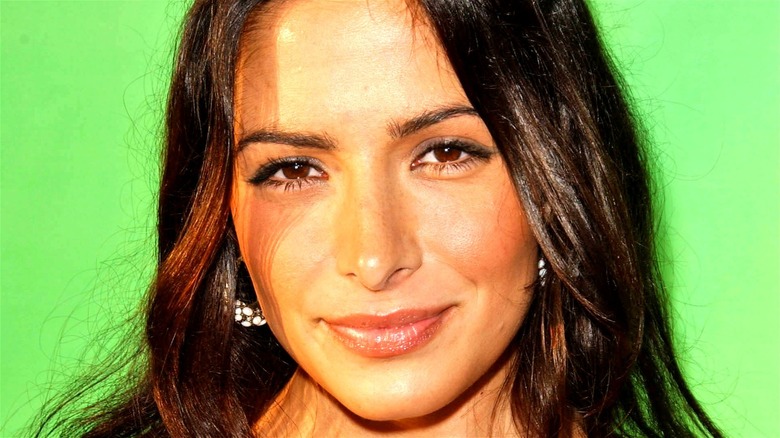 It's been a long and winding road for Sarah Shahi, but with the runaway success of Netflix's "Sex/Life," it looks like she's finally getting the recognition she's been due for so long. The Iranian-American actress has remained one of TV's hardest-working and most dependable performers for the better part of two decades, in a career that always seemed to err just this side of mainstream superstardom — until now.
Born and raised in the suburbs of Dallas-Fort Worth, Texas, Aahoo Jahansouzshahi eventually took up the name "Sarah" to escape her classmates' incessant mockery of her Persian birth name (via USA Today). It didn't take long for her to leave haters in the dust. By high school, she was captain of the volleyball and basketball teams and won the 1997 Miss Fort Worth pageant, and by college, she was an honors student in English and Theater (via People) and a member of the Dallas Cowboys Cheerleaders (via Elle). Not soon after, she was able to parlay those young triumphs into a career as an actress, starting with an extra role on the set of Robert Altman's Richard Gere-starring "Dr. T and the Women" in 2000.
Alias was the most notorious of a multitude of early TV roles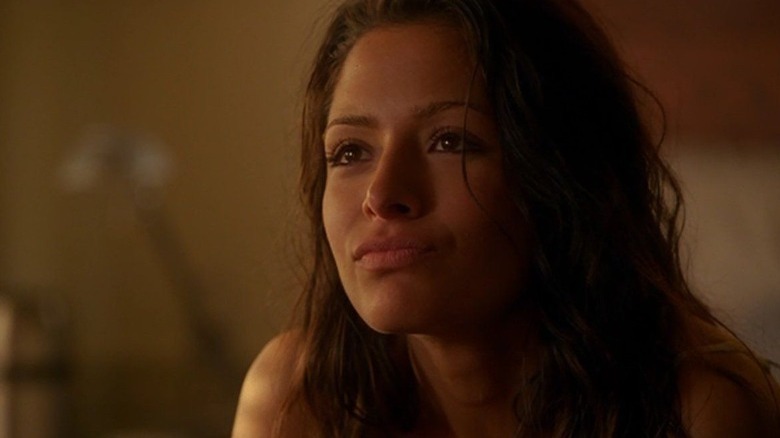 Between 2000 and 2004, Sarah Shahi popped up on so many different TV shows that seeing her around was basically a given for American audiences. She played a spa reservationist on "Frasier," a cheerleader on "City Guys," a pharmaceutical rep on "E.R.," and Sadia Shaw, a recurring fling of Pacey's, on "Dawson's Creek," among other small roles.
Her most prominent TV appearance by far in this period, however, was on ABC's spy thriller smash hit "Alias," where she played Jenny, the Season 1 girlfriend of Will Tippin (Bradley Cooper). A co-worker at the Los Angeles newspaper where Will worked as a reporter, Jenny unwittingly assisted Will in his efforts to get closer to the truth surrounding Sydney Bristow (Jennifer Garner) and the death of her fiancé Danny Hecht (Edward Atterton) — only to be dumped, leaving her confused and heartbroken, when Will's investigation into SD-6 threatened to jeopardize the safety of his loved ones.
Even though it wasn't a central role, Shahi made a strong impression; in an interview with TV Goodness a decade later, she revealed that "Alias" was the show that made Jonathan Nolan and Greg Plagerman fans of her, which in turn led to her getting cast in one of the defining shows of her career, the CBS drama "Person of Interest."
She had her first series regular role on two seasons of The L Word
In 2005, Sarah Shahi joined the regular ensemble of Showtime's "The L Word," which was then entering its second season. Although she wasn't of Latin American descent herself, she was cast as Latina character Carmen de la Pica Morales. Introduced as a production assistant with whom resident womanizer Shane McCutcheon (Katherine Moennig) hit it off during a job as a TV hairdresser, Carmen soon revealed a passion for DJing, and her casual hookups with Shane gradually blossomed into the latter's most serious relationship yet.
Carmen was the first woman on "The L Word" who was able to get an "I love you" out of Shane. Their romance throughout Seasons 2 and 3 left both changed, with Shane confronting her commitment issues head-on for the first time, and Carmen herself becoming a full-time DJ thanks to Shane's support. Carmen was later moved to officially come out to her family despite their conservatism, lest Shane be disrespected as her girlfriend. However, the relationship ended bitterly when Shane had a panic attack on their wedding day and left Carmen at the altar, at which point Shahi also left the show.
Heartbreaking send-off notwithstanding, Carmen became hugely popular among the devoted "L Word" lesbian fanbase, and so did Shahi — in 2007, she even made the Top 5 on AfterEllen's Hot 100 list, alongside Lena Headey, Kate Winslet, Angelina Jolie, and "The L Word'"s own Leisha Hailey. Shahi did multiple different interviews at the time the show was airing, and the one constant throughout all of them was her unwavering alliance to the LGBT community. As she repeatedly stated, "They're just like everybody else, leave them the f*** alone!"
She starred on a litany of shows that didn't last long
The years following "The L Word" were both momentous and fitful for Sarah Shahi, as she embarked on a series of TV starring roles on shows that ultimately didn't become huge hits. Right after her stint on the landmark Showtime series, she appeared as one of the main characters on the short-lived NBC sitcom "Teachers," in the role of Mexican-born high school teacher Tina Torres. The show ran for six episodes before being canceled.
Following "Teachers," Shahi was one of the two central players on NBC procedural drama "Life," alongside Damian Lewis. The role of highly competent yet personally self-destructive LAPD detective Dani Reese, a recovering addict and alcoholic, allowed her to explore deeper dramatic shades than she'd hitherto been able to, and she starred on the entirety of the show's two-season, 32-episode run — even though her role had to be shortened on Season 2, due to her first pregnancy.
After "Life" was canceled, Shahi went on to star on the USA Network legal dramedy "Fairly Legal," where she played the main character, laywer-turned-mediator Kate Reed. She received high marks for her charisma and firm grip on the character, but the show was also canceled after two seasons.
A few years later, Shahi also played Nancy Drew on a pilot that got ultimately turned down by CBS (via TV Line), and was the protagonist of NBC's "Reverie," an out-of-the-box sci-fi drama about a former hostage negotiator tasked with saving people trapped within an advanced VR simulation. The show got decent reviews but was also canceled after 10 episodes.
Person of Interest put her on TV in a more permanent capacity
Despite the series of short shrifts she got during the post-"L Word" period, Sarah Shahi kept steady on, and managed to rack up an impressive portfolio of guest and recurring stints in between leading roles, including an unforgettable spot on the final season of "The Sopranos" and a highly popular arc on "Chicago Fire." Her tenacity is exemplified by this 2012 tweet she made following "Fairly Legal" getting cancelled: "Thanks to all the fans! But I've got something great coming up;)… Love new beginnings."
That "something great" turned out, it would seem, to be a series regular role on "Person of Interest," which she'd already joined as a recurring player on Season 2. As Sameen Shaw, a cold-blooded government assassin who joined Team Machine and gradually became more involved in the team's citizen-protecting ethos, Shahi reinvigorated the dynamic of "Person of Interest" along with fellow Season 3 main-cast graduate Amy Acker, and the role became the lengthiest, most notable, most popular one of her career yet — as well as another instance of her support for the LGBT community, as Shaw was openly bisexual.
Shahi was beloved enough to be brought back after the writers gave her character an exit mid-Season 4 so she could focus on her second pregnancy. Following that return, she stayed on until the end of the show. "It was surreal. It was everything I didn't expect and more," she later said of her experience on "Person of Interest" in an interview with Collider. "It's always about the relationships, the friendships, and the connections that you make. I was pretty lucky. I made some everlasting ones on that one."
Sex/Life sums up her trajectory in a lot of ways
Not every veteran of traditional TV has been able to make the leap to the streaming era gracefully, let alone thrive in it, but if Netflix's "Sex/Life" is any indication, the most shining period of Sarah Shahi's career may be just getting started. In addition to scoring big numbers and sparking conversations about sex-positivity and the frontiers of progressive eroticism in media, the steamy romantic drama about a woman torn between her loving husband and her craving for sexual adventure has earned Shahi some of the best reviews of her career, even among critics who weren't too hot on the show itself. And, in many ways, the role of Billie Connelly also served as a summation of Shahi's trajectory up to now.
For one thing, "Sex/Life" offers further evidence of the comfort with character-driven nudity and sexual content Shahi previously brought to her time on "The L Word." For another, Billie's glossy, porcelain-perfect suburban housewife exterior and the currents of longing and uncertainty that run beneath it bring to mind the troubled-whiz characters she previously played on a number of procedural shows, and the acting chops she honed on those shows is on full display in "Sex/Life'"s exploration of Billie's inner life. Additionally, Shahi's own personal experiences with marriage and motherhood no doubt informed her approach to the show's familial-ennui material, which brims with the understated compassion and intuitive likability that have made Shahi such a winning presence on TV for so long, no matter what kind of role she's playing.