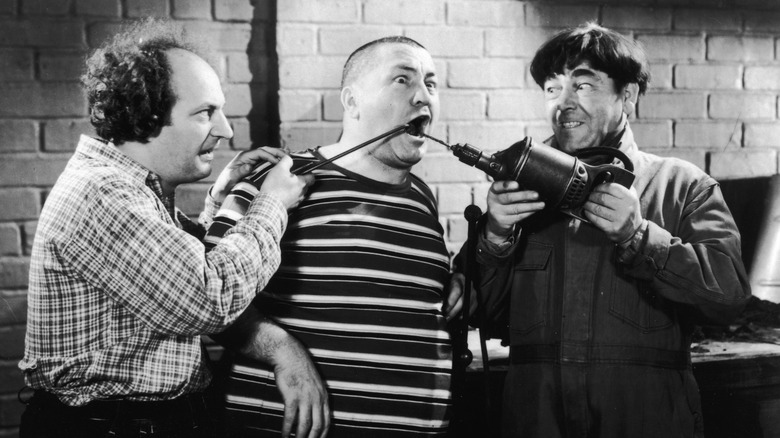 For over eight decades, audiences have delighted in the eye-gouging, hair-pulling comic mayhem of The Three Stooges. One of the most prolific comedy teams in cinematic history, The Three Stooges starred in 190 short subjects for Columbia Pictures between 1934 and 1959. A perennial favorite on syndicated television throughout the 1970s and '80s, The Three Stooges' popularity continues into the 21st century with new fans discovering the lovable knuckleheads every year.
The Three Stooges got their start in vaudeville in the 1920s where they honed their unabashedly lowbrow act into the most over-the-top physical comedy of all time. Although they'll forever be remembered for their relentless use of comedic violence, the trio's often overlooked use of language, sly wordplay, and sometimes not-so-subtle social commentary nevertheless made for some of their most hilarious moments. Hidden within the slapstick and sight gags are moments of pure wit that prove The Three Stooges were anything but, as Moe Howard might say, lamebrains.
The story of The Three Stooges, however, is much more than pratfalls, puns, and pie fights. These are the untold truths behind one of the most beloved comedy teams of all time.
The Three Stooges were originally second bananas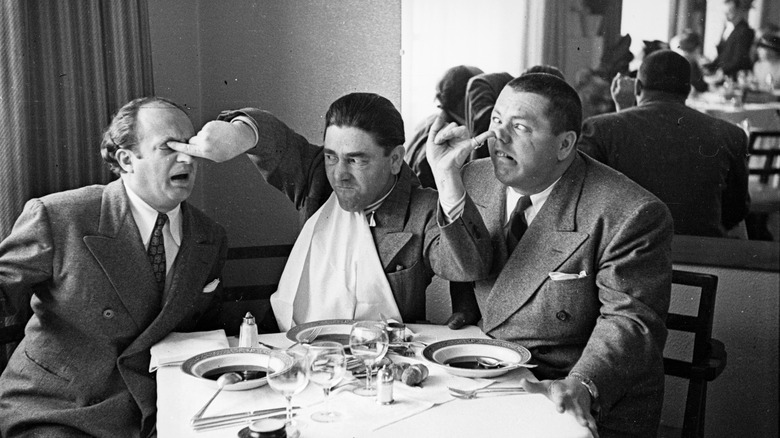 As detailed by Mark and Ellen Scordato in "The Three Stooges," Samuel "Shemp" Horwitz and younger brother Moses "Moe" Horwitz got their start on the stage as a comedy duo called Howard and Howard in 1915. Initially, the brothers were unsuccessful, and the act broke up when Shemp was drafted into the Army. Shemp's military service, however, was short-lived, and he was soon back on stage with Moe.
In 1922, Shemp and Moe joined comedian Ted Healy's act. Healy, already a successful performer, was a purveyor of broad, bawdy humor. Brought on as foils for Healy's physical comedy, Moe and Shemp were big hits with Healy's audiences.
Healy brought comedian-musician Louis Feinberg into his act in 1925. Feinberg, better known by his stage name Larry Fine, completed the original lineup. Ted Healy and His Stooges broke into film in 1930 in the 20th Century Fox comedy, "Soup to Nuts." The now-Howard brothers and Fine made such an impression that they were offered a movie deal of their own. Healy, fearing the end of his career, convinced Fox to rescind The Stooges' contract. When the trio found out about Healy's actions, they angrily struck out on their own.
The Stooges briefly rejoined Healy, but, in 1932, Shemp bowed out after a financial dispute. Moe brought in younger brother Jerome "Curly" Horwitz as his replacement, cementing the classic Stooges lineup. After appearing in several MGM films, The Three Stooges left Healy for good in 1934 when they signed with Columbia Pictures.
A revolving door of knuckleheads
Although the classic lineup of Larry, Moe, and Curly was the most popular and recognizable incarnation of The Three Stooges, the comic trio struggled to maintain a permanent third member. The original vaudeville troupe of Ted Healy and his Stooges consisted of Moe Howard, Shemp Howard, and Larry Fine. Following Shemp's departure in 1932, brother Jerome Horwitz, adopting the stage name Curly Howard, joined the group. Between 1933 and 1934, Healy, Howard, Fine, and Howard appeared in a handful of films for MGM.
As documented in "The Stooge Chronicles," by Jeffrey Forrester, Moe, Larry, and Curly left Healy in 1934 to work for Columbia Pictures. Curly Howard, in failing health throughout the 1940s, left the group after suffering a massive stroke on the set of "Half-Wits Holiday" in 1946. With Curly unable to perform, Shemp returned to the fold staying with The Stooges until his death in 1955.
Replacing the late Shemp Howard for a handful of shorts in the late 1950s was comedian Joe Besser. In 1957, Columbia closed their short-film division ending The Stooges' long run at the studio. Besser declined an offer to make personal appearances with Larry and Moe in order to care for his wife who had suffered a heart attack.
The final comedian to take up the mantle of third onscreen Stooge was Joe DeRita. Dubbed "Curly Joe" because of his resemblance to Curly Howard, DeRita remained with the act until the late 1960s.
When it came to money, Moe was no stooge
After parting ways with Ted Healy in 1934, "first stooge" Moe Howard became the de facto leader of The Three Stooges. According to Three Stooges director Edward Bernds, Moe was in charge both on and offscreen. "Believe it or not, in real life it was very much like it was in the pictures," Bernds told Jeffrey Forrester, author of "The Stooge Chronicles." "Moe was the boss, the brains of the outfit. … Moe was really a sensitive, touchy guy, compared to the others. And his feelings were easily hurt, too."
According to "The Stoogephile Trivia Book," Moe Howard was also a shrewd businessman who wisely invested his show business earnings in real estate. Among his holdings were an apartment building, a drugstore, and a furniture store called the Howard Furniture Company located in Burbank, California.
Although many assumed that Moe fell on hard times after the Stooges lost their movie contract in the 1950s, Bernds explained that nothing could be further from the truth. "A lot of people have more or less commended me for something I did in the late 1950s, after the Stooges were dropped from Columbia," Bernds told Forrester. "I was directing a science fiction picture, and I gave Moe a bit part as a taxi driver. Well, now everybody says, 'Gee, it sure was great of you to get Moe some work when he was down.' Moe wasn't down; he was a millionaire!"
Larry Fine's dad paid him to leave the family business
Larry Fine, the perpetually put-upon, wiry-haired middle Stooge, was born Louis Feinberg on October 5, 1902, in South Philadelphia, Pennsylvania. As documented in "The Three Stooges," by Mark and Ellen Scordato, Larry's father, Joseph, emigrated to the United States from Russia to escape anti-Semitism. After arriving in the U.S., Joseph Feinberg married Fannie Lieberman. Larry was the first of their three children and a born entertainer. At age 2, Larry would dance in the family's jewelry shop to entertain his relatives. When Larry was just 4 years old, he severely burned his arm with acid after which he took up the violin as rehabilitation.
Larry had none of Moe Howard's business acumen. Entertainment was his sole interest. As a young man, Larry made a half-hearted attempt to join the family's jewelry business, but his penchant for clowning around often got in the way of his work. Eventually, Larry's father paid him $100 and two weeks' salary to quit. Larry took the money and embarked on a career as a vaudeville comic and musician.
Lady's man Curly lived a tragically short life
The youngest brother of Moe and Shemp Howard, Jerome Horwitz adopted the stage name Jerome "Curly" Howard and joined Ted Healy's show after Shemp's departure. According to "The Three Stooges," Curly nearly missed his opportunity to become a Stooge because he was too handsome. His thick, wavy hair and distinguished mustache just didn't fit with Moe's bowlcut and Larry's unkempt mane. Determined to make an impression on Healy, Curly shaved his head. The youngest Howard's plan worked, and he was welcomed into the act as Curly.
Arguably the most popular of The Three Stooges, Curly has been alternately described as "shy, reserved" and "the life of the party" offscreen. Including his first marriage, which was annulled at the behest of his mother, Curly wed five times. He married his last wife, Valerie Nueman, in 1947.
Following his 1941 divorce from Elaine Ackerman, Curly sank into depression and turned to food and alcohol for relief. Soon, his deteriorating lifestyle began to affect his work. Nevertheless, Curly married (and divorced) again. His union with Marion Buchsbaum lasted under a year.
While shooting "Half-Wit's Holiday" in 1946, Curly suffered a debilitating stroke that necessitated his retirement from comedy. He would make one final cameo appearance alongside the Stooges in 1947's "Hold That Lion." Having suffered several more strokes, Curly was hospitalized for the last year of his life. Jerome "Curly" Howard died on January 18, 1952, at the age of 48.
Original Stooge Shemp was a bundle of nerves
The third of five brothers, Shemp Howard was born Samuel Horwitz on March 17, 1895, in Brooklyn, New York. His nickname came from his mother's heavily accented pronunciation of Sam which, to his brothers, sounded like "Shemp." In his 1977 autobiography, "Moe Howard and The Three Stooges," Moe lovingly remembered his older brother as a mischievous troublemaker. "Shemp . . . was an impossible crybaby, a stocking and pants destroyer, a general creator of disturbances," Moe wrote. "When chore time came, he would develop a stomach-ache, a headache, a toothache, or any old ache that would get him out of his share of work."
Despite Shemp's tough onscreen persona, he suffered from crippling phobias. Fearful of water, dogs, heights, and cars, wife Babe Howard described him as "afraid of everything." During World War II, Babe would often return home from her rounds as an air raid warden to find Shemp cowering behind the piano. "[Shemp] was scared to death of his own shadow," friend and fellow comic Mousie Garner recalled in the A&E documentary, "Stooges: The Men Behind the Mayhem." "He was always looking back to see if anyone was following him."
Jules White made The Three Stooges movie stars
In the 1930s, Columbia Pictures' shorts department had become a dumping ground for has-been comedians. Noted for its lack of creativity and low pay, Columbia became the last stop for silent-era comedians unable to adapt to the talkies. The addition of The Three Stooges in 1934, however, would transform Columbia's short film division into one of Hollywood's most profitable comedy factories.
The man most responsible for The Three Stooges' ascendance to film comedy stardom was Jules White, head of Columbia's short subjects department. White, who had been a producer and director at MGM, was familiar with The Stooges from their work with Healy and knew he had a winning team in the trio, and he made sure that his new acquisition had the best writers, directors, and supporting players available.
As documented in "The Stoogephile Trivia Book," The Three Stooges shorts ran for 25 years under White with White himself directing and producing the majority of the films. Having worked with some of the greatest comedians of all time, White conceded that the Three Stooges were something special to "Stooge Chronicles" author Jeffrey Forrester. "I had dozens of great comedians," said White. "Some of 'em were world renowned. Buster Keaton was, I daresay, one of the three biggest in the history of comedy. … So the Stooges were not the only ones I made pictures with. But television has boosted them to the sky, and they've overshadowed anything else we've ever done …"
Shemp returned to The Three Stooges as a favor
As Larry Fine, Moe Howard, and Curly Howard rose to fame as The Three Stooges in the 1930s and '40s, former Stooge Shemp Howard was enjoying his own successful career as a comic actor appearing in many popular comic shorts series and feature films. Shemp's post-Ted Healy solo work included the Joe Palooka boxing comedies and his own series of shorts. In the early 1940s, Shemp appeared with the classic comedy team of Abbott and Costello in the films "In the Navy" and "Hold that Ghost."
According to "The Three Stooges," by Mark and Ellen Scordato, Curly's health went into a sharp decline following a 1941 divorce. Drinking, depression, and a series of undiagnosed strokes dulled his comedic edge and marked a downturn in the quality of The Stooges shorts. In 1946, a debilitating stroke forced Curly into retirement.
With the most popular Stooge out of action, Moe knew he had to act quickly to save the team as well as his and Larry's livelihoods. The choice was clear. Shemp had to come back. Despite his own successful comedy career, Shemp reluctantly returned to The Three Stooges knowing that without him, Moe and Larry's act was over. The price of Shemp's loyalty was a 50% pay cut and much of his independence.
Although Moe had hoped that Curly's exit would be temporary, his health worsened. Shemp stayed with The Three Stooges from 1946 until his death from a heart attack in 1955.
The curious case of the fake Shemps
Shemp Howard's death in 1955 was a devastating blow to surviving Stooges Moe Howard and Larry Fine. Reeling from the loss of their brother, friend, and colleague, The Stooges were stuck with four shorts in various stages of completion due to Shemp's death. To finish the films, actor Joe Palma, a dubious Shemp double, was brought in to complete the fallen Stooge's scenes with often unintentionally laughable results.
Filmmaker Sam Raimi and actor Bruce Campbell, best known for their cult horror classic, "Evil Dead," grew up die-hard Three Stooges fans and made a point of looking out for Palma in the later Stooges shorts. In his book, "If Chins Could Kill," Campbell explains how "Fake Shemps" became part of Raimi's cinematic vocabulary. "… As teenagers watching The Stooges after school, we could tell whenever the fake Shemp made his appearances … and it amused us to no end," Campbell writes. "We then began to use the term 'Fake Shemp' for any actor in our Super-8 flicks who didn't have any lines, or was doubling for someone else …With 'Evil Dead,' we decided to elevate 'Shemping' to an official, on-screen credit category mainly because they soon constituted the bulk of our cast."
Thanks to Raimi and Campbell, "Fake Shemp" or "Shemp" has since entered filmmaking parlance as a catch-all term for any replacement actor whose appearance is disguised through camera angles, makeup, or digital trickery.
The Three Stooges couldn't get a break on TV
In 1958, The Three Stooges experienced a revival when Columbia syndicated their short comedies to television, and a new generation of children made The Three Stooges an afterschool habit. Despite their newfound popularity on the small screen, The Stooges ultimately struggled to make inroads into TV.
The Stooges first attempted to break into TV in October 1949 with a pilot for a proposed weekly series titled "Jerks of All Trades." Produced for ABC Television by Phil Berle, brother of comedy legend Milton Berle, it featured Larry Fine, Moe Howard, and Shemp Howard as "bumbling interior decorators" who wreck their wealthy client's home. According to "The Three Stooges Scrapbook," the never-broadcast show was shelved due to a contract stipulation that prevented The Stooges from performing in a TV show that competed with their Columbia shorts.
The Three Stooges attempted to launch another TV series in 1960 with "Three Stooges Scrapbook." Shot in color and featuring the lineup of Moe, Larry, and Curly-Joe DeRita, the show failed to generate network interest. However, some footage from the pilot was reprocessed in black and white and incorporated the 1962 Stooges feature, "The Three Stooges in Orbit."
In 1969, Moe, Larry, and Curly-Joe completed a pilot titled "Kook's Tour." The premise of the show found The Stooges retired from performing and traveling across the country pointing out the beauty of America's outdoors. Soon after completing "Kook's Tour," Larry suffered a stroke, and plans for the series were canceled.
Emil Sitka, the fourth stooge
Although Curly-Joe DeRita's headstone reads "The Last Stooge," the final member of the legendary comedy troupe was actually actor Emil Sitka. Sitka was a featured player in the Stooges' shorts throughout the 1940s and '50s. Appearing in such fan favorites as "Brideless Groom" and "Gents in a Jam," Sitka was a versatile character comedian who at times managed to upstage The Stooges with his onstage antics.
"Emil was very good," longtime Three Stooges producer Jules White told Jeffrey Forrester, author of "The Stooge Chronicles." "He could play anything. It's not easy to be able to play a gangster in one shot, and a governor in the next. But he could do it. And he did it very well." According to Three Stooges writer Elwood Ullman, Sitka's comedic skills made him one of just a few supporting players for whom the writing staff would create specific characters.
Sitka made his first appearance in 1946's "Half-Wits Holiday," the last short featuring Curly Howard, and continued to work with The Stooges at Columbia throughout the 1960s. Following Larry Fine's exit from The Three Stooges in the 1970s, Moe Howard invited Sitka to become a full-fledged Stooge. In 1975, Sitka was scheduled to star with Howard and Joe DeRita in an all new Stooges feature film. Sadly, the project was canceled because of Moe's declining health and subsequent death from lung cancer the same year.
Joe DeRita and The New Three Stooges
Following Joe Besser's exit in 1958, Moe Howard and Larry Fine invited comedian Joe DeRita to join The Three Stooges. A vaudeville veteran, DeRita grew up in a show business family having performed alongside his mother and sister as the DeRita Sisters and Junior beginning at age 10. As documented in "The Three Stooges," DeRita began working in the movies in the 1940s, appearing in features for Warner Brothers, MGM, and Paramount, as well as in his own series of shorts for Columbia Pictures.
DeRita's first outing as a Stooge was a disastrous appearance at a Holiday Inn in Bakersfield, California, in October 1958. Audience reaction to this new incarnation of The Stooges was overwhelmingly negative. However, the release of the Stooges' shorts on TV quickly reversed the troupe's fortunes. Hoping to appeal to the Stooges' new fans, DeRita shaved his head and adopted the persona of "Curly-Joe." With his passing resemblance to fan favorite Stooge, Curly Howard, DeRita found his niche in the act. Throughout the late 1950s and 1960s, DeRita appeared onscreen with The Stooges in six feature length films, in the animated series "The New Three Stooges," and in two unsold TV pilots.
With the blessing of Moe Howard, DeRita formed his own comedy troupe called The New Three Stooges in the early 1970s. Recruiting former Stooges stuntman Frank Mitchell and Ted Healy alumnus Mousie Garner, the trio made just a few personal appearances before breaking up due to DeRita's failing eyesight.
The Stooges in comic books and animation
Beginning in 1949, Three Stooges' fans could get a fix of their favorite knuckleheads at the newsstand thanks to Jubilee Publishing. According to "The Stoogephile Trivia Book," the first four-color incarnation of The Stooges featured the classic lineup of Moe, Larry, and Curly and lasted just two issues. Nevertheless, the Stooges returned to print in 1953 courtesy of St. John Publishing. Featuring Shemp as the third Stooge, this Three Stooges comic lasted 48 issues with several special 3-D editions. Dell Publishing brought the Stooges back in 1959. Lasting until 1972, the Dell Three Stooges comics followed the misadventures of Larry, Moe, and Curly-Joe. In 2021, American Mythology Publishing brought Stooges into the 21st century with the all new comic series, "The Three Stooges Thru the Ages."
Although the Stooges were never able to get a live-action TV series off the ground, they did find success on the tube as cartoon characters. Premiering in 1965, the animated series "The New Three Stooges" featured short live-action introductions by Moe, Larry, and Curly-Joe with the team lending their own voices to their cartoon alter egos.
Perhaps the most bizarre version of The Three Stooges premiered in 1977. Originally a segment of the CBS Saturday morning program, "The Skatebirds," "The Robonic Stooges" transformed Larry, Moe, and Curly into bumbling cyborg superheroes. Featuring the voice talents of Paul Winchell, Joe Baker, and Frank Welker, "The Robonic Stooges" got their own 30-minute show in 1978.
A legacy of lunacy
In the 80 years since their first Columbia short, The Three Stooges have become an indelible part of the American pop culture landscape. Although Stoogemania has had its peaks and valleys, the comedy team remains popular into the 21st century with new fans discovering their classic shorts via TV and streaming video every year. Images of Larry, Moe, and Curly grace merchandise ranging from T-shirts, dolls and phone cases to a line of premium coffee.
The Three Stooges even have their own museum. Located in Ambler, Pennsylvania, The Stoogeum is a vast repository of Stooge memorabilia containing original props, costumes, and personal effects belonging to The Stooges. Dedicated to preserving the legacy of The Three Stooges, The Stoogeum is also headquarters of The Three Stooges Fan Club, which boasts 2,000 members across the globe.
Perennially popular with men, The Three Stooges and their patented over-the-top slapstick are even making inroads with women, a demographic that has traditionally disliked the trio's low-brow humor. "In the past, it just wasn't ladylike to say you liked them," Three Stooges convention organizer Phyllis Reighter told Tulsa World. "Some women felt it was a brand of comedy that said you were less educated. It was beneath them. But now, they are starting to come out of their shells."