Summer is just around the corner, and that means more fun under the sun. And what better way to enjoy the heat than to eat a cold, refreshing dessert? Since fruits like watermelons and bananas are usually a staple in the house, they can be made into something icy and delicious. This homemade watermelon sorbet is the perfect summer treat for all ages. Not only will it satisfy your cold and sweet cravings, but it will also give you a fun experience that you'll surely want to repeat over and over again.
Plus, there is another way to eat this frozen food. According to Kristen Carli, this watermelon sorbet "makes great popsicles for kiddos too!" It is a fun way to enjoy the dessert and can be eaten on the go. The recipe is super easy to make, and it's also budget-friendly, as the ingredients are probably already in your kitchen. The watermelon sorbet can be a nice little project that you and your kids can make — a perfect idea for your bonding time.
Gather your ingredients for this homemade watermelon sorbet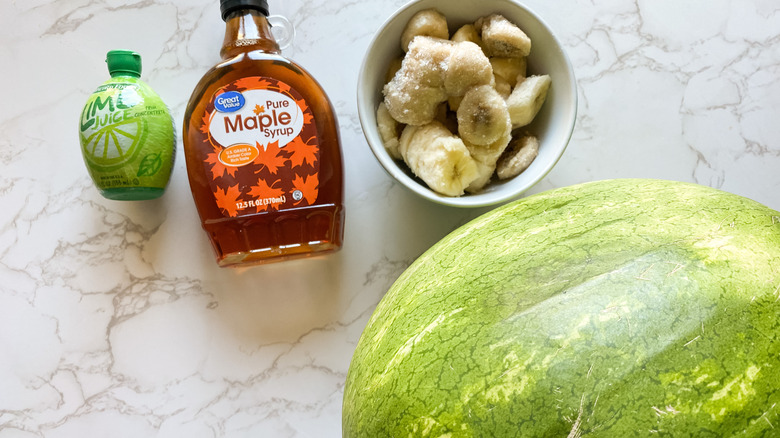 According to Carli, the whole prep time for the watermelon sorbet will only take about 15 minutes. To make the process smooth and fast, you might want to gather and measure all your ingredients before making the tasty treat. All of the ingredients are easy to find, and most of them are probably in your pantry right now — such as watermelon, banana, lime juice, maple syrup, and water. In case you don't have maple syrup, no worries. According to Carli, "you can use honey or any other liquid sweetener."
Slice and freeze your fruits before preparation
Before you start making the watermelon sorbet, freeze your fruits first. Unlike ice cream, sorbet doesn't have cream as an ingredient. Therefore, it's not as creamy as ice cream, but it's still just as delicious. According to Carli, "the frozen banana helps to avoid that overly icy texture, providing a bit of creaminess." You can actually do this step a night before you make the cold dessert. Don't forget to slice the bananas into small pieces and the watermelon into cubes.
Blend all the ingredients for this watermelon sorbet
Now that you have all the ingredients prepped, you are all set to make the watermelon sorbet. Take your frozen fruits out of the freezer, and have the other needed items ready on your kitchen counter. To get started, place all the ingredients in a high-speed blender, and blend everything. To know when it's ready, check the texture. You will know that your mixture is good to go when it looks smooth. When you're done, move on to the next step.
Place the mixture into a loaf pan
When all the ingredients are blended and smooth, you can now pour the mixture into a loaf pan. That way, you can take portions of the watermelon sorbet out with an ice cream scoop. Freeze your sorbet for at least 12 hours, and then it's ready for consumption. Another great way to enjoy the frozen dessert is to place the mixture into popsicle molds — and your kids will surely love the delicious treat even more.
Summer is just around the corner, and that means more fun under the sun. And what better way to enjoy the heat than to eat cold watermelon sorbet?
4 cups frozen cubed watermelon
1 ½ cups frozen sliced bananas
¼ cup lime juice
1 teapsoon maple syrup
¼ cup water
Place all the ingredients in a high-speed blender. Blend until smooth.
Pour into a loaf pan (or popsicle molds).
Freeze for at least 12 hours.