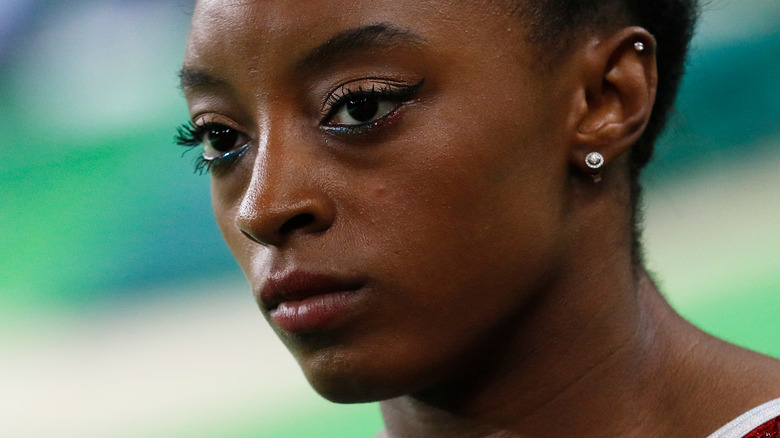 The Olympics are a chance for the best athletes in the world to converge and go for gold, as a personal achievement and for their countries. With the whole world watching, the games are also an opportunity to show off unique fashion choices. For example, the opening and closing ceremonies are always a chance for designers to create memorable outfits. For America, "Ralph Lauren has been making Team USA's opening and closing ceremony uniforms since 2008," via Slate. While competing, the athlete's clothes are strictly for function — and some wear next-to-nothing, like men's divers in Speedos. But outside of competition, many of these world-class athletes know how to make a fashion statement.
The 2020 Summer Olympics in Tokyo were delayed to 2021 due to the COVID-19 pandemic, and even after the games were rescheduled, officials determined that no in-person spectators would be allowed out of an abundance of caution. But among the top athletes to watch at the games, many were already making a name with their personal style. From casual wear to extravagant dresses to street style, these top performers know how to clean up well after dominating in their sport.
It's time to see what these Olympic athletes look like in their normal clothes.
Olympic runner Dina Asher-Smith is stylish on an off the track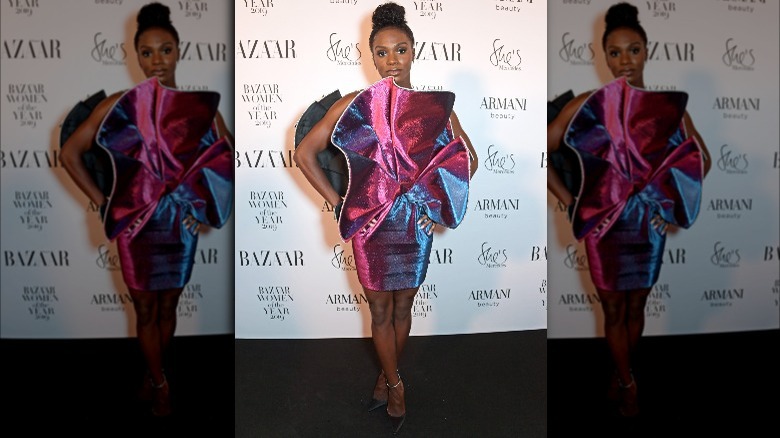 One of England's brightest stars on the track is Dina Asher-Smith. She is a speed machine who went into the Tokyo Games as the reigning 200 meter sprint champion. According to Vogue, this sprinter, who qualified to run in the 100 meter, 200 meter, and the 4×100 meter relay events, is "one of Britain's best hopes for Olympic medals." For those inevitable close-ups on TV, Asher-Smith likes to be camera ready. On race days, she reportedly starts her beauty routine six hours before the start of the race. After a face mask, she'll apply an extra heavy set of makeup, because "at least half will be sweated off during her warmup," Vogue states. The sprinter told the outlet, "When I'm out on the track, I'm not thinking about what I look like. I'm just trying to win." And she added about her routine, "Doesn't matter how nervous you might feel, if you need to do your eyeliner, you cannot be shaking."
On her Instagram, Asher-Smith posts photos of herself in sport wear, but also evening wear, like when she posted a shot of herself in high heels and a three-quarter sleeve leather blazer. The Olympian paired the look with a pink leather top-handle purse. And in 2019, Asher-Smith attended the Harper's Bazaar Women of the Year Awards in London. The sprinter's dress (above) was a piece of art, shimmering in a multicolor fabric in a shape reminiscent of a giant bow.
Olympic climber Adam Ondra goes for function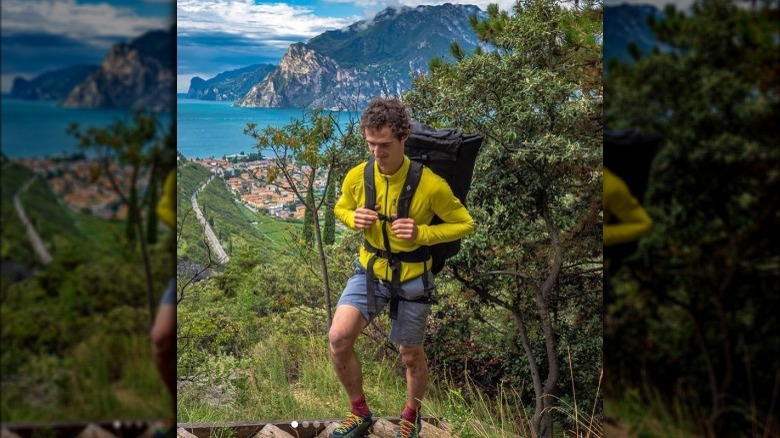 One of the newest Olympic events to debut in Tokyo is rock climbing. The official event, called sport climbing, features 40 athletes "competing in three disciplines: bouldering, lead climbing and speed," per the Olympics. "In lead, athletes attempt to climb as high as possible on a wall" and for "bouldering, the objective is to overcome the most problems on a climbing route in the least number of attempts." One man went into the competition as a favorite — Adam Ondra from the Czech Republic. "The world's best rock climbers generally agree: Ondra is the best of them all," The New York Times reported. Ondra is also known for his passion when climbing. Like when he became "the first person to flash a route rated 9a+ (5.15a)." This meant he was able to climb the difficult route on his very first attempt. A Reel Rock video of the moment when he succeeded in St. Leger, France shows the climber screaming in joy. He's also shirtless, uninhibited by a top while scaling the incredible rock face.
When Ondra isn't competing or going shirtless during climbs, he generally stays in outdoorsy clothing. The climber posted a photo of himself on Instagram hiking in Italy with the stunning Lake Garda behind him (above). For the occasion, he wore a yellow, long-sleeve top made out of technical fabric, above-the-knee shorts, and bright red socks paired with hiking shoes, which had bright laces.
Olympic surfer Stephanie Gilmore is a self-proclaimed 'tomboy'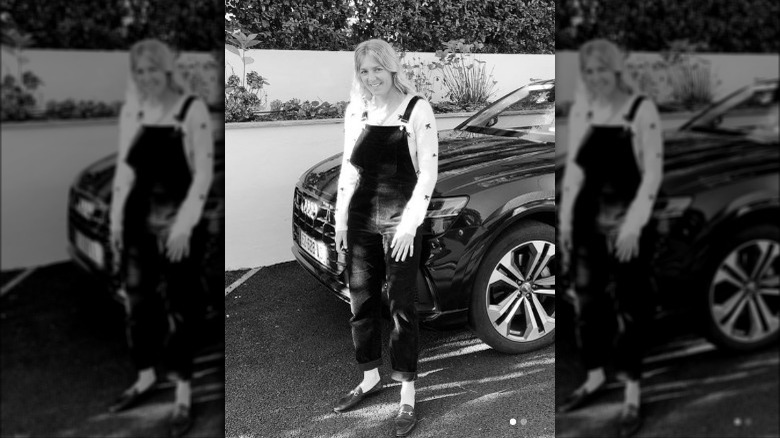 For the first time in 2020, surfing became an official Olympic sport. While competing, surfers are riding waves at the same time and need to not interfere with one another. Otherwise, "a penalty may occur on the interfering surfer," according to the Olympics surf page. This put Australian surfer Stephanie Gilmore's nickname — "Happy Gilmore — to the test. The veteran surfer "has a reputation for being kind — in addition to her killer competitive side," the Olympics detailed. Going into the games, Gilmore was a favorite on the women's side as a seven-time surfing world champion. And her success came in spite of a traumatic incident in 2010. As she described, a man "hit me in the head with a crowbar or something. I had stitches in my head and a broken wrist." According to the surfer, the injury put an end to her winning streak of "four world titles back-to-back." Fortunately, she recovered and resumed her winning ways.
Gilmore's outfits on dry land, and blonde hair, often reflect the easy-going vibes of surfer culture. In a photo she posted on Instagram, Gilmore wore overalls paired with a long sleeve shirt and Gucci loafers. In an interview with Harper's Bazaar, Gilmore cited surfer Lisa Anderson's personal style as an inspiration in her style choice, saying, "She led the way for us young tomboys to follow suit."
Miles Chamley-Watson a big-time model and an Olympian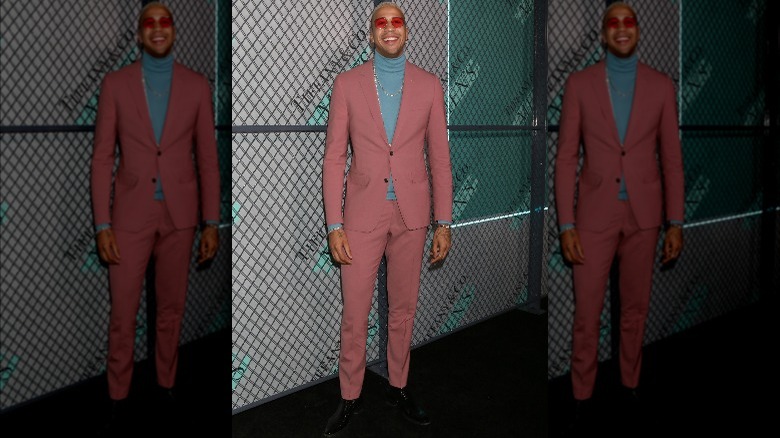 Fencer Miles Chamley-Watson was born in London but grew up in New York, according to Team USA. And you could easily mistake him as a fashion model and have no idea he's an Olympic athlete. "With ripped physique, dyed blond hair and tattoos, his unconventional appearance as a fencer gained him huge interest from the fashion world," the Olympics detailed. The American fencer "models for IMG, makes appearances at New York Fashion Week and walks the runway for major fashion labels." In fact, his Instagram account is filled with the model-athlete posing in different brands' outfits, including a pose in a leopard jacket, orange-lens sunglasses, and a leather cross-body bag for the American luxury brand Coach. He's one of the few fencers with major endorsements, with sponsorships by Coach and Red Bull, according to Highsnobiety, which actually labeled the star "fencing's Dennis Rodman."
When he's spotted at events, Chamley-Watson is often wearing creative outfits. While at a launch event for the jewelry company Tiffany & Co., the fencer wore a faded-red suit (above). Under his jacket, Chamley-Watson sported a baby blue turtleneck, and for accessories, the athlete layered in a necklace and sunglasses with bright-red lenses.
Sprinter Allyson Felix went from Olympian fo fashion mogul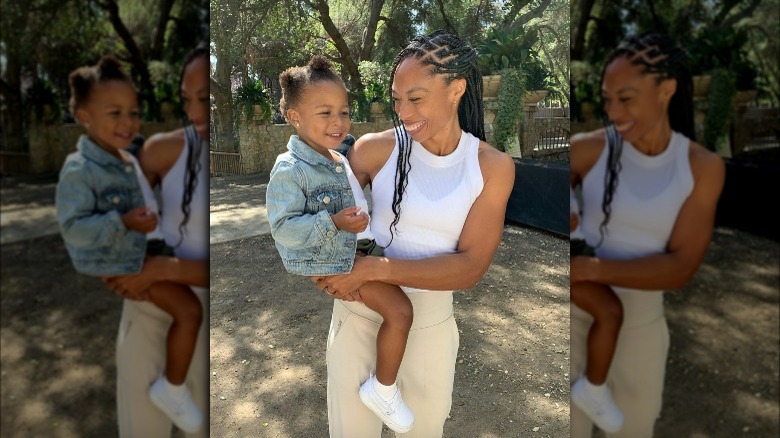 Allyson Felix's Tokyo Olympics appearance marks her fifth games in a row. In her first chance for a medal, Felix earned silver in the 200-meter race at the 2004 Summer Olympics in Athens. The track-and-field star went on to win six gold medals and two more silver medals in her next three Olympic games, Team USA reported. This multi-talented runner is a pro at three different lengths — the 100, 200, and 400-meter events. According to her bio, Felix started running as a high school freshman and earned the nickname "chicken legs" because of her long-legged frame.
In addition to being a "member of Barack Obama's "council for fitness, sports and nutrition," Felix also calls herself a "fashionista." Her photos on Instagram prove this, including one of her sporting a silk overcoat and linen pants. In another photo (shown above), Felix showed off her fashion sense alongside her beautiful daughter. The proud mother wore a white tank top and khaki pants while she smiled and held her little girl.
Going beyond just wearing clothes, Felix is a fashion entrepreneur. She launched a sneaker brand called Saysh, Fast Company reported. Felix and her brother Wes co-founded the company "to be an alternative to the male-oriented sneaker companies that drive the sports world." According to the outlet, Saysh designed its sneakers "to the distinct anatomy of a woman's foot."
Olympian Manpreet Singh loves his suits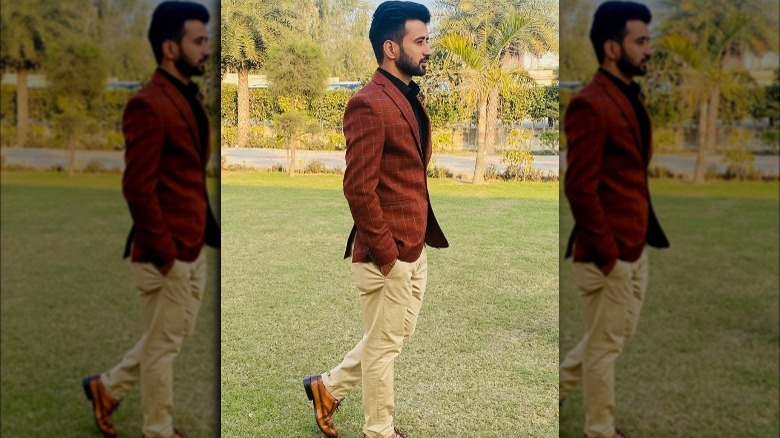 India's team captain for the Olympic field hockey team, Manpreet Singh, knew his country's history while heading into the 2020 Olympics. The last time India earned a medal in the Olympic sport was at the 1980 event held in Moscow, Russia. And despite the Olympic losing streak, India was still "the most successful hockey nation in Olympic history," according to Reuters. After meeting a former player for India who played in the "Olympic title-winning teams between 1948-56," Singh told the news agency he felt even more inspired to win. "This is the biggest dream in my life now, to have an Olympic medal around my neck," he said. In addition to leading his team towards victory, Singh was also given the prestigious honor to be India's flag-bearer in Tokyo.
Singh's personal style is a mix of classic menswear looks, paired with occasional opulence. He posted a photo on Instagram of himself wearing a bold-red suit with a pink tie. His look matched his wife's gorgeous, embroidered red dress and ornate, red veil. In another Instagram photo (shown above), Singh walks in front of palm trees wearing a rust-colored, checkered sport coat with khaki pants. He also flashed leather Oxford shoes in a handsome, cognac color.
American soccer player Alex Morgan's fortunate Olympic timing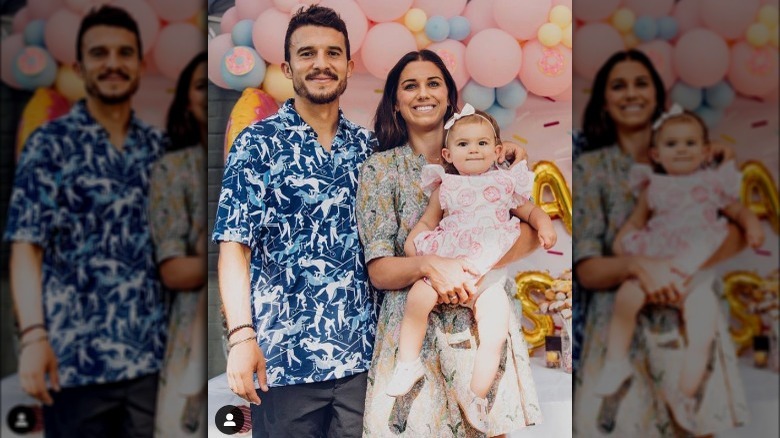 American football star Alex Morgan played in her first Olympics at the 2012 games in London, according to her Team USA profile. The forward had an assist to Carli Lloyd the first eight minutes in the final match against Japan. The squad went on to win gold for a third Olympic title in a row. When Morgan and the team returned to defend their title at the 2016 Olympics, few could have expected the end result. In the quarterfinal match against Sweden, the American team lost, which knocked them out of the tournament before a chance at any medal. Morgan joined the 2020 squad, and the event's delay by a year actually helped the player. "Had the Olympics taken place as scheduled, Morgan would almost certainly have had to sit them out: She gave birth to her first child in May 2020 and was rushing that summer to regain her fitness," The New York Times reported.
In a photograph posted in her Instagram (above), Morgan showed off her baby girl while giving a glimpse into what the soccer star wears off the pitch. She's standing in a summer dress next to her husband, Servando Carrasco, who is also a soccer player, via Major League Soccer. Morgan, who often wears a pink headband while playing, showed off her stylish middle-part and her daughter was the one with a headband, adorned with a cute bow.
Kevin Durant is a stylish Olympic record holder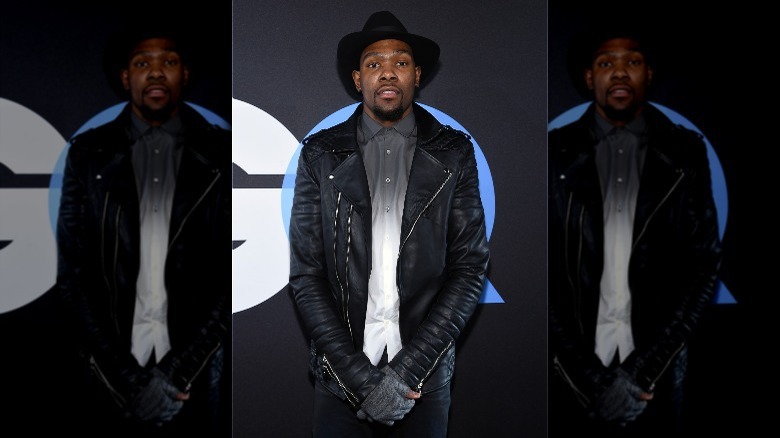 In the NBA, Kevin Durant won two championships with the Golden State Warriors. On top of that, Durant was the best player of them all for both final series, beating out his star teammate Stephen Curry in 2017 and 2018 to win the "NBA Finals MVP trophy in back-to-back seasons," via the NBA. And Durant has also been a key part of the U.S. men's Olympic team in basketball. He helped lead the team to back-to-back Olympic gold medals in 2012 and 2016. In both seasons, Durant "finished as the U.S. team's leading scorer," according to USA Basketball. He went into his third Olympics in Tokyo expecting to become the USA team's all-time leader for points scored, "trailing only four-time Olympian Carmelo Anthony (336) by 25 points."
In 2015, he attended a party hosted by GQ and LeBron James to celebrate fashion in the NBA (above). Durant stepped up his game and wore a black leather jacket over an ombré button-up shirt that transitioned from white to gray. He buttoned up the shirt entirely for an "air tie" look and paired the outfit with amazing accessories — fingerless gloves and a black fedora. And Durant makes sure to look great when arriving before a game. He posted a photo in his Instagram walking in with a NASCAR shirt with athletic apparel. "Nike tech and vintage T's. It's the only way," he captioned.
Tennis star and Olympian Naomi Osaka knows Gen Z fashion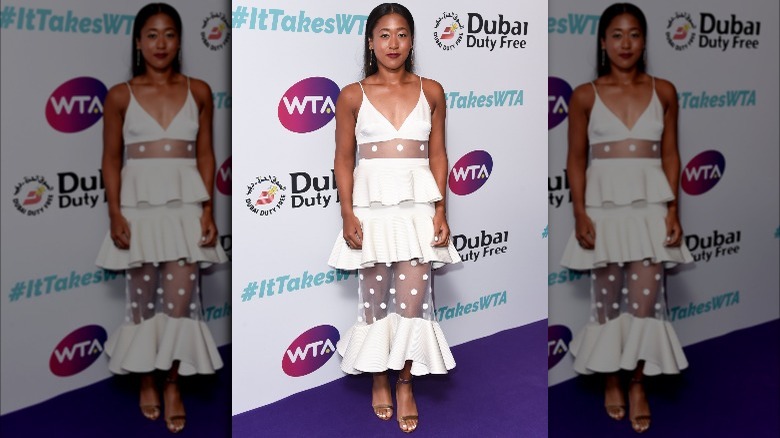 In the summer of 2021, Naomi Osaka was the number two ranked women's tennis player in the world. But after appearing in Paris for the French Open, she declined to participate in any media interviews following her matches. The French Open organizers fined her $15,000 for her decision. This led Osaka to drop out of the tournament, citing mental health struggles. "I would never trivialize mental health or use the term lightly. The truth is that I have suffered long bouts of depression since the US Open in 2018," she said in a statement, via CNET. Then, she dropped out of the Wimbledon tournament but vowed to participate in the Olympics, representing Japan.
Osaka makes other headlines for her spot in the fashion world. As of 2021, Osaka was dating rapper Cordae, according to GQ — and the couple is extremely stylish. Even when Osaka is playing tennis, she still has incredible style. During the 2019 US Open, Osaka wore a two-piece collaboration between Nike and Japanese brand Sacai. WTA Tennis detailed the look as "asymmetrical layers, cutouts, ruffles and pops of contrast." Another incredible look was at a WTA Summer Party in 2019. While in London, Osaka wore a white, sleeveless dress that had multiple levels of ruffles and polka dots over sheer material (above).
In 2021, Osaka was selected to be one of the co-chairs for the most extravagant night in fashion — the annual Met Gala.
Simon Biles tops the Olympics and the style pages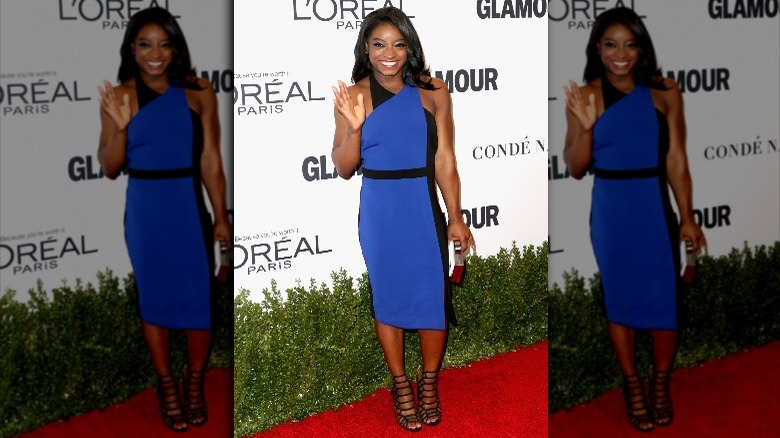 A powerful force in a small size, Simone Biles is like no other when it comes to gymnastics. The American is "the best gymnast ever," according to Time. This is in part for her 30 Olympic and World Championship medals, which all came before she even participated in the Tokyo Olympics. Outside of her Olympic life, Biles still found a way to wow audiences, competing on "Dancing With The Stars" alongside partner Sasha Farber. One week before the final, Biles and her partner scored a perfect score from the show's judges but were eliminated by fan votes, via NBC. But it wasn't a total loss, and Biles and Farber continued to work together. According to Insider, Farber "helped choreograph Biles' routine for the Olympics."
The Olympian isn't always on the move and loves to pose in fashionable outfits. While attending a "2016 Women Of The Year" event in Los Angeles held by Glamour, Biles wore a sleeveless sheath dress (above). The asymmetric design of French blue and black intertwined paired perfectly with her strappy, heeled sandals. And she accessorized with a cute white and red clutch. Biles' Instagram is also filled with impressive fashion moments, including a post in which the gymnast wore a stunning rust colored suit with a pink bra underneath.
Olympic hurdler Karsten Warholm easily goes from casual to dapper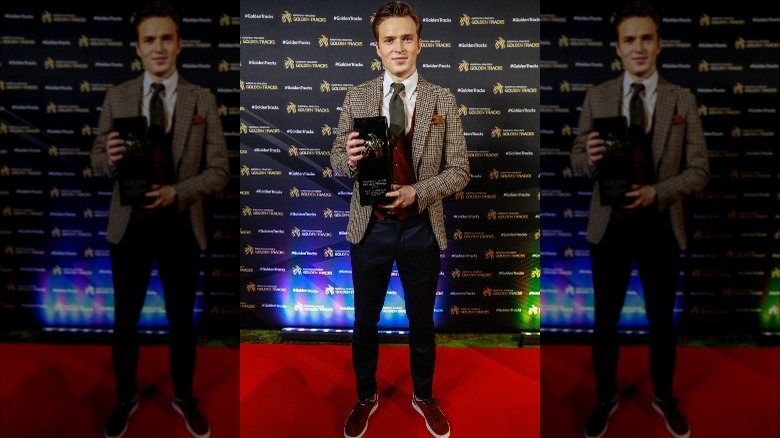 For the Winter Olympics, there is no better country than Norway. "Dating back to the first Winter Olympics in 1924, Norway has won more medals than any other country," The Ringer reported. But the country isn't exactly known as a powerhouse in the Summer Olympics. Norwegian runner Karsten Warholm hoped to change that. Heading into the Tokyo Olympics, Warholm won the previous two world titles in the 400-meter hurdle event. Plus, in the summer just before the games, the 25-year-old hurdler "broke a 29-year-old world record … when he finished the 400-meter hurdles in 46.70 seconds. It was the longest-standing record in men's track," CNN detailed. After the historic moment, Warholm explained "It's a record that is older than me. I don't think this record will stand as long as his record, but it's just amazing," via World Athletics.
When Warholm is out and about, he dresses in several styles. The hurdler enjoys casual wear, as seen in one Instagram post featuring Warholm sporting a long-sleeve orange shirt and cuffed chinos to better show off his high-top sneakers. But he also is an expert at looking dapper, like when he went to a 2019 gala in Tallinn, Estonia (above). Warholm wore a tweed jacket with a white-button up shirt and green tie. He accessorized with a pocket square and red, suede sneakers to match with the crimson vest under his sport coat.
Skateboarder Sky Brown is making Olympic history while keeping it fun and fashionable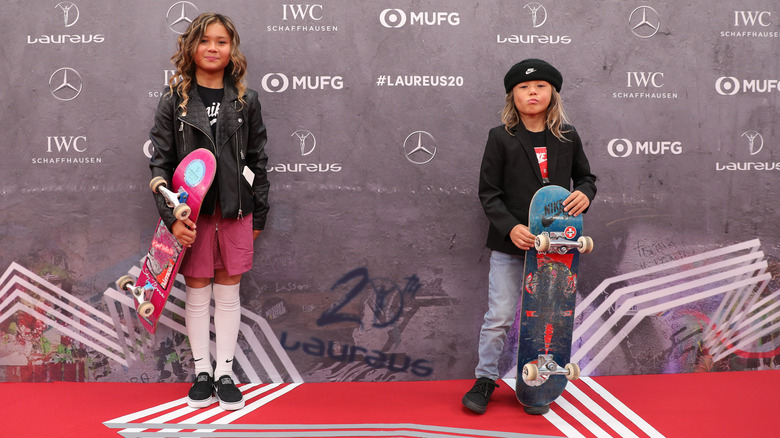 The youngest athletes to ever compete at the Olympics were both gymnasts — 10-year-old Dimitrios Loundras from Greece and 11-year-old Luigina Giavotti from Italy. "The youngest Olympian to ever win a gold medal, according to the IOC, was Marjorie Gestring, a diver from California," Today reported. Sky Brown from Britain joined this special company as a competitor in skateboarding at the Tokyo Olympics. According to The Guardian, the young woman turned 13 years old just before the games. She also became Britain's youngest athlete ever to compete in the Summer Olympics. "It's a crazy feeling. It's like more than a dream come true. I mean, it's insane," Brown said of her big moment.
The skater trained in California, and her street style reflects the state's famous ocean vibes. At a 2020 event in Berlin, Germany, Brown (above left) paired a leather jacket with a pink skirt and knee-high Nike socks. And the outfit couldn't be complete without her skateboarding shoes and carrying a pink skateboard. She was at the event with her brother Ocean Brown (above right), who is also a skateboarder. The two even have their own YouTube channel. The platform is a place for the Browns to show off all their talents. Of course, skating but also singing — like in 2020 when Sky released her single "GIRL." The caption for her song said, "Girls can do anything that boys can do. Girls can change the world."
American Olympian Nyjah Huston's style is a literal part of him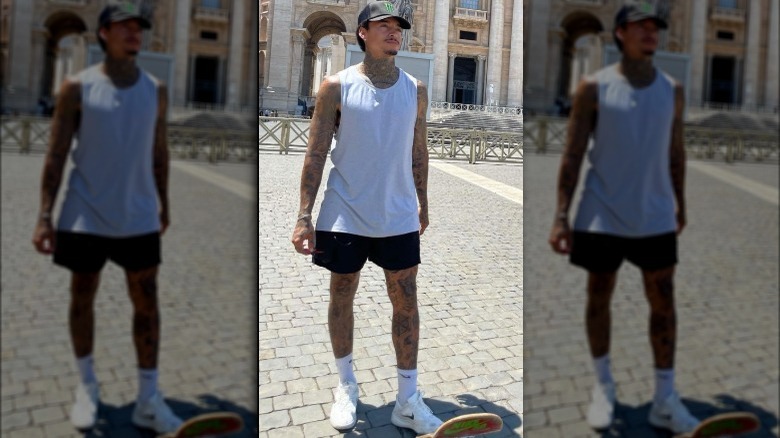 After being featured every year during the X Games, skateboarding finally earned its place as an Olympic sport for the 2020 Summer Olympics. At 26 years old, U.S. athlete Nyjah Huston became America's greatest hope for medaling in the new category. The former wonderkid was no stranger to competition. "He won the skate world's biggest amateur contest at 10, turned pro the next year," GQ recounted. "I literally started skating handrails when I was seven years old, with no helmet on, so I was just bred into this type of skating where you have to be kind of fearless and just go for it," Huston explained.
Skateboard culture also comes with laid back fashion statements, of course, and Huston is especially interested in his looks. Outside of his "seemingly unremovable Monster Energy ball cap," Huston also loves tattoos; He told GQ his body is "85 to 90% covered" in ink. Back in 2018, Huston told The New York Times about his favorite outfits. His looks often consisted of "skinny jeans, leather jackets and purple bracelets." Getting ready for the Tokyo Olympics, he seemed to prefer mid-thigh shorts paired with calf-length socks and crisp, white sneakers. On Instagram, he posted a photo of himself in Vatican City rocking the look (above), of course with his Monster Energy hat.
Hannah Roberts goes for simple looks outside the Olympic arena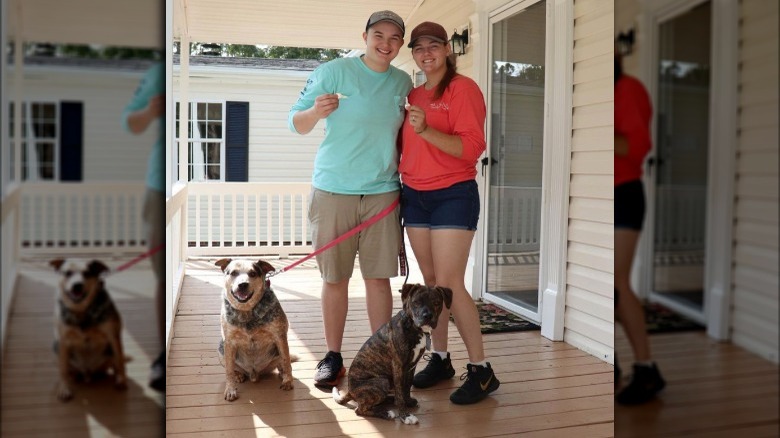 Among the extreme sports that were added to the Olympics is BMX freestyle. BMX racing has been a part of the Olympics since 2008, but 2020 marked a new era for extreme bike riders. One of America's best athletes to compete in the Olympic debut for BMX freestyle was 19-year-old Hannah Roberts. She started at a young age — only eight years old — "after being inspired by her cousin, Brett Banasiewicz, a professional BMX rider," Forbes explained. Even with a cousin who knew the sport well, Roberts dealt with an early setback. When she was ten years old, Roberts fell off a six-foot ramp, leaving her with "a fracture to her T4 vertebra." Luckily, Roberts recovered and "entered her first competition at the age of 12."
In her personal life, Roberts' family grew considerably in 2020. She adopted a puppy named Koda and was engaged to her girlfriend Kelsey Miller in November. Roberts also "bought her first house in October, in Jacksonville, North Carolina." In a photo Roberts posted on Instagram, she and Miller, who wed at start of 2021, proudly hold keys in front of their new house. She also showed off her off-duty fashion style. Roberts, who came from Buchanan, Michigan, dressed in a simple mid-western style. This included a cap, khaki shorts, and bright, pastel shirt. Of course, her adorable dogs are by her side.
Olympic golfer Shanshan Feng wears more than just polos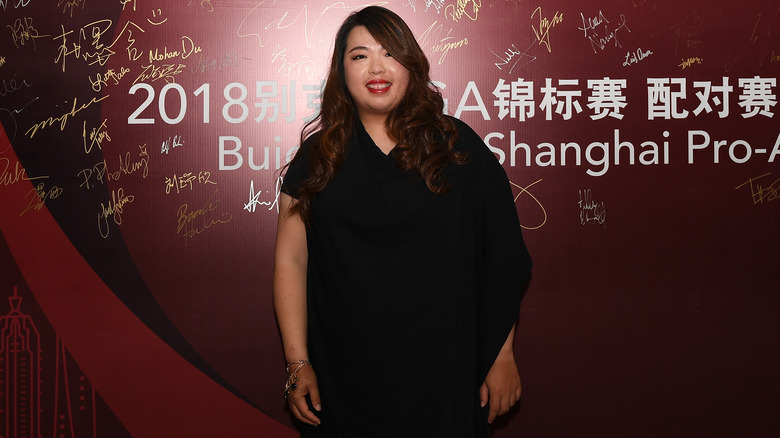 One of the biggest stars from China to head to the Tokyo Olympics is Shanshan Feng. According to The New York Times, Feng was "the first Chinese woman to join the Ladies Professional Golf Association" and "the first Chinese winner of a major and the first from her country to reach the women's world No. 1." In her first Olympic games, the 2016 event in Rio de Janeiro, she earned the bronze medal. Her big win and reputation earned her a chance to meet Xi Jinping, China's president. When Feng first saw the president in the meeting, she reportedly told him, "President, you're so handsome." Feng herself is beautiful, and loves to dress up when she's not walking around on a golf course.
For example, she attended a 2018 pro-amateur party in Shanghai, China wearing an elegant, asymmetrical black dress (above). And no longer hidden under her golf hat, Feng had a chance to show off her long, auburn hair. This look was simple compared to the decorative print dress she wore to the same event. In a post on her Instagram, Feng dressed up in a stunning full-length dress. The long, flowing sleeves and the combination of colors — red, gold, and black — further accentuated her hair, which looked even more red.
Decorated footballer Dani Alves will bring unique style to the Olympics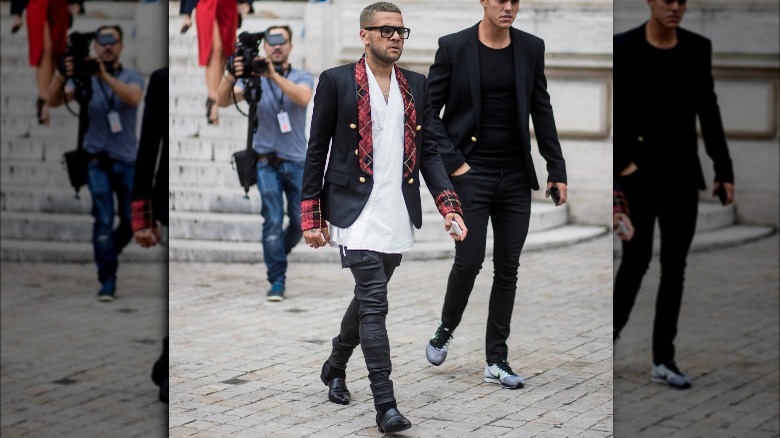 Brazil is synonymous with football. As of 2020, the country had the most world cup wins, five, according to Statista. And one of its most famous players, Pelé, was on three of those teams, which earned him the record for most world cup winners as a player, Guinness World Records reported. And yet, prior to the 2016 games in Rio De Janeiro, Brazil had never won gold at the Olympics for men's football. In its home country, however, the team finally won. Missing from that winning team was defender Dani Alves. After a twenty-year career, the veteran player was named to the Brazilian team to play at the Tokyo Olympics. At the time, he was also the most decorated footballer ever "with 43 titles to his name," the Olympics reported.
Adding to his impressive resume is his impressive wardrobe. His posts on Instagram show an eclectic mix of looks, including when he posted a shot of himself wearing a short-sleeve turtleneck with a pearl necklace and round glasses. And the footballer also is no stranger to fashion week — he attended French luxury brand Balmain's Spring-Summer 2018 fashion week show. He wore a Balmain jacket, adorned with the fashion brand's iconic buttons and red, tartan plaid accents (above). The midfielder paired this with a white, kimono-style shirt underneath. Alves completed the look with rectangular glasses, black skinny jeans, and black leather boots.