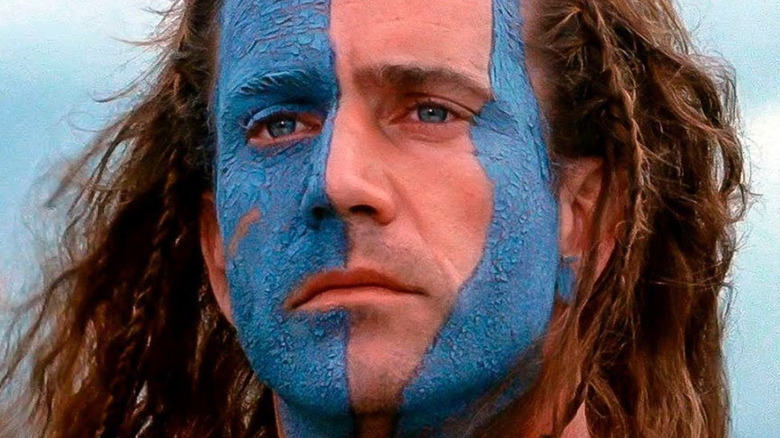 Few people in Hollywood have survived as many scandals as Mel Gibson, whose career as an A-list leading man famously came to a grinding halt in 2006 when he was hit with a DUI in Malibu. The New York native came under fire after the police report (via the Los Angeles Times) revealed that he "blurted out a barrage of anti-Semitic remarks," and he was back in trouble again a few years later when several recordings of him yelling at Oksana Grigorieva — mother of his then-1-year-old daughter — leaked online. The likes of Whoopi Goldberg, Jodie Foster, and Robert Downey Jr. voiced their support, but Gibson would remain a pariah in Tinseltown until he made a triumphant return with his World War II epic, "Hacksaw Ridge," in 2016.
When "Hacksaw Ridge" got a 10-minute standing ovation following its premiere at the Venice Film Festival, it signaled an end to Gibson's time in the cold. He was nominated for Best Director at the Oscars and was soon working with the big studios again, appearing in films like Paramount's "Daddy's Home 2." Unfortunately for Gibson, his newer on-camera efforts haven't been anywhere near as well-received as his older work. While he's starred in a couple of surprise hits since his career imploded in the '00s, most of his best movies are from a bygone era of film, when hair was big, explosions were bigger, and studios weren't afraid to cast big name stars in R-rated movies. But which Gibson films are the true classics? Well, join us as we rank the very best movies that Mel Gibson has to offer.
(Warning — there are spoilers below.)
16. Mad Max Beyond Thunderdome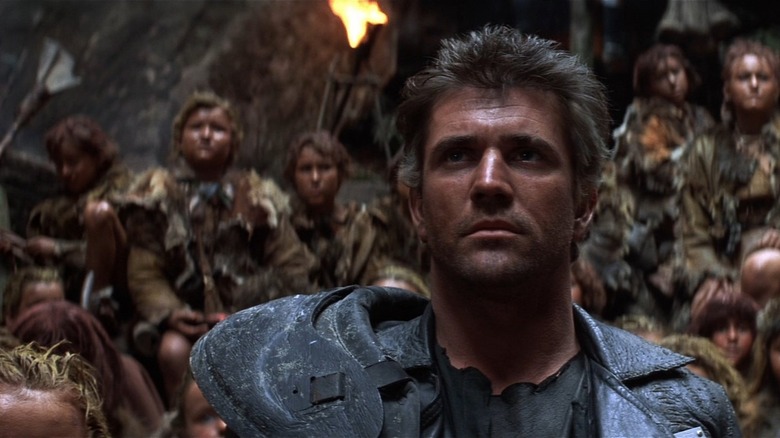 The third and final "Mad Max" movie to star Mel Gibson is undoubtedly the weakest, but for fans of the franchise, 1985's "Beyond Thunderdome" remains a must-see. The success of the first two films meant that writer-director George Miller had a Hollywood-sized budget to play with this time around, and it showed. The sets are more elaborate (Max discovers Bartertown, the Wasteland's biggest outpost and home of a gladiatorial arena called the Thunderdome), and there's some genuine star power backing Gibson up, as Tina Turner plays Bartertown's ruthless leader. She exiles Max, only for him to be saved by a tribe of desert children, descendants of plane crash survivors who've been living in a secluded oasis.
The inclusion of the kiddy tribe gives "Mad Max Beyond Thunderdome" a far more family friendly feel, but once you accept the film for what it is (a PG-13 version of Miller's mad, dystopian world), there's a lot to be enjoyed. Turner delivers a powerhouse performance as the chainmail-wearing badass Aunty Entity, a part that Miller wrote for her after she captivated him in a TV interview. The Australian director "captured Tina Turner on film at a great time in her life," NME said when "Mad Max Beyond Thunderdome" turned 35 in 2020. "Like Aunty Entity, she was a survivor and a person looking ahead, not back." The often overlooked threequel definitely doesn't lack in the thrills department either — the final chase scene contains crazy high-speed stunts galore.
15. Ransom
One of director Ron Howard's darker films, "Ransom" saw Mel Gibson take on the role of a rich dad desperately trying to locate his missing child. Multi-millionaire airline owner Tom Mullen lets a team of FBI agents (led by Delroy Lindo) turn his penthouse apartment into their base of operations when his son (Brawley Nolte) is snatched from a science fair in broad daylight. After initially agreeing to pay the $2 million ransom he's asked for, Mullen has a change of heart and — in the film's standout moment — offers the money as a bounty on the kidnappers' head. It's a bold move that ultimately pays off, but there are plenty of twists and turns to be had before Mullen is reunited with his boy.
It's far from Gibson's finest work, but the majority of critics were pleasantly surprised when "Ransom" hit cineplexes in 1996 (Variety called it "a crackerjack thriller with some unusually tasty plot twists" while The New York Times said the film was "a spellbinding crime tale that delivers surprises right down to the wire"), and it still holds up today. Rene Russo and Gary Sinise both deliver understated but effective performances as Mullen's wife and adversary respectively, but this is a Mel Gibson movie, and he takes full ownership of it when he turns the tables on the shocked kidnappers. The film's R-rating gives Gibson license to go a little crazy, and from the moment he snaps, we're gripped.
14. Signs
M. Night Shyamalan drew comparisons to both Steven Spielberg and Alfred Hitchcock when he burst onto the Hollywood scene with his hugely successful supernatural thriller "The Sixth Sense" in 1999, and the influence of both those directors is strong in 2002's "Signs." Mel Gibson stars in one of his more reserved roles, playing a farmer and former Episcopal priest. Father of two, Graham Hess lost his faith in God after his wife was brutally killed in a freak car accident six months prior to the events of the film. He's forced to put his grieving to one side when strange crop circles appear on his land and on farms all around the world, which all turn out to be a means of navigation for a hostile extraterrestrial race. What unfolds is an intimate alien invasion movie that Gibson anchors with quiet aplomb.
The film's most memorable scene (who can ever forget seeing that first alien, captured on home video at a kid's birthday party, being broadcast on the news?) is still as chilling today, and the movie itself remains as relevant as ever, according to Shyamalan. When he sat down for an interview with The Ringer in 2020, the filmmaker said that "the emotions that were stirred" in "Signs" became part of real everyday life during the height of the COVID-19 pandemic. "We kind of all experienced that just now, this year," he said. "Helpless protecting our families, insecurity about what's happening in the world."
13. The Patriot
The rousing score that John Williams composed for "The Patriot" was nominated for an Oscar, but Roland Emmerich's Revolutionary War epic was never going to win any awards for historical accuracy. The Los Angeles Times was quick to point out "the film's not inconsiderable failures" in this department. Producers, meanwhile, were keen to highlight the fact that advisors from the Smithsonian Institution found Mel Gibson's character (a South Carolina planter who employs freed former slaves) to be "completely credible," per The New York Times. Either way, if you go into this one expecting a factual account of what went down during the American War of Independence, you're going to come away disappointed. If your goal is to see a vengeful Mel Gibson kick some stuffy British butt, however, then "The Patriot" is for you.
Gibson stars as the fictional revolutionary Benjamin Martin, a veteran of the French and Indian War living quietly on his patch of land with his seven kids after the loss of his wife. He's soon forced to pick a side in the coming war with the British, and that decision is made a whole lot easier when Jason Isaacs' dastardly Col. Tavington (a far more brutal version of real life soldier and politician Banastre Tarleton) murders one of his sons in cold blood. Gibson's character loses yet another son before his showdown with Tavington, sending him into full, flag-waving rage mode.
12. The Bounty
In 1789, a master's mate by the name of Fletcher Christian led a mutiny on Royal Navy merchant vessel the HMS Bounty, kickstarting a series of events that would be recreated on the big screen on more than one occasion. Mel Gibson took on the role of Christian in 1984's "The Bounty," one previously played by both Clark Gable and Marlon Brando. The part of overthrown captain William Bligh (who spent seven weeks at sea after being cast adrift in a small boat with 18 men, completing a remarkable 4,000 mile journey to Timor) was played by Anthony Hopkins, who turned in "one of the most interesting performances of 1984," according to veteran film critic Roger Ebert.
Ebert also heaped praise on Gibson's strong but silent take on Fletcher Christian, who would eventually settle on the then-uninhabited Pitcairn Island with some Tahitian women and what remained of his men, evading capture for the rest of his days. Just as he did in real life, Gibson's version of the famous mutineer strikes up a relationship with a Tahitian girl named Mauatua (Tevaite Vernette), and helmer Roger Donaldson (who would go on to direct Tom Cruise in "Cocktail" a few years later) makes it really easy to root for the good-looking couple. "The Bounty" is a romantic and well-made swashbuckler that fans of young Mel Gibson would be mad to miss.
11. We Were Soldiers
Released in 2002, Mel Gibson's Vietnam War movie "We Were Soldiers" came out on the back of "Saving Private Ryan" and "Black Hawk Down," and while it didn't do quite as well with the critics as those two films, the leading man won a lot of personal plaudits. Producer and longtime film critic Debbie Lynn Elias (writing on her website Behind the Lens) said, "Mel Gibson's portrayal of [Lt. Col. Hal] Moore is indisputably the finest of his career, perfecting a blend of a quietly authoritative razor-sharp soldier with unquestioning allegiance to God, his country, and his men, with a moral compass reflecting devotion and light-hearted tenderness to his family." To call it Gibson's best ever work is perhaps a stretch, but it's hard not to be moved by his performance.
Based on the book "We Were Soldiers Once… and Young" by the real Lt. Gen. Moore, the film follows a seasoned commander who's chosen to lead an unprepared battalion of young men into what would become the first major battle of the Vietnam War. The movie doesn't really delve into politics or ask hard questions about America's presence in Southeast Asia at the time, but it definitely doesn't shy away from showing the true, bloody nature of the war. In fact, it was dubbed "one of the most violent movies ever released" by Common Sense Media.
10. Get the Gringo
Mel Gibson's reputation was being dragged through the mud again when "Get the Gringo" was released in 2012, but most critics opted to review the film based on its merits alone. And the vast majority of them found it to be pretty darn entertaining. Gibson plays a career criminal who gets busted in Mexico and sent to an open prison, where gangsters run the show and the families of inmates are allowed to come and go as they please. He strikes up a relationship with a kid (Kevin Hernandez) who regularly visits his incarcerated mother, and when he learns that the prison's head honcho plans on harvesting the youngster's liver (he's in desperate need of a transplant, and the kid matches his rare blood type), the American decides to lend a hand.
Directed by Adrian Grunberg, who was Mel Gibson's first assistant director on 2006's "Apocalypto," this gritty action thriller unapologetically plays to the star's strengths. He looks almost at home wandering the cluttered lanes of the shantytown-like prison complex, and when the bullets start flying, he's in his absolute element. Gibson was in his mid-50s at the time, but "Get the Gringo" didn't feel like your typical "old man action movie," a testament to the director, the star, and the supporting cast, as the movie wouldn't have worked without Kevin Hernandez's mature performance.
9. Blood Father
If you enjoyed seeing a mid-50s Mel Gibson going up against an army of gangsters in "Get the Gringo," you're probably going to get a real kick out of 2016's "Blood Father," a violent crime thriller that's very much in the same vein. Released the year that Gibson turned 60, the former heartthrob sports a bedraggled grey beard and some very real wrinkles as he tries to keep his daughter (Erin Moriarty with a "terrific supporting turn" alongside "an unexpectedly engaging" Gibson, said The Guardian) safe from her drug-peddling former boyfriend and his murderous gang. It turns out her ex is a member of a Mexican cartel and — knowing she's seen way too much — he won't let her go easy.
The film hurtles along at a breakneck pace and never loses track of what it's trying to be. This is an unapologetic latter-day Mel Gibson action movie featuring perhaps the most "Mel Gibson" character ever in John Link, an ex-convict, Vietnam War veteran, former Hell's Angel, and tattoo artist. Nobody predicted that "Blood Father" would be any good, let alone even better than "Get the Gringo," but French director Jean-François Richet (best known for his 2005 remake of John Carpenter's "Assault on Precinct 13") and his long-time cinematographer Robert Gantz nail their vision here. The film looks great, and Gibson's on top form throughout.
8. Lethal Weapon 2
Richard Donner's "Lethal Weapon" became a critical and commercial success upon its release in 1987, and, naturally, a sequel soon followed. Donner returned to the director's chair for 1989's "Lethal Weapon 2," while co-stars Mel Gibson and Danny Glover stepped back into the roles of Martin Riggs and Roger Murtaugh, the polar opposite LAPD partners that audiences grew to love in the first film. Their second outing together didn't quite reach the same heights, but "Lethal Weapon 2" (which introduces Joe Pesci's federal witness Leo Getz to the franchise) remains one of the most memorable action movies of the 1980s.
Pesci's appearances in the comparatively terrible '90s sequels, "Lethal Weapon 3" and "Lethal Weapon 4," seem forced, but he works brilliantly in the second installment. Riggs and Murtaugh are assigned to protect the shady Getz, who ultimately leads them to the gang of South African smugglers they're pursuing at the start of the picture. Returning screenwriter Shane Black (who went on to write and direct 2013's "Iron Man 3") gives Gibson room to flex his comedic chops, and he manages to avoid all the usual pitfalls, coming up with a sequel that is "neither predictable nor conventional," Empire said in its review, before adding, "It's just pumped full of juice."
7. Chicken Run
"Chicken Run" is rarely the first film that comes up when Mel Gibson's career is under discussion, but with its razor-sharp humor and endless amounts of heart, it more than deserves its place on our list. Gibson had already dabbled in voice acting when he took on the role, having played the eponymous character's love interest in Disney's "Pocahontas." John Smith was a totally different proposition to laid-back stunt rooster Rocky Rhodes, however, and you can tell that the actor really had fun in the latter role. The critics thoroughly enjoyed it too — it's the highest-rated Mel Gibson film on Rotten Tomatoes, with a near-perfect score of 97%.
In a team-up we never knew we needed until it happened, Gibson's voice works perfectly with the delightful yet dark world created by Nick Park ("Wallace and Gromit") and Peter Lord ("The Pirates! Band of Misfits"). Led by a hen named Ginger (Julia Sawalha), the chickens in "Chicken Run" are so eager to escape because the farmers have decided to move away from eggs and into the chicken pie business. When Rocky lands on the farm one day after being fired out of a nearby circus cannon, they mistakenly believe he can fly and beg him to teach them. Watching the whole gang soar to freedom on a rickety man-made (chicken-made?) aircraft never gets old.
6. Mad Max
The film that started it all for Mel Gibson, 1979's "Mad Max," remains one of cinema's greatest success stories, a real labor of love for the then-inexperienced filmmaker George Miller. "The toughest film I ever made was the first 'Mad Max,'" Miller once told IndieWire. "I didn't know much about filmmaking, and it was rather bewildering." The Aussie visionary had a budget of less than $400,000 to play with, yet his dystopian thriller made over $100 million at the global box office and held the record for most profitable movie ever made until the release of handheld horror "The Blair Witch Project" over two decades later, per Vanity Fair.
Gibson stars as "Mad" Max Rockatansky, a member of Australia's highway patrol who's becoming increasingly disillusioned with his job in this grim, near-future version of the Land Down Under. Society is collapsing, lawlessness is rife, and his colleagues are dropping like flies. But when Max tries to quit, Toecutter (Hugh Keays-Byrne, who later played Immortan Joe in the 2015 Tom Hardy-led sequel "Mad Max: Fury Road") and his motorcycle gang kill his wife and child, running them down in the road. This triggers what would become a typical "Mel Gibson" moment — he snaps. Max goes mad, hits the road, and hunts down the bikers, dispatching them in a procession of insane stunts.
5. Braveheart
The Scots were less than enthusiastic about actor-director Mel Gibson's imitation of their accent in 1995's "Braveheart," but American audiences were willing to forgive him the odd slip. His turn as 13th-century Scottish freedom fighter William Wallace would become one of the actor's most beloved performances, and despite containing a number of historical inaccuracies, his film is "a part of Scotland's cultural identity," according to The Scotsman. Surprisingly, Gibson was passed over in the acting department when it came time for the Oscar nominations, but he was named Best Director for "Braveheart," which also took home the award for Best Picture.
Written by Randall Wallace (who would later direct "We Were Soldiers"), "Braveheart" is a typical Mel Gibson film in that he plays a badass yet completely selfless hero, but what makes William Wallace stand out against many of his other characters is that he dies in the end — and in memorable fashion. The protagonist is hanged, drawn, and quartered (a brutal form of execution that really was that barbaric) after refusing to bend the knee to his supposed English overlords, but he still gets the final word, bellowing out "freedom!" with his dying breath in an iconic movie moment that's been parodied countless times.
4. The Year of Living Dangerously
Mel Gibson and Sigourney Weaver both had a huge 1979, breaking through with their respective roles in "Mad Max" and "Alien." Four years later, the hot new kids on the block appeared opposite each other in Peter Weir's "The Year of Living Dangerously," a gripping, 1960s-set romantic drama based on the Christopher Koch book of the same name. Gibson's Australian journalist falls for Weaver's British embassy assistant after arriving in Indonesia (where the film was banned for over two decades), but things become complicated for them and everyone else in the country when there's an attempted coup.
Neatly summed up as "a 'Casablanca'-like movie for modern audiences" by film critic Emanuel Levy, "The Year of Living Dangerously" does lean more towards exotic romance than political thriller, with the tropical location giving the fling that extra bit of excitement. The chemistry between Gibson and Weaver is electric throughout, but this is far from a holiday romance pic. Much of the action takes place in the sprawling city of Jakarta at a time when President Sukarno's authoritarian rule was on the verge of collapse, and there were still tensions when "The Year of Living Dangerously" entered production years later. They chose to film in the Philippines after Indonesia said no, but they were forced to abandon the set and finish the shoot in Australia after the crew received anonymous threats, The New York Times revealed.
3. Lethal Weapon
The original isn't always the best, but when it comes to the "Lethal Weapon" franchise, it's true. The first sequel managed to live up to the standard set by 1987's "Lethal Weapon," but the one sin that "Lethal Weapon 2" committed was downgrading Mel Gibson's Martin Riggs from a borderline psychopath to a regular old loose cannon. It's great that he's coming to terms with the tragic death of his wife, but in the first film, he's still driven by that raw grief, and even Danny Glover's Roger Murtaugh doesn't know what the heck he's going to do next.
Riggs' new partner establishes that he's legitimately suicidal after he gets a potential jumper down from a building by handcuffing himself to the man and leaping over the edge with him. It's followed by an intense and finely acted scene between the two LAPD sergeants, in which Murtaugh offers up his gun … only to pull it away when Riggs almost uses it on himself. Richard Donner didn't set out to make a movie about mental health, but watching the film through a contemporary lens reveals aspects of Gibson's performance that perhaps weren't appreciated enough at the time, overshadowed by the frenetic action. Of course, that's quite understandable when you're dealing with one of the best action movies ever made.
If you or anyone you know is having suicidal thoughts, please call the National Suicide Prevention Lifeline​ at​ 1-800-273-TALK (8255)​.
2. Gallipoli
Before Mel Gibson and Peter Weir teamed up for "The Year of Living Dangerously," they worked together on the critically acclaimed war drama "Gallipoli," the story of two young Australian sprinters who sign up to fight alongside the Brits during World War I. Frank Dunne (Gibson) and his mate, Archy Hamilton (Mark Lee), are sent to the front line, and Weir makes sure to show what life was like for troops on the ground in World War I, from the crippling boredom of the trenches to the gut wrenching reality of what happens when you go over them. In a heartbreaking scene, Frank is forced to watch as Archy is cut to ribbons by enemy machine guns after being ordered to advance by his superiors.
The film's depiction of British troops has been called into question (they're shown drinking tea on the beach as Aussie soldiers die in battle, a longstanding myth about Gallipoli), but critics in London loved the movie regardless. Empire called it "a haunting and moving tribute to the Australians who sacrificed their lives in WWI," while The Telegraph hailed "Gallipoli" as "one of the most elegiac anti-war films ever made" in a glowing review. Gibson plays Frank with a fragility that we're not used to seeing in his later performances, and it really sucks you in, forcing viewers to mourn with him.
1. The Road Warrior
Remember when we told you that the original isn't always the best? Well, 1979's "Mad Max" was and always will be an absolute triumph, but Mel Gibson gave his most memorable performance as the titular antihero in George Miller's tour de force "Mad Max 2," his critically acclaimed 1981 sequel. Released under the title "The Road Warrior" in the United States, the film takes us back to Miller's arid dystopian world, only it's a few years down the line and civilization as we know it is now history. This is the iconic image of Max that became embedded in popular culture — a lone wolf traveling across the dusty Aussie outback, scavenging for fuel and food as he goes.
Miller wastes little time in introducing Max to the Marauders, the sequel's gang of motorcycle-riding madmen. The director puts his foot on the gas during this first encounter, and he doesn't let up until the credits are rolling. It makes for "exhilarating entertainment" according to Time magazine, which called the film "a textbook for sophisticated, popular moviemaking" in its original review. "The Road Warrior" has only grown in popularity in the decades since, and it's hard to imagine the star ever topping it at this stage. If you're only going to watch one Mel Gibson movie today, make it this one.