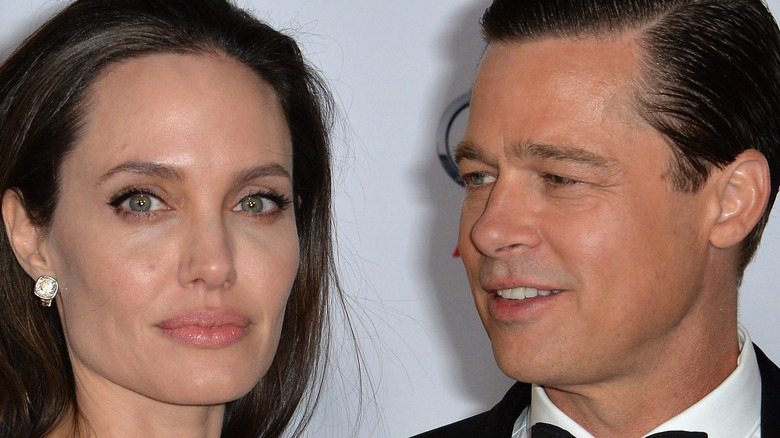 Living like an A-list star isn't always glamorous, especially when the right to privacy is almost non-existent thanks to the swarm of paparazzi that seem to follow every footstep these stars make. The word privacy isn't in a celeb's vocabulary and unfortunately, things have only gotten worse as some of these photographers just go too far, especially with children of celebrities. In 2013, actor Halle Berry testified for her then 13-year-old daughter on a bill that would protect high-profiled celebs' children from the paparazzi. In her statement, she declared (via CBS News), "My daughter doesn't want to go to school because she knows 'the men' are watching her." The bill was successfully signed into law in California.
However, there currently isn't a bill protecting celebrity couples from being photographed having an argument or fight in public that gets blown up in the tabloids. While no couple is perfect (celebrity or not), these stars have unfortunately found themselves having public spats that weren't meant to be captured on camera. The celeb couples below have had blowout fights in public that unluckily were photographed or overheard by onlookers and made headlines.
Courteney Cox and Johnny McDaid's heated argument didn't ruin their relationship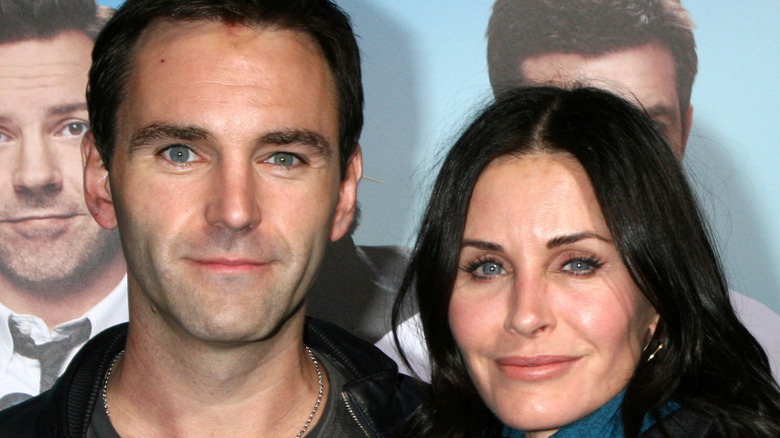 "Friends" star Courteney Cox and musician Johnny McDaid have been together since 2013 and took their relationship to the next level when the Snow Patrol singer popped the question just six months later. However, by November 2015, Cosmopolitan reported that the couple had split because Cox was set on living in Los Angeles while McDaid wanted them to move to London. While the couple rekindled their romance in 2016, deciding to work things out and live on opposite sides of the Atlantic, paparazzi captured a less than joyous reunion between the pair in August of that same year after they were spotted arguing outside a restaurant in West London, per Daily Mail.
Photos captured Cox waving her arms and looking "strained" as the couple sat outside Granger and Co. restaurant in Notting Hill, London. At one point, Cox held her head in her hands as things appeared to get more emotional with the actor even turning her head away from her beau. Daily Mail also reported that Cox gave McDaid "the silent treatment" before appearing to leave the table.
Despite photographs capturing the two in what looked like a heated argument, the couple is still going strong as of this writing. In fact, they even spent most of 2020 apart due to the coronavirus (via Hello!) but appeared to finally reunite in December 2020 after posting a video together on Twitter for the Ráth Mór community.
Shia LaBeouf and Mia Goth get into scary altercation in Germany
Actor Shia LaBeouf's behavior over the years has been downright bizarre, and things almost got ugly when he and his former longtime girlfriend Mia Goth got into an altercation in Germany in 2015 that was all captured on video. According to ET, LaBeouf was in the middle of an argument with Goth in the streets of Germany when a few locals intervened. LaBeouf was heard stating, "I don't want to touch a woman, I don't want to hit a woman, but I'm being pushed." Getting into a local's car to drive him to the airport the actor then tells them, "If I'd have stayed there, I would have killed her."
The couple had managed to put their scary fight aside and even tied the knot in 2016 in Las Vegas, but two years later, they confirmed that they were parting ways. However, People reported that the two were recently spotted together in 2020, with the pair both wearing wedding rings.
Before rekindling with Goth, LaBeouf had dated singer FKA Twigs in 2018, but in 2020, the songstress filed a lawsuit against him for abuse, telling The New York Times, "What I went through with Shia was the worst thing I've ever been through in the whole of my life."
If you or someone you know is dealing with domestic abuse, you can call the National Domestic Violence Hotline at 1−800−799−7233. You can also find more information, resources, and support at their website.
Beyonce gives Jay-Z a talking to during sushi date
Despite being one of Hollywood's biggest power couples, Beyoncé and Jay-Z have managed to keep their relationship relatively private. That is until the paparazzi caught the duo dining at Sushi Park restaurant in Los Angeles, California in 2016, and photos showed them having anything but a pleasant sushi date. Photos obtained by OK! magazine showed Queen B yelling and waving her finger at her rapper husband as he appeared to be glancing at his phone several times. Was it possible that the "Single Ladies" songstress was upset at Jay-Z being on his phone during dinner? While fans may never know what started the public argument, the couple is still together as of this writing.
In fact, the argument comes two years after the infamous elevator fight at the 2014 Met Gala between the rapper and Beyoncé's sister, Solange Knowles. A video posted to TMZ showed Knowles striking and kicking Jay-Z in an elevator while bodyguards eventually restrained her. The three artists did make a joint statement regarding the incident which read, "They both have apologized to each other and we have moved forward as a united family," and Beyoncé famously included the incident in her song "Flawless" with the line, "Of course, sometimes s*** go down when it's a billion dollars on an elevator."
Paparazzo captures chilling photo of Charles Saatchi and Nigella Lawson
A paparazzo by the name "Jean-Paul" witnessed a chilling sight when he so happened to stumble upon Britain's most high-profiled figure Charles Saatchi with his hand around his chef wife, Nigella Lawson's throat during his birthday lunch. Speaking to Vanity Fair about that day in 2013, the paparazzo claimed that when Saatchi grabbed his wife's throat for a second time while out in London, it "was so violent, with such force, that her head snapped backward." Once the photos landed in the tabloids, it sparked a major reaction by the public about domestic violence.
Four weeks after the photos were shown all over the world, Saatchi filed for divorce after 10 years of marriage. He told the Daily Mail that Lawson refused to comment on the incident with a statement that read: "I abhor violence of any kind against women." In fact, his statement read that putting his hands on her throat was "merely a gesture" and added that "there was no pressure applied to her." According to CBS News, by the end of July 2013, the former couple reportedly had a "swift and amicable" divorce with neither receiving any financial support from the other.
In 2019, the chef opened up to The Irish Times about the event that led to the public's speculation about abuse. She shared, "It was generally about feeling exposed and under attack," adding, "Besides, I would genuinely rather talk about food."
Kim Kardashian and Kris Humphries' public fight happened days before divorce
Days before Kim Kardashian filed for divorce from Kris Humphries after being married for only 72 days in 2011, Daily Mail reported that trouble was looming for the star-studded pair after being spotted arguing in their car while out on a dinner date in Hollywood, California. On day 68 of their marriage, the couple was photographed heading back to Kardashian's Rolls Royce Phantom after dinner and it looked like anything but happy times for a newlywed couple. Daily Mail stated that Humphries looked fed up as the reality star was giving her husband the "death stare" in her vehicle and waving her hands, appearing to be in an argument with the NBA player.
Unfortunately for Humphries, his wife would file for divorce that same year and he would file for an annulment soon after, with reports stating that Kardashian only married him for television ratings for her show "Keeping Up With the Kardashians," per the Los Angeles Times. Humphries was also asking for $7 million from his ex-wife or "endure an ugly, public trial." In 2013, Kardashian managed to come on top with Humphries walking away with none of her money and having to pay his own attorney fees, per the Los Angeles Times.
Years later, Kardashian admitted on the "Keeping Up With the Kardashians" reunion that she owed Humphries an apology for how she handled their marriage and divorce, but he has refused to acknowledge her, per Page Six.
Emma Roberts and Evan Peters have a rocky start to their relationship
Actors Emma Roberts and Evan Peters had a whirlwind relationship that began in 2012 after meeting on the set of "Adult World" and ended for good in 2019. Early on in their relationship, things took a turn for the worst when Roberts was arrested for domestic violence with TMZ reporting that the two got into an argument while in a hotel in Montreal that ended up with both stars getting physical. When police arrived, Peters was found with a bloody nose and bite mark and Roberts was taken into custody. However, Peters did not press charges and Roberts was released a few hours later.
A few days after the altercation, Daily Mail shared photos of Roberts clinging to Peters while sobbing into his arms after news broke of their fight. Paparazzi were able to capture the two hugging one another with Roberts appearing extremely distraught as Peters comforted his girlfriend. According to Page Six, the couple got engaged in 2013 but called it off in 2015. However, they were an item again in 2016 and broke up again in 2019, with Us Weekly reporting that she had moved on with Garrett Hedlund, with whom she now shares a son named Rhodes.
If you or someone you know is dealing with domestic abuse, you can call the National Domestic Violence Hotline at 1−800−799−7233. You can also find more information, resources, and support at their website.
Stephen Amell gets removed from plane after an altercation with his wife
"Arrow" star Stephen Amell and his wife Cassandra Jean Amell have been married since 2012, but things got a little ugly for the couple when they had an altercation on a Delta flight from Austin to Los Angeles that ended up with the actor having to be removed from the flight, per Page Six. According to the report, Amell was screaming at his wife on the plane and appeared to be intoxicated when a flight attendant asked him to calm down several times. However, the actor had to be removed from the flight by an air marshal and three flight attendants who then escorted him off the plane, while his wife remained on the flight bound for L.A.
With the incident made public, Amell felt the need to tell his fans what happened on Twitter, sharing that he let his "emotions get the better" of him. "My wife and I got into an argument Monday afternoon on a Delta flight from Austin to L.A. I was asked to lower my voice and I did. Approximately 10 minutes later I was asked to leave the flight. And I did so immediately. I was not forcibly removed," Amell said, adding, "I rebooked myself on a Southwest flight 2 hours later and traveled home without any further issue. I let my emotions get the better of me, end of story. Must be a slow news cycle."
Adrienne Maloof moves on from Sean Stewart in a blink of an eye
Former "Real Housewives of Beverly Hills" star Adrienne Maloof and her ex-husband plastic surgeon Paul Nassif were constantly battling it out on the Bravo show and unfortunately, the married couple of 10 years ended up splitting and finalized their divorce in 2012.
Maloof quickly moved on from her divorce from Nassif and began dating Rod Stewart's son Sean, in 2013, when she was 51-years-old, and Stewart was 32. During their short-lived romance, TMZ caught the duo in a nasty argument while attending a charity event that showed Stewart not only pointing his finger at Maloof but also giving a hand gesture that seemed as if he was brushing her off. Whatever the argument entailed, it seemed to cause the end of their quick romance as TMZ reported that hours later, Maloof walked out with another much younger man that happened to be Jacob Busch, the heir to beer brewing company Anheuser Busch.
Us Weekly reported that the duo had indeed called it quits in 2013 and decided it was better off for them to be friends. However, Maloof and Busch continued their relationship with Slice stating that they split in 2015, but rekindled their romance in 2017. The duo has since split with The Daily Dish reporting that Busch had moved on with actor Rebel Wilson, which only lasted a few months.
Simon Cowell and Lauren Silverman spotted having another argument in public
In March of 2021, paparazzi captured Hollywood couple Simon Cowell and Lauren Silverman having a tense argument while walking with their son, Eric, and their dog. According to The Sun, people passing by the couple stated that the "X Factor" judge "had a face like thunder" while the duo appeared to be arguing resulting in Silverman walking away from Cowell and the former "American Idol" judge crossing the street to walk on the other side of the road while speaking to someone on his phone.
It certainly wasn't the first time the couple was seen arguing in public. Back in 2013, Cowell and Silverman appeared to be having a heated argument while inside of a car in New York City. Page Six reported that the couple was photographed having an altercation in the back of an SVU in broad daylight with their windows down. Cowell was seen with his hands in the air and Silverman looked distraught. Hours later, the duo seemed to be doing just fine as they stepped out in New York's Upper East Side with smiles on their faces.
As of this writing, the couple has yet to tie the knot but do share son Eric, who was named after Cowell's father, per Good Housekeeping.
Jessica Simpson and John Mayer's relationship ended in Cabo
Jessica Simpson and John Mayer had a tumultuous relationship that she would later describe as "on-again, off-again" during a sit-down interview with Hoda Kotb on "Today" in 2020 for her memoir "Open Book." The celeb couple began dating back in 2006 with Simpson telling Kotb that she went back to Mayer "close to nine times" throughout their relationship. One of those rough times was back in 2007, where cameras captured them in what looked like a miserable time in Cabo San Lucas, Mexico, with photos showing Simpson sitting on a balcony and crying with her head in her hands. People suggested that the pair were vacationing together to repair their relationship, but ended up splitting for good.
Excerpts from her memoir (via People) revealed that Simpson eventually stopped communication with Mayer altogether after referring to Simpson in his 2010 Playboy tell-all interview as "sexual napalm." She said, "I erased his number. He made it easy for me to walk away." While Mayer has since publicly apologized for his comments, Simpson told Tamron Hall (via E!) she'd prefer if the past stayed in the past, stating, "No, I definitely don't feel that I am owed a public apology."
Rihanna compares herself to a lioness after fans mistake photos for fighting match
Rihanna and her former billionaire beau Hassan Jameel appeared to be going strong after rumors swirled that the two were engaged in 2017 (via People), but it turned out that RiRi was just sporting a huge diamond ring as an accessory. While it wasn't an engagement ring yet, the couple continued their romance for quite some time, until photos emerged of the two on a trip to Mexico in 2018 that left many fans wondering if they were done for good.
According to Elle, the paparazzi captured photos of Rihanna having an intense argument with Jameel while they were poolside and angrily pointing her finger at him. The photos immediately went viral, but the songstress cleared things up on Instagram after sharing a photo of a female lion roaring at a male lion with the caption, "When u think u know more bout soccer #worldcup2018." Even though Rihanna would poke fun at their photos, the two ended their relationship in 2020 with People stating, that "their lives were too different and it was hard to maintain a relationship."
Rihanna has since moved on with A$AP Rocky with the rapper calling the singer in an interview with GQ, "my lady" and "the love of my life." The couple is still together as of this writing.
Gry Molvaer and Kristofer Hivju battle it out for over an hour
It's hard not to recognize six-foot-tall "Game of Thrones" star Kristofer Hivju and his bright fiery red hair whenever he goes out on the town. In fact, paparazzi were able to snap a few photos of him with his wife Gry Molvaer during a shopping trip in Los Angeles in 2016, but it turned out to be way more than a casual shopping adventure when the married couple ended up arguing outside of a BCBG store, per Daily Mail.
Things looked tense as the couple was seen in a heated exchange as one photo showed Hivju putting his hands up in the air with a look of frustration as Molvaer looked away with her hands in her pockets. People passing by the Hollywood couple reported that the argument lasted up to an hour as the couple was arguing in broad daylight.
The couple is still married as of this writing and had even battled the coronavirus together, per E! The actor shared with his fans on Instagram in 2020 that he and his wife were "fully recovered" from the virus and only had "mild symptoms."
Lana Del Rey leaves airport crying after fight with former boyfriend
Before "Summertime Sadness" songstress Lana Del Rey got engaged to Clayton Johnson in December 2020, she had a dating history that included Sean "Sticks" Larkin, the host of "Live PD" and before that, she was romantically involved with Francesco Carrozzini, an Italian photographer from 2014 to 2015.
While she kept quiet on her romance with the photographer, the New York Daily News reported that the singer and her boyfriend were seen having a huge fight in 2015 at LAX airport which resulted in Del Rey sobbing. A source reported, "Lana was completely in tears, crying her eyes out, and fighting with her boyfriend," adding, "They looked like they were having a blow-up fight. Lana looked completely stressed out and upset." It isn't certain what the former couple were arguing about, but they did call it quits that same year.
After their split, it looked as though the songstress took inspiration from Taylor Swift as fans speculated that her song "13 Beaches" is about Carrozzini, per Bustle.
Brad Pitt and Angelina Jolie argue at Legoland
Many fans were left in shock when Angelina Jolie filed for divorce from Brad Pitt in 2016, citing irreconcilable differences and asking for primary custody of their six children. In 2019, a judge ruled that Pitt and Jolie were legally single and Page Six shared that as of 2021, Pitt was awarded joint custody of their children. However, their divorce is still ongoing as Us Weekly reported that the coronavirus has slowed their "legal matters."
Before the former A-list couple called it quits, it appeared that they were having trouble in paradise when The Sun reported that the same year Jolie filed for divorce, the couple was spotted in Legoland having an argument. Onlookers told the tabloid that both stars "didn't look happy" and looked "stern-faced" as photos showed Pitt grabbing Jolie's arm as she pulls away and appeared to be screaming at him at one point.
Divorce is never an easy thing to go through, especially between Hollywood stars who are constantly in the limelight. Us Weekly stated that both Pitt and Jolie are learning to co-parent their children after years of custody battles and child support drama. Pitt has even been seen visiting Jolie's house to spend time with his kids, per Daily Mail. Hopefully, everything works out between these two megastars for the sake of their children.