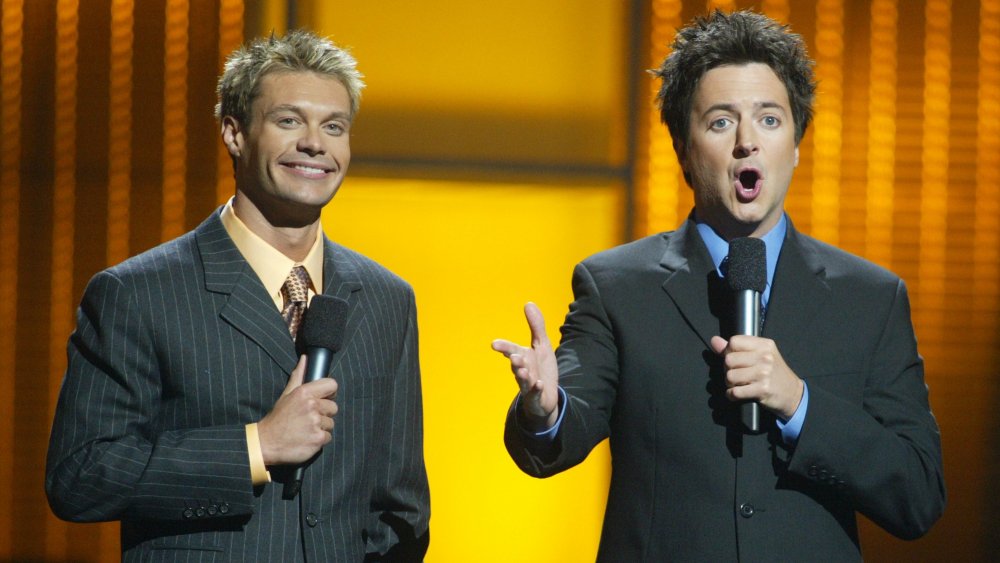 Every now and again, two hosts join forces on a television show and strike up a true friendship, an unbreakable bond that radiates from the small screen. There's Today co-anchors Hoda Kotb and Kathie Lee Gifford, whose camaraderie was celebrated when the latter left the show in 2019. Kelly Ripa told People in 2019 that her Live! with Kelly and Ryan co-host Ryan Seacrest is one of her "very best friends," before adding, "We have that connection backstage right before the show starts where it's like, 'I've got a story for you.'" Musicians Adam Levine and Blake Shelton famously hit it off when they were both coaches on The Voice.
However, as time has proven again and again, working together on a reality competition series or talk show does not always guarantee a beautiful friendship. There have been whispers of talent show judges feuding behind the scenes. We've heard about chat show panelists butting heads when the cameras are not rolling. At least one co-hosting team has admitted in a number of interviews that they are not interested in pursuing a real-life friendship. Sure, they may have on-screen chemistry, but as far as being buddies in real life goes? That's a different story.
Speaking of stories, let's dig into some of the tales of co-hosts who did not get close while working together.
Nicki Minaj and Mariah Carey did not idolize each other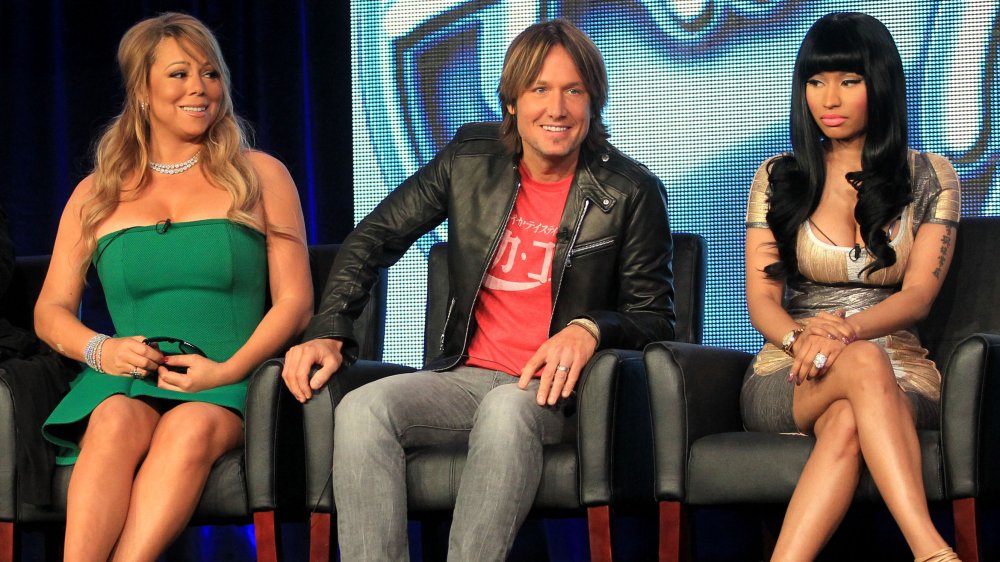 "Up Out My Face" collaborators Mariah Carey and Nicki Minaj did not exactly click when they acted as judges on American Idol Season 12. TMZ released a behind-the-scenes video of Carey and Minaj verbally sparring at an Idol audition in 2012, and feud rumors ensued. As Deadline noted, the two attempted to downplay their drama at the American Idol TCA panel, but the toothpaste was out of the tube.
Talk of conflict began even before they were on set together. On a January 2013 episode of The Ellen DeGeneres Show, Minaj said, "Before I went in there … I heard them saying 'Mariah doesn't want you on the panel' but I was like, 'No. I am friends with Mariah.' I was like arguing people down. Like, 'Don't believe everything you read, you're crazy.'" But when it came time to film, Minaj claimed she "started feeling a little bit of the shade." The "Starships" rapper added that she "cannot hold a grudge against Mariah Carey," but did say that she didn't know or care if the feeling was mutual.
When Carey appeared on the Kyle and Jackie O show in 2015, she called American Idol "the worst experience of [her] life." She added, "I'm not going to get into what it was, but let's just say I don't think they had any intentions for us to have a good experience doing that show. Pitting two females against each other wasn't cool."
Talk about a couple of friendshipbusters
MythBusters co-hosts Adam Savage and Jamie Hyneman busted myths together on the small screen for 14 seasons — and they also busted any urges to strike up a friendship. In a 2016 interview with Business Insider, Savage said, "[Our relationship has] radically changed, but it's also stayed the same. Jamie and I make no bones about the fact that we're not friends." He continued, "We don't get along very well together on a personal level. In 25 years we've known each other, we've never had dinner alone together. We do not choose to hang out if we don't have to be in proximity, and yet, there's a couple of things that happened, and they're pretty remarkable."
Hyneman told Entertainment Weekly in 2015 that he and Savage "sort of managed to tolerate each other" while filming the show. He also made sure to note that after the series ended, their "onscreen relationship in front of the camera is probably not happening." And in 2014, Hyneman admitted to Access that he and Savage "get on each other's nerves and everything all the time."
They are not friends, but that does not mean Hyneman and Savage are enemies who can't stand one another. As Savage explained to Entertainment Weekly in 2014, he and Hyneman "know as much or about each other than even close friends do," because they worked together for so long. He continued, "That, again, is informed by a deep amount of respect." Hey, whatever works!
These Fashion Police officers didn't get along
Kelly Osbourne and Giuliana Rancic had a messy falling-out after the Oscars 2015 episode of Fashion Police where, upon seeing Zendaya's dreadlocks, Rancic said, "I feel like she smells of patchouli oil. Or weed." Following the episode, Osbourne tweeted that she does "NOT CONDONE RACISM" and was considering leaving the show. Rancic apologized to Zendaya on E! News the day after the Fashion Police episode aired, and that same week, E! announced Osbourne was done with the series. Later that year, Osbourne told The Wrap that she "will never admit to liking Giuliana." She explained, "I don't think she's a good person and I think she's a liar." She also said she would be open to the idea of returning to Fashion Police "If certain people weren't there." When Rancic came up in a October 2015 interview with Remix magazine (via Stuff), Osbourne said, "People are responsible for their own words so I couldn't give a f*** about that."
It sounds like that feud is in the past. When USA Today asked her about her situation with Rancic in 2017, Osbourne said, "That has been given more than enough publicity. I do not need to add any fuel to that fire. And it's not my life anymore." We'll just pass that drama there, why should we even care?
NeNe Leakes said Fashion Police was icy backstage
NeNe Leakes joined Melissa Rivers, Giuliana Rancic, Margaret Cho, and Brad Goreski on Fashion Police in early 2016, and shortly after, Radar Online reported The Real Housewives of Atlanta veteran apparently was not getting along with her Fashion Police co-stars. Leakes addressed said story on Instagram, writing, "Nene Leakes has been nothing but professional and nice to EVERYONE on the set of Fashion Police!" She added, "If there are any problems, they are not from Nene Leakes!"
That was not the end of that. The day the Radar Online report bubbled up, Leakes shared her side of the Fashion Police goings-on with blogger B. Scott. She said the Fashion Police cast members do not talk to each other or catch up with one another during downtime, calling the experience "very weird." She added, "Let me tell you what happens — when you arrive on set, everybody goes to their dressing rooms. When they say 'come out', everyone comes out and sits on the couch. There's no talking, no communication, nothing." She also said she has "been very kind to everyone on that set," before adding, "I am not saying it has been reciprocated."
Perhaps things didn't stay so icy with all of her co-stars. Goreski (above center) told The Daily Dish in 2017 that he and Leakes have "become really good friends" while working together and said that the members of the cast "all get along super well." That's not not encouraging.
Barbara Walters apparently didn't hit it off with this The View panelist
Jenny McCarthy was a member of The View roster for only a year, and during that short time, it sounds like she did not manage to strike up a long-lasting friendship with series creator Barbara Walters. The twists and turns of their relationship, which apparently got off to a rough start when McCarthy was a guest on the show to promote her book Louder Than Words: A Mother's Journey in Healing Autism in 2007, are front and center in Ramin Setoodeh's 2019 book Ladies Who Punch: The Explosive Inside Story of "The View" (via Vulture). One said twist and turn? How about an incident where Walters allegedly demanded McCarthy go flush someone else's tampon that was floating in the communal restroom.
McCarthy told Setoodeh that Walters would regularly single her out (pun intended) and demand she change her clothes. She also said she would do her best to steer clear of Walters, sharing, "When I'd hear the shuffle of her feet, I knew that Barbara was after me. It would get faster. Oh my God — she's coming! Based on the speed of the shuffle, I would hide or get on the phone."
It sounds like McCarthy's experience wasn't totally negative. She told Us Weekly in 2020 that working with Walters was invaluable because she was able to learn from the TV veteran. "So that was the best," she said.
The View's Rosie and Whoopi were not buddy-buddy
In Ramin Setoodeh's book Ladies Who Punch: The Explosive Inside Story of "The View," Rosie O'Donnell opened up about her dynamic with her The View co-star Whoopi Goldberg. In the 2019 tell-all, O'Donnell said she is "never going to not have respect for Whoopi Goldberg" but claimed she "was as mean as anyone has ever been on television to me, personally — while I was sitting there." On a May 2019 episode of Watch What Happens Live with Andy Cohen, Goldberg shared that she didn't read the book or speak with the author. "I don't like talking out of school, and I don't like other people talking out of school," she said. And as for O'Donnell's comments about their time on the show together? "That's okay," she shrugged.
Following the release of Ladies Who Punch, O'Donnell went on Cohen's SiriusXM show, where she talked some more about working with Goldberg on The View. "I've known her for many, many years, and always looked up to her," O'Donnell said, adding, "So I was very surprised at what went down. I thought we were going to be like Scottie Pippen and Michael Jordan, passing the ball back, throwing the layups up." Apparently, there was tension surrounding O'Donnell throwing to commercial her first day, and according to O'Donnell, their working relationship didn't recover. She added, "It was really very painful to me to feel how much she didn't like me."
More stars of The View, more feuds
Former child stars Raven-Symoné and Candace Cameron Bure shared The View stage for a time, but they sure do not share views. When discussing a story about a bakery that refused to make a cake for a lesbian couple on a 2015 episode of the long running morning chat show, Raven-Symoné and Bure found themselves at odds. Bure defended the bakery's decision, and Raven-Symoné pointed out that it was discrimination. After Bure said people "have the right to choose who we associate with," Raven-Symoné interjected, "I refuse to associate myself with you right now."
A few weeks later, Bure went on HuffPost Live, where she talked about her face-off with Raven-Symoné. Bure dug her heels in, sharing that she was satisfied with the way she defended her beliefs. "I was pleased with, you know, how I handled myself," she said.
So, did this on air argument spark a long-standing feud between Raven-Symoné and Bure? It's hard to say, but according to People, the two apparently reconciled backstage after the segment. It does feel worth pointing out that at the time of this writing, Bure follows Raven-Symoné on Instagram, but Raven-Symoné does not follow Bure. (Raven-Symoné does, however, follow other former The View co-stars, such as Michelle Collins and Whoopi Goldberg.)
Regis Philbin's replacement didn't click with Kelly
In a 2020 interview with The New York Times Magazine, Michael Strahan suggested things at Live! with Kelly and Michael were strained long before he left for Good Morning America. "When it was time to go, it was time to go," he told the outlet, adding, "Certain things that were going on behind the scenes just caught up." When asked if he and Ripa ever tried to address their issues while he was still on the show, Strahan said he tried to "have a meeting every few weeks with her," but after they got together a few times, "she said she didn't need to meet." So, they stopped meeting. "Can't force somebody to do something they don't want to do," he said.
There were a lot of rumors regarding the hosts' professional relationship. After Strahan revealed he was done with Live! in 2016, an unnamed source told Page Six that he and Ripa "did not get along" and "could not stand each other." The source also claimed that "whenever they communicated off-camera, it was always through their reps."
Whatever was or wasn't going on behind the scenes, Strahan does not dislike Ripa. He told The New York Times Magazine, "If people think, 'Oh, he hates her' — I don't hate her. I do respect her for what she can do at her job. I cannot say enough about how good she is at her job."
Speaking of Regis Philbin…
In a 2017 interview with Larry King, the late Regis Philbin shared that he and Kelly Ripa have "not really" kept in touch since he left Live! With Regis and Kelly. (On the flip side, Philbin maintained his friendship with former co-star Kathie Lee Gifford.) He also told King that Ripa "got very offended" when he exited Live!. He continued, "She thought I was leaving because of her. I was leaving because I was getting older and that wasn't right for me anymore."
As of late 2019, Ripa and Philbin still weren't talking, and it also sounds like they didn't really interact much off-stage when they were morning show co-hosts— but that was more of a showbiz trick. While Philbin and Ripa were working together, Philbin supposedly made a point of not yukking it up with his co-host behind the scenes. As Ripa recalled to The New York Times in 2017, Philbin had a rule that there was "Absolutely no talking off-camera." She continued, "He had almost a superstition about it. You save it for the show. I'd be like, 'Good morning,' and he'd say, 'Save it for the air!'"
These radio hosts are fine with not being friends
The Breakfast Club hosts Angela Yee and Charlamagne Tha God (above left, center) have opened up about their dynamic, and it could not be more clear that the radio personalities are cool with just being co-workers. In a 2020 interview with Variety, Yee said, "We work together, it is what it is. Like he said, we're co-workers. A lot of people have jobs where they don't necessarily love the people they work with, it's just a part of life. That's not the person you'd hang out with in real life."
Questions regarding where Charlamagne and Yee stand really hit fever pitch after Charlamagne conducted a one-on-one interview with rapper Gucci Mane in October 2019. In that chat, Mane said Yee and DJ Envy (above right) had him banned from the show after a 2016 appearance where he claimed Yee tried to hook up with him. (Yee denied banning Mane from the show.) He also called Yee a "punk a** b****."
Regarding her co-worker's decision to sit down with Mane in 2019, Yee said in an April 2020 interview with Fox Soul, "I think the reason that happened was probably because we're not friends." She continued, "Some people are people that you are acquaintances with, some people are people you work with, some people are family members, that doesn't necessarily mean you're friends with each other." Well, at least they know where they stand with one another.
These The X Factor judges got off on the wrong foot
Sharon Osbourne and Dannii Minogue were judges on the fourth season of The X Factor UK, and apparently, their dynamic was incredibly rocky from day one. Minogue gets into her side of the story in her 2010 memoir, My Story (via the Daily Mail). Minogue writes that Osbourne was initially welcoming, but that apparently didn't last. According to Minogue, someone told her "Sharon's not happy" with the changes to the judges lineup in the middle of their first day of auditions. Before the first live show, Osbourne allegedly dropped by Minogue's dressing room and began "screaming and swearing relentlessly." Minogue also writes that being at the judging panel next to Osbourne was like being "forced to sit next to the school bully."
In her 2013 memoir Unbreakable (via the Daily Mail), Osbourne also gets into this specific era of The X Factor UK. She writes, "The more [Minogue's reported relationship with Simon Cowell] progressed, the worse it became between her and me. It was unbelievably bad. Dannii had taken to walking past me in the hallway without even making eye contact. I'd like to say it didn't bother me, but it did." Osbourne also reveals that she left the show after that season primarily because they wouldn't give her the money she asked for, "but the Dannii business was mixed in there too." X Factor? More like the Yike-x Factor.
The original American Idol hosts weren't super chummy
The very first season of American Idol welcomed not one, but two hosts to the stage: Ryan Seacrest and Brian Dunkleman. For one season, the two steered the Idol ship together, but it sounds like they didn't exactly become the best of friends before Dunkleman left. However, when Dunkleman returned for the Season 15 finale (above), he and the last Idol host standing made amends. In a 2016 interview with People, Dunkleman said he apologized to Seacrest "for all the times we didn't get along back then." He went on to tell Seacrest that he would "go back and change that" if it were possible.
When chatting with HuffPost in 2018, Dunkleman pointed out that he did not apologize to Seacrest for his own behavior, but "for how we didn't get along back then." He explained, "I said, 'I'm really sorry that you and I didn't get along like we could've back then. I wish things were different, but they're not, and I wish you nothing but the best.'" Dunkleman suspected they didn't connect as co-hosts because he was a comic, whereas Seacrest was a traditional presenter. "I think it's kind of normal for co-workers to have their problems, but it was a long time ago and it's just not worth talking about to me," he said. Sometimes you eat the bear, and sometimes, the bear eats your phone while you're trying to send your American Idol votes.