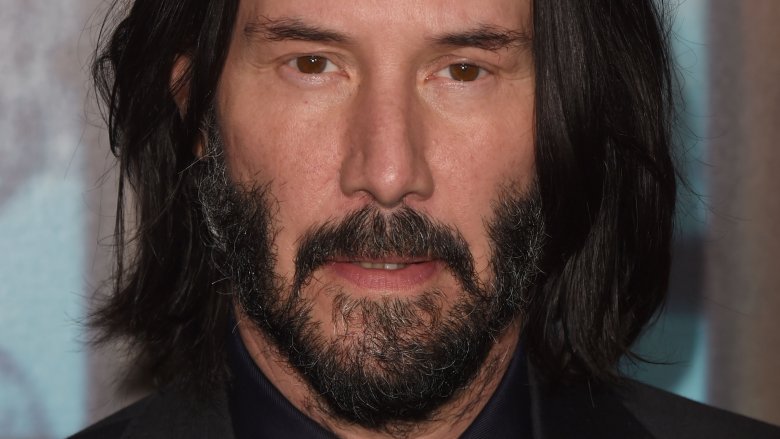 After his breakthrough role in the 1986 indie crime drama River's Edge, Keanu Reeves went on to become one of the biggest stars in Hollywood throughout the '90s and early 2000s. Starring in big-budget studio projects like Speed, Point Break, The Matrix Trilogy, Bram Stoker's Dracula, and The Devil's Advocate — as well as small independent features like My Own Private Idaho and Even Cowgirls Get The Blues — Reeves was always in demand no matter the genre or budget.
Reeves' career took a dip in the mid-2000s, but he enjoyed a resurgence in the massively successful John Wick series. However, through it all, tragedy reared its ugly head time and time again. From his difficult childhood to the loss of his best friend and child, Reeves has faced the kind of adversity that many would be unable to recover from, but he still stands. Let's take a deep dive into Keanu Reeves' tragic real-life story.
He had a difficult childhood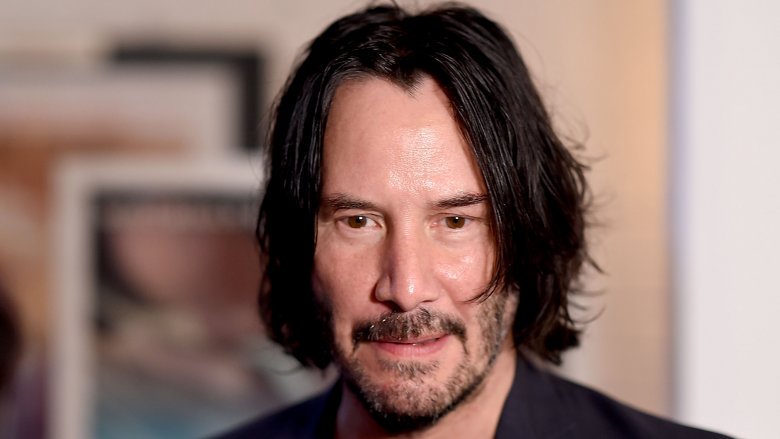 Keanu Reeves' hardships and battles with sadness began as a child. His father abandoned the family when Reeves was a toddler, and as a result, Reeves' mother moved the family around from Beirut, Lebanon, where Reeves was born, to Australia, then New York City, until finally planting roots in Toronto, Canada. (via Insider).
Reeves' father received to ten years in prison for drug possession in 1994 but only served two. Their relationship never blossomed. "The story with me and my dad's pretty heavy. It's full of pain and woe and f****ing loss and all that s**t," Reeves told Rolling Stone.
"I've had a vagabond life," he told Parade magazine (via People) in 2006. "There is a bit of the gypsy in me, and living that way seemed to make sense. I couldn't settle down. I liked going to new places – renting apartments, staying in hotels. Then I turned 40. That birthday is hard, perhaps because you know you're grown-up. So now it's a makeover for me. I have bought my first house. I wanted a home."
His friend River Phoenix died of a drug overdose
Reeves doesn't give many interviews, but when the opportunity presents itself to speak about his late friend River Phoenix, he'll say a few kind words but rarely more. According to The Telegraph, the pair met on the set of I Love You To Death and developed a close friendship while filming My Own Private Idaho.
"It's a beautiful film," Reeves told Rolling Stone in 2000. "And lonely. The way he ends up in the street. His shoes. A stranger picking him up." When asked about their friendship, which came to an abrupt end in 1993 when Phoenix suddenly died from a lethal mix of heroin, cocaine and valium, Reeves kept his answer short.
"I enjoyed his company. Very much," Reeves added. "And enjoyed his mind and his spirit and his soul. We brought good out in each other. He was a real original thinker. He was not the status quo. In anything." Phoenix was 23 when he died.
He lost his daughter and girlfriend
In the late '90s, Reeves' personal life seemed to have finally turned the corner. He met a young woman named Jennifer Syme, and by the start of the new millennium the couple was expecting their first child together. Unfortunately, their baby girl, named Ava, was stillborn at eight months. According to People, the death of Ava put a lot of strain on their relationship and it soon came to an end. Another tragedy struck Reeves in 2001 when Syme died in a car accident. The magazine states Syme was driving her SUV when it struck three parked cars, rolled over and ejected her from the vehicle.
Speaking to Parade magazine (via People) in 2006, Reeves couldn't contain his anger. "Damn it! It's not fair! It's absurd," Reeves said. "Grief changes shape, but it never ends. People have a misconception that you can deal with it and say, 'It's gone, and I'm better.' They're wrong. When the people you love are gone, you're alone. I miss being a part of their lives and them being a part of mine. I wonder what the present would be like if they were here — what we might have done together. I miss all the great things that will never be."
He was sued by the paparazzi
In 2007, the Porsche Reeves was driving "grazed" a photographer in Los Angeles sending him to a nearby hospital. "Reeves pulled out of a parking space parallel to the curb and grazed a paparazzo standing in the street in front of Mr. Reeves's 1996 Porsche," the sheriff said in a statement, according to People. "The man fell to the ground. Paramedics were summoned and treated the man at the scene. He was then transported via ambulance to a local hospital for further treatment."
By 2008 he found himself slapped with a $711,974 lawsuit by the photographer claiming he caused serious injury. People reported that Alison Silva sued the Sweet November star for "medical bills, damages and lost wages." Ultimately, a jury found Reeves "not responsible" for any damages or costs. Reeves' attorney showed the court "video of the photographer using his injured hand to climb down a fence," contradicting statements he was unable to do so.
The studio offers dried up
After years of doing independent films instead of fielding big-budget studio offers, Reeves concluded that he was no longer hot stuff in Hollywood. Speaking with IndieWire in 2014 about the downward turn his career has taken over the years, he confessed his displeasure with the development.
"So I haven't been getting many offers from the studios. … it sucks, but it's just the way it is." But as he carefully explained, not to offend anyone, he doesn't hate small independent films, but it comes with a trade off. "You can have positive and negative experiences, but what I like about studios are the resources and the worlds that they can create," he said. "Obviously, a lot of good filmmakers work on studio movies."
"Even when I was working on studio movies more often, I was always doing independent movies," Reeves continued. "I want to keep going, making things, and telling stories. I want to be able to do that — to be an actor, a director, to produce, you know? If we're going to do a delineation between studio and independent, I was always hoping to do both."
He was blacklisted by Fox for 14 years
Speed is on the Mount Rushmore of 90s action flicks. It just is. Let's not argue about this. Accept it. A massive critical and box office success, the action-packed thriller about a cop racing against time to stop a city bus that's rigged to explode, Speed turned Reeves into movie star. 20th Century Fox was salivating to start filming the sequel, but Reeves turned them down to play Hamlet on stage in Canada.
That decision didn't sit well with the studio. In a 2019 profile for GQ, Reeves admitted they blacklisted him for over a decade. "I didn't work with [Fox] again until The Day the Earth Stood Still," he said. Fox recast Reeves with Jason Patric, and released 1997's Speed 2: Cruise Control. Reeves' decision paid off. The sequel barely recouped its production budget and was critically panned.
In 2015 interview with Jimmy Kimmel (via Vulture), Reeves explained why he turned the project down. If you've seen the movie, you probably know already. "It was just a situation in life where I got the script and I read the script and I was like 'Ugggghhh.' It was about a cruise ship and I was thinking, 'A bus, a cruise ship … Speed, bus, but then a cruise ship is even slower than a bus and I was like, 'I love you guys but I just can't do it.'"
He was forced to star in The Watcher
Can you imagine the laid back and forever chill Keanu Reeves playing a psychotic serial killer? We can't either, but he did just that in 2000's forgettable crime drama The Watcher. According to The Guardian, tensions reportedly rose when Reeves found out he was making less than his co-star James Spader, but Reeves was angry when he first stepped onto the set because he never wanted to do the film to begin with.
"I never found the script interesting, but a friend of mine forged my signature on the agreement," Reeves told The Calgary Sun (via The Guardian). "I couldn't prove he did and I didn't want to get sued, so I had no other choice but to do the film." Due to legal reasons, Reeves had to wait a year to discuss his displeasure with the film he refused to promote. "If it's September that means it's been a year, so I can finally talk."
The Watcher "spent two weeks at the top of the U.S. box office" (per The Guardian) but was savaged by critics (it currently holds a pitiful 10% on Rotten Tomatoes). "Short of getting Angela Lansbury or Rodney Dangerfield or Lassie for the part, the miscasting could not be more complete," wrote The Guardian's film critic Peter Bradshaw wrote at the time. "Keanu is profoundly wrong as a serial killer."
He also dodged a paternity suit
Sometimes becoming a big Hollywood star has its drawbacks. Reeves learned this the hard way after a woman hit him with a frivolous paternity lawsuit in 2009. According to Us Weekly, Karen Sala accused Reeves of fathering four children and claimed the actor used both hypnosis and disguised himself as her ex-husband to impregnate her. She demanded "$3 million a month for spousal support and $150,000 a month in retroactive child support."
A DNA test cleared Reeves of any connection with Salva or her four children. "Karen Sala's allegations are completely false and absurd," a rep for Reeves said. At a NYC screening of Henry's Crime in 2011, The Devil's Advocate star was asked the craziest thing a fan had ever done to get close to him. His answer shouldn't surprise you. "Accuse me of being a father," he said. "I had to go to court. It was horrible. I didn't do it. I'm not the dad."
He faced two home intruders
In September 2014, crazed fans broke inside Reeves' Hollywood Hills home on two different occasions. The first time, Reeves was sleeping when he heard sounds coming from his library, reported TMZ. Reeves then calmly approached the woman who was sitting silently in a chair and claimed "she was there to meet him." Reeves then called the police, who took her away for a mental evaluation.
The second incident took place just days later. This time, Reeves was absent but his cleaning crew was on the property. According to another TMZ story, a woman walked onto the property after the cleaning team left the gate unchecked. The unidentified woman showered and then skinny dipped into the pool before the cleaners realized something wasn't right. They finally called Reeves who called the police. Like the previous intruder, the second crazed woman was taken away for mental evaluation.
We feel Reeves was type cast in Knock Knock.
He had some drama with a movie company
Reeves made it clear the offers aren't rolling in like they used to, so why would he suddenly quit a film? That's what Millennium Films founder and chairman Avi Lerner wondered when Reeves suddenly dropped out of The Detail. According to Deadline, the movie was set to begin filming in October 2017 and finish by Christmas, but Reeves claimed it would create "a scheduling conflict with John Wick 3."
"I got a call at the beginning of the week, and he said Keanu walked away from the movie. I said 'why?' Did he not like the director, the script? No, I was told, he just has a problem with the next movie," Lerner said. However, two sources told the publication that any deal with Reeves "was contingent on the cast," and he had yet to sign on the dotted line."That's a lie," Lerner pushed back. "There was a deal. It was not contingent on cast. We agreed to go over to whomever he wanted to go to." He continued, "There was not a signed deal, but we agreed on every point. A verbal agreement is an agreement."
A lawyer for Reeves said in a statement, "We did not have a closed deal, and there were several material open deal points. Casting contingency was one of the open deal points so every deal point was not agreed upon, and we did not have signed paperwork."
He's the ultimate introvert
Reeves isn't your typical Hollywood star. You won't catch him on Instagram anytime soon, and he isn't going to offer political insight on Twitter. Reeves keeps to himself and remains out of the spotlight as often as possible, even when around friends and co-workers. When he received a star on the Hollywood Walk of Fame, he only invited a handful of people to the ceremony, and most attendees were studio executives.
His Constantine co-star Shia LaBeouf explained how mysterious Reeves is. "I've worked with him for a year and a couple of months, but I don't really know him that much," LaBeouf told TIME. "I don't think he hangs out with other humans that much." DIrector Francis Lawrence, agreed saying, "Do I really know Keanu after working with him? No. I know things about him: he's hardworking, he's generous, he's a sweet, sweet guy. But it's all just sort of on the surface." Erwin Stoff, Reeves' manager, has known him for decades and can't seem to crack the surface either. "Keanu is a really private person," Stoff said. "He's sort of perfected for himself a way of keeping a distance from people."
Reeves told the magazine sharing too many private details would distract from the work. "I'm not interested in showing anybody what's behind the curtain," he said. "I like watching a good documentary about how something was made. I just don't want it to be my life."
He's feeling his age and is ready for a family
As we all know, getting older isn't easy. Now in his mid-50s, as of this writing, Reeves is beginning to feel Father Time catch up with him after all those years of high-impact action flicks. "My knees are well aware of it. Mortality is very different when you're 20 to when you're 50," he told GQ in 2012 (via Us Weekly). "It creeps in here and there, doesn't it? You look out the f**king window and then you think about your eyes closing." Yeesh.
Although his body may be feeling the effects of aging, his heart still desires something that he's never had: a family. "I'm trying not to be alone so much," Reeves told Parade in 2006 (via People). "And man, it's a struggle. I want to get married. I want to have kids. That's at the top of the mountain. I've got to climb the mountain first. I'll do it. Just give me some time."