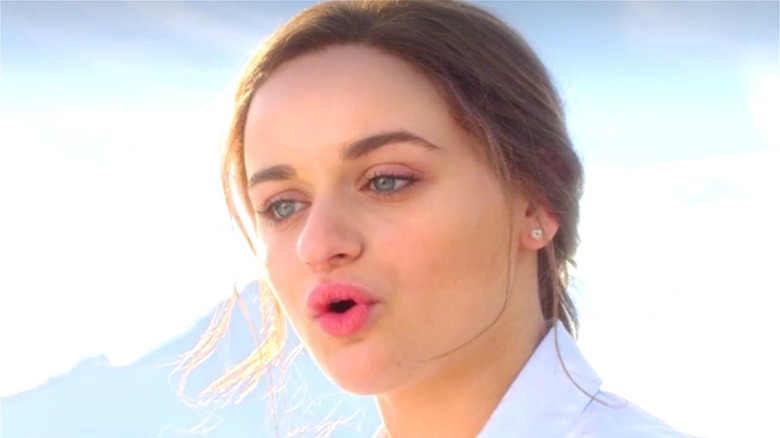 A new day dawns on a grateful world, positively dripping with fresh opportunities. Even better, August of 2021 is waiting just around the corner, pure and full of potential, like driven snow if it was good at math and also a month. August brings with it so many good things. Crisp fall days are on their way, harkening the changing of the leaves as life's beautiful cycle continues its symphonic dance across the eons. Children bustle off to school, exploring untold ideas and slowly cementing themselves as the people they will eventually be. August 4 marks National Coast Guard Day in the United States, at long last offering a modicum of celebration to America's first line of defense against Godzilla attacks.
And of course, with a new month comes the promise of new Netflix offerings. From comedies to dramas to more documentaries about drug empires than you were probably expecting, here's everything that Netflix has coming and going in August of 2021.
Netflix has a pile of original movies coming in August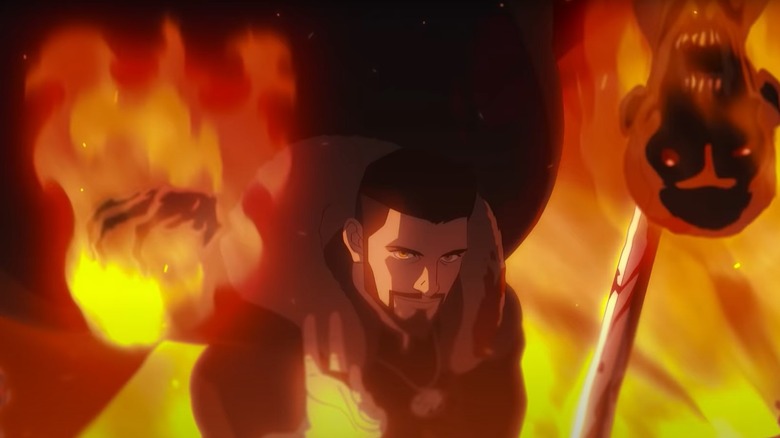 As with any month, this August sees the introduction of a smorgasbord of Netflix original movies. Not one, but two separate beloved franchises get the original anime treatment this time around — the "Monster Hunter" universe goes CGI with "Monster Hunter: Legends of the Guild," a brand new adventure directed by Steve Yamamoto. Then, on August 23, that Witcher that people keep mercilessly tossing coins at gets the prequel treatment with "The Witcher: Nightmare of the Wolf."
In the mood for a French horror film about locusts with a taste for blood? We've all been there, and Netflix is set to scratch that itch with "The Swarm" on August 6. For marginally less bug-heavy fare, look no further than "The Kissing Booth 3," premiering August 11, which features next to no flesh-consuming insects, if the trailer is to be believed. Want to watch Rachel Leigh Cook continue the vicious cycle of young people giving each other expensive makeovers as a socially labyrinthine form of bullying? You'll have a little while to wait, but "He's All That," the modern reimagining of the '90s teen classic "She's All That," drops on August 27.
August 6
The Swarm
Vivo
August 11
The Kissing Booth 3
August 12
Monster Hunter: Legends of the Guild
August 13
Beckett
August 18
Out of My League
The Secret Diary of an Exchange Student
August 20
The Loud House Movie
Sweet Girl
August 23
The Witcher: Nightmare of the Wolf
August 27
He's All That
Plenty of old favorites come to Netflix in August
The feature-length party doesn't stop with Netflix originals. August also gives viewers a chance to enjoy a generous peppering of classic favorites from back when you still had to endure a polite conversation with a Blockbuster employee if you wanted to watch a movie.
It seems like a lifetime ago, but there was a time when "too many women want to kiss Dane Cook" was practically a genre all its own. You can revisit this magical age with "Good Luck Chuck," coming to Netflix on August 1.
It won't be alone when it does arrive. The adventures of Beethoven, a dog who is altogether too much, hit the streaming service on the same day with "Beethoven" and "Beethoven's 2nd." For even more trips down the memory lane of the '90s, look no further than "My Girl" and "My Girl 2," at least one of which will change most viewers' minds about "saving the bees." And if acclaimed superhero actors losing a frightening amount of weight in the mid-2000s is your bailiwick, August has a double feature waiting for you on the first of the month with "Seabiscuit" and "The Machinist."
August 1
Beethoven
Beethoven's 2nd
Beowulf
Catch Me If You Can
Darwin's Game
Deep Blue Sea
The Edge of Seventeen
Ferris Bueller's Day Off
Five Feet Apart
Good Luck Chuck
The Haunting in Connecticut 2: Ghosts of Georgia
Inception
The Lincoln Lawyer
The Losers
The Machinist
Magnolia
Major Payne
My Girl
My Girl 2
The Net
Pineapple Express
Poms
Seabiscuit
Space Cowboys
Team America: World Police
August 4
Aftermath
August 8
Quartet
August 11
La diosa del asfalto
August 16
Walk of Shame
August 19
Like Crazy
August 25
The November Man
The Old Ways
Really Love
The River Runner
The Water Man
Netflix's original TV shows are multitudinous this month
The shores of pop culture willcontinue to be misted by a coursing stream of Netflix Original television series in August. Bucketloads of returning favorites make a return trip to the streaming service — "Fast & Furious Spy Racers" is back for a fifth season on August 13, the same day that "Valeria" kicks off its sophomore run. "Car Masters: Rust to Riches" is back August 4 for a third go-round, alongside a second season of teen drama "Control Z."
There's plenty of new shows to go around, too. Anyone who ever looked at Paris Hilton and wondered what it would be like to cook with her will be delighted to learn that "Cooking With Paris" drops on August 4. In the mood for a dark thriller? Netflix has you covered with "Hit & Run," the story of a man trying to untangle his wife's death, and "The Kingdom," a moody Argentinian series following the ins and outs of a shady televangelist on his way to presidential power.
August 3
Top Secret UFO Projects: Declassified
August 4
Control Z: Season 2
Car Masters: Rust to Riches: Season 3
Cooking With Paris
August 6
Hit & Run
Navarasa
August 9
SHAMAN KING
August 10
Gabby's Dollhouse: Season 2
August 11
Bake Squad
August 12
AlRawabi School for Girls
August 13
Brand New Cherry Flavor
Fast & Furious Spy Racers: Season 5: South Pacific
Gone for Good
The Kingdom
Valeria: Season 2
August 17
Go! Go! Cory Carson: Season 5
August 18
The Defeated
August 20
The Chair
Everything Will Be Fine
August 24
Oggy Oggy
August 25
Clickbait
Motel Makeover
Open Your Eyes
Post Mortem: No One Dies in Skarnes
August 25
EDENS ZERO
Family Reunion: Part 4
August 27
I Heart Arlo
Titletown High
August 28
Hometown Cha-Cha-Cha
August 31
Sparking Joy
30 Rock, Friday Night Lights, and more old favorite TV shows hit Netflix in August
It could very well be that you're looking for a familiar television series to reacquaint yourself with as summer draws to a close, or to find a bingeable show with a backlog of episodes to stare at unblinkingly for between eight and 14 hours at a go. For the discerning marathon viewer, might we suggest "30 Rock," which makes its its triumphant return to Netflix on August 1 after a long and heartbreaking absence. Kick back and enjoy over 130 episodes of the program that helped solidify Tina Fey's mark on show business, and which was once described by CNN as the "biggest ethics violator on TV."
If you prefer to keep your eyes clear, your heart full, and your lose can't, you can enjoy five seasons of "Friday Night Lights" on Netflix starting at the beginning of the month. For younger crowds, or older crowds who like "Mother Goose Club" and "Winx Club," there's "Mother Goose Club" and "Winx Club," streaming seasons three through four and six, respectively.
August 1
30 Rock: Seasons 1-7
Friday Night Lights: Seasons 1-5
Hunter X Hunter (2011): Seasons 5-6
August 15
Mother Goose Club: Seasons 3-4
Rascal Does Not Dream of Bunny Girl Senpai: Season 1
Winx Club: Season 6
August 25
Rainbow High: Part 2
Tayo the Little Bus: Season 4
August 28
Bread Barbershop: Season 2
Netflix has lots of documentaries and comedy specials arriving in August
The streaming television renaissance has ushered in a new world of documentaries for the edification of the viewing public. Netflix's August release schedule sees wads of heavy fare, tackled by outstanding filmmakers.
On August 3, "Pray Away" debuts on the service, exploring the experiences of individuals pushed towards "conversion therapy." That same day, the true backstory of the indie flick "How to Sell Drugs Online (Fast)" comes to Netflix with "Shiny_Flakes: The Teenage Drug Lord." Continuing in a similar vein, "Cocaine Cowboys: The Kings of Miami," drops on August 4, and promises to tell the tale of two of Florida's most ambitious drug kingpins.
Then again, like the old saying goes, "a laugh's as good as a criminal empire." Netflix is also bringing the funny with a few comedy specials in August. Classic stand-up concert flick "The Original Kings of Comedy" is available to watch on the first of the month, and fresh Netflix original specials "Phil Wang: Philly Philly Wang Wang" and "Lokillo: Nothing's the Same" drop August 10 and 12, respectively.
August 1
The Original Kings of Comedy
August 3
Pray Away
Shiny_Flakes: The Teenage Drug Lord
August 4
American Masters: Inventing David Geffen
Cocaine Cowboys: The Kings of Miami
August 10
Phil Wang: Philly Philly Wang Wang
UNTOLD: Malice at the Palace
August 11
Misha and the Wolves
August 12
Lokillo: Nothing's the Same
August 17
UNTOLD: Deal with the Devil
August 18
Memories of a Murderer: The Nilsen Tapes
August 24
UNTOLD: Caitlyn Jenner
August 25
Bob Ross: Happy Accidents, Betrayal & Greed
John of God: The Crimes of a Spiritual Healer
August 31
UNTOLD: Crime and Penalties
Say goodbye to these movies and shows leaving Netflix in August
Netflix giveth, but Netflix must necessarily also taketh away. A moment of silence for the movies and shows leaving the streaming service in August.
On August 1, "American Assassin" falls into the line of fire. On August 7, "The Promise" must be broken. "Safety Not Guaranteed" is guaranteed to not, you know, be on Netflix anymore. Safely.
Fans of watching Jake Gyllenhaal taking photos of things that he shouldn't take photos of will simply have to make due with looking out their windows to see him pointing a camera at them from the bushes after August 9, when "Nightcrawler" leaves Netflix. "The Angry Birds Movie 2?" Better enjoy it while you can, friends, because it's gone after August 26. "Casino Royale" and "Quantum of Solace" exit August 30. Then, the next day, the real culling begins, with more than two dozen movies going dark. No more "Hot Rod." "The Departed" will live up to its name. "Love Actually" won't be all around us anymore. Pour one out for those we're about to lose — or, if you prefer to be more proactive, watch them before they leave Netflix in August.
Leaving August 1
American Assassin
Leaving August 4
#cats_the_mewvie
Leaving August 7
The Promise
Leaving August 9
El Cartel: Seasons 1-2
Nightcrawler
Leaving August 12
Safety Not Guaranteed
Scary Movie 5
Leaving August 14
Mother Goose Club: Seasons 1-2
Leaving August 15
Jericho: Seasons 1-2
Wish I Was Here
Leaving August 20
Kill the Irishman
Norm of the North: Keys to the Kingdom
The Founder
Leaving August 22
1BR
Leaving August 26
The Angry Birds Movie 2
Leaving August 27
A Princess for Christmas
Leaving August 29
Strange but True
Leaving August 30
Casino Royale
The Eichmann Show
Full Out
Quantum of Solace
Stranger than Fiction
Leaving August 31
Adrift
Angel Eyes
The Big Lebowski
Chinatown
The Departed
Election
The Girl Next Door
Hey Arnold! The Movie
Hot Rod
Lemony Snicket's A Series of Unfortunate Events (2004)
Love Actually
Love Happens
The Manchurian Candidate
Monsters vs. Aliens
The Muppets
Muppets Most Wanted
Nacho Libre
Moon Kingdom
Pootie Tang
The Prince & Me
Resident Evil: Afterlife
Resident Evil: Extinction
The Ring
Road to Perdition
The Social Network
Superbad
The Time Traveler's Wife