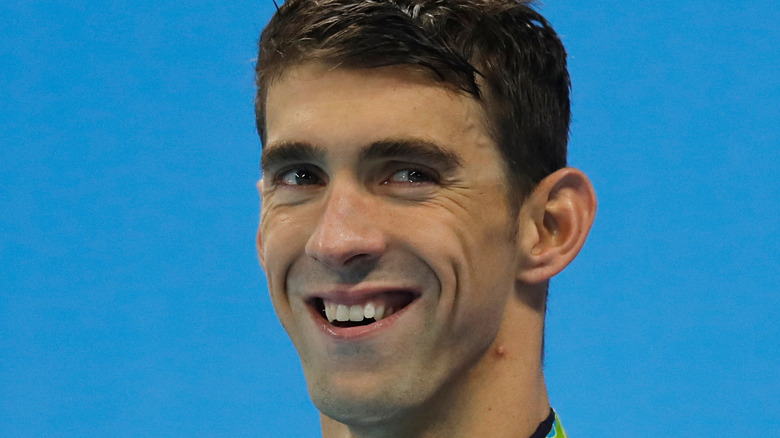 We see them on TV displaying their athletic abilities during the Olympic Games, but that is not the only place we can find Olympians. Outside of the international sporting affair, Olympians have other jobs too. Most of that includes playing (or working) full time in their respective sporting fields. Some of them do speaking events or make regular appearances on television shows for commentary, and the luckier ones can make money off sponsorship deals and endorsements, per E Online And of course, there are those who do coaching for other up-and-coming athletes headed to the big games. For the most part, however, a lot of Olympians earn money when a company decides to back them in using them to promote a product, in exchange for the athlete being contracted to do so.
But even more enticing are the Olympians who ended up in Hollywood and landed gigs there. In recent years it's been a more common occurrence, but Olympians have been securing appearances on big screens for some time now. Let's take a look at who's had their big break in Hollywood.
Esther Williams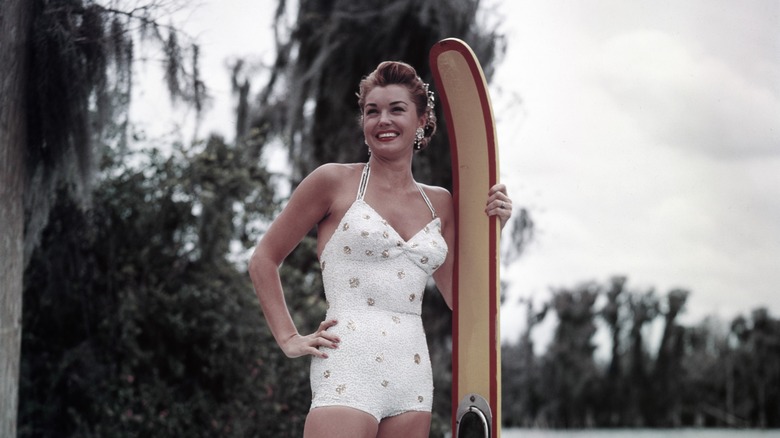 Although she did not get a chance to win an Olympic medal, Esther Williams still passed the qualification to be considered an Olympian. The California-born swimmer was set to compete at the 1940 Tokyo Olympics (via Britannica). But war was engulfing the world and due to Japan deciding to invade China in 1937, they lost their bid to host the event. It was then relocated to be hosted in Finland. But that, too, would never come to fruition. World War II was in full effect by 1939 and the 1940 Helsinki Olympics were canceled (History).
Lucky for Williams, she would find some luck in Tinseltown. A scout discovered her one day and she later wound up working for Metro-Goldwyn-Mayer — one of the oldest and premier Hollywood film companies. Her first role was in the 1942 film titled "Andy Hardy's Double Life." Despite delving into a new career, her swimming skills never left her. So it was natural she ended up doing roles that showcased that. She was at least able to put her swimming skills on the big screen in a 1944 film called "Bathing Beauty." A few years later she did another swim-centric film called "Million Dollar Mermaid," and it earned her the title of America's Mermaid (via Swim Oregon). She continued landing gigs until 1963, and by then she had 33 acting credits, according to IMDb.
Michael Jordan
Known as one of the best NBA players of all time, Michael Jordan is an all-around athlete. Jordan dominated in the sport from college to the pros. Unlike Esther Williams, not only did Jordan qualify for the Olympics, he was able to compete. He was on the 1984 Olympic men's basketball team and made his Olympic debut at the Los Angeles Games (via USA Basketball). Jordan was also competing in the Olympic games before he even went pro. When team USA won, Jordan had won his first Olympic gold medal before an NBA championship. He would win another gold medal in 1992 at the Barcelona Olympics (via Olympics).
He retired from the game for a short while in 1995, but shortly returned to basketball to take part in the 1996 season. During that time, Jordan was also filming his first Hollywood movie, a live-action animation film titled "Space Jam." He dedicated time to filming the movie, and practicing for the upcoming season, says Sports Illustrated. Released in November 1996, the film was a box-office hit. It earned $230 million worldwide, per Bleacher Report. The success of the film however didn't entice Jordan to take on other roles. Other than a few short films, according to his IMDb page, "Space Jam" is his only feature film credit. And despite expectations to see him in the recent sequel "Space Jam 2: A New Legacy," Jordan doesn't make an appearance, says Screen Rant.
Johnny Weissmuller
He was one of the first Olympians to do it. Johnny Weissmuller was a record-setting swimmer and an actor. His first Olympic appearance came in 1924 at the Paris Olympics. He won three gold medals in swimming and a bronze medal for water polo that year (via Associated Press). Then in the following 1928 Amsterdam Olympics, Weissmuller defended two of his titles and won another set of two gold medals (Olympics).
As a swimmer he held a lot of titles and records, maintaining one record for 17 years in the 100-yard freestyle, says Olympics. Shortly after picking up a half dozen Olympic medals, Weissmuller found luck in Hollywood. He was cast as Tarzan in the 1932 film "Tarzan the Ape Man." He'd play the jungle-raised fictional character in a dozen films through 1948. But after he was done with Tarzan, he'd also take on the role of a character called Jungle Jim — another fictional character based in a jungle, and one that he created, per Britannica. He starred in 13 films surrounding the character from 1948 to 1954 (via IMDb). In 1955, he even scored a television series based on the character, which ran for a year. Weissmuller shot 26 episodes for "Jungle Jim" until it ended in 1956. Afterward, he starred in a few more films, earning his last film credit in 1976.
Ryan Lochte
It must be something in the water. Olympic swimmer Ryan Lochte is another aquatic athlete who landed a few roles in Hollywood. He made his Olympic debut in 2004 in the Athens Games and won his first gold and silver medals (Team USA). Lochte picked up two more gold medals and his first two bronze ones at the 2008 Beijing Olympics. And when the 2012 London Olympics came, he was at the height of his career, which is also the year he decided to do acting.
Although he hasn't been in any box office film, the 12-time Olympic medalist (via Associated Press), has picked up quite a few gigs on some Hollywood backlots. In 2012, Lochte appeared in the NBC comedy series "30 Rock," playing as himself (via YouTube). His first true "acting" gig came with his appearance in the 2008 reboot of "90210." Lochte filmed just one episode for the show in 2012, according to IMDB. He didn't seem to take on other gigs afterwards. Then came 2016, where he didn't do any roles but was on television for other reasons. During the 2016 Rio Olympics, Lochte was embroiled in the infamous Lochtegate (via Salon). When all was said and done, Lochte was cleared (USA Today) and returned to La-La land to appear on the dancing show "Dancing with the Stars."
After a brief break from acting, he reappeared again in the 2017 film "All I Wish." Since then, Lochte has mostly kept a low profile.
Other notable Olympians in Hollywood
So it is not uncommon to spot an Olympian making a quick appearance on a television show or film. Like Lochte, his fellow swimmer Michael Phelps has also landed gigs on shows like "Entourage" and "Suits," per IMDB. NBA player and Olympian Ray Allen appeared in the Spike Lee film "He Got Game" before he snagged his first and only Olympic gold medal at the 2000 Sydney Olympics (Olympics). But he still counts. He would also star in two more movies in 2001 and 2015 respectively (via IMDB). And four-time Olympic gold medalist in tennis, Serena Williams, has seen her fair share of Hollywood gigs. She's acted as herself, played fictional characters, and even voiced animated characters in films and shows. According to her IMDB, she has 27 acting credits. There are many more Olympians who've made a few appearances or two in Hollywood roles. Some of them were one and done, while others continued to form a second career out of it.