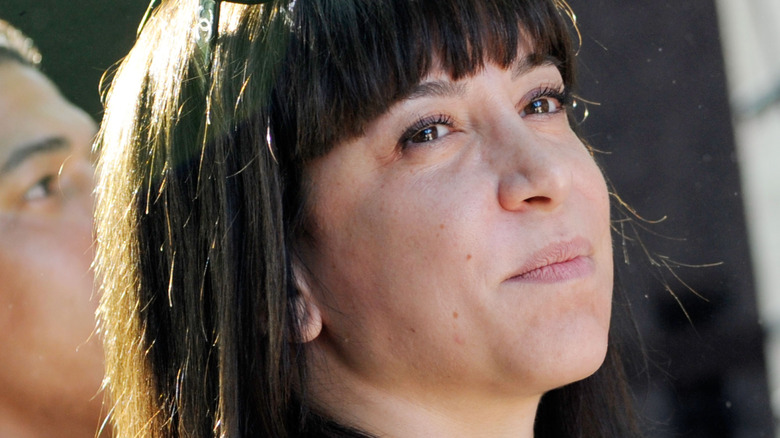 Anthony Bourdain gravitated towards the unconventional — whether it was a travel destination, a dish, or his approach to life. His romantic stories were no exception to this rule. According to Delish, he first tied the knot with his high school sweetheart, Nancy Putkoski. They were together for two decades. They drifted apart after Bourdain became popular in the food industry. The chef once commented to the New Yorker, "I felt like the whole world was opening up to me. I'd seen things. I'd smelled things. I desperately wanted more. And she saw the whole thing as a cancer."
After that, he met Ottavia Busia through another chef, Éric Ripert. Believe it or not: Ripert was convinced that the two would be compatible. His predictions turned out to be true and she ended up dating Bourdain. Interestingly, they had an age gap of 22 years between them but got along really well from the beginning of their courtship. At the time, Busia-Bourdain was employed as a general manager at a New York-based eatery called Geisha.
Busia-Bourdain had an unconventional career path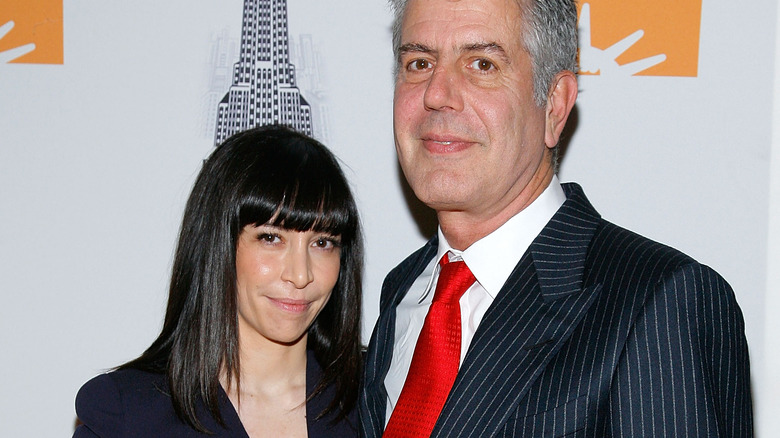 Ottavia Busia​-Bourdain didn't guess that she would end up building a life for herself in the U.S. She told the New York Times that she was raised in Italy and had a comfortable life there. She said, "I had a very nice Italian life. I grew up in a small town in Lombardy. I was studying to be a dentist."
Her plans changed abruptly, however, when she fell for an Irish musician. She ended shifting base to the U.S. to be with him in 2000. Initially, the move was a great challenge: her English skills were limited and she had just $300 when she started her journey. However, she wasn't afraid. She was determined to work and held down gigs at many restaurants such as Sette MoMA, Café des Artistes, and Le Bernardin before landing the job at the Japanese eatery named Geisha. Interestingly, Éric Ripert worked as a consulting chef for the eatery and met her there before he convinced her to meet Bourdain.
She bonded with Bourdain over work
Per Married to a Chef, the one thing that really appealed to Ottavia Busia-Bourdain about Anthony Bourdain was the fact that he understood the food industry so well. She said, "Working in the restaurant business was definitely what brought us together. We used to meet after my shift was over and we would stay up for hours drinking beers, talking about my day at work."
She added that their conversations would have been dull for anyone else, but Bourdain loved listening to Busia-Bourdain because he would inadvertently end up reliving his own memories through her anecdotes. They had several similar habits that only strengthened their bond at first: partying, smoking, eating good food, and drinking.
They were into each other and didn't hesitate to make things official, doing things like getting matching tattoos early in their relationship. They also were known to not take themselves seriously. Busia-Bourdain said, "We make fun of each other a lot. I say what I want. People either like it or not, but I don't care," she told the New York Times.
According to People, they had a child in 2007 and decided to get married that same year.
Ottavia Busia-Bourdain is not afraid to criticize a meal
In 2012, Anthony Bourdain and Ottavia Busia-Bourdain created a stir when the latter ate a steak that left her feeling absolutely horrified in Las Vegas. Not one to mince her words, she proclaimed that the steak in question "was the worst steak" that she'd ever tried (via Grub Street.) She said, "It looks boiled. I cut into it and it's hard, and gray inside; it's well done." If she had to compare, she would talk about meat bought from a supermarket that was carelessly defrosted in a hurry under a sink.
Well, per Eater, the chef who was responsible for the miserable experience did come up with an apology later. Chef Charlie Palmer owned up to his mistake and said, "It is always a downer to hear something like this, particularly when it concerns the wife of a colleague." He added that he wished the dish was "sent back" so that his staff members could have rectified the error immediately. Bourdain thanked Palmer for his words and called him "a gracious man and a great chef."
Busia-Bourdain's real passion is mixed martial arts
For Ottavia Busia​-Bourdain, discovering the world of mixed-martial arts was a blessing in disguise. According to the New York Times, she was inspired by popular mixed martial arts expert Gina Carano and wasn't sure what she was getting into but changed her mind when she started training regularly. After trying, she was "hooked" to the sport.
She studied martial arts at the Renzo Gracie Academy and even competed in jiu-jitsu competitions. For her, it was an excellent outlet that allowed her to express herself freely and release her pent-up emotions. Her love for jiu-jitsu transformed her as a person: She stopped smoking, barely drank alcohol, and embraced a healthier lifestyle. Her passion for the sport was rather contagious and before she knew it, Anthony Bourdain ended up training too (via Cheatsheet.) He remained passionate about the sport even after he and Ottavia Busia​-Bourdain decided to part ways as a couple.
Ottavia Busia-Bourdain and Anthony Bourdain drifted apart
According to a report by People, Anthony Bourdain's incredibly busy work schedule got in the way of his relationship with Ottavia Busia-Bourdain. They eventually decided to date other people after being with each other for nine years. Reflecting on her former husband's outlook on marriage, Ottavia Busia-Bourdain said, "It always seemed like what he wanted was this idyllic picture of family and ordinary life but then when he got it, I don't know if he was … I don't know. After a while maybe that wasn't enough anymore."
In 2017, Anthony Bourdain started seeing actress Asia Argento. Busia-Bourdain felt that her ex changed over the years and was simply not what he used to be like. But she knew he was seeing a therapist so she decided to "take a step back," a decision that she now regrets. She said, "I feel like that is something that I will always … I should have kept an eye on him more."
However, Busia-Bourdain is filled with gratitude for the fact that she has some incredible memories with Bourdain. She's also proud of their daughter. She said, "I am so lucky because she is the best daughter I could hope for." Ottavia Busia-Bourdain is interviewed in the documentary "Roadrunner," about her former husband's life, but mentioned it would likely be the last time she discussed him publicly.
If you or someone you know is struggling with mental health, please contact the Crisis Text Line by texting HOME to 741741, call the National Alliance on Mental Illness helpline at 1-800-950-NAMI (6264), or visit the National Institute of Mental Health website.