The consumption of wine has been part of human traditions for millennia and intrinsic to cultures across the world, says Wine Folly. The two primary categories of wine are red and white varietals — unlike white varieties, red wine obtains its color as the juice remains in contact with the grape skins.
As a result of natural crosses and human intervention, MasterClass reports that there are now thousands of varieties of red wine grapes around the world — some exist only in the small area of the world that birthed them, while others flourish around the globe. Thanks to the giant family tree of vitis vinifera (the genus and species of most commercial wine grapes), we can taste how similarities in grape parentage and region of origin can contribute to flavor.
It can be easy to always pick out our trusty favorites (we see you, cab sav and pinot devotees!), but exploring the world of wine is not unlike traveling itself. Grapes, and the history and culture which lead to wine in any given place, tell a story of climate, geology, tradition, and taste. The quickest way to get to know a region is to savor a glass of wine that's characteristic of the area.
But it's also good to remember you don't need to know about every grape in order to appreciate a glass of wine. However, knowing some extra details can assist you in choosing other types you might also savor. While this list is by no means exhaustive, identifying some of the characteristic features of certain grapes is a great way to experiment successfully.
How is red wine made?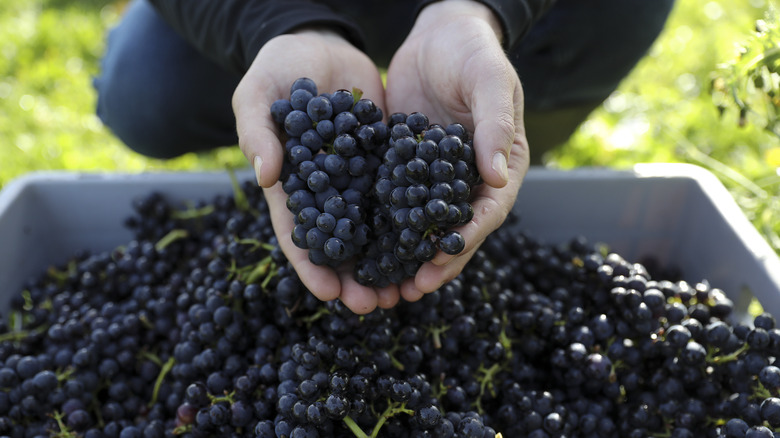 Red wine is made using dark-colored grapes, which Wine Enthusiast explains can be harvested by hand or machine, depending on the terrain and budget. Next, the source indicates that the grapes are brought to the winery to be crushed and de-stemmed. Depending on the winemaker's plan, the skins might soak in the juice at cold temperatures to increase color and flavor. The juice and skins are then transferred to a tank made of one of various materials including stainless steel, concrete, or oak.
At this point in the process, Wine Folly reports that the winemaker will either introduce yeast into the juice or allow ambient yeast to initiate alcoholic fermentation. The site explains that during fermentation, natural sugars in the grapes are consumed by the yeast and then transformed into sugar and carbon dioxide. The gas is released through the top of the tank, and during this time various methods are used to keep the skins in contact with the juice for maximum flavor.
Once the fermentation is complete, the skins are pressed to release more juice, which is usually transferred to a different tank or oak barrels for aging (via Wine Enthusiast). Depending on the style being made, the wine will age for a short or longer period of time. New or old oak barrels are used to introduce flavors or simply allow oxygen transfer through the wood's pores. Finally, the wine may be filtered to remove any sediment before being bottled.
How climate affects red wine's flavor
As with any fruit, grapes grown in cooler climates ripen more slowly and less extensively. Much like an unripe fruit has more acidic tangy flavors, grapes that grow in cool climates exhibit similar characteristics, producing a lighter-bodied wine. Some notable cool climate growing regions include Northern France, Austria, Germany, Chile, New Zealand, Oregon, and New York (via Wine Folly).
On the contrary, warmer climates permit grapes to mature more quickly, building up natural sugars within the fruit. Grapes grown in warmer climates have less acidity, and are fuller-bodied with juicy ripe flavors and plenty of sugar, according to Wine Enthusiast. Generally these regions (among them, California, Spain, Portugal, Southern France, Italy, South Africa, and Australia) will have less temperature extremes.
No matter the climate, Wine Folly points out that winemakers can make decisions regarding harvest times in order to maximize or minimize ripeness in grapes. Certain types will fare better in one climate or the other, whereas others can adapt to a wider range of temperatures. As well, grapes have different growing seasons, which can make them better suited to certain regions.
Now that you know how red wine is made, the following are some of the more popular types as well as suggested recommendations for other varietals based on preference.
Cabernet Sauvignon
If you drink red wine, chances are that you've seen or tried a bottle of Cabernet Sauvignon, one of the most popular wines in the world according to USA Wine Ratings. As well, Forbes reports these types of grapes cover 5% of the world's vineyards and are the most planted grape in the world. Prior to spreading worldwide, Cabernet Sauvignon originated in Bordeaux, France in the 18th century, according to wine critic and writer Jancis Robinson. The grape is now found in most warm dry wine regions.
Robinson notes that these grapes are small with thick skins, contributing to higher tannins — or, that dry feeling on your tongue after a sip. Due to the concentration of tannins, a bottle of Cabernet can age for many years. Wine Folly also indicates that the tannins and some characteristic flavors make Cabernet Sauvignon an excellent candidate for oak barrel aging, which can add notes of leather, tobacco, cedar, and vanilla.
Blackcurrant, dark cherry, cassis, and plum can often be tasted in this varietal too, ranging from juicy aromas to ripe jammy flavors. Mint and eucalyptus may be noted, and chocolate and mocha are not uncommon. As per Wine Folly, the grape contains compounds also present in green bell peppers, which can sometimes be tasted in cooler climate examples.
Such concentrated aromas means that Cabernet needs the right food to pair with it. This wine is excellent served with grilled meat and peppery sauces that have lots of flavor. In fact, those mouth drying tannins are the perfect palate cleanser for a fatty steak.
If you like Cabernet Sauvignon try…
Liking Cabernet Sauvignon is a sign that you probably enjoy bolder wines with powerful aromas and a fuller body. In that vein, Dcanter recommends the Tempranillo grape, famous in the wines of Rioja, Spain, for its balance of oak and fruit aromas. For flavor seekers, Mourvèdre (aka Monastrell in Spain and Mataro in Australia) is a smoky earthy wine with gamey notes.
If you can't get enough of robust wines, also look for Tannat varieties from Uruguay or France, which gets its name from its hefty tannins. For another rich and powerful wine, Aglianico from Southern Italy has plenty of vigor with a smokey undertone. If you are fond of the herbaceous aspect of Cabernet Sauvignon, Cellarmasters recommends trying wine made with the Montepulciano grape, slightly lighter but with enough tannins to stand out. Touriga Nacional, one of the main grapes of port wine, is another recommended pick and can be found in the red wine blends of Portugal's Douro valley.
Merlot
Whereas Cabernet Sauvignon can be bold and robust, another red wine known as Merlot is more soft and smooth. VinePair indicates that these two types originated in Bordeaux, France in the 18th century and were brought to California in the 19th century where both remain among the most popular bottles. According to Delish, Merlot is the second most planted grape, and you'll find it in numerous regions including the United States, Europe, South America, and Australia.
Wine Enthusiast also remarks that the two types are regularly blended together in the finest wines of Bordeaux. The source points out that thanks to its ripe fruity flavors and velvety mouthfeel, Merlot is more approachable and a great match with food as it's less complex than Cabernet Sauvignon.
A one-off remark in the 2004 movie "Sideways" actually did damage to Merlot's reputation sending previous drinkers into a Pinot Noir frenzy and hurting sales, per Beverage Dynamics. But anyone who's ditched Merlot is missing out! This deep ruby wine has flavors of ripe berries, dark fruits, spices, chocolate, and vanilla. It ranges from light and fruity to a higher acid tannic wine depending on where it is grown. Wine Enthusiast recommends pairing the smooth aromas of Merlot with meat, roasts, burgers, pasta, pizza, and cheese.
If you like Merlot try…
Since Merlot has a range of styles, ranging from lighter to jammier wines, it can be helpful to hone in on what type you prefer the most. Cellarmasters indicates that the soft velvety flavors found in Malbec are likely to be appreciated by Merlot drinkers. Fruitier, lighter styles of Merlot can be similar to warm climate versions of Pinot Noir, too. If you love the higher acidity, tannic versions of the grape, follow Cellarmasters' advice and fill your glass with Sangiovese, the primary grape of Chianti wines.
Grenache from France and Spain is known to have lots of red fruit flavors, which Denver Post suggests might please someone set on Merlot. The newspaper also recommends Valpolicella wines, which are a blend of red grapes from Northern Italy with rounded berry flavors and a lighter body. For something more herbal, try Carménère, once regularly blended with Merlot in France, now commonly found in Chile.
Pinot Noir
It's said that Pinot Noir was first grown in the 14th century by French monks, according to MasterClass. Since then, it has been cultivated successfully in Oregon, California, Germany, Austria, New Zealand, and Champagne, France where it's sometimes used to make the sparkler itself. Unlike some grapes that grow without fuss, Pinot Noir requires a lot of attention in the vineyard due to a high vulnerability of disease (via MasterClass).
Wine Folly reports that Pinot Noir has countless clones, each with a unique style best suited to specific regions. Nevertheless, the grape does best in cool climates, producing a wine with higher acidity, a pale color, and high levels of the antioxidant resveratrol.
French Scout notes that Pinot Noir is usually bottled alone, resulting in fine elegant wines with silky light tannins and complex flavors. Aromas are often delicate yet nuanced, with earthy notes reminiscent of wet leaves and mushrooms, as well as red fruits, violets, and, in some cases, cherry cola. This is a wine that can age as evidenced by the best versions coming out of Burgundy — and although Pinot tends to have fruitier flavors in its youth, it becomes earthier as it ages.
As a lighter-bodied red wine, Pinot Noir is best served slightly chilled. Pair it with charcuterie, poultry, Japanese food, and fish.
If you like Pinot Noir try…
Chances are good that you will enjoy other light-bodied red wines if you're a fan of Pinot Noir. Dcanter describes Gamay from southern Burgundy as having flavors of red fruits, earth, and spices. Not too far from Burgundy is the French alpine region of Jura, known for its lighter red wines (via Verve Wine). You can also try the indigenous grape Trousseau for similar notes of cranberry and earth.
As well, Dcanter recommends trying Zweigelt from Austria, brimming with juicy, red fruit flavors. Another Austrian pick, Blaufränkisch exhibits similar vibrant aromas of fruit, with soft tannins and a touch of spice, according to Liquor.com. German reds are similar in style to Austrian wines, and the Schiava grape found in Germany and northern Italy is a nice option if you're seeking a delicate high acid red wine (Via Dcanter).
Verve Wine recommends Frappato, another Italian red that might please the traditional Pinot lover. The wine is low in tannins with red cherry and pomegranate flavors, perfectly abundant when served chilled. If you want to take the boldness up a notch, Liquor.com recommends Nerello Mascalese from the Mount Etna volcanic wine region in Sicily. These wines are smoky with darker fruit aromas, yet with all of the elegance of a Pinot Noir.
Syrah/Shiraz
Standing in front of the shelves at your local wine shop, you might be confused by the bottles of Shiraz and Syrah mixed up together. The two are indeed the same grape, with the name only used to denote the style of the wine. Thrillist describes Syrah as a lighter, more refined style typical of France and other cool climates, whereas Shiraz is a riper, jammier style common in Australia and warmer growing regions.
MasterClass reports that the grape originates from the Northern Rhône Valley in Southern France, however it soared in popularity in Australia. The grape can be found in numerous other wine regions both cool and warm including Chile, California, South Africa, and Washington (via Love to Know).
Dcanter explains that the grape has thick skins which often require soaking to soften the tannins. For the same reason, Red Wine.Co indicates that the white grape Viognier is sometimes blended in small amounts to lighten the intensity.
Shiraz wines tend to be hearty, higher in alcohol, and display intense flavors of juicy ripe and stewed dark fruits (via Thrillist). Syrah on the other hand is more restrained, with aromas of wild fruits, black pepper, smoked meat, herbs, licorice, and olives (via French Scout).
On the whole, Shiraz and Syrah pair nicely with grilled and smoked meat, stews, herb sauces, and even spicier foods.
If you like Syrah/Shiraz try…
If you regularly reach for Syrah, you probably enjoy intense flavors and striking aromas both fruity and herbal. Given this preference, the next time you're searching for a red wine option in your local shop, have a go at Tempranillo or Sangiovese, dominant in the wines of Rioja and Chianti, respectively. Cellarmasters recommends them as a great choice for Syrah lovers as they are both powerful and fruity wines. Another grape with bolder flavors that you can experiment with is Primitivo from Southern Italy, aka Zinfandel.
Two grapes that are regularly blended with Syrah are Grenache and Mourvèdre. If you want a fruitier option, go for Grenache, but if you want something with extra spice, herbal aromas, and a definite smokiness, try Mourvèdre. While you're at it, why not try a blend of the three, common in the Southern Rhône.
Finally, if you're looking for intense flavors more akin to Shiraz in style, Dcanter points towards a Pinotage from South Africa.
Zinfandel
Although Zinfandel has made a name for itself in California, MasterClass reports that it actually originated in Croatia in the 1700s, locally called Tribidrag. The source indicates that it is the same grape as Primitivo, common in Southern Italy.
Mainly grown in warmer climates, Zinfandel has bold flavors, notable tannins, and is often high in alcohol, according to MasterClass. The source remarks that the grape is regularly blended with others in wines in order to increase alcohol and flavor. Aside from its use in red wine, Wine Folly indicates that 85% of Zinfandel produced is for White Zinfandel, a sweet rosé wine.
While Zinfandel's flavors are intense, the wine itself can range from light to full-bodied. Think of stewed fruits and jams, with aromas of cherries, berries, raisins, and prunes. The wine can be sweet or more robust with a spicy yet juicy taste.
As such, Zinfandel is a great match for meat, barbecue, heavy sauces, and tomato-based dishes like pasta and pizza.
If you like Zinfandel try…
If you haven't tried it already, get your hands on a bottle of Italian Primitivo to see a different take on Zinfandel. Cellarmasters describes Primitivo as less sweet, more structured, and rich with flavors of blackberry and pepper. For another wine from Southern Italy, try Negroamaro, a bold wine filled with luscious fruit.
Dcanter's recommendation for Zinfandel lovers is to try Carignan from Southern France, brimming with flavors of red fruits and warm spices. The source also suggests trying Trincadeira, one of Portugal's lesser known varieties, if you want a bold smooth wine with aromas of berries and spices.
Malbec
While you're much more likely to find a bottle of Malbec originating from Argentina, Decanter reports that this grape actually hails from southwest France, where it was one of the key types in the Bordeaux blend. The grape also grows well in Chile, Australia, South Africa, and California (via Wine Folly).
When Malbec is grown in France, the tannins are often overwhelming and bitter, however the warmer climate of Argentina produces a smooth and velvety wine that is fuller-bodied with a deep color and dark fruit flavors to match. Juicy ripe fruits are balanced by notes of chocolate, smoke, coffee, and floral aromas. These flavors can be complemented by oak barrel aging, which adds notes of vanilla, leather, and tobacco, according to Wine Folly.
Do as the Argentinians do and pair your Malbec with meat dishes and barbecue. As well, you can match the smooth wine with unique cheeses, game meat, and other earthy flavors.
If you like Malbec try…
If you're a fan of the smooth velvety style of Malbec, then look for other wines displaying dark fruit flavors with floral and earthy elements. Try Dolcetto from Northern Italy, which is heavy on dark fruits, flowers, cocoa, and spice, says Wine Folly. As well, Dcanter recommends trying Bonarda (aka Douce Noir), another grape that flourishes in Argentina. See if you can pick up the juicy berry aromas and hint of Chinese five-spice in the mix. Nero d'Avola from Sicily has plenty to offer for fans of Malbec, too with hints of dark juicy fruits, licorice, and spices, and a presence of tannins that make this wine easy to please.