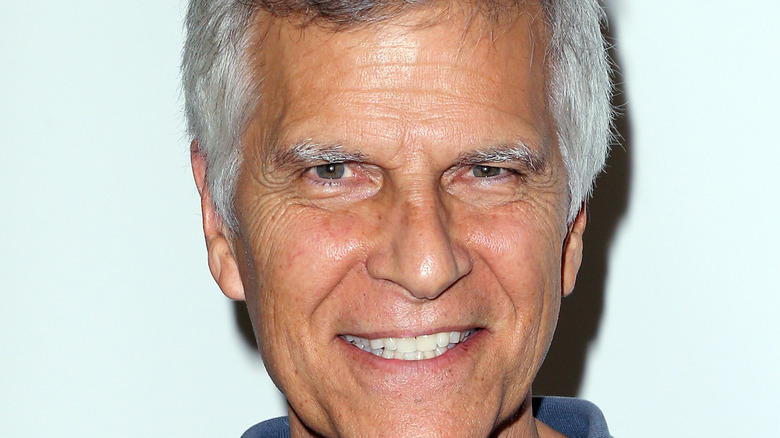 There was a time when Mark Spitz was the name to beat not only in most swimming competitions but also when it came to gold medals. As Swimming World Magazine tells it, Spitz won the most gold medals in one sport at a single Olympics, with seven wins. It wasn't until Michael Phelps beat that record with eight gold medals in the 2008 Beijing Olympic Games. In fact, Spitz didn't simply win seven golds in the 1972 Munich Olympics, he set seven world records that would hold strong for 36 years. His feats were truly nothing the world had ever seen before, and even though he has relinquished the aforementioned record, he's perfectly fine with it, telling CNN, "The bottom line is, records are made to be broken."
At 71 years old, the former swimming star hasn't been sitting back and doing nothing since his stint in the spotlight of athletic fame following the Munich Olympics. The type of competitor Spitz was and the mark he made on the sport of swimming isn't something easy to walk away from entirely. No, Spitz has been active in the aquatic realm as well as in many other areas of life.
Mark Spitz gave up on dental school to try acting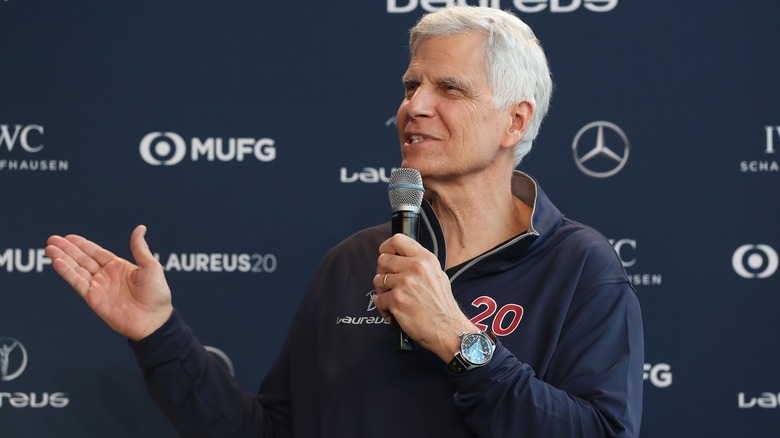 While USA Swimming star Mark Spitz was still competing in his younger years, he had another career in mind as well: dentistry. Now, a life of working with people's teeth might not seem particularly glorious compared to the former Olympian's athletic career, but it was the life he wanted. Well, until fancier things sparkled on the horizon. According to Swimming World Magazine, Spitz would indefinitely postpone dental school to try his hand at an acting career, and it didn't go particularly well, leaving him with a sense of regret that he hadn't pursued dentistry after all.
The swimmer-turned-thespian's IMDb page says it all. He has a total of five acting credits. One was uncredited, another was as a co-host on a games show, and there was that time he voiced himself in an episode of "American Dad." He has two credits that actually count as acting, when he played Pete Barlow in a single 1974 episode of "Emergency!" and a television announcer in a TV movie in 1985. But where his acting career was a bit of a bust, he appeared on television as himself more times than most. That's 37 appearances outside the already mentioned credits. And hey, let's not forget Spitz narrated the Quentin Tarantino and Lucy Liu documentary about a water polo match at the time of the Russian Revolution titled "Freedom's Fury." That's something, right?
Spitz attempted a few different careers after retirement
After his retirement, the world record-setting swimmer was a bit all over the place career-wise. We already discussed the acting career, but there were a few other, mundane ventures in there, too, and some of them were fairly successful.
Probably the most successful of Mark Spitz's ventures was as the owner of SUMARK Corporation, an investment company named after him and his wife, as The Harvard Crimson explains. Within the company, Spitz basically threw truckfuls of money at highly desirable properties in California, Texas, and the beautiful islands of Hawaii. It's more than likely that a large part of his success in real estate came from the fame attached to his name, but he still definitely made some cash.
Another career Spitz worked into was public speaking. Well, it wasn't so much "working" into it as it was diving in headfirst, according to Pool and Spa News. As a successful athlete and charismatic speaker, it only seemed natural. From there, he did a ton of endorsement deals, and in 2003, he became a member of the board of directors for a company that makes underwater exercise equipment known as Novations.
Spitz works with the World Sports Academy
Laureus Sport for Good Foundation is pretty freaking cool. According to their website, they were founded by Richemont and Daimler under the patronage of Nelson Mandela, which is probably enough on its own to be awesome, but they also do a lot of benevolent work (via Laureus). Their goal is to use sports as a way to help kids in tough areas overcome all the darkest parts of life, like violence and discrimination. They provide education, conduct awards, and do all sorts of sports-related goodness — over 200 programs of it — in 40 different countries. And former USA Swimmer Mark Spitz has been working with them for a while now.
His bio on the foundation's website says Spitz is a "founder member" of Laureus World Sports Academy, which doesn't really tell us much, but does hint that he's probably done enough to get the "founder" part put in his title. The Holocaust Education Film Foundation backs the bio up by saying he's worked on a whole ton of projects with them all over the world, and in his spare time, he's raised $1 million for the International Olympic Committee. This guy really gets to work.
He's been doing a lot in the water
Just because Mark Spitz retired from the world of professional swimming doesn't mean he's out of the water for good. Obviously, he's no longer competing in swimming comps, but according to Swimming World Magazine, he still has great form. He has a pool in his backyard and everything. He'll even swim across it while balancing a glass of water on his head to prove a point. But the swimming pool isn't where Spitz's most recent aquatic hobby's been taking place. He's been on the ocean for this one.
Spitz must just love water; he went from the professional USA Swimming team in his youth to professional sailor in his retirement. As The New York Times mentions, Spitz bought his first racing yacht a year after the Olympics in Munich, and he hasn't lost the taste for the wind in his sails and the waves beneath his hull yet. The man has even completed in the Transpacific Yacht Race that goes from California to Hawaii three times, and the racing officials must've thought he was good enough to be memorialized because they included his name on the plaque that sits at the starting line (via Cision). You can see it at Waymarking.
He's been diagnosed with an irregular heart rhythm
In September 2019, Mark Spitz, an athlete who was once in the sort of shape it took to be among the greatest of all time, posted to his Twitter account about spreading awareness for atrial fibrillation because it was a condition with which he'd recently been diagnosed.
Now, atrial fibrillation isn't one of the more deadly heart arrhythmias if it's caught early and properly treated, but it's a serious danger if it isn't. According to the Mayo Clinic, atrial fibrillation is an irregular heartbeat that originates in the upper part of the heart, causing the atria to beat rapidly and chaotically. This causes a couple of other things to happen. Since your atria are out of coordination with your ventricles, the lower portion of your heart doesn't fill like it's supposed to.
Luckily, this is usually easily treated. The major risk factor that comes from A. fib is that the blood tends to sit in the atria while they're doing their little dance of chaos. When blood sits, it has a chance to form clots. These clots can move throughout the body, causing ischemia, heart attacks, pulmonary embolisms, or strokes. So, getting the arrhythmia treated as quickly as possible is the right thing to do.
Even though the former Olympian has developed this fairly common condition, he seems to be doing pretty darn well for 71 years old, and we'd be surprised if he kicked it anytime soon.