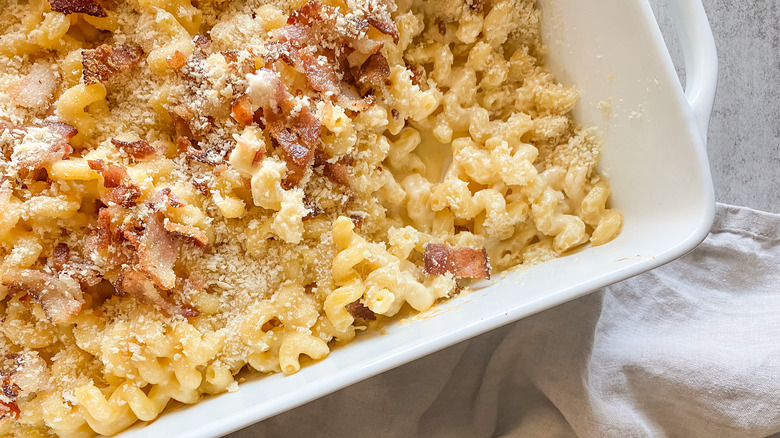 There are plenty of A-plus dishes at the Longhorn Steakhouse, but one of their most delicious and most comforting items is undoubtedly their mac and cheese. This beautiful dish has a variety of cheeses, as opposed to just your standard cheddar … and in our opinion, the more cheese, the better.
Another wonderful part of this mac and cheese is the panko topping, which provides a great top layer with a little crunch. Pair that with a layer of bacon, and you've got a mac and cheese that not only looks worthy of an Instagram pic, but tastes even better.
Registered dietician Kristen Carli came up with this Copycat Longhorn Steakhouse mac and cheese recipe, and you should get out your stationery to mail her a thank-you letter, because it's sure to be a new favorite. While there are so many great things about this recipe, Carli shares that what she loves the most is the creamy cheese sauce. We'd have to agree.
Put on your chef hat and keep scrolling to find out how to make this incredible Copycat Longhorn Steakhouse mac and cheese recipe.
Gather the ingredients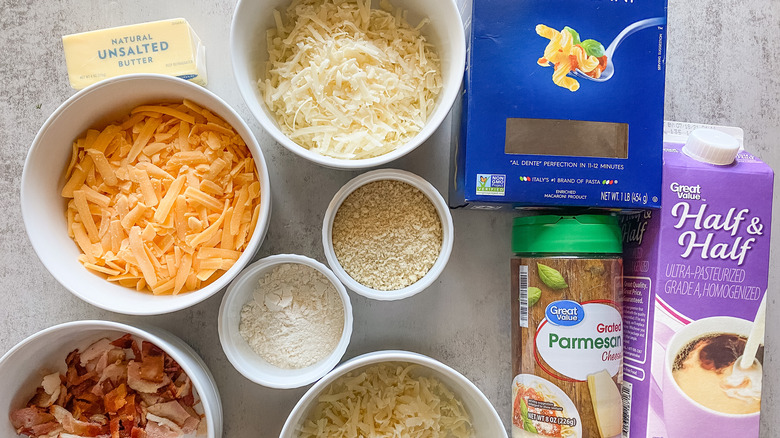 For the first step on your checklist, it's best to make a grocery list. That way, you can see what you need to get at the store and check what items you already have at home.
You'll need either cellentani or cavatappi pasta (types of corkscrew pasta). Carli shares that you can also use a different type of noodle if you wish, but cellentani is her favorite because of the fun noodle shape.
In addition, you'll need unsalted butter, all-purpose flour, and half-and-half. It's no surprise that the recipe calls for plenty of cheese, including Gruyère, fontina, sharp cheddar, and grated parmesan. All of these cheeses combined produce an incredible flavor. Last but not least, add cooked bacon and Panko bread crumbs to your list if you don't already have them.
Preheat the oven and boil the pasta
For the first step in the process, you'll want to set your oven to 350 F so it's warm and toasty when your mac and cheese is ready to go in. Then, get a large pot. Make sure you have one that's big enough to fit the water and the pasta. Bring your water to a boil and then follow the instructions on the package to cook the pasta, as cooking times will vary.
Once it's finished, drain the pasta and set it to the side. Don't put it too far because you'll need it in just a moment.
Heat the butter and flour
Now that your pasta is ready to go, it's time to prep the cheese sauce. Take out a large saucepan and dump in the flour and butter. Melt the butter over medium heat and whisk in the flour to combine.
Once the ingredients are well mixed, you can go ahead and stir in your half-and-half. Keep the heat on medium and continue whisking until the sauce thickens. This will only take about five minutes. Now, the recipe is about to get really cheesy.
Add the cheese
One of the most satisfying parts of the recipe is dumping in all of your cheese. Add the Gruyère, fontina, cheddar, and parmesan to your sauce. Instead of whisking this time, you'll want to stir to combine. As a side note, your heat should still be set to medium, which makes it pretty easy to keep it at a constant temperature.
Continue stirring the cheese mixture until everything melts. If you'd like to do a little taste test, we don't blame you!
Combine the pasta and sauce
Here's the part where your pasta comes into play again. Dump the entire bowl of drained pasta into a large bowl. Now, pour the sauce over the top. Give the entire mix a few big stirs to combine. Doesn't it smell wonderful?
Next, spray the bottom of a 9×13-inch baking dish with nonstick cooking spray, then pour in the pasta. Sprinkle the top with the diced, cooked bacon and panko crumbs, which will provide the dish with the perfect amount of topping.
Bake and enjoy
Pop the baking dish in the oven and set your timer for 20 minutes. That's how long it will take this dish to achieve cheesy perfection. Once the timer dings, it's time to grab your oven mitts. The mac and cheese should look just like what you'd order at the Longhorn Steakhouse.
Feel free to serve this on a plate or in a bowl. While the mac and cheese is filling enough by itself, Carli says that you can add a protein like a buffalo chicken breast to it. As for leftovers? "This does not freeze well, but leftovers keep best in an airtight container in the fridge for up to five days," Carli shares.
Now, dig in!