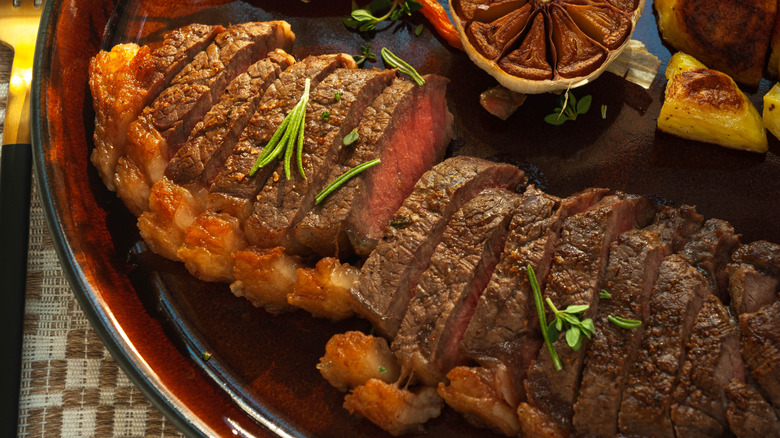 Gordon Ramsay is one of the most well-known chefs in the world, and pretty much everything he makes is widely acknowledged to be flavorful and delicious. This recipe for his steak includes a sirloin cut and only a few other ingredients, but it's full of great flavor all the same. Why wouldn't you want to make that in your own home, too?
For our twist on Ramsay's steak recipe, food photographer and recipe developer Ausrine Zygaityte opted to cook the steak sous vide first, before cooking it like Ramsey. She shares that there are many things to love about this dish. "You don't have to get the most expensive cut and you will still end up with amazing steak," she shares. "I love steak, it is great for a date night, any time you want to treat yourself but at the same time, you can use it in a very casual way, like for steak salad for lunch."
This recipe requires just 5 minutes of prep time and then 1 hour and 35 minutes of largely hands-off cooking time. Let us tell you, it's well worth the wait. We promise it will be one of your new favorites in your steak rotation.
Gather the ingredients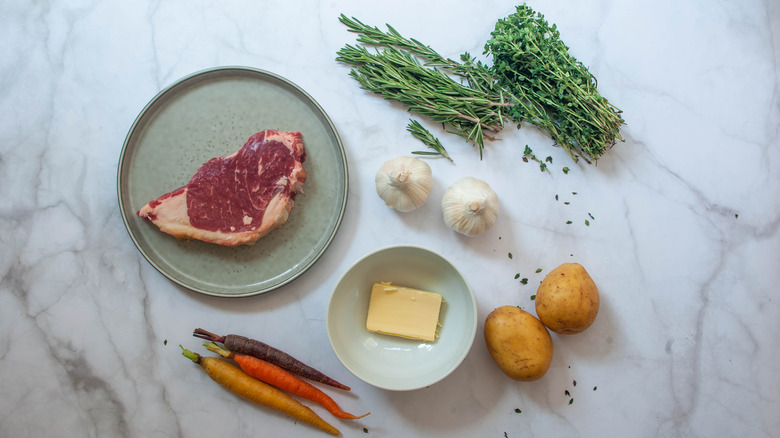 This simple yet incredibly delicious recipe calls for just a few ingredients, which is another reason why we like it so much. All you'll need to make Gordon Ramsay's steak with a twist is a beef sirloin steak, a head of garlic, rosemary and thyme sprigs, and butter. That's it for the actual steak. If you choose to pair it with a side dish you will need to get some carrots and potatoes for serving, along with any other side ingredients you feel are necessary. After all, who doesn't love steak and potatoes? It's a classic!
Prepare your steak
Before you do anything else, take your steak out of the fridge and let it rest. After that, you can begin the rest of the prep process. Simply put the piece of steak in a plastic freezer bag and add a spring of thyme and rosemary. Be sure to squeeze the air out of the bag as much as possible so that there are no extra pockets of air, creating as close to a vacuum seal as you possibly can. Once you've done this, you're ready to move to the next step.
Where's the twist in this steak recipe?
Here's the step we changed and the twist that makes this recipe truly unique. You'll want to start the steak with the sous vide cooking method. To begin, pour water into your pot. Set the sous vide machine time and temperature, then place it in the water. This should be pretty clear, based on the instructions that came with your particular machine.
Next, put the bag in the water for an hour and 30 minutes. For rare steak, cook it to 123 degrees Fahrenheit. For medium-rare you'll want to hit 131 degrees and 158 degrees for well done. Be sure to submerge the bag in the water entirely to make sure that your steak is evenly cooked.
When the timer goes off, simply remove the bag from the water. Take the steak out of the bag and dry it with a paper towel if needed.
A note about steak sides
If you have sides with your steak, you can do them while the steak is in the sous vide. Zygaityte suggests roasted seasoned potatoes cut into 1/8 or 1/4-inch sections, carrots, or even a whole head of roasted garlic. If you're cooking somewhat more dense potatoes, then set your timer for 40 to 60 minutes to roast the potatoes to perfection. That's it for the sides, which are super easy!
Heat the pan
First, heavily season both sides of your steak with salt and black pepper.
For the next part, get a pan to heat the steak. You want to make sure the pan is hot enough first before you throw the steak onto its surface. For a good sear, that means you'll want a pan that can take high heat (and definitely don't use nonstick here). You will know it's hot enough when it's unbearable to put your hand one inch above the pan.
Cook the steak
Set your timer for 45 seconds and add some oil with a high smoke point to the skillet. Lay the steak flat in the pan. Be sure not to drop it in as you don't want any hot oil splashing in your hands or face! When the timer goes off, turn over the steak and cook the other side for one minute. Add some crushed garlic cloves and some springs of rosemary and thyme to the pan. While it's cooking, be sure to baste the steak with butter in the pan using a heat-resistant metal spoon.
Though it's fast, this step will require your attention. "I strongly recommend being quick with frying the steak [so] that you wouldn't overcook it," Zygaityte says. "Also, if you see that the steak is burning black in a few seconds, lower the heat a little bit but be careful not to lower it too low."
Serve your steak and enjoy
When you take the steak off of the skillet, set a timer for 10 minutes and let it rest. Remember that allowing steak, along with many other cuts of meat, time to rest is vital to a great meal.
Once it's ready, cut the steak into finger-width pieces. Alternatively, you can make thinner slices if you prefer. If you happen to have any leftovers, Zygaityte says that "you can fry steak leftovers with other leftovers after a few days and it is still tasty, I wouldn't recommend holding it longer than a few days, especially if you made rare or medium-rare steak." Now, enjoy!