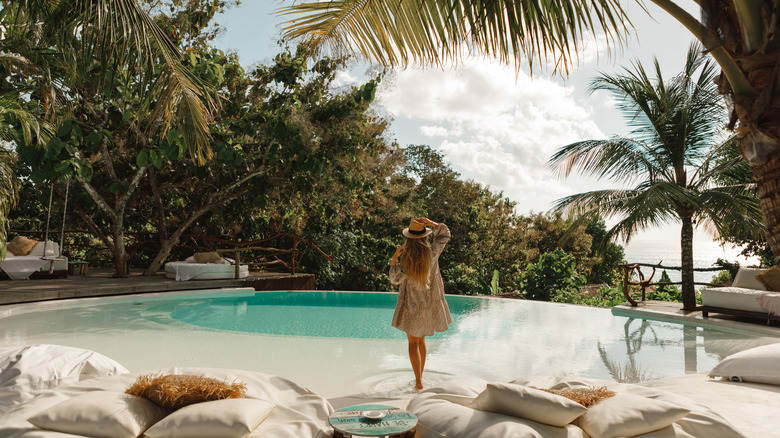 Airbnb property rentals and experiences have become increasingly popular over recent years, and being your own boss as an Airbnb host can be an exciting, creative way to earn a lucrative income. As a host, you can provide a unique experience, class, or vacation accommodation. There are extraordinary experiences offered, such as horse whispering with an equine therapist in Barcelona, Spain and a cool hipster bike tour in Tokyo, Japan. There are also extraordinary Airbnb rentals all over the world that are cozy and unique homes away from home for vacationers and business travelers alike — with so many great perks.
A host can rent out an entire house, room, apartment, or quaint cottage on the property that's suitable for any size family and any occasion. Many people prefer to rent an Airbnb property rather than stay at a hotel, so the rentals practically book themselves. In fact, you can find more than 63,500,000 helpful reviews on Airbnb's website that were given an average of 4.8 out of a 5-star rating on the Airbnb site by guests.
The beauty of being an Airbnb host is that the sky is the limit as far as what you can offer in your own vacation rental. You may decide to create an eco-friendly environment or perhaps display trendy mid-modern century decor. Or maybe you'd like your rental to be zen-inspired with a yoga area and butterfly garden. It's always a great idea to offer unique features that stand out from your local competition.
Consider these things before you host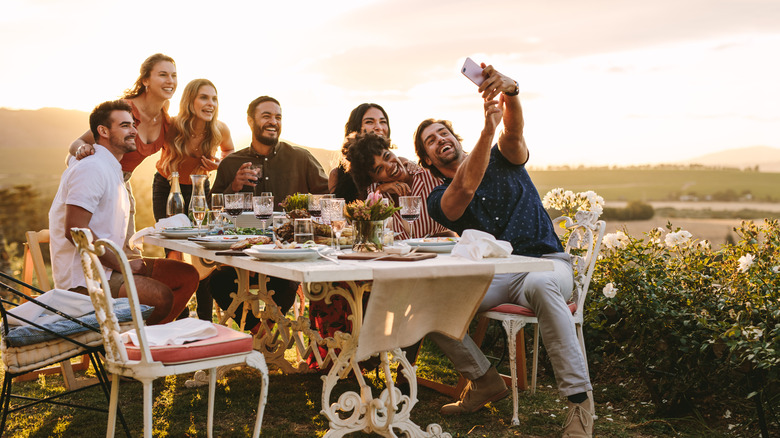 There are many things to research before you decide to become an Airbnb host. Consider what your rental and location will offer, since the more appealing your property is, the more bookings you're likely to get. If you're in a ski area, for example, a hot tub, fire pit, and hot chocolate bar will be very well received. If your property is in a beach community, beach cruisers, beach chairs, umbrellas, and an inviting outdoor patio complete with a farm table for wine and cheese gatherings may generate great interest.
There are Airbnbs for every customer's taste and just about every budget. The website is super user-friendly, so not only can potential customers sort out desired locations, but they can also identify desirable amenities in any property they book. As a host, you want your Airbnb to make an impression.
Prior to even considering hosting your property with Airbnb, it's essential that you confirm your right to do so. Whether you own or rent a private home, condominium, co-op, or apartment that you'd like to turn into an Airbnb, be sure that it is not prohibited under your lease, contract, HOA rules, town ordinances, or laws in your city or state. Be aware that some boards, buildings, communities, and landlords may not allow subletting or having paid guests in a particular space, so be sure to check this out carefully prior to going through the process of becoming a host and listing your space.
Calculate how much you can earn
To get an approximate idea as to the amount of income you can expect to earn from being an Airbnb host, you can view comparable listings in your area of the country on the Airbnb website. Airbnb also has a Smart Pricing tool that will assist you in coming up with a fair rental rate. The estimated rental price is determined by various factors, including your rental space, where it's located, the time of year you're renting, the demand in your city/town, and anything special that's taking place in your area (such as a music or beer festival, holiday event, car show, etc.), according to Airbnb. You can also get a rough estimate by checking out a recent average price per night for your town or a nearby one (not including any expenses, taxes, and fees) for a comparable size space within the past year. To figure out what you'd make per year, you'd multiply that estimated amount by the number of nights you plan to host per month.
There are many factors involved that can impact your income potential. Each month can fluctuate based on variables such as the rental season, how popular your rental is and the ratings you receive, how many bookings are actual check-ins and not canceled, local attractions that may be open certain times of the year, and expenses you may have in any particular month.
Understand the cost of hosting an Airbnb
You do not pay a fee to list your space on Airbnb. However, what you do pay is a 3% commission of the total booking price for each confirmed, checked-in reservation directly to Airbnb. For hosting events — aka an Airbnb Experience — there is a 20% commission per event that is paid to Airbnb, according to Need More Rentals. Once the commission is calculated and deducted out of the booking price along with any extra charges, the host will usually receive their payment for the booking 24 hours or so after check-in from Airbnb.
You may wonder why you will pay Airbnb a commission for each guest booking, and the answer is pretty simple. You are part of Airbnb because of its established reputation. The fee that you are paying goes towards the expenses of running the overall Airbnb operation. Examples of the expenses are the 24-hour service that each host has available at their fingertips, in addition to the processing of charge card payments. One of the biggest benefits of being a host is being part of the Airbnb family and the website that features each and every property to millions of travelers from all over the world.
Start the hosting process on Airbnb's website
Becoming an Airbnb host is easy and so much fun. In fact, just about anyone can host, and it doesn't cost anything to sign up and get started. Whether you decide to host a unique event like pasta making, tarot card reading, or wine tasting, or you'd like to host a stay at a room in your home, host an overnight excursion in a glamping treehouse, or rent out your entire house, hosting is an utterly genius way to earn a great income.
To start the process, you'll need to create an account and provide information on Airbnb's website. You'll be asked to provide the property address you want to list. You'll list the type of place you are offering, such as a house, apartment, boutique hotel, villa, etc., and what kind of space your guests will have access to — a private room or the entire house. There will also be specifics to enter, including how many guests can be accommodated and how many beds and baths there are. You will be asked to note any special amenities — for example, a patio, hot tub, fire pit, or anything extraordinary that potential guests will want to know about.
There are also lots of decisions you'll need to think about, such as: Are pets allowed? Are children allowed? Is it a smoke-free property? If you're hosting an event, what's the event date and timeframe? Will materials be provided?
Create an attention-worthy Airbnb listing
Next comes the fun part! As noted by Airbnb's website, you'll have to come up with an appropriate (and intriguing!) title for the rental — something catchy like "Dreamy English Garden-Style Cottage." The next step will be to add a written description for your place, keeping in mind it should be accurate, inviting, and descriptive. The description should be very appealing, well-written, and creative and include specific details of your property or experience, along with accurate pictures — you'll get to upload some really spectacular photos to show off your place.
Setting a price per night will be the next step for your listing, You'll need to decide what to charge, which should be comparable to similar properties or experiences in your area. Airbnb will guide you as far as a reasonable price point, along with suggested information regarding cancellation policies, payment processing, and booking details. We told you there is much to consider! But no need to worry because there is no time limit on creating your listing, and you'll have an opportunity to review your listing and make any revisions before it's live.
You're your own boss, so set your own rules
One of the many wonderful perks about being an Airbnb host is that you are your own boss. You and only you are in charge of making the rules when it comes to planning an experience. When it comes to hosting your own property on Airbnb, you can decide everything, including the pricing, discounts, rental availability dates (including any dates you'd like to block off of the calendar as not available), any minimum nights you'd like to establish for popular seasons, promotions you'd like to run to drum up business during slower seasons, and even how far in advance your guests can book their reservations. As noted on the Airbnb website, you can establish any specific rules you have regarding your own rental — even whether you would like to charge a separate cleaning fee for each booking.
House Digest spoke with Superhost Larissa of The Haystack Haus – A Cabin on the Oregon Coast who advised, "Make your property a brand! This is the biggest thing to make it really stand out. Get creative with your branding and your amenities." Larissa also noted, "Create an experience for your guest. Think about the first impression when they walk in the door and build from there."
These are the basic requirements each Airbnb host must meet
Airbnb has expectations of their hosts to ensure that every Airbnb stay is a great experience, and that each host achieves success. Hosts should be mindful of four booking-related categories that matter most to guests: overall rating of a guest's stay, response rate from the host, handling of cancellations, and acceptance of reservations. Customer service is key, and it's imperative that each host responds to any guest quickly. Whether it's a question regarding your listing or information needed regarding a reservation, a host response within 24 hours is expected.
Each host should keep a consistently high rating for their listing, meaning each guest should have an all-around great stay. Airbnb guests expect nothing less than exceptional quality. Guests rate their overall experience, and you'll be able to view how they rate you. As a host, you should check your performance regularly, as Airbnb tracks the performance of each host. Any listings that are frequently less than par will have consequences.
Airbnb asks that hosts avoid having to cancel any reservation request that a guest has booked, if at all possible. While emergencies may come up, hosts need to be mindful of the fact that guests count on their booking as part of their travel itinerary. Airbnb recommends that you accept booking requests as quickly as you are available to do so. It will make your guests feel welcome and know they are dealing with an efficient operation.
Remember that essential amenities and cleanliness are key
It probably goes without saying, but Airbnb guests will expect all essential amenities to be supplied without question, such as toilet paper, body soap, linens, towels, and pillows. Think about it — when you stay at a hotel, you don't expect to worry about the basics, so neither should your guests. All extra amenities must be reflective of what's in the listing (in-ground pool, hot tub, second bathroom, pool table, cappuccino maker, etc.), and pictures should be accurate and representative of the property.
Another matter of top importance is the cleanliness of your Airbnb, which includes every corner of the property. There should be no dust, hair, trash, or food, and fresh linens are, of course, imperative. Last but not least, we cannot stress enough that the check-in process must be seamless, and guests should have easy communication with the host. This includes a clear understanding of accessing the key, directions to the house, any special security code or Wi-Fi information, and detailed contact information in case they need to get a hold of you during their stay.
Look at every step of the process this way: When you spend money on vacation to stay at a nice hotel, you expect staff members to be helpful and all of the steps along the way to be easy. You want your accommodations to be clean and relaxing. If they aren't, you won't want to stay there again … and you will probably write a horrible review.
As a host, know that Airbnb has your back
You may still be apprehensive about hosting. After all, this may be the home you live in full-time or a home you own and put much love and time into making beautiful. You don't know the individuals who are booking reservations and may be concerned about guests treating your property with care. There could be damage that may be caused during a stay. What if your guests forget to turn off the water in the bathtub and there's water damage? Rest assured, because Airbnb has your back. First off, Airbnb provides Host Protection Insurance, which protects hosts and insures just about every single reservation with up to $1,000,000 USD worth of property damage.
In addition, each and every guest is required to provide all of their personal information upon booking their Airbnb reservation for your property, including payment details, the guest's complete name, their birth date, email address, and telephone number. Everyone who books a reservation and stays at an Airbnb property must abide by Airbnb's guest reliability standards. Guests will also be expected to respect Airbnb's community policies and nondiscrimination policy.
Hosting an Airbnb rental is not unlike any kind of business where you may offer a service. The difference is that Airbnb has around-the-clock support specialists, so there's always someone you can reach out to who can assist you with anything you need to ask.
Airbnb hosts have access to a wealth of support and information
Airbnb wants their hosts to totally crush it at booking guests, and has created an entire Resource Center to ensure you have all the tools and information that you need to succeed. It's chock-full of helpful tips, suggestions, webinars, and first-hand experiences from other hosts — both good and bad — and answers to any questions that a host may have. This stocked library includes everything from videos you can watch to helpful guides and articles you can read that address any situation you may have to deal with. You can learn everything from how to create a stellar listing to the amenities guests want, to how to create a guest-friendly space and so much more. Much of the material is provided by hosts that have already successfully rocked the Airbnb process.
In addition, there are online groups to participate in, such as Airbnb's Community Center and Facebook groups, where hosts can share past and current situations they've addressed while lending helpful advice and support if a host wants to explore a particular topic. Although you would be working independently when hosting your Airbnb, you're never really alone. Having other hosts within your reach for a wealth of support and so many inspiring stories on which to draw makes the entire hosting process feel as though you have your own team to work with. On Airbnb's website, one host, Shelley Galbraith, shared, "We share ideas, help each other resolve challenges, and cheer our successes."
Becoming an Airbnb host is a win all around
Becoming an Airbnb host can be an extraordinary experience. Not to mention, it can also prove to be a pretty great side gig. Oregon-based superhost Larissa told House Digest, "Turning your home into [an] Airbnb is a ton of work. If you are considering it, it's worth doing some research and making sure you are prepared for the time investment as well as the financial investment, including being prepared for more frequent repairs and replacement of items." Still, she shared that it's a "rewarding" career and a good way to earn extra money. "I think the branding element makes it even more fun, and being able to get creative and create a space that you can be proud of hosting it feels really great!" she added.
If you're looking for a fresh, exciting, and really creative way to start a new career or start a side gig to earn an extra income, consider becoming an Airbnb host. It's a challenge that can satisfy your interests or even fulfill your goal of having your own business — something you may have always dreamed of. Hosting may not be for everyone, but it may be the perfect fit for you.