These are the best games of 2021 so far
We're now just over half way through 2021, and while the year has felt like it's been dominated with next-gen upgrades and re-releases, there has also been some stellar brand new games launched, too.
Sony has stolen the show on the first-party front, delivering multiple must-have PS5 exclusives. It's just a shame it's still so hard to get your hands on PS5 hardware. Third parties have also delivered the goods, serving up some memorable titles no matter what format you game on. What's really surprising is that Nintendo has had a lacklustre assortment of first-party titles in the first half of the year, while Microsoft has had a grand total of zero. Both are set to release titles that may feature in our overall best games of the year, however.
So, wondering what out thoughts are on the best games of 2021 so far? Scroll on down and take a look.
Want to support GameSpew? If you decide to buy any of the games on this list, please consider doing so via our affiliate links, included below each entry. It won't cost you anything extra, but we'll get a small slice of the purchase.
Hitman 3
Formats: PS4, PS5, Xbox One, Xbox Series X/S, PC
We've always liked the Hitman games – even Hitman: Absolution. IO Interactive really pulled the cat out of the bag with Hitman 3, however. It locations, and missions, are the best in the series yet, offering many ways to off your targets in style. Being available on next-gen consoles, it's also the best-looking Hitman game to date if you have the required hardware.
The icing on the cake is that if you also own the previous two games in the Hitman: World of Assassination trilogy, you can import their levels into the game for free, offering yet up yet more murderous opportunities with an additional lick of paint and new gameplay mechanics. Needless to say, Hitman 3 is a must-have for series fans, and anyone who loves a stealth game. This will no doubt be the game of the year for some.
Persona 5 Strikers
Formats: PS4, Switch, PC
Persona 5 is one of the best JRPGs ever made, introducing players to the fabulous Phantom Thieves. You don't have to have played it to enjoy Persona 5 Strikers, however, a more action-focussed spin-off that comes complete with new standalone story.
Co-developed by Omega Force and P-Studio, Persona 5 Strikers blends deep storytelling with a thrilling battle system. While Omega Force's involvement may lead you to believe that it's simply a Warriors game with a Persona 5 skin, the truth is you couldn't be more wrong. You do indeed battle against large groups of enemies at times, but the combat here is utterly unique, incorporating stealth and a skill system that allows you to pause the action while you peruse the abilities of your equipped Personas.
If you've played Persona 5 and love it, great, you'll get more out of Persona 5 Strikers. But don't overlook it if not – there's a reason we're including it in our list of the best games of 2021 so far. It's a brilliant game in its own right, and one hell of a great action RPG.
Little Nightmares II
Formats: PS4, Xbox One, Switch, PC
The protagonists of Little Nightmares II may indeed be little, but on the whole the game they're in delivers some big scares. We honestly weren't prepared for some of the horrors it unleashed upon us.
Placing players in control of a new character called Mono, Little Nightmares II finds him rescuing Six at the beginning of the game and then working with her as they both proceed into an overbearing city. On their way, they travel through a forest, a school, and more, encountering a myriad of hostile creatures along the way. On some occasions your enemies can be engaged in combat, with little Mono dragging his makeshift weapon behind him like Silent Hill's Pyramid Head. For the most part, however, your only option is to run.
Little Nightmares II has a couple of nuisances during its short running time, but there are so many high points that they can be overlooked. It's easily one of the best games of 2021 so far, offering an experience that's memorable long after after the credits have rolled.
Outriders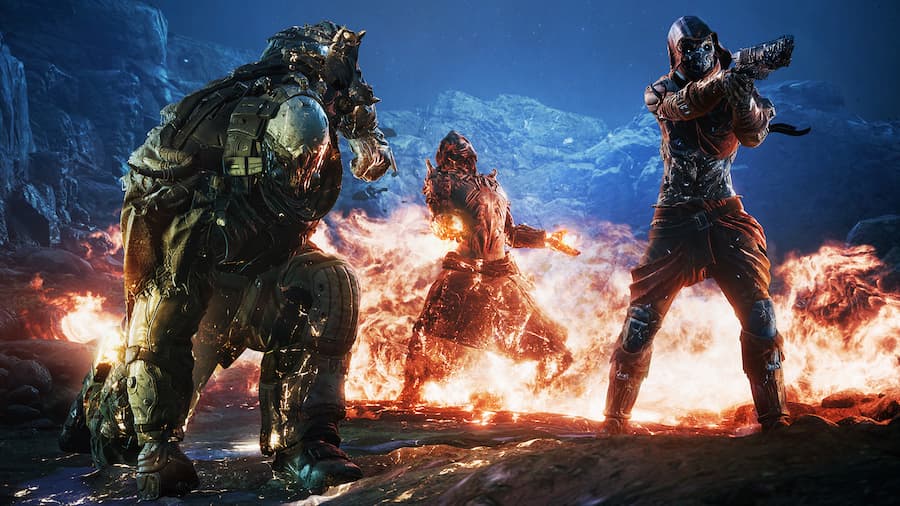 Formats: PS4, PS5, Xbox One, Xbox Series X/S, PC
Okay, so Outriders didn't have the best launch, what with its server issues. It also had some problems after launch, too, leaving some players a little squishy at times. It's testament to how fun the game is to play, however, that we battled on though its troubles regardless.
A third-person shooter with the combat intensity of a DOOM game and a loot system reminiscent of the likes of Diablo, Outriders grabbed our attention then held it in a vice-like grip. We battled through its story, which grew all the more interesting the further we progressed. And once the credits rolled, we dove into its endgame Expeditions mode, hungry to make our characters as powerful as they could be. There were some frustrations along the way, but our time with the game has left a lasting impression on us. The final Expeditions boss can do one though. Seriously.
With Outriders being so successful, a sequel is likely on the way. As one of our games of 2021 so far, we can't wait.
Subnautica: Below Zero
Formats: PS4, PS5, Xbox One, Xbox Series X/S, Switch, PC
The sequel to 2018's Subnautica, Subnautica: Below Zero takes the excellent roots laid by its predecessor and improves on them in just about every way.
Set two years after the first game, this sequel packs in much more of a story, giving players more reason than ever to explore its vast world, packed with life and mystery. But the nature of this survival game means that you'll likely want to keep playing long after the story's done; the true joy of Subnautica: Below Zero is in surviving, crafting and exploring. And we just can't get enough of those things.
The narrative itself tells an engaging story, sure, but it'll be your own desire to find out what lurks in Below Zero's depths that will keep you playing. Each discovery you make while playing will bring you glee, whether it be a piece of a Sea Truck, or simply an oxygen plant that allows you to breathe just that bit longer. Few games offer a world as diverse and mysterious as this, and it feeds our human appetite to go exploring off into the unknown. Oh, and there are alien polar bears.
If you're a sucker for adventure, exploration and survival, Subnautica: Below Zero is certainly one of the best games of 2021 so far.
It Takes Two
Formats: PS4, PS5, Xbox One, Xbox Series X/S, PC
It takes something quite special to create a game that can only be played in co-op. It's practically unheard of, but Hazelight Studios did it once with the excellent A Way Out back in 2019, and this year it has done it again with the phenomenal It Takes Two.
It Takes Two tells the story of married couple May and Cody. Things haven't been going so well for them lately, and they're on the brink of divorce. Their young daughter catches wind of this and, desperate to do anything to keep them together, she casts a spell. Unbeknownst to her, the spell turns May and Cody into a pair of dolls. And so, with one player in control of May and another in control of Cody, off you set on a brilliant adventure.
Perhaps the most wonderful thing about It Takes Two is that it looks and feels just like an interactive Pixar movie at times. Especially when playing on a next-gen console, it's vibrant, colourful, and eye-poppingly beautiful. Add to that an eclectic mix of gameplay that never gets old – players will work together to solve puzzles, complete platforming challenges, fly with a glider and more – and you've got a game that you'll remember long after the credits roll. Without a doubt, It Takes Two is one of the real highlights of 2021.
Read our review of It Takes Two
Resident Evil Village
Formats: PS4, PS5, Xbox One, Xbox Series X/S, PC
The eighth mainline instalment in the Resident Evil series continues the story of Ethan Winters, introduced in 2017's Resident Evil 7: Biohazard. Now enjoying a simple life with his wife, Mia, and his baby daughter, Rosemary, things take a turn for the worse when Chris Redfield shows up.
Playing as Ethan once again, Resident Evil Village finds you fighting to save your daughter from a group of mysterious, and rather freakish, individuals. A European village acts as a hub, and from there you'll explore an opulent castle, a run-down mansion and more. The horror elements of Resident Evil 7: Biohazard may have been dialled down a notch in Resident Evil Village, but it still delivers the chills from time to time. It's biggest success is keeping you on your toes, offering a mix of action, horror and stealth alongside some of the most outlandish Resident Evil set-pieces yet.
With the success of Resident Evil Village leading Capcom to announce that it's developing DLC for the title, we're excited to see where it takes us. We'd grown tired of the overarching story over the years, but it's successfully managed to drag us into it once again, and that's no mean feat. It's also why it's one of our best games of 2021 so far.
Returnal
Formats: PS5
From Housemarque, the developer behind arcade-styled hits such as Nex Machina and Resogun, comes Returnal, a game quite unlike any other.
On the surface, Returnal is a fast-paced third-person shooter, putting players in control of an astronaut called Selene stranded on an alien planet. But there's a twist. She's stuck in a loop, with her death resulting in her waking up back at her crashed ship, ready to explore the alien world once again. And so the question is, can you break the loop?
Returnal is essentially a roguelike, then, with the majority of upgrades acquired by Selene on any given run taken away from here upon death. The bullet-hell-like projectile patterns fired at Selene by her enemies, however, and the horror-like first-person story sequences that take place in her house which can be found in numerous environments make it utterly unique.
We've never played anything quite like Returnal before, and we love it. Sony obviously does too, having just announced that it's bringing Housemarque into its PlayStation Studios family. We look forward to what the developer has to offer us next.
Chivalry II
Formats: PS4, PS5, Xbox One, Xbox Series X/S, PC
If you watched Game of Thrones and were thrilled by its epic battles, Chivalry II might just be the game for you.
A competitive multiplayer game, Chivalry II allows players to take part in large scale medieval battles. Three game modes are available: Team Objective, in which players need to work as a team to attack or defend objectives, Team Deathmatch, in which players simply need to kill the opposition, and Free-For-All, in which it's every man for himself. Whichever you choose, you're in for a bloody time.
With a combat system that's easy to pick up but hard to master, Chivalry II is entertaining from the get-go. It also helps that there are lashings of humour, making battles fun whether you're on the winning team or not. The icing on the cake is that there are plenty of reasons to keep going back to it, too, with subclasses to unlock, as well as a wide variety of weapons and cosmetics. We think it might just prove to be the best competitive multiplayer game of the year.
Ratchet & Clank: Rift Apart
Formats: PS5
Ratchet & Clank are back, and they look better than ever in PS5 exclusive Rift Apart.
Insomniac Games has been busy since being acquired by Sony, delivering Spider-Man: Miles Morales and Spider-Man: Remastered for the launch of the PS5. With Ratchet & Clank: Rift Apart, however, the developer has truly shown what the PS5 is capable of, delivering a game that looks like an animated movie in motion when playing using the Fidelity setting. Honestly, though, it's the ray-tracing performance mode that truly impresses, offering stellar visuals at a silky smooth 60fps
Outside of the visuals, this is the best Ratchet & Clank game yet, with its blend of platforming and third-person shooting being more entertaining than ever. And of course, there's a huge assortment of ridiculous weapons available, from the Topiary Sprinkler that sprouts weeds to hold enemies in place, to the RYNO 8, that brings in items from other world via a dimensional rift.
If you own a PS5, you need to play Ratchet & Clank: Rift Apart – it's as simple as that. This will surely prove to be one of the best games of 2021.