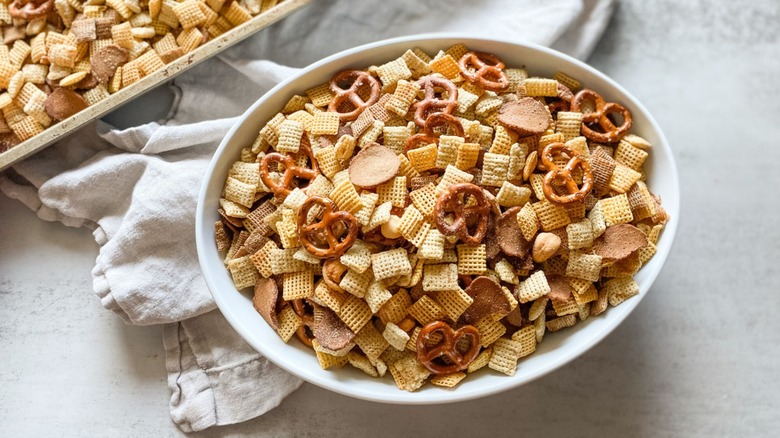 Pre-packaged Chex Mix is something you see on store shelves, in gas stations, and even in your kids' Halloween haul. No matter what flavor it comes in, Chex Mix is a popular snack to grab and go. It works great as a great movie snack, and it's perfect to bring on a hike or picnic. Every party is a success when there's a bowl of it on the table. Before there was pre-made packaged Chex Mix, however, Chex Mix was homemade. Culinary Lore reported that this popular party snack made its debut as a back-of-the-box recipe in 1952 and shortly thereafter earned a place as a cocktail party staple.
If you've only ever had the Chex Mix that comes from the store, you owe it to yourself to try the from-scratch version so you know what all the fuss is about. As private practice registered dietician and recipe developer Kristen Carli puts it, "I love making my own Chex Mix … I like the homemade version better, as it is more fresh!" The recipe has changed a bit over the years, however, as recipes (and the rest of us) tend to do in time. In 1952, Chex Party Mix consisted of just two kinds of Chex cereal plus nuts and seasonings (via Betty Crocker), but more modern Chex Mix recipes, including Carli's, include a few add-ins not available in mid-century America.
These are the basic ingredients you'll need to prepare homemade Chex Party Mix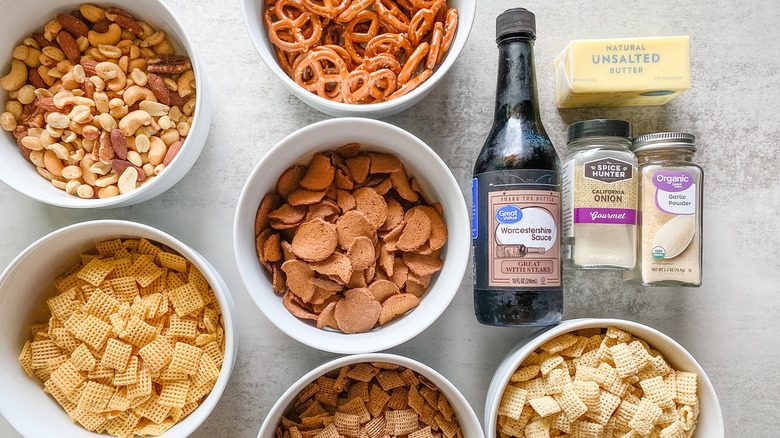 This particular recipe makes use of both Wheat Chex and Rice Chex, as well as mixed nuts, butter, salt, and Worcestershire sauce, as included in the original recipe (via Betty Crocker). Where this recipe differs is by adding in Corn Chex (which were not available until 1958, according to Culinary Lore), mini pretzels, and garlic-rye bagel chips. Carli even switches up the spices a bit in her tasty recipe. While garlic salt was originally used to supplement the table salt, Carli's recipe calls for garlic powder and onion powder instead.
Making Chex Party Mix couldn't be much easier
You will start the preparation by preheating the oven to 250 F. No, that's not a typo — this really is one of those rare low-heat recipes. Next, you're going to mix the cereals, nuts, pretzels, and bagel chips all together in a large bowl. Then, melt the butter in a small, microwave-safe bowl, a process that should take between 30 seconds to a minute. After the butter is melted, stir the Worcestershire sauce into the butter. At this point, you can pour the melted butter over the snack mix, and then sprinkle it with the dry seasonings. You could also be super efficient and add the seasonings to the melted butter, stir well, then pour the seasoned butter over the snacks.
However you choose to do it, be sure to stir everything up well so all the bits and pieces get their fare share of both the butter and the seasonings. You want the mix to be evenly coated. Then, move on to the next step.
Try a few Chex Mix tweaks
This recipe is for the original, or rather, slightly updated, version of traditional Chex Party Mix, something that Carli says is "a classic for a reason … It is delicious!" Still, as she admits (and store shelves show), "There are so many different varieties you can explore." Carli suggests switching up the dried spices by swapping out the garlic and onion powders for cumin and chili powder.
You could also make your Chex Mix cheesy with mini cheese crackers or crunchy Cheetos, or go for an Asian twist by subbing out the Worcestershire sauce for soy sauce and sprinkling in some crumbled dried seaweed and wasabi peas. (Yum!) Go nuts with the nuts, or leave them out altogether. Go gluten-free by simply skipping the Wheat Chex and adding more of the other two types. You could even be creative and use a different kind of cereal such as Cheerios. The possibilities are truly endless, so have fun with it!
Chex Mix can even be used in desserts
Did you know there's such a thing as dessert Chex Mix? You probably know the most popular sweet version under one of its many aliases: muddy buddies, puppy chow, or the festive holiday treat called reindeer poop. There are also numerous other sweet spinoffs of the original Chex Mix recipe, including PBJ, unicorn, and even PSL versions.
If you've made a big batch of the original recipe and are looking for new ways to put this old favorite to good use, though, why not toss a handful of Chex Mix in a batch of cookies? You could also crumble it up to use as an ice cream topping or even use it to make a crumb crust. If you're making Chex Party Mix with the express purpose of repurposing it, you might want to skip the garlic and onion powders. Even if you leave these seasonings in, though, neither flavor should be strong enough to overwhelm any but the most delicate of dessert dishes. Instead, they should provide just that hint of "je ne sais quoi" that is the essence of any secret ingredient.