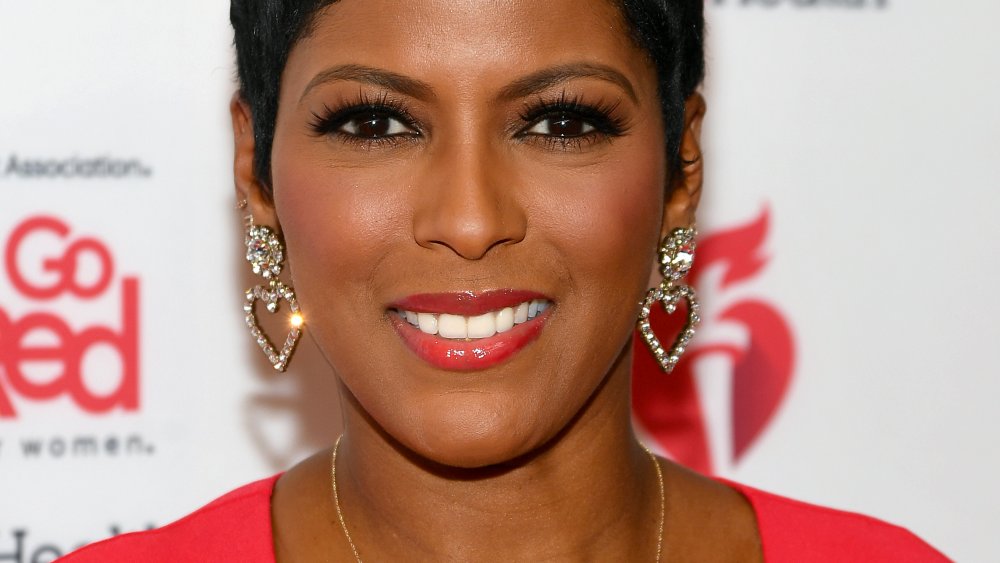 Tamron Hall became a household name by rising up the ranks in television news. After getting a broadcast journalism degree from Temple University, she started her career in Bryan, Texas. From there, Hall made stops in Dallas and Chicago, before joining NBC News as a reporter and anchor. In a career that seemingly peaked with a highly coveted spot on Today in 2014, she became the first Black woman to have the title. The moment was a dream come true for Hall, who described the moment as "walking on cloud nine," to Essence. It was a moment the journalist worked hard for. But the moment came crashing down in 2017, with her tabloid-worthy departure from the history-making gig on the popular morning show, which we'll detail momentarily.
Fortunately, in her subsequent break from the television screen, Hall was able to find a moment of deep introspection. She also found love, and started a family. In an inspirational turnaround, Hall then landed her own daytime talk show in 2019. As of this writing, it seems like Hall has it all, but she got to this moment after a series of hardships. These are the tragic details about Tamron Hall.
Tamron Hall's humble Texas beginnings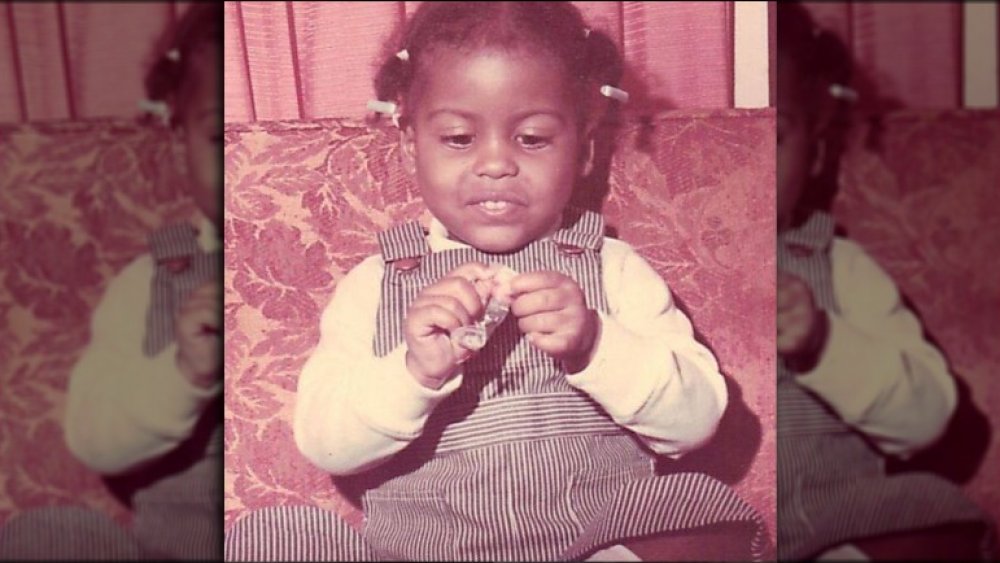 Tamron Hall came into the world on Sept. 16th, 1970 in Luling, Texas. It was a rural area, far from the "big city life" she was destined to have one day. Hall told New York Gossip Gal, it was "an incredibly small town, population I think like a thousand, if that — and I grew up very, very poor and living outside. Our entertainment was a water hose and spraying it at each other running around." The life didn't have a lot of glitz and glamour, but Hall loved it anyway.
In an interview for Talks at Google, Hall elaborated on her family's humble background. Her mother was born to a sharecropper who only had a second grade education. Her family taught her priceless lessons. In a piece for HuffPost, Hall wrote that her grandfather "taught me to expect nothing, but always be ready to help and share what you have with others." Hall's family's hard work isn't lost on her. In fact, she is thankful for it. On the Google stage, she said, "They are the fabric of why I'm here now, so is it luck? I don't know. … To just chalk it up to hard work, it's just not true, because you can't control some of these variables."
Regardless, Hall is grateful for the hardscrabble upbringing: "It was the most basic childhood you can imagine, yet it was all mine and all things were perfect."
A loss in the family kept Hall silent for a long time
One of Tamron Hall's biggest pains was losing her step-sister, Renate. On her eponymous show, she described Renate as "an "effortless energy of love." But in 2004, her "big sister," as Hall affectionately referred to her, was found dead in the pool of her Houston home, having apparently been beaten. Hall has rarely spoken about this pivotal moment in her life in detail, but she made an exception on her show in October 2019 to chat about the loss with Renate's son, Leroy Moore (pictured above). "We never discussed it. Because I didn't know what to say," Hall revealed about her family's long-held silence on the matter.
Hall says Renate was frequently in abusive relationships, and that there was only one person of interest in her murder case. "Do we know who did this to her as defined by a court of law? No," Hall told People, adding, "But I can tell you I witnessed an act of violence and there were only two other people in that room." At the time of this writing, the case remains unsolved.
Renate's death is painful for Hall, but she has found a way to use those feelings to inspire impactful change. In 2016, Hall launched the The Tamron ♥ Renate Fund, with Safe Horizon, an organization that provides services for victims of abuse and violent crime. "No one deserves what happened to my sister," she told People.
Everything looked great on Today until it didn't
In 2014, Tamron Hall became the first Black woman to co-anchor the Today. On breaking the glass ceiling at 43 years old, she told Essence, "I'm a part of this for women, for Black women, for all of us." During that time, Hall was very busy. In addition to co-anchoring the 9 a.m. hour of Today, she continued to anchor MSNBC's News Nation, as well as continued to host Deadline: Crime with Tamron Hall on Investigation Discovery. She told Essence that upon inking the Today contract, she channeled her inner Lena Horne, who was one of her biggest inspirations: "I have a jacket and a bracelet that belonged to her and when we finished the deal I put them on and posed in the mirror."
By January 2017, Hall was a shining star on NBC, co-hosting her hour of the popular morning show alongside Al Roker. The hour, titled, Today's Take was the #1 show in its time slot. Roker posted a tweet in excitement saying, "Congrats to our #TODAYsTake @TODAYshow 9am producers for producing the #1 morning show 7 weeks in a row!! @tamronhall and I are very blessed."
But despite the show's success, questions started brewing after NBC announced it was bringing on former Fox News anchor Megyn Kelly to host a daytime news show. Soon, Hall's future on Today was clearly, albeit inexplicably, in jeopardy.
Tamron Hall's divorce from NBC
By the end of January of 2017, word started to spread that NBC was giving Megyn Kelly the Today slot then-occupied by Tamron Hall and Al Roker, resulting in the cancellation of Today's Take. Given the show's success, many people, including Hall, were shocked.
A few days later, NBC made Hall's departure official, after releasing a statement to media outlets (via Deadline) stating that Hall's contract with the network was ending, and she had chosen not to renew it. The statement included a message from Hall, in which she expressed, "The last ten years have been beyond anything I could have imagined, and I'm grateful."
But, there was more to the story. Two years later, Vulture reported that Hall, while speaking at a panel for Vulture Festival 2019, said she was given the option to "take a deal that would have placed her elsewhere at NBC." Instead, she made the "easy decision" to leave the network entirely: "It wasn't that I did not know my value. It's that others did not know my value." Hall shed some more light on her departure with People (via Page Six) revealing, "The last week I was on Today, I filled in for Savannah Guthrie, who'd gone on maternity leave. I filled in for Lester Holt all while I was doing my MSNBC show plus shooting Deadline Crime. Hall felt NBC's offers to keep her on, but working on "these odd little things" were "insulting" given the contributions she made.
The aftermath of Tamron Hall's NBC departure
Times were difficult after Tamron Hall left NBC in January 2017. After all, it was her dream job. She told People, "I was in a fog, not knowing that so many of us lose things we think are important, and we have no idea that something better is right there." Hall was pictured leaving NBC on her final day. She appeared strong and confident. However, she told Good Housekeeping that on the inside, she "had to pray not to be broken." Eventually Hall came to terms with her decision. She says she reached a breaking point when she realized, "I'm not Tamron from the Today show. I'm Tamron."
Hall took what some would view as a setback, and instead used the change as a chance to propel forward. She told People, "That loss set me up for, yes, a dream job but also my baby, my husband, my family. I just couldn't see it coming."
Tamron Hall isn't her hair
In June 2014, Tamron Hall stunned home viewers when she did something that was unheard of in the land of television news — especially for Black women. She wore her natural hair on Today (shown above), which means she wore her hair how it grew on her head. The moment meant a lot to Black women, who were inspired to accept themselves the way they are, instead of living up to Eurocentric beauty standards.
After taking a trip to rural Utah to shoot an episode of Running Wild with Bear Grylls, Hall decided to save herself the trouble and sleep in before work. On Twitter she explained, she only got a couple hours of sleep, and was "simply too tire[d] to blow dry and flat iron" her hair. It proved to be a better reason than any to try something new.
Curly Nikki, a natural hair blog, gave a little more insight into Hall's decision. Apparently the blog's author had taken a trip to South Africa with Hall months prior, in which Hall revealed, "she'd have to spend hours — that she could've spent resting or preparing — manipulating her hair to meet the straight hair standard of beauty," unlike her white counterparts. In a tweet, Hall confirmed that Curly Nikki was the one who encouraged her to rock her curls. She has since gone back to wearing it straight, but says she chooses to "embrace both."
Prince's death sent Tamron Hall to therapy
News of rockstar Prince's untimely death rocked the world in April 2016. Tamron Hall took his death especially hard, because they were close friends. Hall tweeted, "Like a bird without a song," lyrics to his iconic song "Nothing Compares To U," adding, "I've lost one of my best friends today. I know he would have advice right now, Prince, I'm listening as always." Hall didn't anchor the Today Show or MSNBC the day after Prince's passing, but she did speak to her colleague Craig Melvin about what she was feeling. She described their bond as "one of the most incredible friendships and relationships of [her] life." Hall told Melvin she met Prince years prior.
Hall spoke to Prince just five days before he died, a day after his plane made an emergency landing when he was found unresponsive. "We talked for nearly three hours which wasn't uncommon for us to do," Hall told Melvin, adding, "I did not hear anything that sounded like the flu or cold but all of our bodies are different." Hall said she thought he was okay, but little did she know that would be her last call with him.
Months after Prince's death, Hall revealed on Today (via People), that she started going to therapy to help with her grief. According to Page Six, on the day Prince's cause of death (accidental opioid fentanyl overdose) was leaked, the network "pulled her" from Nightly News.
Finding love wasn't easy for Tamron Hall
Although Tamron Hall found great success in her professional life, it came at the expense of her love life. By the time Hall was 46 years old, she still wasn't married, which is by no means tragic, however, she did tell Steve Harvey (via Essence) that she "had been engaged a couple times," but nothing stuck. In fact, she told Harvey that her fame actually made dating harder. "I feel it's tougher for the guys, because if I break up with them, then they can go on and be forced to watch me on TV everyday," said Hall. Not only that, but, "work was my real boyfriend," she spilled.
But in 2017, Hall used her Today exit to her advantage, when she started dating Steven Greener, a music manager. She revealed to People, "Steven was my first and only boyfriend who did not have to turn on the TV to see me, and I think that's been important." Hall had known Greener for years before they started dating, but losing her 9-5 allowed her to see him in a new light. "The fear factor of 'What's going on with my spot? Am I going to keep this job?' fell away, and I could really see Steven," said Hall.
In March of 2019, she shocked fans in an Instagram post announcing she was pregnant, while simultaneously sharing that she was married to Greener. She told People he is her "deepest, greatest love."
Tamron Hall's IVF Journey
At 48 years old, Tamron Hall gave birth to her son Moses. For Hall, the path to motherhood was far from easy. On her show, she described the experience as one with "pain and tears, and at the end, joy." Hall told People she first tried in vitro fertilization (IVF) in her 30's, but it didn't work. She also revealed (via Parents) that even though she was single at the time, she knew it was "something that I wanted to have happen in my life, but also knew that I had personal challenges in front of me."
She tried IVF again with her husband Steven Greener when she was in her 40's. She says that time, her experience came with fear. "Nothing seemed shiny and optimistic," she told People. The process came with ups and downs. "Just like with my job search during that time, there were so many frustrations," said Hall.
But Hall's IVF journey lows made the gift of her son so much sweeter. When announcing her successful pregnancy on Instagram in March 2019, she said "There have been many tears, but today I embrace the smiles." In April 2019 she revealed her son Moses' birth on Instagram. In the post she called him her #sonshine.
The unbelievable way Tamron Hall's first talk show tanked
After Tamron Hall left Today in February 2017, she continued to say "no" to opportunities she didn't serve her. She told People (via Page Six), "After 25 years in the business, I felt some of the offers that were coming in were insulting." Four months later, "it was June, and the right thing had not come."
That summer, Hall thought she had found the right opportunity when she got a call from Harvey Weinstein, but it proved not to be so. Recalling the ill-fated, would-be partnership during her first show, Hall said she got the offer from Weinstein the same day she was celebrating the anniversary of a domestic violence shelter. But after news of Weinstein's rape allegations came forth in October 2017, Hall balked at the daytime talk show that was already in the works with the disgraced producer. She told the HuffPost that Weinstein's actions were "horrifying," and that she started taking steps to sever ties with him on the day the allegations broke. By March 2018, The Weinstein Company filed for bankruptcy, and five months later, Hall struck a deal with ABC instead.
Tamron Hall premiered on September 9, 2019. Prior to its premiere, Hall told Glamour, "I get emotional thinking about it. It's been a hell of a journey. … With this show, whatever the outcome, I will be proud of myself." Viewers clearly missed Hall's presence on television. They gave her Hall a warm welcome-back with strong ratings.