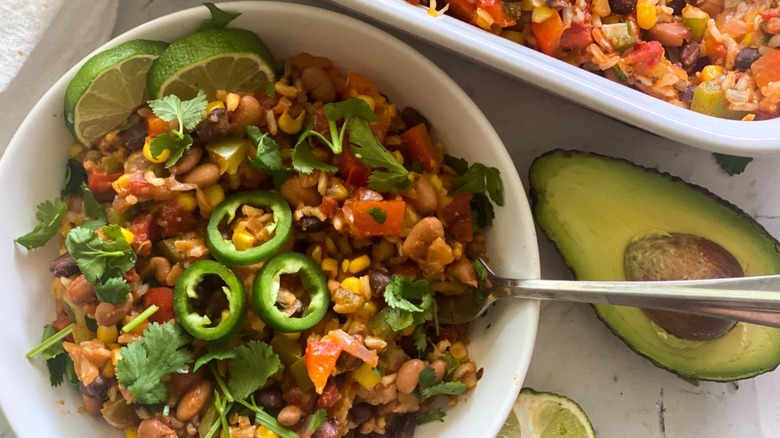 Mexican food is undeniably delicious, with cheese and meat being staples of almost every single dish. If you are in the mood for a little fiesta during your next meal, but healthy eating is still a priority, recipe creator Miriam Hahn of YouCare-SelfCare has an absolutely perfect dish for you to check out — her healthy Mexican casserole. Of course, there's a little cheese involved (thankfully), but this casserole is meat-free and jam-packed with delicious vegetables, beans, and spices. The best part of all? This meal comes together so much quicker than it would take to drive to your favorite Mexican restaurant, order, eat, and drive home … although that is a really fun treat to do every now and then.
According to Hahn, "I like to make this for a weeknight dinner, because you can make it earlier in the day and just reheat it." She also notes, "This is a meal on its own for sure, but would work well if you were doing a taco night and wanted to serve [the casserole] as a side dish." If your mouth is already watering, we totally can relate. Let's get into the ingredients and how you can make this tasty meal in your own kitchen.
Gather your ingredients to prepare this delicious casserole
You'll love the colorful variety of ingredients that go into this healthy Mexican casserole. The recipe first calls for a splash of oil, with Hahn noting, "I tend to use avocado oil in any stovetop cooking since it has a high smoke point, but a good quality olive oil will be fine, too."
You will also need the following ingredients: an onion, garlic, a red and green pepper, a jalapeño, corn, 1 can each of black and pinto beans, a can of fire roasted tomatoes — don't drain them! — plus green chilis, a lime, brown rice, and ½ cup of a shredded Mexican cheese blend. The seasonings you'll need include cumin, garlic powder, smoked paprika, salt, and oregano. Hahn also recommends having fresh cilantro, avocado, red onion, and jalapeño available as toppings.
Note that as Hahn says, "The green chilis either come in a can, or Hatch [makes] a larger jar if you use them frequently. Both would be in the Hispanic section of any grocery store."
Cook the rice and veggies
Start out by preheating your oven to 400 F. Then, go ahead and spray a 9×12-inch baking dish with cooking spray, and set it aside for now. You should cook your brown rice according to the package directions.
While the rice is cooking away on the stove or in a handy dandy rice cooker, it's time to chop up your veggies. Then, you will add your oil to a large skillet — note that it really needs to be large — and add the onion, garlic, red pepper, green pepper, and jalapeño. Hahn instructs home cooks to sauté the colorful vegetables for about five to eight minutes over medium-to-high heat.
The next step is to add in beans, corn, fire roasted tomatoes, green chilis, lime juice, and spices to the same skillet. (Did we mention how much we love the ease of one-pot meals?) You'll then stir everything to combine.
Lest you are worried about this meal being too spicy, Hahn says, "If you remove the seeds in the jalapeño, it really isn't that hot. But you can definitely omit if you don't want the spice."
Bake your casserole at 400 F for about 10 minutes
Speaking of spices, you may be wondering why Hahn chose oregano for this meal. "I used oregano, because I love when some salsas have oregano as an ingredient," she says, adding, "I wanted to mimic that same flavor."
Okay, so your veggies, beans, tomatoes, and spices are all combined. By now, your rice is hopefully done, so go ahead and add that right into the same skillet, stirring the rice with the veggie mixture to mix things well.
Next, everything gets poured into that pre-prepared baking dish. This is when you will sprinkle on the cheese. And then, guess what? You only need to bake the casserole for about ten minutes before it's ready to serve.
The last step is to arrange topping options into bowls, with Hahn suggesting slicing additional jalapeño, as well as cilantro, avocado, and red onion for family or friends to customize their own bowl of deliciousness.
1 cup brown rice, uncooked
1 tablespoon oil
1 onion, chopped
2 garlic cloves, minced
1 red pepper, chopped
1 green pepper, chopped
1 jalapeño, chopped
1 can black beans, rinsed and drained
1 can pinto beans, rinsed and drained
2 cups corn
1 (15-ounce can) fire roasted tomatoes, undrained
2 tablespoons green chilis
juice of 1 lime
2 teaspoons cumin
1 teaspoon garlic powder
1 teaspoon smoked paprika
1 teaspoon salt
1 teaspoon oregano
½ cup Mexican cheese blend, shredded
fresh cilantro, for topping
avocado, for topping
red onion, for topping
extra jalapeño, for topping
Preheat oven to 400 F, and spray a 9×12-inch baking dish with cooking spray.
Cook the rice according to package instructions, using the stove or a rice cooker.
Add the oil to a large skillet, and once it is warm, add in the onion, garlic, red pepper, green pepper, and jalapeño. Cook for about 5 to 8 minutes on medium-high heat.
Add in the black beans, pinto beans, corn, fire roasted tomatoes, green chilis, lime juice, and spices. Stir to combine.
When the rice is finished cooking, add it to the skillet, and stir well.
Add the mixture to the baking dish, and top with the cheese. Bake in oven for about 10 minutes.
When the casserole is done, add toppings and serve.