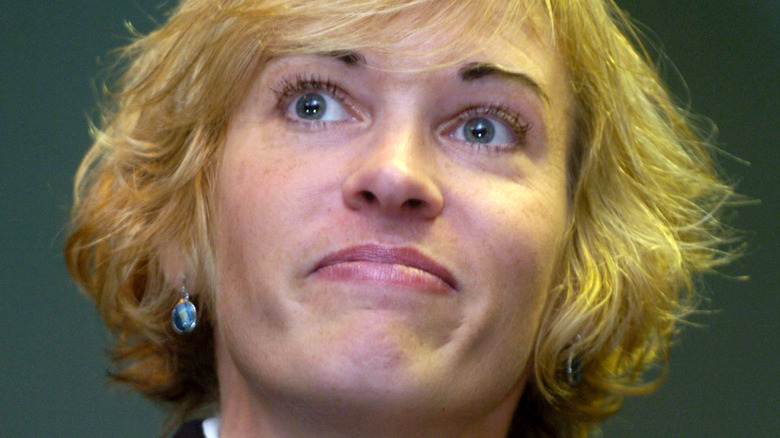 The following article includes mentions of drug use and mental health issues.
Many athletes train their whole lives to reach the Olympic Games, redefining what sporting excellence looks like and representing their countries. But sometimes, all the cheering fans at home don't know what's actually happening behind the scenes.
Speed skater Maame Biney actually developed an alter ego named Anna Digger to deal with the enormous pressure of the Olympics. "In real life, I like to stay in the background, not be front and center," she declared. "But you need that in racing. So having Anna by my side, she can do that being-fierce stuff for me. Getting in character helps me go faster. And the first season I was skating on the World Cup circuit, I was a nervous wreck the whole time. I was so young, and these were Olympians and champions, so I had to learn how to deal with it."
But other Olympians lead double lives out of necessity. Some athletes turn to a surprising career outside of their sports-focused endeavors, especially after the medals and glory have dried up. Other Olympians keep their difficult backgrounds hidden, disguising the troubled circumstances behind their impressive careers. And occasionally, even they don't know that there's a dramatic family secret waiting to be uncovered.
Keep scrolling to find out more about the double lives of the most celebrated athletes in the world.
Olympic athlete Melo Imai went from snowboarding to adult videos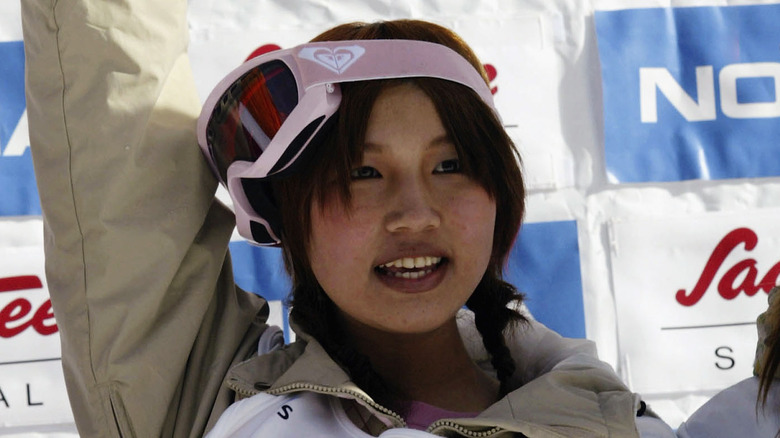 Melo Imai is an example of an Olympian who particularly shocked the public when her second life as an adult video star was revealed. The Japanese snowboarder was forced to reconsider her career path after suffering a bad accident at the 2006 Winter Olympics in Turin, Italy. According to the Tokyo Reporter, the then-17-year old was labeled "a waste of taxpayers' money" and "Japan's embarrassment" after crashing in the half-pipe event.
"For many athletes, the Olympics is the pinnacle of their career, but for me, it was a nightmare," Imai told the Tokyo Weekender years later, reflecting on the pain she went through. "The whole experience was terrible. Leading up to the Games I had this constant fear of failure, like a choking feeling. It was the same throughout my career." The devastated athlete turned to sex work, briefly working in a sex parlor and starring in porn films as a "gravure idol." Imai revealed, "Since I started working as a gravure idol in 2013, I began to believe in myself much more. To do that kind of job you can't be a shrinking violet. It has helped me a lot."
In March 2017, Imai returned to the slopes and won first place at the 35th All Japan Snowboarding Championships, per the Tokyo Reporter.
Yusra Mardini is a swimmer and a lifesaver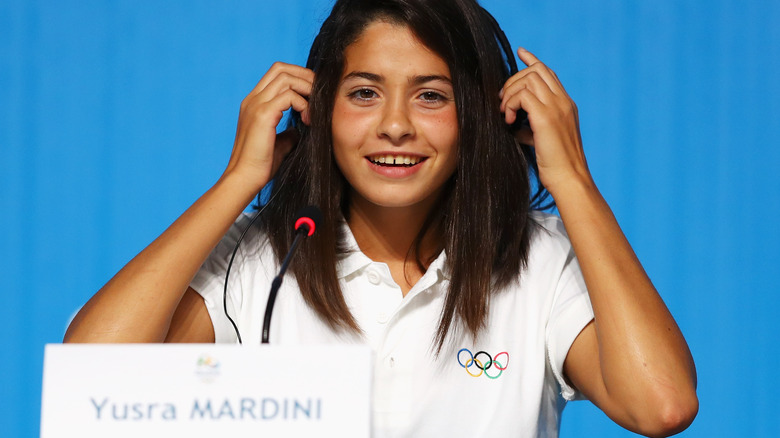 Yusra Mardini has inspired people through her remarkable life story, as well as her sporting achievements: the swimmer is not just an Olympian, she's also a real-life hero. Born in Syria, Mardini would often have to practice her swimming in dangerous environments. "Sometimes we couldn't train because of the war," she recalled, per the Independent, describing her early life in Damascus. "And sometimes you would be swimming in pools where the roofs were [blown open] in three or four places." In the end, Mardini and her sister left their home country, traveling through the Aegean Sea with 18 other refugees.
Only thirty minutes into their journey, the boat's motor broke down. In order to save 20 lives, Mardini jumped overboard with her sister and the only two other passengers who knew how to swim. All four swam for three hours in freezing cold water, making sure the dinghy didn't collapse and guiding the others to safety. Eventually, the teenager reached dry land and settled in Germany. "It's a positive memory for me," Mardini insisted, observing that while the experience was "tough," she wouldn't be alive if not for the sport she loves.
As she told New York Magazine, her goal is to win a gold medal at the Olympics one day (the swimmer has already competed at Rio in 2016 as part of the Refugee Olympic Team). Mardini also wants to show other refugees that there is hope and "calm" for them "after the pain and after the storm."
Nicole Bobek was involved in a crystal meth ring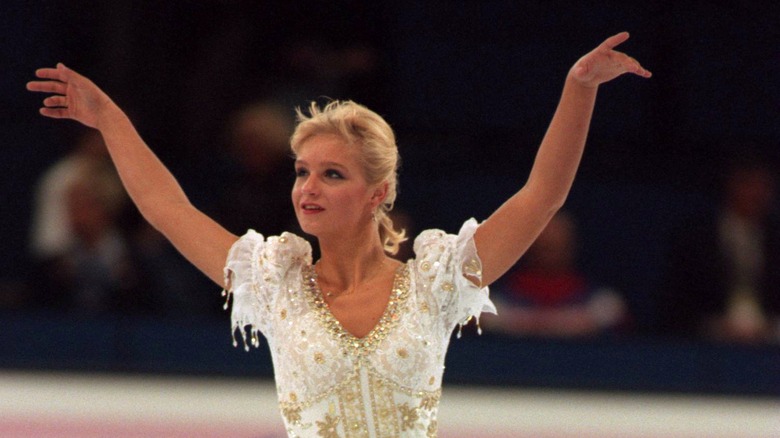 Nicole Bobek's fall from grace saw her go from a promising young skater to a convicted crystal meth dealer, revealing the secret addictions that had plagued her for years.
As ESPN noted, the Olympian always had a reputation for being rebellious. Even when she was charming audiences as a teenager, Bobek went through eight coaches, and her unstable home life and rebellious behavior eventually became notorious beyond the skating rink. She was also charged with home invasion in Michigan after entering a friend's house with a security code, earning herself two years of probation. "She could have been one of the greatest skaters the United States has ever seen," former coach Kerry Leitch told ESPN, describing how Bobek's "horrible" work ethic held her back. "There are two sides to Nicole. There is the side that is sweet and nice and is a great skater. And then there is the side that is a mystery."
Her professional skating career ended in 2004, when she moved to New York and began using drugs heavily, according to the Chicago Tribune. Five years later, her gaunt mugshot shocked the world, after it was announced that she had been arrested in a crystal meth distribution bust. Ultimately, Bobek was sentenced to five years' probation. "Those horror stories you hear about, I could have very well been one of them," she observed at the time. "It is very scary. I am thankful every day I am alive. And I feel more alive than ever because I am not behind bars."
If you or anyone you know is struggling with addiction issues, help is available. Visit the Substance Abuse and Mental Health Services Administration website or contact SAMHSA's National Helpline at 1-800-662-HELP (4357).
Suzy Favor Hamilton lived a secret life as a sex worker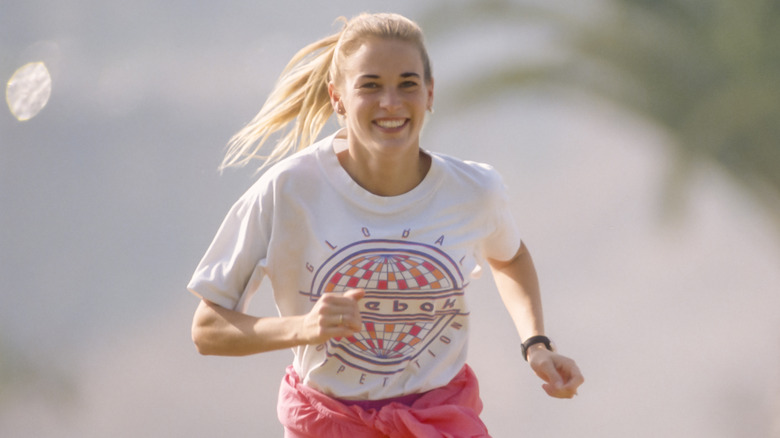 American middle-distance runner Suzy Favor Hamilton caused a stir in 2012, when it was revealed that the former Olympian was earning $600 per hour as a sex worker in Las Vegas, per The Smoking Gun. As she wrote in a piece for the BBC, Hamilton had left the world of sports behind after seven U.S. Championship wins and three Olympic Games. But her mental health soon deteriorated, making her want to escape her real estate job and her family. The runner, who would later be diagnosed with bipolar disorder, was prescribed anti-depressants, which pushed her into a manic state. And a trip to Las Vegas would soon provide Hamilton with a new escape from her normal life.
Now in an open relationship with her husband, the athlete went from one-night stands to being paid for sex. "Within months, I was the number two-ranked escort in Vegas (yes, there actually are rankings out there), and top 10 in the world," Hamilton recalled. "I was never happier, never higher, never more alive." She described the money as "intoxicating," but admitted that the riskiness of the situation was "the driving force" behind her decisions.
Everything came crashing down a year later, when a "jilted client" told the press about her secret Vegas life. In the aftermath, Hamilton began speaking openly about her struggles with mental health and giving talks about her experience, per the Times of San Diego.
If you or someone you know is struggling with mental health, please contact the Crisis Text Line by texting HOME to 741741, call the National Alliance on Mental Illness helpline at 1-800-950-NAMI (6264), or visit the National Institute of Mental Health website.
Former Olympian Dong Fangxiao lied about her age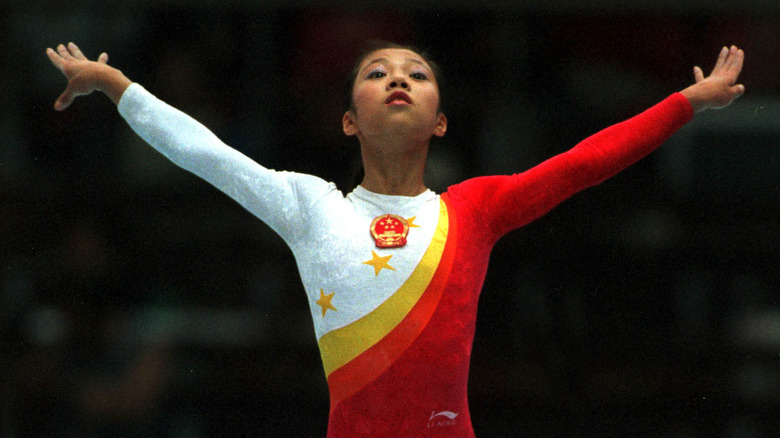 Athletes faking their ages has been a problem faced by the Olympics committee for decades, especially in the field of gymnastics. As the BBC reported, the International Gymnastics Federation banned athletes under the age of 16 from competing, so that they wouldn't damage their bodies while still growing.
Dong Fangxiao had already been competing internationally before she made it to the Olympics in 2000. As The New York Times reported, the Chinese gymnast was only 14 when she appeared in the Sydney Olympics, two years below the limit. The Chinese Gymnastics Association promised that they would "learn a lesson" and "prevent a similar incident from happening" after her passport was proven to be a fake, per the BBC. The entire women's team also had their bronze medal taken away.
Sadly, Fangxiao was forced to retire before reaching 16, due to bone necrosis in her leg. "I felt pain even during sleep. I woke up because of the pain," she revealed in a 2003 interview, per USA Today. "There were doctors with me all the time … They just gave me treatment, normally acupuncture, massage and whatnot." The gymnast's career may have been short, but she certainly made a mark in history.
Greg Louganis was encouraged to hide his HIV diagnosis during the Olympics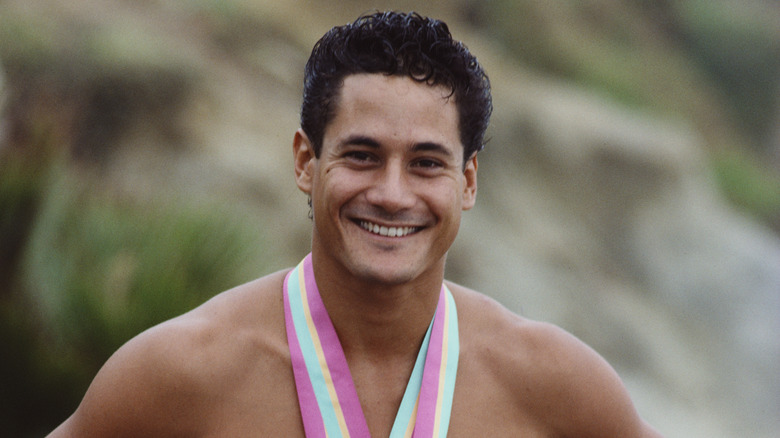 At a time of prejudice and bigotry, Greg Louganis had a secret that he knew would endanger his career as an Olympic diver. In 1988, he was one of the best athletes in the history of American diving, scoring four gold medals over three subsequent Olympic Games, according to Rolling Stone. But behind the scenes, Louganis had found out that he was HIV positive. As he told ESPN in 2016, he initially thought that his fate was sealed: "I was like, 'Well, I'm going to pack my bags and go home and lock myself in my house and wait to die.'"
His doctor and coach persuaded Louganis, who has also since come out as gay, to keep his diagnosis hidden from the world, per the Chicago Tribune. But at the 1988 Seoul Games, he hit his head hard during a qualifying dive. "I heard this big hollow thud, and then I found myself in the water," Louganis told Barbara Walters during a bombshell 1995 interview. "I just held my head … I wanted to hold the blood in, or just not anybody touch it." The diver was "stunned" after the incident, which required stitches, explaining, "You could throw the entire competition into a state of alarm." Despite his fear that another competitor would contract HIV from his blood, the risk was negligible thanks to the chlorine.
Having shared his story in his 1996 "Breaking the Surface" memoir and in the 2015 documentary, "Back on Board," Rolling Stone noted that activist work like Louganis' has helped to "radically [shift] the discourse around HIV since the Nineties."
Arash Miresmaeili was a secret activist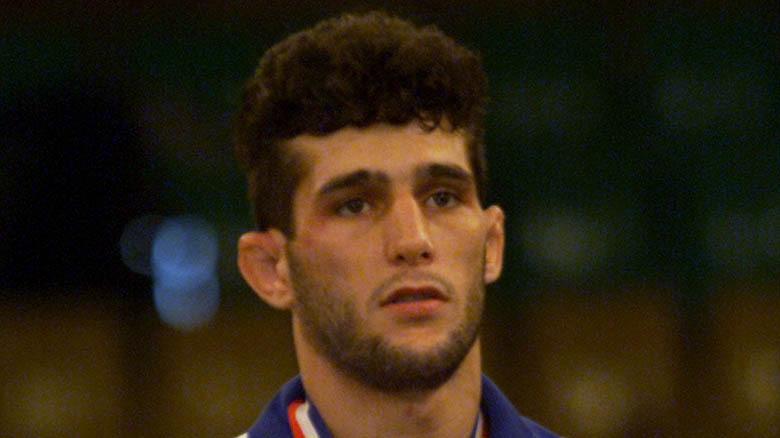 The Olympics have always punished athletes for making any political statement during the Games, per Reuters. For example, the famous Black Power salute in 1968 led to John Carlos and Tommie Smith receiving a lifetime ban. So when a competitor wants to stay true to their values, they sometimes have to hide their activism.
Arash Miresmaeili was a promising young judo star when he entered the 2004 Olympics, as the BBC reported. The world champion's first round match against Israeli opponent Ehud Vaks was canceled, however, after he was weighed before the contest and officials found that he exceeded the 66 kg limit for featherweight fighters by nearly two kilograms. "We're very surprised an elite player could not make his weight," a representative from The International Judo Federation commented at the time. "We have to know more about it."
As it turned out, Miresmaeili reportedly went on a deliberate binge to disqualify himself, per CBC. Iran has a fraught history with the state of Israel and, at the time, discouraged its athletes from engaging with any Israeli competitors. According to the BBC, the press later reported in Iran that Miresmaeli had decided not to fight to express his loyalty to the "oppressed" people of Palestine. The secret protest won him a lot of support in Iran, where he would later be elected the president of the Iranian Judo Federation in 2019, according to JudoInside.com.
The Paralympic basketball team that wasn't actually qualified to compete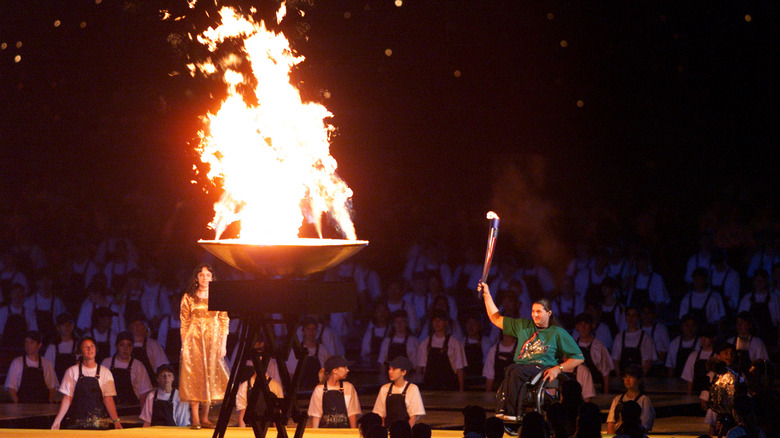 The Paralympics have always been a platform for athletes with disabilities to prove their sporting proficiency, but one Spanish team violated the integrity of the whole event in 2000. An undercover journalist named Carlos Ribagorda exposed the cracks in the system by joining the Spanish learning-disabled basketball team, despite not being intellectually impaired at all. As he told The Guardian, Ribagorda was not the only unqualified player on the 12-person team. "There were five months of training with not a single disabled person in sight. The two genuinely disabled players came from outside Madrid," he revealed.
They didn't face any scrutiny until the team won gold at the Sydney Games too easily. "I think people saw it as a free trip to Australia," Ribagorda noted. "There was even some pride at wearing the Spanish team strip." After the journalist sent back his medal and went public with the scandalous truth, per the BBC, Spain was ordered to forfeit their wins and the vice-president of the Spanish Paralympics committee was forced to resign.
Intellectually disabled athletes were the real victims of the whole shocking incident, however: As ABC News reported, all intellectual disability sports were banned for the next 12 years.
Olympic athlete Dominique Moceanu had a secret sister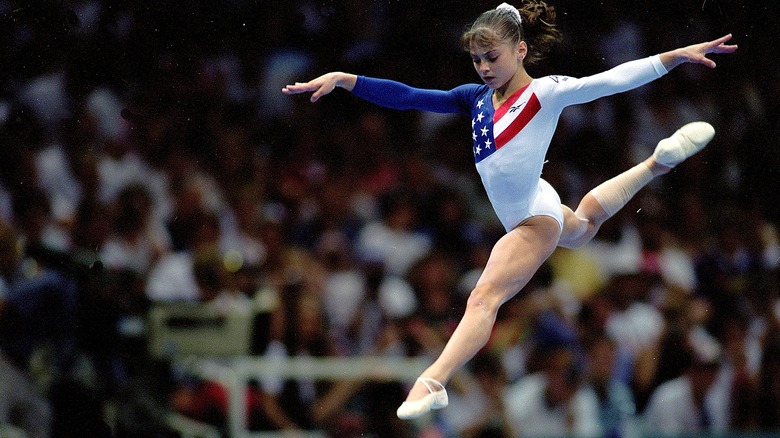 Dominique Moceanu's life in the public eye has been full of ups and downs. As Today reported, she was the youngest American gymnast to ever nab a gold medal at the Olympics, alongside the "Magnificent Seven," at only 14, before being "blacklisted" for exposing abuse from coaches. But her family life is equally full of turbulence, as she discovered later in life.
Only two weeks before her first child was born in 2007, Moceanu received a letter from a 20-year-old woman named Jen Bricker, per ABC News, who claimed that they were related. The gymnast's parents, from whom she had become emancipated as a teenager, admitted that Bricker was their child and that Moceanu had been six years old when they secretly gave her younger sister up.
"To say I felt blindsided would be an understatement," Moceanu wrote in her memoir, "Off Balance," reflecting on the revelation that she had a biological sister she had never met. As Bricker shared, the gymnast's sister had also competed in the Junior Olympics, despite having no legs due to the medical condition that had prompted Moceanu's parents — unable to afford the cost of treatment — to turn to adoption. Bricker had idolized her famous big sister long before she knew they were related. "The tones in our voices, our handwriting, the way we laugh and chuckle. It's mind-blowing," Moceanu told ABC News.
David Sime was a sprinter who worked with the CIA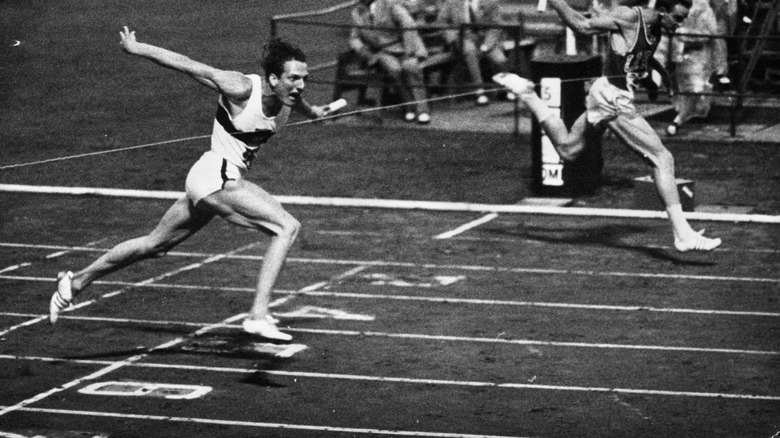 During the Cold War, the Olympics became an arena for international tension and espionage. And sprinter David Sime became wrapped up in a world of spying when he agreed to work undercover for the CIA at the 1960 Games in Rome. According to The New York Times, the American turned down 23 football scholarships and a potential career in baseball to follow his dream of winning an Olympic gold medal for running. The athlete was so accomplished that he held multiple world records, but behind all that multifaceted talent, Sime was in talks with CIA operatives on Operation Aerodynamic.
As The Guardian recorded, the operation was created to undermine Soviet control in Ukraine. Sime was recruited to try and talk Ukrainian athletes into defecting during the 1960 games. Alongside the javelin thrower Al Cantello, his role was to convince the long jumper, Igor Ter-Ovanesyan, to abandon Soviet Ukraine and come to America.
They went out for dinner, but ultimately were unsuccessful, as Ter-Ovanesyan was spooked by their CIA handlers. Operation Aerodynamic failed to do anything but send some propaganda pamphlets and copies of the book, "Animal Farm," to Ukrainian contacts. Meanwhile, Sime earned himself a silver medal in the 100-meter dash event, per The New York Times.
Diver Chris Mears became a DJ after almost dying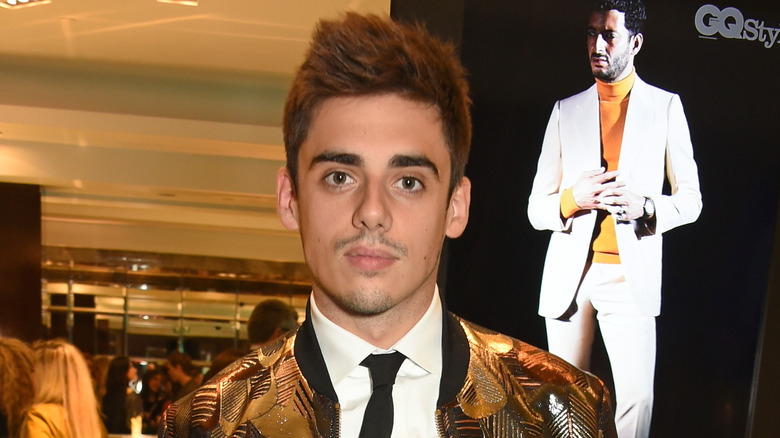 Olympic athletes usually dedicate their entire lives to sporting achievements, leaving them without much spare time to develop any other skills. British diver Chris Mears discovered a passion for music, however, after a near-fatal illness in 2009. As he told Billboard, his spleen ruptured after a glandular fever went unnoticed for too long, leading to "a seven-hour seizure" and "a three-day coma." During his long recovery in the hospital, Mears started experimenting with creating songs. "I had so much time on my hands," he recalled. "I bought a guitar and I started playing and picked things up really quickly."
The diver started producing his own beats with the help of a Mac computer and the Logic app, as well. "I was just opened up to this whole world of being able to craft any sound," Mears reflected, adding, "I became obsessed with sound design and creating sounds from nothing. It's just been a massive interest of mine from really early on."
Luckily, he made a full recovery and went on to sporting success while leading a separate life as a musician, releasing his first single, "Mexico," in 2015. Per the Independent, Mears scored the UK its first-ever Olympics gold medal for diving in 2016, thanks to his high-scoring synchronized event. In 2019, the diver decided to retire from his celebrated sports career and focus on making music.
Olympian Darren Campbell used athletics to escape gang life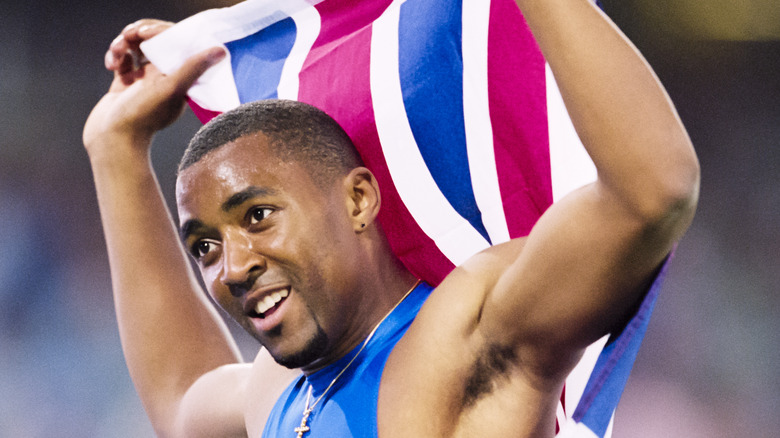 For some people, sports can be their ticket out of a dangerous situation and into a better life. Darren Campbell, a British sprinter who won silver at the 2000 Olympics and gold in 2004, grew up on the outskirts of Manchester and was raised by a single mother who worked multiple jobs and ended up involved with a close group of friends. "Unfortunately, as time went on it became more of a gang," the athlete admitted to the BBC, describing how the estate was overrun by "gangs, gun crime, knife crime, drugs."
At the same time, Campbell was rising through the ranks of regional athletic competitions. "It was like I was living in two different worlds," he reflected. "I had this athletics world, then I had this other world with my friends." He even almost participated in a pub robbery, but was prevented by a punctured bicycle wheel, which the athlete called a "sliding doors moment." When Campbell started winning international competitions, he had a decision to make. In the end, an attempted stabbing and the murder of a family friend drove him to leave, especially after his mother told him that his life was in danger. "When she asked me to leave Manchester, I just knew I had to go," he recalled.
As Campbell told City A.M., he only decided to open up about his hidden past in his 2018 autobiography, after a life-threatening medical emergency involving a bleed on his brain.
Jerzy Pawlowski was imprisoned for spying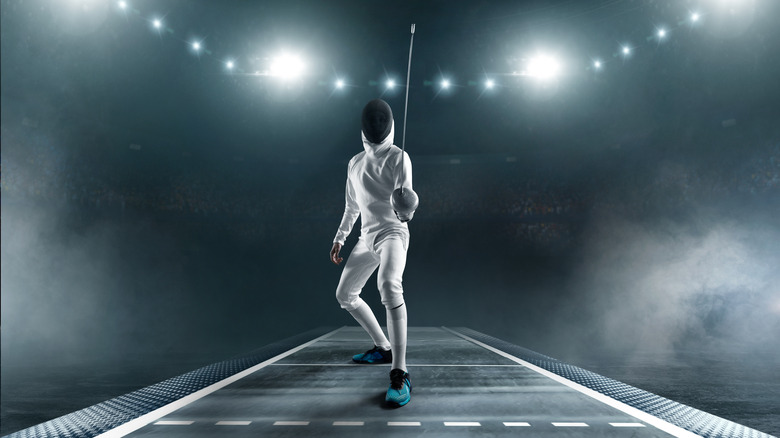 Jerzy Pawlowski was once considered one of the best fencers alive, winning against the world champion, Mark Rakita, at the 1968 Mexico City Olympics and adding a gold medal to his already enviable collection. But behind his charming and crowd-pleasing swordsmanship, per the Independent, the fencer may have been living a double life.
He competed in the world finals 17 times and was chosen to be president of Polish fencing, but the national treasure's luck changed in 1974, when his own country turned on him. Pawlowski had been arrested after a convicted spy had named "Pawel" as one of his co-conspirators, which meant that a military tribunal would decide his fate. In the end, the former Olympian was sentenced to 25 years behind bars for spying "on behalf of an undesignated Nato country".
Pawlowski always denied his involvement in any espionage, especially on behalf of the West during the Cold War. In fact, the Polish fencer was such a "patriot" that, when he was eventually freed after 10 years and led to the "Bridge of Spies" (where West Germany accepted defectors), he decided to stay in the Soviet bloc instead. Pawlowski lived in Poland for the rest of his life, painting watercolors and working as a faith healer until dying in 2005.