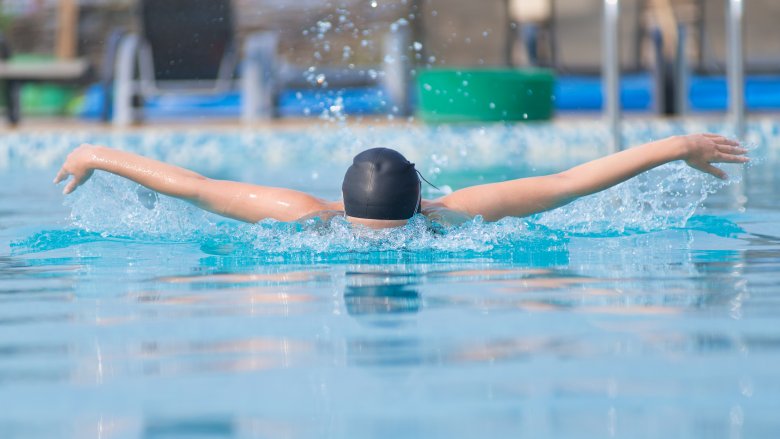 There's a lot of effort that a city goes through to even be selected to host the Olympic Games, and when they get it, it's a pretty big deal. Even losers spend an insane amount of money — The Atlantic reported Chicago spent around $100 million bidding to host in 2016 — and that's just the start. Take Beijing. It poured an almost unthinkable $40 billion into building infrastructure for its games, and spoiler alert, some of those massive Olympic venues are on this round-up of places now abandoned. Cities don't usually get a huge amount of return on their investment, only an estimated intake of $5 to $6 billion. (Don't forget to subtract the half that goes right into the pockets of the International Olympic Committee.)
Hosting the games is a lose-lose situation, and cities all over the world pour millions and billions into construction that looks pretty on television but is hugely impractical for everyday life. What the heck are you supposed to do with an Olympic-sized ski jump, or a luge track? It's not entirely surprising some are just left to be reclaimed by nature, graffiti artists, or war.
Sarajevo's war-torn bobsleigh track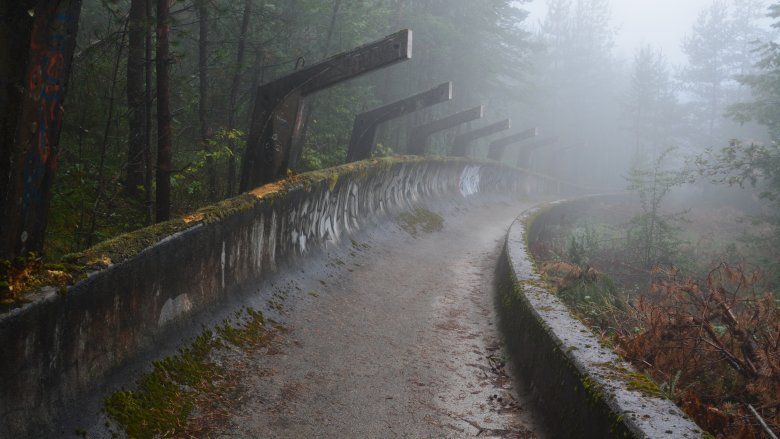 The 1984 Winter Olympics were a pretty big deal. They were a huge success, too, and according to Atlas Obscura, the venues were of the sort that made their countrymen proud. The bobsleigh track was more than 4,200 feet long, had 13 turns, and was definitely an expensive thing to build. Germany took home the gold, the games went smoothly, and for a while, it even looked like some of the venues were going to have a post-Olympic life. The bobsleigh track was reused for other competitions, but when war broke out, it was used for something else.
The Smithsonian says you can still see holes drilled into the track by the Bosnian-Serb troops who used it as an artillery stronghold during the Siege of Sarajevo. The war — which included the longest siege of a modern capital city — pushed soldiers on both sides out into the areas around Sarajevo, and the curves of the track were perfect for taking cover and shooting from. By the time the war was over, the entire thing was pockmarked with bullet holes.
The track was never repaired, and although there was talk of renovating and reopening it, Reuters reported it was too expensive, too dilapidated, and not worth the continued maintenance it would take to keep up.
Linnahall's Communist grandeur
Moscow hosted the Summer Olympics in 1980, and it was just as controversial as you'd think. There was a massive boycott of the games, as they came on the heels of a Soviet invasion of Afghanistan. Around 60 countries refused to attend (via the Wilson Center), but that didn't stop the USSR from building some insane venues that looked like something right out of the pages of 1984.
The Estonian city of Tallinn hosted the sailing events, and they've actually done a pretty good job of re-purposing some of the Olympic buildings. The hotel is still in use, the Olympic Sailing Centre is a hotel, spa, and casino, but the Lenin Palace of Culture and Sport hasn't been so lucky.
According to Estonian World, the sprawling concrete complex now called the Linnahall was used as a concert hall in the years after the Olympics. It even had a state-of-the-art recording studio, and it was a pretty big deal in the Estonian music world. But times changed, and by the 1990s, it wasn't so cutting-edge. After struggling on for years, it was finally abandoned in 2009 in spite of protests from a certain part of the population. While some say it's a Communist cultural ziggurat, others say it's a great place for graffiti.
Beijing's left for the birds
Beijing spent an insane amount of money on its 2008 Olympic venues, and it showed. One of the most beautiful buildings was the latticework construction that earned itself the name the Bird's Nest, which is quite a bit catchier than the official moniker of Beijing's National Stadium. According to The Atlantic, the stadium cost a whopping $480 million just to build, plus another $11 million in annual maintenance. The stadium has also completely failed to attract any sort of regular tenant, but NPR says Beijing hasn't given up on the hulking monstrosity of a money pit. Yet.
There have been a few short-term events held there, and it was even turned into a snow-filled winter park in 2010. One tightrope walker spent a few months suspended above the stadium in an attempt to score a world record, and tourists can pop in, rent a Segway, and tear around the cavernous stadium one German man described as "a little bit shabby." With tourism on the decline, a dwindling number of one-time events filling just some of the seats, and Beijing's soccer team's refusal to make the stadium their permanent home, the Bird's Nest's only regular occupants are the birds.
Deodoro's epic failures
When Rio hosted the Olympics and Paralympics in 2016, the headlines were filled with as many stories about crime, scandal, and corruption as actual sport. ESPN says those bad vibes have persisted, and as of 2017, 15 of Rio's 27 venues were completely abandoned. That's incredibly evident in Deodoro, one of Rio's neighborhoods that had high hopes for the aftermath of the Olympics.
Deodoro isn't just a suburb of Rio, it's one of the poorest neighborhoods. While politicians promised building Olympic venues in Deodoro was going to give the neighborhood a much-needed boost, that absolutely didn't happen. The Deodoro Olympic Park — a venue the Washington Post says was more country fair than global phenomenon, even in its heyday — is abandoned, along with the Deodoro Aquatics Center. Whatever plans the Olympic Committee had for the venues of Deodoro fell by the wayside immediately after the games were over, and promises weren't kept. Even the canoe slalom course is abandoned, in spite of plans to turn it into a community pool.
From Olympics to film set to ruins in Atlanta
Not all Olympic venues were purpose-built. When Atlanta hosted the 1996 games, field hockey was played in a football stadium on the campus of the Morris Brown College. Morris Brown itself has an impressive history, founded in 1881 but has struggled in the 21st century, according to The Root. The college's Herndon Stadium could once host 15,000 people and was the home of the Morris Brown Wolverines, but given that the college filed for bankruptcy in 2016 and only had around 20 students, it's not surprising they don't have an athletics program.
Lonely Planet says the stadium was built in 1948, and when photographer Jeff Hagerman found it in 2018, he said it was a bit of an anomaly. The stadium (which was also used in the 2006 Matthew McConaughey movie We Are Marshall) was one of the few abandoned stadiums in the city. Curbed Atlanta adds that it was only abandoned in 2002 when the school gave its football program the ax. It's already in a pretty advanced state of ruin, proving it's a short road from football to film set to decay.
From medals to death sentences in Sarajevo
The mountains around Sarajevo have long been a major destination for the sort of people who like to spend their holidays cross-country skiing, and when construction started on new Olympic venues, it must have seemed like a completely logical move that would boost tourism even more. Building started in 1979 for the 1984 Olympics, and Igman Mountain got a new ski jumping facility, lifts, concrete jump chutes, and a tower for judging. Atlas Obscura says for a while, the facility did exactly what everyone thought it would. People came, they saw, and they skied, and more than a few of them probably posed on the podium where Olympic athletes stood to receive their medals. Who wouldn't?
Things took a dark turn by the early 1990s, and when Sarajevo fell under siege, the area around Igman Mountain and the Igman Ski Jumps was turned into a very literal war zone. While there's still skiing in other areas of the mountains, the Olympic venue and the podium have been abandoned for an eerie reason. When the Bosnians started executing prisoners, Vice says they chose the Olympic podium as the place to do it. That's a hard history to bounce back from, and that's before you consider that thousands of unexploded mines still litter the area. Skiing is dangerous enough without the mines, so it's no surprise people tend to give this one a wide berth.
Athens and its history-making aquatic center
Though Greece has done relatively well to survive since the first Olympics, the country hasn't had an easy time of it lately, and abandoned venues like the Olympic Aquatic Center just have to add insult to injury. In the run-up to the 2004 Olympics, Athens sank a total of $12.2 billion into building the venues everyone in the world would see. By 2008, they were $460 billion in debt, and while that makes $12 billion seem like a relatively small number, it's still a lot of cash that could have been spent elsewhere. Even Olympic athletes agreed, and weightlifter-turned-Parliamentarian Pyrros Dimas told the AP (via Australian Broadcasting Corporation) it was "the biggest mistake in our history."
When the BBC reported on the center, it noted a few important things. The venue was big and bold enough for an Olympic first, allowing all the aquatic events to be held in a single location. It was also already controversial, behind schedule, and ultimately lacking a roof that would have protected athletes from the hot Mediterranean sun.
Ten years later, the complex was drained and dry, completely abandoned to bake beneath that same Mediterranean sun while sports officials pretended to hold onto the hope that some private entrepreneur would step up and save it.
Hitler's Olympic Village
There are some events throughout history that are so surreal and so strange it's hard to imagine they actually happened, and a Hitler-hosted Olympics is one of those things. It was 1936, the entire world didn't hate him just yet, and Berlin hosted the Olympics while trying to turn it into an advertisement for the Aryan race … without making it look too obvious.
The 5,000 athletes who showed up to compete under the shadow of the Third Reich stayed in Hitler's Olympic Village (probably not as fun as modern Olympic villages), which was built just outside the military outposts of Elstal and Elsgrund, on Wehrmacht land. According to Abandoned Berlin, the community had it all: luxury, a constant military presence, and Nazi propaganda.
After the Olympic athletes left, the village was host to another sort of community: a military one. Business Insider says it spent the war years as first a military academy then a hospital before being taken over by Soviet troops and turned into an interrogation center. Those troops only abandoned the village in 1992, and in spite of the fact there's been talk about restoring it, funding and location have consistently stood in the way.
Rio's 'game-changing' aquatic center
You've heard the road to hell is paved with good intentions, and in this case, the intentions came from Rio's 2016 Olympic committee and hell has a nasty orange swimming pool. According to Australian Broadcasting Corporation, the Olympic Aquatic Center was built with a pretty brilliant plan. This Olympic venue was actually designed to be a temporary structure that could be disassembled after the games, then reassembled into several smaller community centers that would be constructed in various Rio suburbs. Genius, right? It's the ultimate plan to reuse massive venues that have historically had a pretty poor record of being reused, and it would give those communities a major boost. Unfortunately, none of that actually happened, due mainly to a combination of financial and political woes.
Within a year of the end of the Rio games, the aquatic center wasn't just falling apart, it was turning funky colors. Entire panels were falling off the exterior of the building, tiles were crumbling, and the water still left in the warm-up pool turned orange, which is not an acceptable color for any sort of water. Business Insider says it's because bugs have moved in where humans have moved out, attracted by the stagnant water. Yum.
Rio's record-setting stadium
The Maracana Stadium wasn't built for Rio's 2016 festivities, but it was the centerpiece of both the Olympics and Paralympics. CNN says it was actually constructed for hosting the 1950 FIFA World Cup, and there have been a ton of sporting milestones there. It was where Pele scored his 1,000th goal, and it set records for the number of people it could hold: 200,000 of them. It got a major $500 million makeover in 2014 for the World Cup and devoured more money pre-Olympics. But six months after the Rio games ended, it wasn't in great shape.
By the time CNN visited only months after the games, about 10 percent of the stadium's seats had been stolen, the field was dead and infested with worms, the doors and windows had been broken, and even tours had stopped amid fears the roof might not be all that safe. The Maracana's fast decay happened for a weird set of reasons starting with a legal debate between Rio, the 2016 Organizing Committee, and Maracana SA. While each organization was busy pointing fingers at everyone else and claiming they weren't responsible, the power to the stadium got shut off over an unpaid bill of nearly $1 million.
However, the former Olympic venue was reopened in March 2017, according to ESPN, and seems to have been spiffed up a bit. Who knows what the future holds for the iconic stadium?