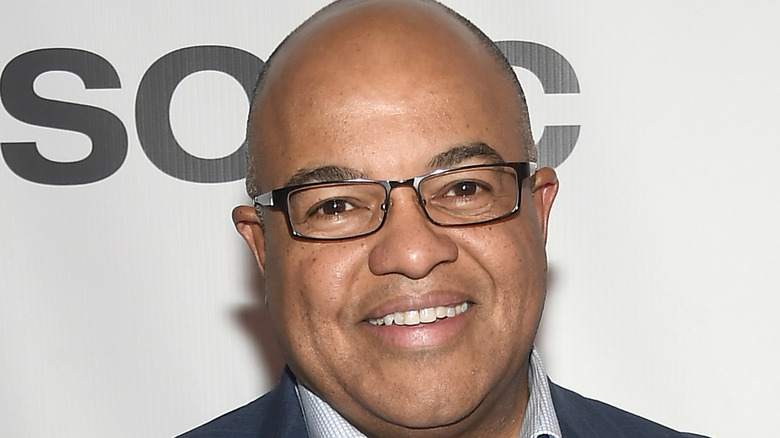 The upcoming Olympic Games in Tokyo, Japan, has been a long-awaited affair that was postponed due to the COVID-19 pandemic. The Games were supposed to take place last year, and now, it will finally push through with precautionary measures to ensure everyone's safety. Sportscaster Bob Costas has been covering the Olympic Games' telecast since 1988, but now, someone will be taking over his duties as the lead host.
Bob Costas began his career with NBC in 1979 and hosted major sports events such as the Super Bowl and the Olympic Games. However, Costas decided to leave his post as the Olympics host and said (via USA Today), "What was once a perfect fit no longer fits that description." Now, Mike Tirico will be replacing Bob Costas for the Tokyo Olympics coverage. Tirico is no stranger to covering the Olympic Games, as he reported in both the Rio Olympics and Pyeongchang Winter Olympics — though not as the lead host.
It was in 2016 when Mike Tirico found out that he'd been promoted to the lead host position. "I got the call from our executive producer at the time that Bob was ready to step down from his role and that they would like me to do that role. I was shocked by it," Tirico told People.
Mike Tirico's successful sportscasting career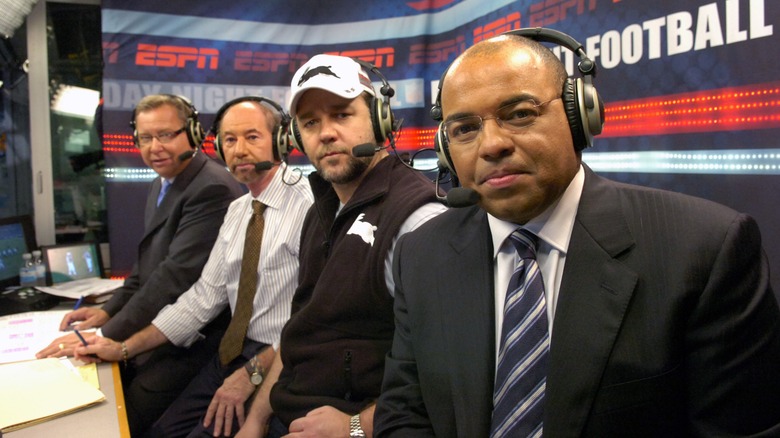 Mike Tirico graduated from Syracuse University, which has a top-notch journalism program that Bob Costas also attended. Replacing Costas comes full circle for Tirico, as he was the first-ever recipient of the Bob Costas Scholarship in 1987. Mike's sportscasting career started in Syracuse where he worked as an announcer for various sports such as football, basketball, and volleyball (via Encyclopedia). In 1991, he started working for ESPN, covering football games and even hosting radio shows for the sports network.
In 2006, Tirico was given one of the most coveted jobs in sports broadcasting — hosting "Monday Night Football." Since then, he has been covering different sports events. Heading into the Olympic Games, the sportscaster said that his years of work being on-air have prepared him for his new duty, specifically mentioning having hosted the World Cup two times. "Those were global events that were a month in length, longer than the Olympics. I know how to do this at this point," he shared to People.
Mike Tirico's experience spans decades
In addition to his stint on "Monday Night Football," Tirico should be familiar to NFL fans for several other reasons. He spent time as the studio host for "Football Night in America" starting in 2018, and paired up with Cris Collinsworth for "Thursday Night Football" in 2019 (via NBC Sports Pressbox).
In addition to his work during NFL games, he was also bestowed as the play-by-play voice for the coverage of Notre Dame Football in 2017, and he hosted NBC's Triple Crown coverage that same year. His experience doesn't stop there, though — he's also been on the broadcasting teams of a variety of events, including The Indianapolis 500, The Masters, The Open, the NBA, college football, and college basketball.
He can trace his experience back to the late '80s and early '90s, when he was the sports director at WTVH-TV in Syracuse, New York, where he covered sporting events for Syracuse University. It was all up from there for Tirico.
Hosting the Olympics outdoors
Mike Tirico's NBC debut as the Olympics lead host will be different from the previous Olympics coverage setup. Instead of anchoring from the International Broadcast Center, Mike will be positioned in downtown Tokyo on a deck with picturesque views of the city. Per AP News, this will be the first time the Olympics will be covered from an outdoor location.
Tirico has already seen the location in person back in 2019, and he's excited about his hosting duties. "It's a spectacular background of truly one of the great cities in the world." He also said that this will be a different experience for viewers, as they will get to see the culture and feel like they are part of the events, unlike past coverage where the host is confined to a studio. He has done the same at the Rio Olympics where he anchored the daytime events at the Copacabana Beach.
Mike Tirico's Tokyo Olympics coverage will take about six hours a day on average, and will take place between primetime shows. He may likely also anchor from different locations in Tokyo, but it all depends on COVID-19 safety protocols that everyone has to follow.
Alleged sexual harassment and stalking
Although Mike Tirico has had a successful sportscasting career thus far, there was an alleged incident in his past that resulted in his suspension. In 1992, when Mike was just in his second year working for ESPN, he faced allegations of sexual harassment and stalking from women he worked with. Per Sportscasting, these incidents were detailed in two books: "These Guys Have All the Fun: Inside the World of ESPN" and "ESPN: The Uncensored History".
In one incident, a production assistant alleged that Tirico attempted to put his hand between her thighs after rebuffing his advances at a party. On a separate occasion, a producer purported that Mike sent her an email containing his desire to sleep with her. In total, six women reported incidents of alleged sexual harassment involving Tirico. He was then suspended from the network for three months.
In 2016, NBC Sports hired Mike Tirico knowing his past sexual harassment incidents. They released a statement, according to The Hollywood Reporter, stating, "Mike has repeatedly assured us that this behavior is long in his past, and we have no evidence of anything to the contrary in his tenure at NBC Sports."
He appeared in "Jerry Maguire"
Being a well-known sportscaster has its perks, and for Mike Tirico, one of them is being in a movie starring Tom Cruise. Cameron Crowe's 1996 movie "Jerry Maguire" with Tom Cruise starring as the titular character, has several cameo appearances from sports personalities as Crowe wanted to create an authentic sports backdrop for the movie. Per The Uncool, the movie has a minimum of 37 sports personalities, such as Drew Bledsoe, Johnnie Morton, Frank Gifford, and Wayne Fontes, among others.
Mike Tirico was still working as a sportscaster for ESPN at the time of the movie's filming, but he had already made a name for himself in the sports broadcasting world and he appeared as himself in a short scene. He also has cameo appearances in the NBC drama series "Chicago Fire" as well the music video for the Hootie & the Blowfish song "Only Wanna Be with You" (via IMDB).