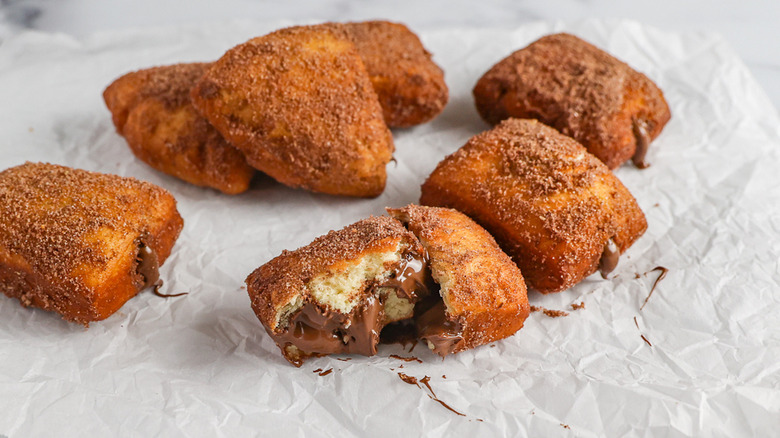 Everyone's favorite chef is at it again with his rich, decadent donut recipe filled with chocolate ganache. But Michelle Morey, the recipe developer behind Barefoot In The Pines, has come up with a way to make Gordon Ramsay's filled donut even simpler so you can prepare it right at home. Morey uses a secret ingredient that couldn't be easier: store-bought Nutella! The divine spread combines luscious milk chocolate and nutty hazelnuts for an irresistible flavor and oh-so-creamy texture. Not only does it make this treat delicious to eat — it makes it so much easier to prepare the recipe for a super fun and unexpected dessert.
These donuts are made with a yeasted dough and are therefore similar to beignets in texture: pillowy, light, and fluffy. They do require a bit of patience, thanks to two rises, but they're well worth the wait. These donuts are best eaten fresh, according to Morey, so be sure you've got a crowd ready to dig into the dozen this recipe makes. (Though once you've had your first taste, you may want to keep a few all to yourself!)
Gordon Ramsay's donut recipe with a twist is a great surprise to make for a special brunch, special dessert, or date night, and everyone is sure to love them. In fact, consider serving them with coffee or with glasses of champagne for an extra fancy presentation. You'll be asked to make these Nutella-filled delights over and over again — we are just warning you!
What did we change?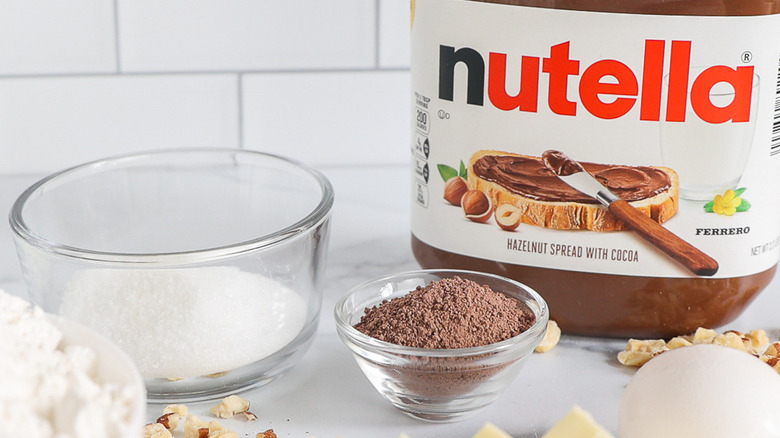 In Gordon Ramsay's original recipe, these light, fluffy donuts are filled with a homemade chocolate ganache. And while Morey says she "loved" this idea, she also wanted to make these donuts a little bit easier for the home cook. Now what home cook doesn't like to have an easy shortcut now and then? "I thought, 'It's such a process to make the donuts alone. Let's save time and added steps by filling with these doughnuts with THE BEST chocolate ever — Nutella,'" she recalls.
Not only does this change save time, she notes, but for Morey, the Nutella complements the yeasty flavor of the donut perfectly. Morey also creates a delicious coating for the donuts with malted chocolate powder and toasted hazelnuts, making these treats extra yummy. "Adding ground hazelnuts to the chocolate coating added a little extra touch of sophistication," she notes. Well, ground hazelnuts and Nutella are a great addition to any snack, are we right?
Gather the ingredients to prepare Gordon Ramsay's donut recipe with a twist
To make Gordon Ramsay's donut recipe with a twist, you'll need several items that you most likely already have at home. The mixture requires a combo of milk, butter, sugar, yeast, flour, and egg yolks. Seasoned with just a pinch of salt to offset the sweetness, the result will be will a rich, tender dough.
The coating for these donuts is made with a combination of chopped hazelnuts and chocolate malt powder. (Morey likes Ovaltine.) This will be pulsed in the food processor with a touch more sugar to make a light, even coating. The only other things you need? Vegetable oil for frying and Nutella for the filling.
We are pretty sure that you are completely sold on this recipe, so let's not waste any time. Line everything up, and let's get started with a pretty sweet project in the kitchen.
Heat up the milk for the dough
To make Gordon Ramsay's donut recipe with a twist, you will start by making the dough. First, melt the sugar into the milk in a small saucepan, heating over a medium heat just until the sugar is dissolved and the milk is warm, but not hot. Use a thermometer to make sure your milk doesn't surpass 110 F. Any hotter, and it risks killing the yeast.
Once the milk is warmed, combine the yeast and half of the milk mixture in a small bowl, and set it aside for five minutes to allow the yeast to bloom. This process will get the yeast working to puff up your doughnut dough, and it's also a sign that your yeast is still active and alive.
While the yeast is blooming, add the butter to the remaining milk mixture, and stir it up until just melted. You can put this back on the heat if you need to, but be careful not to overheat the milk, as you definitely don't want it to boil.
Make the donut dough
Once the yeast has bloomed and the butter is melted into the milk, it's time to make the dough. First, sift the flour and salt into a large mixing bowl, and then make a well in the middle of the mixture. Add the egg yolks and both milk mixtures to the well, and mix to combine with a rubber spatula.
When the dough has come together, flour your work surface, and pour out the dough, gently kneading it until it is smooth, elastic, and supple. When the dough is ready, spray a large, clean mixing bowl with cooking spray, and place the dough ball into the bowl. Cover the bowl with plastic, and let rise in a warm place until doubled in size — this can take anywhere from an hour to an hour and a half, so be patient!
Make the coating
While the dough rises, it's a great time to make the coating for Gordon Ramsay's donut recipe with a twist. Begin by toasting the hazelnuts in a dry skillet over medium heat until fragrant and lightly browned, about five to seven minutes. Take care to move them around frequently, as you definitely don't want them to burn.
When the nuts are toasted, remove them from the heat, and allow them to cool completely — about five to 10 minutes — before transferring them to the food processor along with the malted chocolate powder and remaining 2 tablespoons of sugar. Pulse this until fine, then set it aside in a shallow dish until you are ready to coat the donuts.
Form the donuts
Once the dough has doubled in size, punch it down, and transfer it to a lightly floured work surface. Knead just a bit before rolling the dough out into a 9×6-inch rectangle.
Next, you're going to grab a sharp knife — because it's time to cut the donuts! Cut the dough into 12 even portions, and place them onto a baking sheet lined with parchment paper, leaving some space between each one. They're going to grow a bit more before their hot oil bath. About a half hour should be enough before the donuts have doubled in size.
Fry the donuts
Now it's time to fry. To start, heat 4 cups of vegetable oil in a 10-inch cast iron skillet or large saucepan until a thermometer inserted into the oil reads 340 F. Then, working in batches, fry the donuts for three to four minutes, turning once or twice as they fry. If they start to brown too quickly, just reduce the heat. You want to make sure they're golden outside and fully cooked within.
Use a slotted spoon to remove the donuts from the oil, drain lightly, and then gently toss in the hazelnut, Ovaltine, and sugar mixture until nicely coated on all sides.
Fill the donuts with Nutella
Now it's time to fill these bad boys with Nutella! First, you've got to give this thick chocolate-hazelnut spread a place to go, so grab a skewer or a chopstick, and insert it into the top and bottom end of the donut. This will create a channel for your Nutella to flow through.
Next, fill a piping bag with a #10 piping tip, and fill it with Nutella. Insert into the warm donut via the holes made with the chopstick, and gently pipe the Nutella into the channel. You may need to pipe Nutella into both ends of the doughnut. Repeat until all doughnuts are filled.
Your end result will be a delicious, professional-looking snack that everyone will be super impressed with. Don't waste any time — serve your sweet donuts, and have your friends, family or guests dig in while they're still nice and warm. We're sure you will agree that they are truly heavenly.