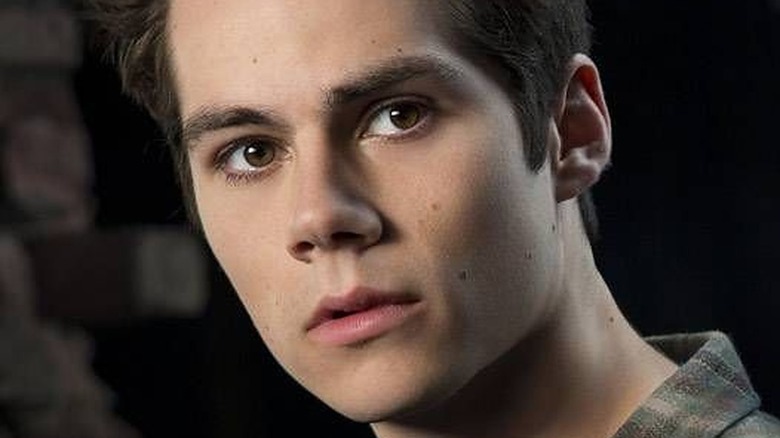 In 2011, Dylan O'Brien rolled into the Hollywood spotlight in a pale blue Jeep on the series "Teen Wolf," and he's captivated fans ever since. With massive roles like Thomas in "The Maze Runner" and Mitch Rapp in "American Assassin," O'Brien has come a long way since he was chilling in Beacon Hills with on-screen and off-screen best friend Scott McCall (played by Tyler Posey). He's gone from primarily getting roles as an adorable nerd in "Teen Wolf," "The First Time," and projects like "The Internship" and "The High Road" to more complex fare in major psychological films like "Flashback." O'Brien is at the point in his career where he gets to pick and choose projects he's genuinely excited about, which is a pivotal moment for any actor.
Despite getting thrust into fame quickly, O'Brien told Elle that he is shy and never wanted the stardom that typically follows a successful acting career. While the actor keeps much of his life private, he does share parts of himself with the world when he's so inclined, and fans are always grateful for those moments — though his clear boundaries should always be respected and adhered to. Between O'Brien's old YouTube channel, his former band, and his near-career in sports broadcasting, here are some things you might not know about Dylan O'Brien.
Moviekidd826 lives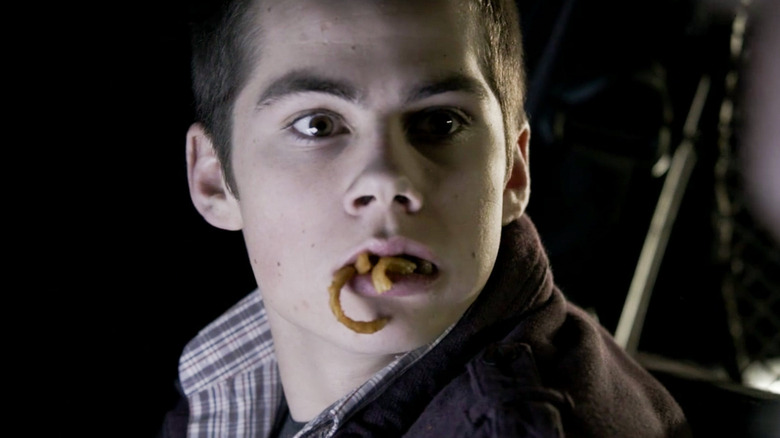 Everyone has embarrassing videos from when they were a teenager, but most people opt to delete them from existence rather than keep them around for people to find. Dylan O'Brien, however, believes in honoring his journey as an actor. At about 13 years old, O'Brien created a YouTube channel under the handle "moviekidd826." Of course, August 26 is his birthday, and in a video for Netflix Film Club, he said, "Two Ds I must've thought was cool." He covered everything in the channel — from funny sketches to a music video in which he lip-synced to the Spice Girls in his sister's stolen shirt. In fact, his profile picture on his channel features a young O'Brien wearing his sister's infamously stolen shirt from his Spice Girls "Wannabe" video.
Despite having not touched the channel since 2009, to the surprise of fans everywhere, O'Brien added a single video in 2018 that chronicled what life as a Hollywood actor looks like. Of course, he satirized his free time since the end of "Teen Wolf," poking fun at himself for being an out-of-work actor and taking us back to his Baby Spice days with a hysterical rendition of "Let It Go" for a fake "Frozen" audition. O'Brien credits his fun, campy YouTube channel as both the reason he's gotten opportunities and the reason he's lost them. Even as a young kid doing silly sketches, his comedic timing and wit were apparent.
To be a sports broadcaster or not to be?
O'Brien's significant acting breakthrough came at the age of 19 when he first appeared as the delightfully awkward character Stiles Stilinski on MTV's "Teen Wolf." Of course, that's right around the time high schoolers begin applying to college and trying to figure out their life's trajectory. So it's not surprising that O'Brien had a hefty number of backup plans if this whole acting thing didn't work out. For a time, he had significant plans to attend Syracuse University's sports broadcasting program. The upstate New York college is close to where he grew up, and in driving distance to the New York Mets — which would give him ample opportunity to follow his baseball passion.
On the Rich Eisen Show, O'Brien said that he "had no idea what I wanted to do" during that tumultuous time of applying to colleges. He considered going down the path of music, playing baseball professionally, or being the GM or announcer for the Mets. In the Netflix Film Club video, O'Brien revealed that Syracuse gave him a scholarship for sports broadcasting because of the promise they saw in his YouTube channel. He noted that he was also "rejected from every film school that I applied to — based off those same videos." So, until he got his "Teen Wolf" role, the fates decided which path he would take. Luckily, he headed to Beacon Hills instead of Syracuse.
Sweet dreams are made of this
When most fans think of Dylan O'Brien's first role, they immediately reminisce about his six-year stint on the "Teen Wolf" set. However, Stiles Stilinski wasn't actually O'Brien's first role. Before he was hunting alpha werewolves in Beacon Hills, O'Brien starred in the web series called "Sweety High," where he played a character named "Clever Trevor." While he was preparing for a possible future in sports broadcasting, O'Brien managed a Little League team when, according to Fandom, producer Veronica Zelle approached him at the game about the role. And how did she find him? His YouTube channel, of course.
Fandom quotes O'Brien saying, "This woman came to a Little League game I was coaching and said she had seen my videos and asked if I wanted to be a part of a web series that she was doing." Zelle knew talent when she saw it, saying, "Dylan had never formally acted in anything, so I really worked with him. I saw all this raw talent in his self-made videos and wanted to help take him to the next level." And that she did. If it weren't for Zelle reaching out to O'Brien at that Little League game, he might have eventually ditched his acting dreams, and we would never get to see what an incredibly dynamic and talented actor he would come to be.
The worst kind of breakup: a band breakup
O'Brien is clearly a man of many talents, and it wasn't just sports and acting that filled up his spare time. When he wasn't at a baseball field or filming his YouTube videos, O'Brien was a member of the band Slow Kids at Play with his high school friends, Max Hamilton on vocals, Ryan Hadley on bass, Hunter Porter on keyboards, Ben Biener on guitar, and Steve Beuder on guitar. O'Brien sat behind the drums and helped out on vocals.
Sadly, when O'Brien's acting schedule got hectic, the band had to replace him so they could keep playing. However, the way they did it was pretty savage — especially having been friends for so long. During a 2014 "The Maze Runner" promo interview with KiddNation, he sheepishly told the interviewers, "I'm not a part of the band anymore."
When they sassed him for leaving, O'Brien told them the "tearjerker" story on how he got cut. He explained that he was still a part of the band the summer prior, and got ready to jam after filming wrapped. But instead of an invitation to play, O'Brien received a Snapchat video of his band "jamming with another drummer." Ouch. O'Brien was quick to note that "they're some of his best friends ever, like from high school," so it doesn't seem like there are any hard feelings — especially since they've done reunions since the fateful breakup.
The Death Cure stunt gone wrong
When O'Brien filmed the final film in "The Maze Runner" trilogy, "The Death Cure," a stunt went very wrong, and the actor was rushed to the hospital with a severe head injury. During the movie's infamous train sequence, a vehicle crashed into O'Brien when he was pulled from the train. That kind of accident leaves a mark on everyone involved on set, but no one dealt with more residual trauma from the accident than O'Brien himself. Now, after a long recovery, he's revealed that it changed who he is and how he approaches life.
In an interview with Vulture, O'Brien said, "I really was in a dark place there for a while, and it wasn't an easy journey back." He revealed that he wasn't sure if he would ever act again, which was scary for him in itself. According to USA Today, even with all of the trauma surrounding the incident, O'Brien made sure the scene was included in the film, telling director Wes Ball, "I need you to, in a way. I would be more heartbroken than if it just went to waste."
However, O'Brien credits his next film, "American Assassin," for helping him stick with acting. When the actor had difficulties adjusting to the prospect of life on the set again, the production allowed his dad, who's a camera operator himself, to stay with him during filming.
Let's go, Mets
Anyone who's ever seen a picture of Dylan O'Brien can probably surmise that he's a Mets fan — given that he wears his trademark Mets cap almost everywhere except for the red carpet. Given his possible career choice of becoming a sports broadcaster, it's no surprise how seriously he takes his New York Mets. For a while, his Twitter bio read: "Long suffering Mets fan." However, he changed it a few years ago to "no longer suffering Mets fan" when the team upped its game.
O'Brien's love of baseball even seeped into his days on "Teen Wolf," bonding him with co-star Tyler Hoechlin (Derek Hale), who gave up a possible pro ball career for acting. O'Brien even inscribed multiple "Teen Wolf" sets with the phrase "Go Mets," despite the series taking place in California.
But his Mets love didn't stop there. In 2017, O'Brien accomplished a lifelong dream when he threw the first pitch at a Mets game during the New York City leg of his "American Assassin" press tour. According to ET Canada, O'Brien said in 2011, "I've always said to myself that I would throw out the first pitch of a New York Mets game. I'm a die-hard Mets fan. I watch almost every game during the year and read almost every single article during the off-season." While his schedule is a bit too busy to watch every game these days, O'Brien is an inspiration to us all.
Social networking during the pandemic
Dylan O'Brien has come a long way since his charming YouTube video days, but sometimes, he puts his YouTube cap back on to create similar satirical content. The 2020 COVID-19 pandemic hit the arts community hard, and most actors were out of work due to productions shutting down during the crisis. But with the help of the Internet, celebrities like John Krasinski were able to entertain fans from the comfort of their own homes with projects like "Some Good News." However, Krasinski wasn't the only actor trying to stave off boredom and put some good into the world. "Parenthood" actress Sarah Ramos began parodying classic movie scenes to entertain herself and fans alike. And in the case of her "The Social Network" video, she enlisted O'Brien to help capture the iconic "lawyer up" moment from the film.
Of course, the DIY scene went viral, gaining the attention of fans and Hollywood. While original "The Social Network" actor Andrew Garfield doesn't have his own Twitter feed, Lin-Manuel Miranda stepped in, sending the video to Garfield. In a text shared by Lin-Manuel Miranda, Garfield wrote, "If I had Twitter, I'd let him know he MURDERED it."
Creating change, one tweet at a time
Despite his occasional viral collaborations with other artists, O'Brien isn't exactly what you'd call a big social media guy. He sometimes goes over a year (or more) without updating his social media page — and usually, the thing that gets him to come back is a critical social justice issue/movement (or obligatory promotions for upcoming projects). O'Brien is a vocal supporter of LGBTQ+ rights, the Black Lives Matter movement, trusting science, and frequently uses his platform to encourage fans to go out and vote and get involved in politics.
It's always nice to see influential people using their platform for good. At this point, O'Brien posts more messages on social media of that caliber than he does anything else — even though it's pretty clear that social media isn't really his thing. And given how some fans tend to send him uncomfortable thirst traps and creepy tweets on Twitter, we're lucky he shows up at all. But the causes he stands behind are more important to him than avoiding the toxic aspects of social media, and that's an admirable quality for anyone to have.
The end of an era
When "Teen Wolf" wrapped up its sixth and final season, O'Brien almost wasn't able to head back to Beacon Hills to finish out Stiles' story. However, anyone who's ever spoken to the actor can tell you how much the role means to him. As he and Tyler Posey were around 19 during the start of filming, the show almost served as their college experience in addition to being O'Brien's major Hollywood break.
Of course, O'Brien was determined to make a season 6B appearance happen. "I'm really glad that I was able to be a part of it at all because that was not originally the plan," O'Brien told Bustle during an interview. "The fact that I was able to make it happen really meant a lot to me because when they announced that it would be the final 10 episodes, I really wanted to find a way to be a part of it, even if I only had a couple days or something. We were able to make it work and make it happen."
"Teen Wolf" fans certainly thank him for that. With filming conflicts in the way, O'Brien was off-screen for most of the final season. In 6A, he was kidnapped by the Ghost Riders and forgotten by most of Beacon Hills, and in 6B, he went off to train with the FBI. While the show made the most of his enormous absence, let's face it: Beacon Hills just isn't Beacon Hills without the sheriff's kid mouthing off at monsters.
The stickiest fingers at Beacon Hills High
Just ask the "Teen Wolf" cast who had the stickiest fingers on the set, and they'll be quick to name O'Brien. The actor walked away with quite a few prized items from the show. But his biggest score? That would be Stiles Stilinski's iconic pale blue Jeep. Despite the vehicle breaking down or struggling to survive in almost every episode, Stiles' and O'Brien's love for Roscoe, the 1980 Jeep CJ5, remained strong. During the "Teen Wolf" reunion that aired during the pandemic, O'Brien revealed that he took Roscoe home. He said, "I have the Jeep, yes I do."
He also showed off The Beatles T-shirt he stole from set — which was the very first graphic tee Stiles wore in the show's pilot and later became the character's nerdy fashion staple. He said, "This one was a special one to me, so I wanted to keep it." He later added, "Everyone who knows me knows that my heart lies and dies with 'Teen Wolf' … I mean, there was no way that I was not taking that Jeep."
He noted that the Powers that Be were more than happy to let him take it, adding, "I want there to be a day where like I'm just like sitting in a light with the Jeep — that would be a fan interaction that I would just cherish." It's fitting that the Jeep would stay with the guy who was behind its wheel for the entire run of "Teen Wolf."
A professional jokester
If you bring up O'Brien to any of his co-stars, be prepared for them to rain down compliments on the actor. Not only is he highly skilled at his craft, but he's just a joy to be around. When the cameras aren't rolling, O'Brien constantly pulls pranks or gets into some kind of shenanigans. During an exclusive interview with Looper, "Teen Wolf" actress Holland Roden regaled the tale of O'Brien's naked doll escapades on-set.
She said, "We had a naked lady, a naked dummy we'd put in each other's trailers and put on the toilet. It was veiny, and it was a very odd dummy. And we always have the naked lady being passed around. I think Dylan hid in Tyler Hoechlin's closet for like an hour and a half once, trying to scare him — committed." What wouldn't fans give to see that moment play out?
During a separate Looper exclusive interview, "Love and Monsters" director Michael Matthews revealed that O'Brien's pranks were ongoing. Noting his interactions with young co-star Ariana Greenblatt, he said, "Dylan was filling the older brother role, really pushing it quite far. And so she was trying to taunt him all the time with things, and he was just being really mean to her in a funny way — like an older brother kind of way." Meanwhile, O'Brien and Amanda Brugel decompressed from their heavy "Flashback" scenes by gossiping about their friends between takes. But O'Brien isn't all just fun and games, as Brugel told Looper in an interview: "Dylan was a pro — I'll say that first and foremost."