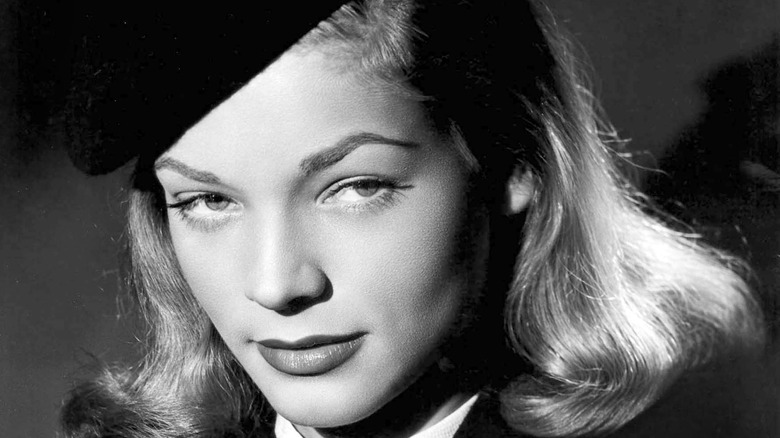 Lauren Bacall is one of cinema's most iconic names. She burst onto the scene when she was 19 years old in the film "To Have and Have Not." With her deep voice, sultry looks, and instant chemistry with Humphrey Bogart, Bacall quickly became a staple of noir films in the 1940s. A long, memorable career followed, with roles in "The Big Sleep," "Dark Passage," "The Mirror Has Two Faces," and more (via IMDb).
Alongside Bogart, she was one half of Bogie and Bacall; the pair starred in four films together and became one of Hollywood's timeless couples. As Bacall got older, her career continued. Although no longer playing the young femme fatale, she took on towering roles on stage in "Applause," "Woman of the Year," and "Waiting in the Wings" (via Playbill).
Bacall died at the age of 89 in 2014, but her legacy has endured (via NPR). After all, every movie buff knows her most famous line that dates all the way back to her very first film: "You know how to whistle, don't you Steve? You just put your lips together and blow." Nevertheless, there are a few things that even the biggest Bacall fans may not know. Here is the untold truth of Lauren Bacall.
Lauren Bacall's famous deep voice affected her throughout her life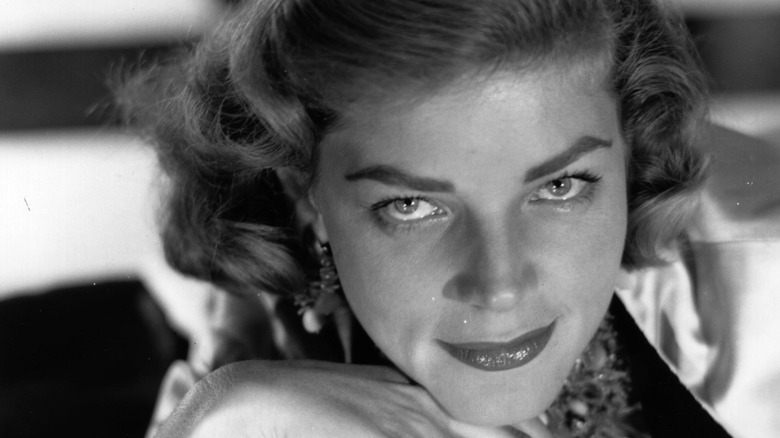 "Legend" is a word that comes to mind when discussing Lauren Bacall. Her famous traits have gone down in movie history — her iconic blonde wave, her perpetual elegance, and, of course, her voice. Indeed, Bacall's deep voice has become one of her most memorable features. As The Guardian explained in her obituary, Bacall's voice wasn't always so gruff. In fact, she was apparently instructed by director Howard Hawks to deepen her voice, which she did by shouting and smoking two packs of cigarettes a day.
According to Bacall, however, her voice had never been high-pitched. As she told NPR, "I always had a low voice — my mother had one and my daughter has one." She'd never thought about her distinctive voice when she was young, but as she got older, Bacall admitted that she began to sound more and more like a man. Of course, she acknowledged that her voice was a big part of her success. "I think it's one of the reasons that the perception of me has been that I'm so in control and so strong, so tough, because I have this deep voice," she continued. "I don't want to change it — and I can't change it."
Lauren Bacall is Jewish and initially hid it in Hollywood
Lauren Bacall came from a Jewish background, and although she wasn't ashamed of her heritage, she was initially encouraged to keep it hidden. As Joanthan Sarna, professor of American Jewish history told The Washington Post, Bacall didn't actively keep her heritage a secret, but there were anti-Semitic undercurrents in Hollywood at the time.
Bacall's real name was Betty Joan Perske. First, she changed it to Weistein-Bacal, after her mother, and this eventually became Lauren Bacall. Additionally, when Bacall later had children with Humphrey Bogart, he wanted them to be christened. In her book "By Myself," she wrote, "I felt totally Jewish and always would. I certainly didn't intend to convert to Episcopalianism for the children, or to deny my own heritage."
In a 1979 episode of The Dick Cavett Show, Bacall explained that concealing her heritage was never easy, but in the beginning it did feel like a necessity — and for her, it felt "terrible." In those days, Bacall recalled, there was "lots of cringing, lots of stomach turning upside down, inside out, lots of personal fury with myself." At the time, she was afraid she might lose her career if she revealed the truth.
Lauren Bacall was obsessed with Bette Davis when she was young
Like many aspiring actresses, Lauren Bacall had a few obsessions as a child. Her biggest was Bette Davis, the actress known for "All About Eve" and "Now, Voyager" (via IMDb). As Bacall revealed in the documentary "Intimate Portrait," she used to skip school to go see her movies at the local cinema. "I used to buy roll-y cigarettes and sit up in the balcony and smoke the whole pack just to feel like Bette Davis," she shared. "I wanted to be like Bette Davis." When Bacall saw her in "Dark Victory," she said she was left "sobbing" by the performance. "She made me feel more than anybody else did," she continued. Bacall even got a chance to meet her idol through a family connection, but she was too star-struck to even speak.
In the musical "Applause," Bacall eventually played the role of Margot Channing, which was made famous by Davis in "All About Eve." According to the Davis biography "The Girl Who Walked Home Alone," when Davis came to see the play, Bacall met her for a second time. She reportedly told Bacall, "You're the only one who could have played the part."
Lauren Bacall wasn't nearly as confident as she seemed
Even though Lauren Bacall was only 19 when she played her first role in "To Have and Have Not," she exuded confidence and maturity, proving that she would never play the silly young ingenue. And although she appeared to be steady and self-assured, this could not have been further from the truth.
In a 1979 episode of The Dick Cavett Show, Bacall explained that it was all an illusion. On set, she was so nervous she was "shaking myself to pieces." Her chin wobbled, her knees trembled, and her voice wavered. To keep herself physically still, Bacall held her chin down, forcing herself to peer up at the camera from below. "That was the only way I could hold my head steady — hold it down and then look up," she explained.
This lowered chin became known as the "look," and in many ways, it became one of Bacall's most famous contributions to cinema — even though it was an accident!
Lauren Bacall became obsessed with Humphrey Bogart
It would be impossible to discuss Lauren Bacall without mentioning Humphrey Bogart. In fact, in Hollywood the pair eventually became known as Bogie and Bacall — they were more famous as a couple than they were as individuals. Bacall met Bogart on the set of "To Have and Have Not" and almost instantly fell head over heels.
As Bacall told NPR, "The early romance was the most romantic experience I have ever had in my life — far surpassing anything I might've dreamed of or imagined, it was quite amazing." In her book "By Myself," Bacall recalled the moment the spark was lit. Bogart had come to her trailer after filming to say goodnight, and Bacall was sitting at her mirror. "Suddenly he leaned over, put his hand under my chin, and kissed me," she wrote. "It was impulsive — he was a bit shy — no lunging wolf tactics." They exchanged numbers and began a secret affair (via Vanity Fair). The rest, of course, is history.
Lauren Bacall's life changed when she married Humphrey Bogart
When Lauren Bacall married Humphrey Bogart, her life and her career changed. On one hand, she was launched into the life of a Hollywood superstar, meeting the biggest actors and celebrities, as she told Vanity Fair. On the other hand, Bacall's career began to suffer, "because," she explained, "he wanted a wife. He didn't want an actress."
Becoming a wife-first, actress-second was something that Bacall was happy to do at the time — in fact, she was eager to let her career slide. "I was a baby and he was established, so why wouldn't he come first?" she confessed in a 1985 interview. Bogart wanted children and Bacall wanted to give him what he wanted. The marriage also changed how Bacall was perceived in Hollywood. "I think the minute I married Bogie I was just considered his wife. My career kind of stopped," she explained to Interview.
Lauren Bacall took charge of her look
It's hard to imagine Lauren Bacall without her iconic features — the hair, the hooded eyes, the sultry smile. However, it turns out, some Hollywood producers initially tried to change it all. As Bacall told Vanity Fair, she was asked to shave her hairline, thin out her eyebrows and get her teeth fixed, but she wasn't interested. "Howard had chosen me for my thick eyebrows and crooked teeth, and that's the way they would stay," she proclaimed.
In fact, Bacall wouldn't even let the movie stylists touch her hair — instead, she did it herself in her now-famous style. As she put it, "The wave … on the right side — starting to curve at the corner of my eyebrow and ending, sloping downward, at my cheekbone."
In an interview for the Archive of American Television, hair stylist Judy Crown explained that working with Bacall wasn't always easy. In fact, she reportedly instructed Crown to use specific tools in a specific way. Crown eventually convinced her to try some new styles and techniques, which Bacall apparently liked, and Crown became her preferred stylist.
Lauren Bacall believed in fatalism and astrology
In a 1985 interview, Lauren Bacall explained that she believed that everything happens for a reason. "I think things happen that are meant to happen, and I think when they don't happen, they're not meant to happen. I really believe that," she revealed in reference to meeting Humphrey Bogart. Bacall went on to explain that this fatalistic belief had made her interested in astrology. It seems like Bacall always believed that fate was in control of her life. In fact, when her career was kickstarted by a cover of Harper's Bazaar in 1943, she called it "the twist of fate that changed my life forever."
Even though Bacall believed that things happened because they were meant to happen, she still felt responsible for her mistakes. She told Vanity Fair, "Sometimes you think: I'm the Queen of the May — I can do anything … All the things that you thought were one way suddenly turn out to be another way." From the outside, Bacall appeared to have been dealt a generous hand by fate — but by the sounds of things, fate wasn't actually all that kind to Bacall.
Lauren Bacall was passionate about honesty
Lauren Bacall was nothing if not unflinchingly honest — in fact, it became one of her defining characteristics. In interviews, she spoke up when she thought a question was rude, and when asked about people or films from her past, she never failed to give the cold, hard truth. In a 1985 interview, the actress explained that her obsession with the truth was something she picked up from Humphrey Bogart. "He always used to say, 'If you don't want to hear the truth, don't ask me,'" she shared. "I do not believe in any relationship — whether it be business or professional or personal — I don't believe in any relationship based on lies."
For Bacall, honesty went hand-in-hand with trust. "I couldn't have a friend that I didn't trust," she continued. So, she made it her commitment to be honest in every facet of her life.
Lauren Bacall almost married Frank Sinatra after Humphrey Bogart's death
Humphrey Bogart died in 1957 of cancer (via The New York Times). Shortly thereafter, Lauren Bacall began seeing another famous star: Frank Sinatra. As she wrote in her biography "By Myself," "I hated feeling that my life was over at 32." Sinatra filled the gap nicely. Apparently, there was an undeniable chemistry between the pair — Bacall told Vanity Fair it was like "insane electrical currents running between them all the time.
The couple became engaged in 1958, one year after Bogart's death. Bacall said yes immediately. "I questioned nothing. That was my trouble — one of my troubles," she explained. That night, Sinatra even asked her to sign an autograph with her "new name" — Betty Sinatra.
However, a few days later, Sinatra called off the engagement over the phone, suspecting that Bacall had told the papers about their engagement without asking his permission. The next time Bacall saw him was at a dinner party — and he blanked her. He didn't even acknowledge she was there. Ouch.
Lauren Bacall faced ageism in her industry
Lauren Bacall, like many actresses before and after her, experienced ageism in Hollywood. In 1985, she explained in an interview, "We all want to look better, everyone does, I mean that's not original, but one gets older, younger people come up." While she accepted this fact of life, Bacall admitted that becoming older made it harder and harder to find work. "You have to be 20 years old for your whole life," she said with exasperation. "I mean I think it's absolutely ridiculous — I just think it's wrong." For that reason, Bacall never tried to act or look younger than her real age.
As Bacall got older, she continued to accept her age gracefully. According to The Guardian, she refused to become obsessed with how old she was. In fact, she even mocked people who dreaded their birthday each year. It's clear that Bacall never let a fear of getting old get in her way.
Lauren Bacall was good friends with Katharine Hepburn
Katharine Hepburn was another iconic star of old Hollywood, known for her work in "The Philadelphia Story," "Bringing Up Baby," "The African Queen," and "The Lion in Winter" (via IMDb). It turns out, she and Lauren Bacall were close friends. Talk about BFF goals! In a 1979 episode ofThe Dick Cavett Show, Bacall explained that their friendship was never very public, but it was very special. "Katie is a very, very private person and I respect that … I think anyone who is her friend knows it and knows how lucky they are and how unusual a human being she is," she gushed. For Bacall, every moment she spent with Hepburn was to be treasured. In fact, Bacall even compared her to a female Bogart because of her strength of character.
In a 2006 interview, Bacall said that she had been on the set of "The African Queen" with Hepburn and Bogart. She and Bogart formed a friendship with Hepburn and her husband, Spencer Tracey. Later, Hepburn even helped Bacall get through Bogart's death and remained her friend until her own death.
Lauren Bacall ended up hating her Oscar
Lauren Bacall won an honorary Oscar in 2009. Oddly enough, Bacall never really felt happy about the award. As she told Vanity Fair, "You might say that my honorary Oscar was a high point in my life, but it actually represents to me the worst thing I've ever done." Bacall explained that she hid her Oscar away in her bedroom because she hated it, mostly because of the memories associated with it. Even looking at the award filled her with disgust.
Bacall went on to explain that the memory of her acceptance speech is what made her feel so uncomfortable. "I only talked about Bogie," she recalled. Even though her children were in the audience, she didn't mention them. "I just kind of went blank," she continued. Although Bacall tried to get back on stage to say some more thank yous, it wasn't possible, and it was a moment she always regretted.
Lauren Bacall was never satisfied by her movie career
Most actresses could only dream of having a career like Lauren Bacall's. However, she never felt satisfied with it, especially when it came to her films. As she told the Los Angeles Times, "I was never given the opportunity to have any variety. It's just a fact of life that I don't think I've ever been taken particularly seriously in movies by movie makers. I don't know why."
Additionally, in 1996 Bacall sat for an interview with Barbara Walters, and she echoed the same sentiments, explaining that even though she was well-known, there were times when she was out of work. For Bacall, movies were a let down because she started with such big expectations. As she said in a 1985 interview, "It started off much too high … As Moss Hart said to me … 'Of course, you realize from here on in, you have nowhere to go but down.'"
Luckily, Bacall's theatrical career was her saving grace. In fact, it was her stage work that she was most proud of and most satisfied by in the end.