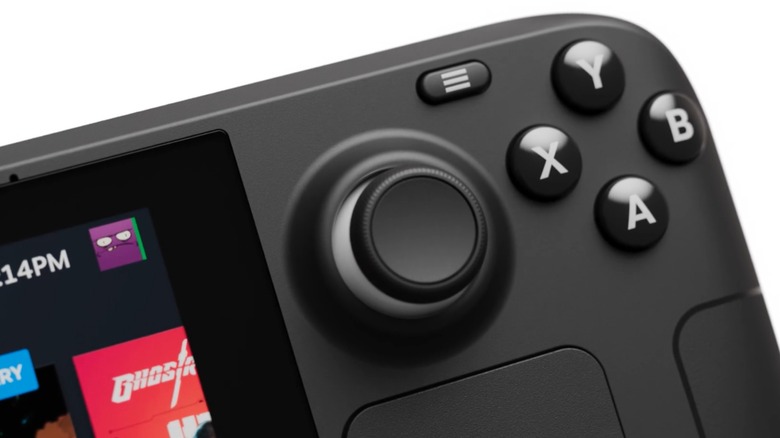 Valve took the gaming industry by surprise when it announced its portable PC, the Steam Deck, less than 10 days after Nintendo unveiled its underwhelming Switch OLED model. The stunning move led some news outlets and gamers to declare the Steam Deck the "Switch killer." Building on that momentum, Steam Deck reservations opened up the following day, with the first batch of handhelds slated to ship as early as December 2021.
The video game developer has not played coy when it comes to particulars about its new system, revealing everything from the tech specs and schematics to the price. Even with this wealth of information and in-depth coverage from sites like IGN, potential buyers have been left wondering about a few key details. From software and hardware design choices to peripherals and the potential effects on the gaming industry, several questions about the Steam Deck remain unanswered.
Will the Steam Deck be able to run major games like Destiny 2 that don't work on Linux?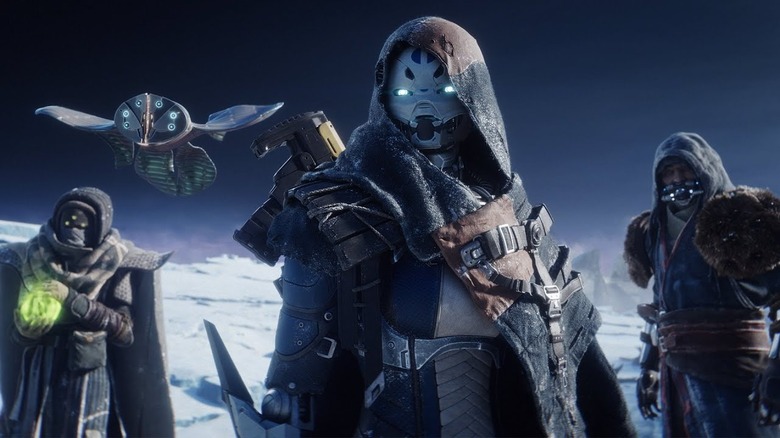 Not long after Valve announced its portable, news outlets speculated that the Steam Deck might not be able to run four of Steam's most-played titles: "Apex Legends," "Destiny 2," PlayerUnknown's Battlegrounds," and "Rainbow Six Siege."
The problem appears to stem from the Steam Deck's Linux-based operating system, SteamOS. Many Windows games won't run on Linux, a challenge Valve has worked to overcome with a compatibility tool called Proton. According to ProtonDB, a site that gathers gamer reports and provides aggregate scores for game performance via Proton on Linux, the tool has made great strides but "is still in its infancy."
Based on ProtonDB's data, "Apex Legends," "Destiny 2," PlayerUnknown's Battlegrounds," and "Rainbow Six Siege" don't work with the current version of Proton due to their anti-cheat software. While this might seem like a major roadblock, Valve has already stated that the Steam Deck includes a brand new version of SteamOS, complete with a souped-up Proton.
"For Deck, we're vastly improving Proton's game compatibility and support for anti-cheat solutions by working directly with the vendors," reads the official Steam Deck Software page. While Valve didn't specifically mention "Apex Legends" or "Destiny 2," there's a high probability that solutions will already be in place for these major games when the Steam Deck launches.
Will Valve do something to reduce the install sizes of games on the Steam Deck?
Valve announced three Steam Deck models as part of the portable's reveal: the $399 64GB eMMC, the $529 256GB NVMe SSD, and the $649 512GB NVMe SSD. Beyond their price points, storage and storage speed serve as the key distinctions between each version. While $399 might seem like a steal for what Valve has advertised as a handheld PC, the budget model's storage capacity has raised some red flags, especially for those familiar with the ballooning install sizes of modern games.
Though Valve has made it clear that you can upgrade your Steam Deck's built-in storage with a microSD card, the base $399 model won't be able to hold games like "Red Dead Redemption 2." According to the official Steam listing, "RDR2" requires 150GB of available space — and it's not the only big title on the block. "Final Fantasy 15" needs 100GB and "Borderlands 3" demands 75GB, for example.
With these massive AAA games, even the top tier 512GB Steam Deck could fill up in a flash. This predicament has led analysts like Jarred Walton of Tom's Hardware to question whether Valve plans to reduce the install sizes for its portable system. "But custom versions of games for the Steam Deck would require a lot of work, and sort of defeat the 'just take your regular Steam games with you' mentality," Walton pointed out.
When will the 512GB Steam Deck ship?
Despite Valve's best efforts, the first round of Steam Deck reservations did not run smoothly when they opened up on July 16. The Steam Store crashed under the strain, peppering users with erroneous errors and preventing many would-be customers from securing their spots in the early order queue. Beyond these confusing issues, the expected order availability for all three models slipped further and further into 2022. The 512GB Steam Deck's availability jumped all the way to Q3, meaning buyers would have to wait around a year or more to get their hands on the portable device.
A look at the Steam Deck store page reveals that Valve has since changed its tune regarding the 512GB model. At the time of this writing, the expected order availability for the higher tier portable was listed as Q2 2022, indicating that its creator managed to shave up to three months off of the ship date. So, which estimate is correct? Will Valve alter the shipping window again? The order availability for the 64GB model has also shifted, moving to sometime "after Q2 2022." This could mean that Valve has moved the highest tier version to the top of its priority list with the budget option dropping to the bottom. Only time will tell if Valve can actually hit any of these moving targets.
Will Valve and other developers make games specifically for the Steam Deck?
The Nintendo Switch has long dominated the handheld space; however, thanks to its massive library of games and more impressive tech specs, the Steam Deck could push portable gaming to new heights. "If the Steam Deck can do what the Steam Machine failed to do, namely, build a market for a new type of Steam gaming experience, there's a ton of potential," observed Jarred Walton of Tom's Hardware.
The ability to take the power of a PC on the go holds massive appeal — a feat multiple companies have aimed for but have yet to pull off. According to Walton, capturing this untapped market could open the door for never-before-seen-experiences. If, like the Nintendo Switch, Valve manages to secure a large, dedicated user base for the Steam Deck, will it roll the dice and develop games specifically for the platform? If so, would other developers follow suit? Would these titles also run on a standard PC?
Ubisoft (via IGN) has already stated that it will bring its games to Steam Deck "if it's big." While that's not the same as developing new titles specifically for the device, it indicates that some gaming companies are already considering the opportunities Valve's new device could open up if it takes off.
How much will the Steam Deck dock cost and when will it be available?
As part of the Steam Deck announcement, Valve revealed details about the system's hardware, including the option for users to purchase an official dock. Similar to the Nintendo Switch, the dock allows you to prop up your Steam Deck "while connecting to external displays, wired networking, USB peripherals, and power." Unlike the Switch, the dock does not come with the Steam Deck and must be purchased separately.
Though it has shared the pricing and availability for the three Steam Deck models, Valve has offered far fewer details regarding the docking station. Based on an interview with IGN, the company has yet to lock in a price or release date for the dock, which may not be ready to go when the Steam Decks start to roll out. The developers also pointed out that the Steam Deck will work with "any USB-C dock that you can buy off the shelf," though the experience might not be as pleasing compared to the official docking station.
Expect to hear more about the Steam Deck dock in the coming months. You can review its projected tech specs in the meantime.
Will Xbox Game Pass work on Steam Deck?
Valve has emphasized the importance of user choice since it unveiled the Steam Deck, framing it more as a portable PC than a gaming console that locks you into using specific software. "If you buy a Steam Deck, it's a PC. You can install whatever you want on it, you can attach any peripherals you want to it," designer Lawrence Yang revealed to IGN. The "install whatever you want" philosophy apparently extends to third-party applications and other game distribution platforms like Origin and the Epic Games Store. You even have the option to wipe SteamOS from the device and install Windows.
Given this freedom, news outlets like Game Rant were quick to point out the potential for running Xbox Game Pass on Steam Deck. Microsoft's subscription service offers over 100 games and also comes with access to new Xbox Game Studios and Bethesda titles on day one. The ability to access both your Steam and Game Pass libraries on Steam Deck could be a major selling point for the handheld device and subscription service. While it's unclear how running Xbox Game Pass on the portable would work, Valve's design choices and statements so far make it seem like a real possibility.
How comfortable will the Steam Deck be to play on?
Valve has designed the Steam Deck's hardware with extended play sessions in mind, complete with "best-in-class thumbsticks" and precision trackpads. Meanwhile, the back of the device was created to support multiple hand sizes and comes with four assignable grip buttons. Of course, intentions and reality sometimes diverge.
Compared to the Nintendo Switch, the Steam Deck is a bit of a beast. While the standard Switch weighs in at 0.88 pounds, the Steam Deck is a hefty 1.5 pounds. It's also longer and wider than Nintendo's portable. While these details aren't necessarily negatives, the weight and dimensions could make longer play sessions on the Steam Deck less appealing. Of course, you can always connect your Deck to an external display and use a mouse and keyboard, though this somewhat mitigates the portability factor.
Based on IGN's hands-on, the Steam Deck's control layout may seem a bit foreign to gamers. "The thumbsticks are in-line with the d-pad and face buttons, which looks a bit odd when you're used to the more offset angle found on most controllers," said Bo Moore. "However, as soon as I held it myself the layout felt completely natural."
It seems the Steam Deck's design will be a bit of an adjustment, especially for seasoned players — a fact that could help or hinder it.
What external display resolution output can you expect when the Steam Deck is docked?
As a portable PC, the Steam Deck offers a lot of options — including the ability to dock and plug into your TV or monitor via the USB-C port. Given the prevalence of 4K displays, potential users on Reddit have questioned what sort of resolution output they can expect when hooked up to a screen.
Based on IGN's Q&A with Valve, the Steam Deck comes with 720p native resolution. "The aspect ratio is 16 by 10. So the exact resolution is actually 1280×800," stated coder Pierre-Loup Griffais. Later in the piece, IGN clarified that the Steam Deck "is not limited to 720p" when docked, "but performance will be impacted if you increase the resolution."
According to the official Steam Deck tech specs, the "external connectivity for controllers & displays" uses "USB-C with DisplayPort 1.4 Alt-mode support; up to 8K @60Hz or 4K @120Hz, USB 3.2 Gen 2." So, there's 4K and 8K support; however, as IGN explained, increasing the resolution may cause performance issues. It seems you'll have to wait until closer to launch to determine the true pros and cons of hooking up to an external display.
What kind of cooling system does the Steam Deck have?
Valve has been fairly transparent regarding the Steam Deck's hardware and tech specs; however, prospective buyers On Reddit have expressed concerns regarding the portable's cooling system and the loudness of the fan when running games with higher settings.
Though the designers have not offered specifics regarding the Steam Deck's cooling system, IGN's Bo Moore stated that the portable remained "comfortably cool to hold" while playing games like "Doom Eternal" and "Star Wars: Jedi – Fallen Order" during his hands-on. Looking at the official schematics and promo images, Valve has placed the fan vent at the top of the device, as opposed to the sides or the back, which should direct any heat away from your hands.
As pointed out by several Redditors, the Steam Deck targets 720p and tops out at 15W of power, so cooling likely won't be an issue. The loudness of the fan, especially while playing more intensive games, remains largely up in the air though.
Can you load a game on PC and continue playing on your Steam Deck?
As detailed in IGN's hands-on, the Steam Deck comes packed with Steam's robust feature set, which includes fully functional cloud saves. Due to this, your saves, key bindings, and mods travel with you as you move back and forth from the Steam Deck to your PC. You also have the option to suspend games on the Deck, though this is limited to one game at a time.
While the ability to carry settings and progress between devices is a major boon, the current iteration requires you to save and quit before you can pick up where you left off. However, according to Bo Moore, Valve is "looking into ways to cloud sync suspended games between desktop and Deck." This would potentially eliminate the need to save and quit, allowing you to start up a game on your Steam Deck and then seamlessly pick up your progress on PC. Unfortunately, it's not clear if this option will be ready to go at launch or show up in a later update.