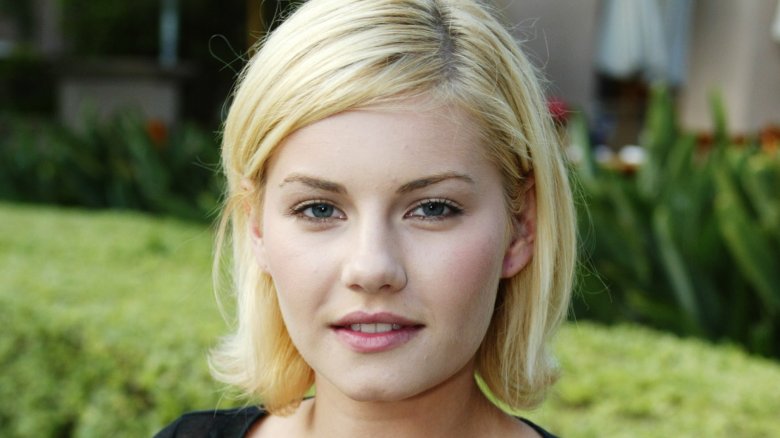 You might remember actress Elisha Cuthbert from the early 2000s, when she was one of the most promising new stars on the Hollywood scene. Her breakout role as Kim Bauer on Fox's Emmy-winning terrorism drama 24 propelled her to fame (and countless "Hottest Women in the World" lists in men's magazines, which was the style at the time). The Canadian starlet parlayed her likability and familiarity on TV into a movie career, taking on the titular role in the teen sex comedy The Girl Next Door –she plays an adult film star hiding out in the suburbs.
After her series of very long and very bad days on 24 came to an end, Cuthbert ventured into TV comedy, joining the cast of the ABC ensemble comedy Happy Endings as goofy runaway bride named Alex. But since that show's run wrapped in 2013, Cuthbert hasn't been as prominent as she once was. Here's where Cuthbert disappeared to and why it feels like Hollywood won't cast her anymore.
Viewers hated Elisha Cuthbert's role on 24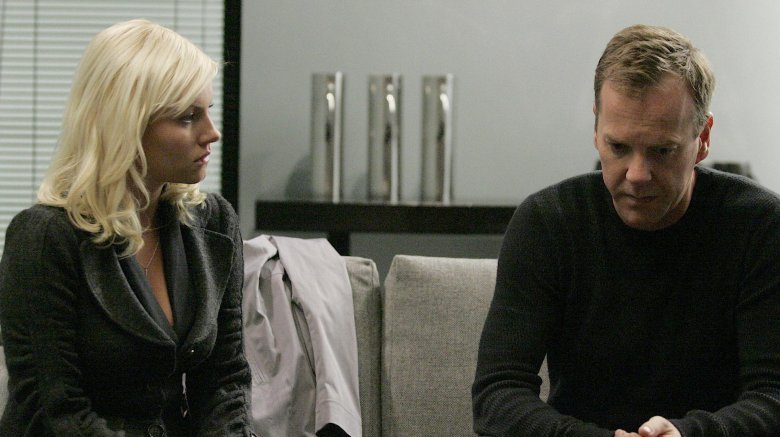 Elisha Cuthbert got her first major Hollywood break when she was cast as Kim Bauer, daughter of Counter Terrorist Unit agent Jack Bauer (Kiefer Sutherland) on the action-packed Fox drama 24. The series had a novel premise — it took place in "real time," with each hour-long episode representing one hour in a 24-hour time period Jack had to thwart a terrorist plot. The show was so popular with critics and fans that Fox kept it going, challenging 24's writers to come up with plausible premises to get Jack (and his family) back in danger over and over again.
As a result, Cuthbert's character endured some patently ridiculous storylines, including an infamous standoff with a cougar – and some fans may have rooted for the cougar. In 2012, Entertainment Weekly (via 24 Spoilers) placed Kim Bauer in second place on its "20 Most Annoying TV Characters Ever" list. In other words, by the time Cuthbert left the show at the end of Season 3 (as a regular, anyway), a lot of fans weren't too sorry to see her go, a sentiment which may have been detrimental to the actress's Hollywood career.
Elisha Cuthbert's titular part in The Girl Next Door flopped
In the fine tradition of racy teen shenanigans movies such as Porky's and American Pie, came the 2004 comedy The Girl Next Door. Elisha Cuthbert plays Danielle, a young, recently-retired adult film actress who moves in next door to an ambitious and nerdy high school senior (Emile Hirsch) and teaches him to be cooler and have more fun before he heads off to college. (It's an oddly sweet story for a movie about a porn star and her teenage friend.) The film seemed poised to become a big teen comedy hit in an era rich with teen comedy hits (Mean Girls, Napoleon Dynamite). In theory, it should have launched Cuthbert, who had left 24 just a few months earlier, into a booming Hollywood film career.
Unfortunately for everyone involved, neither of those things happened. The movie earned just more than $14 million at the box office and attracted a very "meh" reaction from critics. The film simply could not live up to its pre-release hype. For Cuthbert, especially, The Girl Next Door proved to be one of several career hiccups.
Few critics waxed poetic about Elisha Cuthbert in House of Wax
Just a month after The Girl Next Door hit (and then quickly left) movie theaters, Elisha Cuthbert got another chance to prove her big-screen bankability, joining the production of the horror film House of Wax. Before its release, the movie was best known for two things, neither of them particularly positive: It was a remake of the classic 1953 Vincent Price film of the same name, and it would star "celebutante" of the moment Paris Hilton.
One of the scary movie's most memorable sequences involved Cuthbert's character being unable to open her mouth — for which the actress opted to use real glue. House of Wax opened in theaters in May 2005 and brought in just under $70 million at the worldwide box office, which was certainly better than the haul for the Cuthbert's first major film, The Girl Next Door. Still, the horror flick struggled to earn praise from critics, landing a brutal 25 percent rating on Rotten Tomatoes. House of Wax also earned three Razzie nominations, including nods for worst picture and worst remake or sequel. Ouch!
The Quiet didn't generate much noise
With the moderate box office success of House of Wax on her resume, Elisha Cuthbert followed up that adventure with something a little more ambitious than a horror remake: the modestly budgeted ($900,000) family thriller The Quiet. The premise: An orphaned deaf teenager (Camilla Belle) goes to live with her godparents and their teenage daughter, Nina. Cuthbert plays Nina — a showy, nuanced role that involves hurling verbal abuse, an incestuous relationship, and a murder plot.
While the part was certainly far from the "hot-girl" persona Cuthbert was used to playing, critics were still disappointed by what they saw, giving the movie a mere 21 percent rating on Rotten Tomatoes. At least Cuthbert earned some good notices. James Berardinelli of Reelviews wrote that the actress "captures all of the emotional shifts her character must endure," which "stands as an argument that Cuthbert was underused in 24." Audiences didn't much care for the movie, though, or to see Cuthbert play against type. The film grossed a paltry $381,000 at the North American box office. Yikes!
Cuthbert's big-screen career hit a new low with Captivity
After enduring a few movies that tanked at the box office or displeased film critics (or both), Elisha Cuthbert's modest big-screen career hit its absolute low point with the 2007 horror flick Captivity. In this Saw-like bit of nihilistic drudgery, Cuthbert plays a model who is drugged, kidnapped, and relentlessly, savagely, psychologically tortured. Captivity's 9 percent Rotten Tomatoes rating indicates a near-universal critical loathing. Tony Delgado of Digital Spy called Captivity "truly awful" and "so ill-conceived and woeful that it effectively serves as a device of torture itself device — on the viewer."
Not-so-shockingly, the movie also tanked at the box office, finishing in 12th place its opening weekend on its way to a disastrous $2.6 million domestic gross. Even worse, the film was nominated for three Razzies that year, including, yep, a worst actress nomination for Cuthbert. She lost to Lindsay Lohan for I Know Who Killed Me, but still, starring in one of the most poorly-received films in recent memory isn't a good look.
Blame Canada for Elisha Cuthbert's Hollywood woes
Even at the peak of her stardom, Elisha Cuthbert admitted she had a tough relationship with Hollywood. Speaking to Women's Health in 2009, she confessed, "For a long time I was naïve about who I was surrounded by. I got caught up in the L.A. scene. Not that they were bad people, I just couldn't ask any of them to drive me to the airport." Looking for something less superficial in her personal life, the actress spent a lot more time with her boyfriend, Canadian hockey player Dion Phaneuf, whom she married in 2013.
Naturally, being a Canadian actress married to a Canadian hockey player who spent most of his career skating for Canadian teams, meant that Cuthbert divided her time between Hollywood and the Great White North. Up there, she remained a tabloid and gossip site fixture, a familiar presence at star-studded events such as the Canadian Arts and Fashion Awards and Toronto Fashion Week. Even her Instagram selfies make news in Canada, but that hasn't translated to positive notoriety in the fickle Hollywood scene.
So much for Elisha Cuthbert's happy ending
In 2011, Elisha Cuthbert returned to TV as a member of the cast of the ABC ensemble comedy Happy Endings. Centered on six Chicago friends in their late twenties, the show began at the ill-fated wedding of two of those characters: food truck operator Dave (Zachary Knighton) and boutique owner Alex (Cuthbert). It soon evolved away from exploring how the breakup affected the group of friends into an unabashedly silly sitcom, which earned a small but devoted audience of hardcore fans. Despite ranking as one of the least-watched shows on network TV, ABC renewed Happy Endings for Season 2, and after a slight uptick in viewership, the series got a third season. In March 2013, Rolling Stone called Happy Endings "the most underrated, under-watched series on the air today."
Sadly, not even passionate essays — or even, at one point, desperate pleas from the network — could change the fact that the show just could not find a home in the ratings. ABC axed it in May 2013, leaving Cuthbert without a job.
One Big Happy was another big bust for Elisha Cuthbert
While the Friends-like Happy Endings didn't become a cultural phenomenon on the level of its predecessor, many of the people who make TV shows enjoyed it, and so its cast members found plenty of follow-up gigs. Adam Pally joined The Mindy Project; Damon Wayans, Jr. headed to New Girl; and in 2015, Elisha Cuthbert landed a role on the NBC comedy One Big Happy. It's a show about a nontraditional family, and Cuthbert plays Lizzy, a gay woman who gets pregnant by her male best friend (Nick Zano ) right around the time he meets and falls in love with a British woman (Kelly Brook).
Despite a solid pedigree — created by The Ellen DeGeneres Show writer Liz Feldman, and executive produced by Ellen DeGeneres — One Big Happy failed to please critics. "With frat-boy-level pee jokes and unfunny quips about lesbians, straight guys, and Brits all over the place, it creaks along like the worst aspects of Three's Company — and that's just in the first few minutes," wrote Deadline. The show was canceled after only six episodes, sending the unfortunate message to the TV industry that Cuthbert may not have been ready to carry a show on her own and no doubt diminishing her opportunities in Hollywood.
Cuthbert made some solid bets that didn't pay off in Hollywood
Elisha Cuthbert chases the art of acting, and sometimes artists have to pursue "what they know." For a Canadian performer like Cuthbert, that thing is hockey. In 2017, she starred in Goon: Last of the Enforcers, the sequel to the 2011 cult comedy Goon, which stars Seann William Scott as a regular guy who becomes a professional hockey "goon" or "enforcer" or "guy whose job it is to brutalize opposing team members." Cuthbert has a supporting role as Mary, sister-in-law of Scott's character, Doug "The Thug" Glatt.
Considering the original Goon won best film at the Canadian Comedy Awards (among a slew of other Canadian film industry and festival accolades), Cuthbert's decision to appear in the sequel seemed like a solid career move, but by the time it opened in September 2017, any hopes of a major Hollywood comeback were squashed. The film earned mediocre reviews, especially when compared to the original, and it also went nowhere at the box office.
Meanwhile, back at The Ranch
Fortunately, Elisha Cuthbert has found a whole new audience by way of the Netflix comedy The Ranch. The series, about a former football player who moves back to his family's Colorado ranch to help out, packs some major star power: Ashton Kutcher plays Colt, the prodigal son, and Sam Elliott and Debra Winger portray his parents. Cuthbert co-stars as Abby, Colt's fiancée.
While not the hottest Netflix show — it doesn't generate memes, tie-in merchandise, or awards attention like its service-mates Stranger Things or BoJack Horseman — The Ranch has proved to be a sleeper hit for the online giant. A traditional, studio-shot, laugh-track-laden sitcom, The Ranch will have run for four seasons and a total of 80 episodes by the time it wraps in 2020. After stints in the movies (The Girl Next Door), dramatic TV (24), and hip TV comedies (Happy Endings), it looks like Cuthbert may have finally found her Hollywood footing in humble streaming sitcoms.