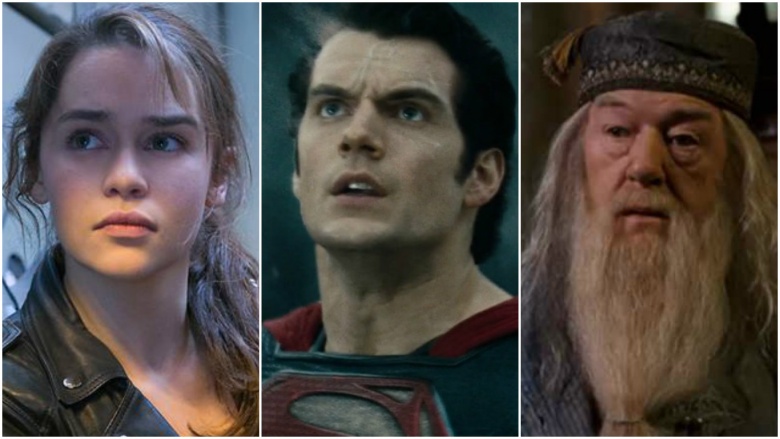 It's no secret that success at the box office depends on who plays a movie's lead character. After all, can you even imagine anyone else playing Tony Stark besides Robert Downey Jr.? Well, whether or not you can actually do the mental gymnastics required to picture such an eventuality, Marvel Studios sure likes putting Iron Man in movies, and Downey can't play the role forever. That's where recasting comes in.
Picking someone to take over a role from another actor is never easy, especially when that actor drew praise for their take on the character. But recasting is often an unavoidable fact of life, especially for sequels and remakes—creative and/or financial disagreements can get in the way, and age is also a big issue, making things even more delicate when the previous actor has passed away. Producers are well aware that their choices at this early stage can make or break their movie, and in the case of the following films, it most certainly broke them. From wizards and warriors to superheroes and secret agents, these replacements ruined their movies.
Jodie Foster to Julianne Moore (Clarice Starling)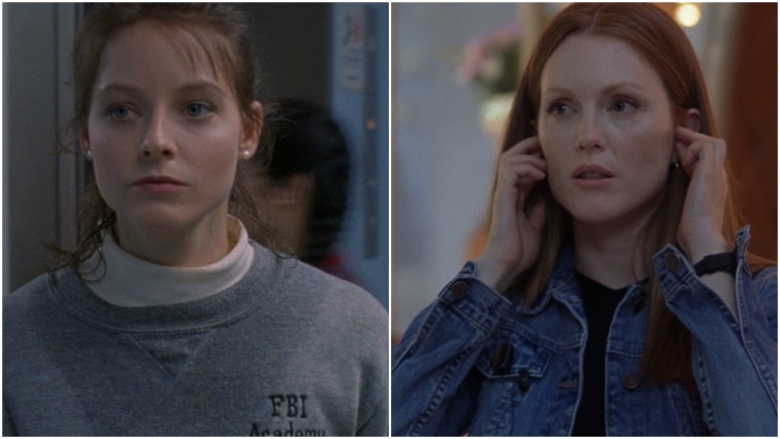 When Ridley Scott signed on to direct the Silence of the Lambs sequel Hannibal, he did so without his Clarice Starling in place. Anthony Hopkins had already negotiated a cool $11 million to return to the role of Hannibal Lecter, though Jodie Foster evidently didn't share his enthusiasm for a return to the franchise. "The official reason I didn't do Hannibal is I was doing another movie, Flora Plum," Foster later told Total Film. "So I get to say, in a nice, dignified way, that I wasn't available when that movie was being shot. But Clarice meant so much to [Lambs director Jonathan Demme] and I, she really did, and I know it sounds kind of strange to say but there was no way that either of us could really trample on her."
Several big name actresses were considered, with Cate Blanchett and Angelina Jolie both in the frame at one stage, though in the end the part went to Julianne Moore. While both Scott and Hopkins were happy with the choice, audiences were not as convinced]. Moore was inevitably compared to Foster and was found wanting, unable to mimic the "sly manner and soft accent" of her predecessor and failing to establish the "dynamic connection" the characters shared in the previous film.
As for Foster? "I saw Hannibal," she whispered during her Total Film interview. "I won't comment."
Rachel Weisz to Maria Bello (Evelyn O'Connell)
1999's The Mummy was a surprise smash for Universal, placing in the top ten highest grossing films of the year after posting global receipts of $415 million. It launched Brendan Fraser's career as a Hollywood action hero and introduced the world at large to a stunning new leading lady in Rachel Weisz, and the pair made a compelling onscreen couple. The duo reprised their roles in 2001's The Mummy Returns which, much like the first movie, failed to move critics but made a truckload of money. By the time the third film came around, however, Weisz had concerns about the direction of the franchise.
Despite Universal refuting claims that the third Mummy film was in deep trouble, the British actress soon distanced herself from the project on the grounds of the script being "crap," according to a studio source. Maria Bello stepped in to fill the part of Evelyn O'Connell, and the results speak for themselves. With a Rotten Tomatoes score of just 12 percent, 2008's The Mummy: Tomb of the Dragon Emperor was widely panned. Replacing Weisz with Bello was deemed "a terrible, terrible lapse of judgement" by Quickflix, whose main complaint was that she was "much less fun" than her predecessor.
Robin Williams to Dan Castellaneta (Genie)
The 1990s was a decade of resurgence at Disney, often referred to as a renaissance for the company. A big part of the Mouse House's surge in popularity was 1992's Aladdin, their Oscar-winning take on an Arabic folk tale about a "street rat" shedding his rags and winning the heart of a princess. Aladdin was packed full of great musical numbers, though the main reason it became such a smash was the input of the late Robin Williams. When the actor confirmed that he wouldn't be lending his voice to 1994 sequel The Return of Jafar after a row over Disney's marketing tactics, the search for a new Genie began.
A great voice actor in Dan Castellaneta was ultimately chosen, though for all his talents the Simpsons star just couldn't measure up to Williams' frenetic performance. The quality of the animation didn't help matters (it was actually made for TV but got bumped up to a feature to capitalize on the success of the original) but in truth, even if Disney's A-team animators had been on the job, Castellaneta lacked the unpredictability that Williams brought to the Genie, essentially doing a watered-down impression of his predecessor.
Sean Connery to George Lazenby (James Bond)
Roger Moore and Sean Connery are tied with seven appearances as James Bond apiece, though when push comes to shove many 007 fans will tell you that Connery is the only Bond. A poll concluded that 51 percent of Americans chose Connery as their favorite Bond, with Pierce Brosnan coming in a distant second with 12 percent. George Lazenby, the man who replaced Connery in the role for 1969's On Her Majesty's Secret Service, received just 1 percent of the vote, which tells you everything you need to know about the gulf between these two actors.
While critical opinion towards the film itself has softened over time, Lazenby's performance is still a bone of contention, inevitably compared to those delivered by Connery in the franchise's five previous entries. The Chicago Reader said that "George Lazenby has so much reserve as James Bond that he makes Sean Connery seem almost frenetic by comparison" and reviews in the UK were just as critical of the leading man's turn as the British Secret Service agent, with London-based outlet Time Out calling him a "stunning nonentity" fronting a film with "no redeeming features."
Harrison Ford to Ben Affleck (Jack Ryan)
Five films based on Tom Clancy's Jack Ryan exist, yet Harrison Ford is the only actor to play the CIA analyst more than once. Eyebrows were raised when Alec Baldwin was given the boot after he successfully debuted Ryan on screen in 1990's The Hunt for the Red October, with the actor himself calling the legality of Paramount's behavior into question. Baldwin implied that the studio went behind his back and entered into negotiations with Ford, who ended up portraying Ryan in his next two cinematic outings, 1992's Patriot Games and 1994's Clear and Present Danger. Underhanded studio tactics aside, Ford made the role his own, and Clear and Present Danger remains the most successful Jack Ryan movie to date.
Eight years would pass before Ryan appeared on our screens again, this time portrayed by Ben Affleck. Ford later admitted that Clancy was "never terribly happy" with the direction he took the character in, but Clancy was decidedly in the minority, and Affleck's take on the character suffered in comparison. His debut in the role, 2002's The Sum of All Fears, was met with disdain, with many critics calling his casting into question. Rolling Stone said that "Affleck merely creates an outline for a role he still needs to grow into, a role that Ford effortlessly filled with authority."
Linda Hamilton to Emilia Clarke (Sarah Connor)
Following in the footsteps of Linda Hamilton as Sarah Connor in the Terminator franchise was never going to be easy—she gave a performance so layered and compelling that even the most talented of actresses would have struggled to do the character justice. The first to give it a shot was Lena Headey, who was cast as the titular heroine in short lived TV series Terminator: The Sarah Connor Chronicles. Fox cancelled the show after two seasons citing cost as the reason, leaving Headey's Game of Thrones colleague Emilia Clarke to carry the torch by reprising the character on the big screen for the first time since Hamilton kicked some serious butt in 1991's Terminator 2: Judgement Day.
2015's Terminator Genisys was heavily criticized for using that old time travel chestnut to rewrite the beginning of the Terminator story to suit the filmmakers' purposes, though the main problem wasn't the infuriatingly muddled timeline, it was the casting. Veteran film critic Peter Bradshaw dressed down the whole main cast in his one-star review for The Guardian, calling Emilia Clarke's take on Connor "uninteresting."
Harry Hamlin to Sam Worthington (Perseus)
1981's The Clash of the Titans attempted to give Greek mythology the Star Wars treatment, taking the story of Perseus and turning it into a sprawling epic using stop-motion animation and the kind of traditional practical effects that would soon be supplanted by CGI. Director Desmond Davis went with Harry Hamlin in the role of Perseus, a son of Zeus who in legend beheads the Gorgon Medusa in order to save his beloved Princess Andromeda from a giant Kraken. Hamlin remains active in the industry, recently appearing in Netflix release Rebirth and guest starring in four episodes of Glee, though he's still arguably best remembered for his turn as Perseus.
The same cannot be said for Sam Worthington, best known as the star of James Cameron's budding Avatar franchise. Director Louis Leterrier entrusted the Australian with the lead role in his 2010 remake, though his choice was called into question when the negative reviews started to pour in. Worthington's earned his share of acclaim over the years, but the Titans remake is one release he most likely wouldn't mind leaving off his résumé; Quickflix's Simon Miraudo questioned how Worthington had ever managed to become a Hollywood actor after watching his turn as Perseus, in which he "does nothing but glare. His battle speeches are neither rousing nor particularly intelligible."
Michelle Pfeiffer to Halle Berry (Catwoman)
Halle Berry taking over from Michelle Pfeiffer in the role of Catwoman is perhaps the most infamous example of recasting going terribly wrong. DC's leather-clad heroine has appeared in numerous Batman adaptations over the years, though Pfeiffer's psychotically sexy performance in Tim Burton's Batman Returns remains definitive. The actress initially intended to reprise the role in the solo spinoff, though after years in development hell her patience reached its limits and she signed off to concentrate on other commitments.
A number of actresses were touted as her replacement, with Nicole Kidman reportedly considered despite having appeared as Dr Chase Meridian in 1995's Batman Forever. Ashley Judd was said to have been offered the part but turned it down, calling her decision "the stupidest thing I've done by far" after she learned that Berry had been cast instead. After seeing Catwoman, she probably took that back. The film was a complete disaster, bombing hard at the box office and cleaning up at the 2005 Golden Raspberry Awards. Berry took her Worst Actress win in good humor, turning up at the ceremony to accept her award in person and thanking the writers. "All 20 of them."
Michael Keaton to Val Kilmer (Batman)
Another error of judgment from the Batman universe, this time involving the Dark Knight himself. Michael Keaton handed over the keys for Wayne Manor having portrayed its owner in 1989's Batman and its 1992 sequel Batman Returns, refusing to reprise the role in a third film after reading the screenplay. When pressed for details, Keaton said that the script he was shown "sucked" and that "it was just awful," pointing the blame for his departure squarely at the writers.
Val Kilmer clearly didn't share Keaton's opinion. The Tombstone star accepted the role as-is and went into the film knowing he'd have to contend with a famous cast of villains and a new director. Joel Schumacher shouldered a lot of the blame for 1995's Batman Forever, though his leading man didn't escape criticism. Kilmer's performance was described as "utterly lethargic" and "god-awful," with Film4 bashing the filmmakers for dispensing with "Michael Keaton's excellent Batman in favor of Val Kilmer, who frankly is not quite up to the job."
Brandon Routh to Henry Cavill (Superman)
Many planned Superman projects failed to come to fruition in the years between 1987's resoundingly terrible Superman IV: The Quest For Peace and 2006's franchise reboot Superman Returns. Director Bryan Singer's take on DC's prized property proved to be a solid enough platform to take the franchise forward if nothing else, though the ridiculously large budget meant that it wasn't a financial success. That said, Brandon Routh's turn as the Man of Steel drew praise from many, with Newsweek being particularly impressed. Their review of Superman Returns gushed over Routh for the way in which the newcomer "effortlessly lays claim to the iconic role, just as Reeve did."
Despite a planned sequel, every year that passed without it made it less likely to happen at all, and even though Routh made it clear he wanted to don the red cape again, the studio opted to go with Man of Steel, a Zack Snyder re-reboot fronted by Henry Cavill. Trouble is, Snyder's film takes the parts of Superman Returns that people didn't like—the morose, humorless stretches—and amplifies them. Cavill's downbeat portrayal of the titular hero was described as "so brooding, impregnable and dark" that 2013's Man of Steel ended up a film devoid of joy.
Corey Feldman to John Shepherd (Tommy Jarvis)
Despite its name, 1984's Friday the 13th Part IV: The Final Chapter was far from the last installment in this long-running horror franchise. In fact, eight more films featuring drowned camper turned serial slasher Jason Vorhees have been made since his so-called final chapter, though the one that directly followed it marked a major dropoff in quality. Part IV has been described as "one of the last really excellent horror romps that focus on character dynamic and family," with critic Felix Vasquez of Cinema Crazed hailing Corey Feldman for his "standout performance as young Tommy Jarvis."
Feldman went on to make a name for himself in The Goonies, Stand by Me and The Lost Boys, though before he did he reprised his Friday the 13th role in 1985's Part V: A New Beginning. Unfortunately, he only appeared in the prologue, and a time jump meant he was replaced by the painfully dull John Shepherd. Teenage Tommy was static compared to his younger self, though Shepherd shouldn't shoulder the blame entirely. Some blamed the "hamfisted directing" of David Steinmann while others argued that the Part V was "so restrained by the insistence of the MPAA rating system that the film feels like it was edited with one of Jason's bloody-rusty weapons."
Richard Harris to Michael Gambon (Albus Dumbledore)
While 2004's The Prisoner of Azkaban is a favorite among some Harry Potter fans, the fact remains that it is the lowest grossing movie in the franchise. It did face stiff box office competition from Shrek 2 that year, but for many the problem with the third film in the series was the new headmaster at Hogwarts. Richard Harris' take on Albus Dumbledore in The Sorcerer's Stone and The Chamber of Secrets remains definitive, despite his replacement Michael Gambon portraying the character in six of the eight installments. Gambon has proven himself a talented actor, but trying to bring a character from a beloved book to life is never an easy job, especially when another actor has already made an inch-perfect job of it.
When Harris died after a battle with Hodgkin's disease, his replacement needed to match the Irishman's wise and calm demeanor, the main characteristics of J.K. Rowling's Dumbledore. Instead of making the transition as seamless as possible, Gambon gave an altogether more aggressive take on the character, typified by a moment in the fourth film in which he frantically grabs Harry in a most un-Dumbledore like rage and berates him about how his name got into the Goblet of Fire. Then again, his take on the character is hardly surprising when you consider that he didn't even bother to read the books.
Ryan Reynolds to Jonathan Bennett (Van Wilder)
National Lampoon's Van Wilder isn't going to be preserved in the Library of Congress National Film Registry anytime soon, yet for all its failings, film fans of a certain age remember this movie fondly. This was a time when frat humor was king and sitting down to watch a comedy usually meant turning your brain off for 90 minutes. Van Wilder fell squarely into that category, though critics seemed to agree that the leading man wasn't the issue here, with Time Out saying Ryan Reynolds was the "one saving grace" here and Variety calling the actor "a natural fit" for the role.
After the Kal Penn-led sequel was crucified by critics, the producers decided their next move would be a prequel featuring a younger version of Van, left with little choice after Reynolds refused to return to the role. They brought in Jonathan Bennett for Van Wilder: Freshman Year, a move described as "a terrible mistake" by DVD Talk. Their review argued that "Reynolds could never be replaced and Bennett is trapped doing an abysmal impression rather than building his own take on the character."
Wesley Snipes to Omar Epps (Major League)
Variety summed up the sequel to the 1989 baseball comedy perfectly when they said that the actor who benefited most from it was Wesley Snipes, the man who rejected the opportunity to reprise the role of Willie Mays Hayes in 1994's Major League II. Snipes had become a movie star in his own right by this point, with critically acclaimed appearances in White Men Can't Jump and Demolition Man pricing him out of the second outing. With the Cleveland Indians down a man, the filmmakers turned to Omar Epps.
Director David S. Ward had worked with Epps on The Program the previous year, another sports movie, this time following the exploits of a college football team. The big difference between the two films was that The Program wasn't meant to be funny. Epps didn't have a background in comedy (before The Program, his only major role was opposite Tupac Shakur in gangland thriller Juice) and it showed in his timing. Even those that didn't think the film was all that bad admitted that "Omar Epps taking over for Wesley Snipes was a complete bomb of a decision. Bad all around."
Jason Statham to Ed Skrein (Frank Martin)
Veteran film critic Mark Kermode summed up 2015's "The Transporter Refueled" with a single question: "What exactly is the point of a 'Transporter' movie without Jason Statham?" When it was revealed that Ed Skrein was to replace Statham as Special Forces op-turned-private driver Frank Martin in the fourth "Transporter" film, questions were raised about the former's ability to carry the franchise forward. "There are these ongoing themes," Skrein said of the scrutiny (via USA Today), adding that it "goes with the territory" when you take on a character originated by another actor.
While the "Transporter" films didn't exactly change the action movie landscape, they benefitted from Statham's presence, athletic prowess and combat skills — he's been training in both kickboxing and Brazilian Jiu Jitsu for years. His replacement lacked that experience, and it showed. Skrein began taking classes in various martial arts disciplines as he prepared for "The Transporter Refueled" and "Deadpool" (he played the villain Ajax in the Ryan Reynolds hit), but even he acknowledged that he was way behind many of his peers in that department. "I'm very respectful and realize I'm not going to be able to do things meant for 10 or 20 years of training," he told the BBC.
The action in "The Transporter Refueled" was ultimately limited by the new star's fledgling abilities. Ed Skrein's one and only outing as Frank Martin was a commercial and critical flop that left the Luc Besson-produced franchise dead in the water.
Rooney Mara to Claire Foy (Lisbeth Salander)
Rooney Mara took on the role of Stieg Larsson's androgynous computer hacker Lisbeth Salander when the first book in the late Swedish author's "Millennium" series got the Hollywood treatment in 2011, starring opposite Daniel Craig in "The Girl with the Dragon Tattoo." When the 2018 sequel "The Girl in the Spider's Web" was announced, fans of David Fincher's critically acclaimed first film were a little disappointed that both Mara and Craig (who played journalist Mikael Blomkvist) had been recast, and so was Mara. "I was hopeful to come back, but they decided to do a different thing," she told Yahoo!. "It was always a character I wanted to revisit, but that's not what happened."
Sverrir Gudnason took on the role of Blomkvist, while Claire Foy stepped into the pale, pierced skin of Salander. Unfortunately, she didn't look comfortable in it. She was receiving acclaim for her turn as the young Queen Elizabeth II in "The Crown" at the time, but Foy couldn't pull off Salander's cold eccentricities with the same aplomb as her predecessor. Critics were by and large unimpressed with her version of the goth hacker, with many questioning why she was chosen for the part. "Much as I admire her, Foy is miscast here," the Observer's Wendy Ide said (via the Guardian), calling her "too empathetic for a role that requires an almost reptilian lack of emotion," while IndieWire's senior film critic David Ehrlich called her both "terrible [and] terribly miscast."
Peter Weller to Robert John Burke (Robocop)
Conceived by writer Edward Neumeier on the set of "Blade Runner," Paul Verhoeven's "RoboCop" would ultimately earn its own place in cyberpunk history alongside Ridley Scott's seminal classic. The first "RoboCop" film stars Peter Weller as the titular cyborg. He roams a dystopian, crime-ridden version of Detroit mercilessly dealing with lawbreakers. Weller reprised the role in "RoboCop 2," but he fell out of love with being RoboCop during the making of the sequel and subsequently turned down the chance to play him again in a third film. Producers needed a replacement, and their hearts were apparently set on a little known actor called Robert John Burke.
"In God's great earth they thought I was the only actor who could do it, I don't know why," Burke said in a 2015 interview. "I think physically I poked like Peter Weller, and I had also had extensive karate training, pantomime training, and body training, and I fit the suit." Unsurprisingly, handing the relatively inexperienced Burke the lead role just because he kind of resembled Weller didn't work out very well. He may have looked like him in the suit, but he's "lacking his forerunner's tongue-in-cheek glint of authoritarian machismo" said the New York Times in its review of "RoboCop 3," which inevitably bombed at the box office. Burke just wasn't as convincing as RoboCop, from his delivery to the way he moved — he appeared to be "a lot less comfortable with the hardware," Empire noted.
Tom Hanks to Todd Waring (Allen Bauer)
1988's "Big" is often cited as Tom Hanks' breakout movie, but he actually announced himself as a potential star some four years earlier in Ron Howard's fantasy rom-com "Splash." Hanks stars as the unlucky-in-love Allen Bauer, a young man who returns to the spot of what he believed was a near-death hallucination to discover that the woman he saw in the water the day he almost drowned is indeed real. Allen falls for mermaid Madison (Daryl Hannah) and ditches life on the land to live under the sea with her in a goofy yet undeniably feel-good ending. It's a beloved movie, though the same cannot be said about the little-seen, made-for-TV sequel, "Splash, Too."
Helmed by writer, director and actor Greg Antonacci (who would later become known for playing mobster types in the likes of "The Sopranos" and "Boardwalk Empire"), the highly forgettable and completely unnecessary "Splash, Too" brought Allen and Madison back to dry land, totally ignoring the fact that the government wanted to lock her up in a lab in the previous instalment. Todd Waring ("American Crime Story") took over as Allen Bauer, but, despite his best efforts, he lacked the everyman charm and comedic timing that Hanks already had in abundance at this stage. "The less said about the actors replacing Tom Hanks and John Candy (Freddie Bauer) the better," Film Fad said in its review of the sequel, adding: "To say it's not very good would be an understatement."