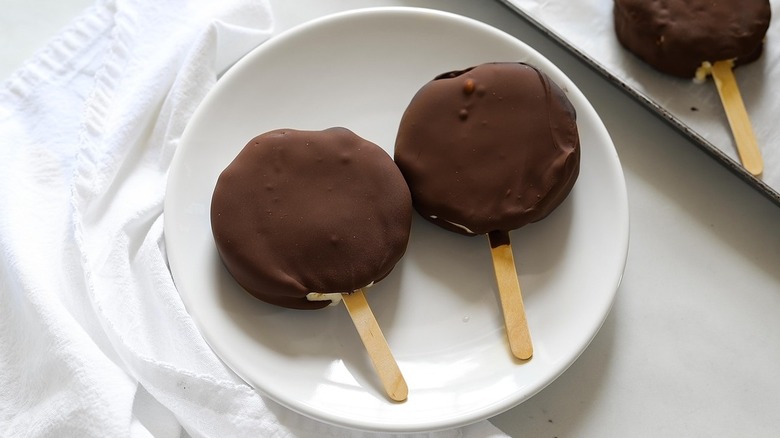 When the weather is hot outside, there's truly nothing better than a sweet, frozen treat to cool down. Of course, not all frozen treats are created equal, and some are simply much more satisfying than others. If you've ever had a dilly bar from Dairy Queen, then you know just how delicious the treat is. Creamy and cool vanilla ice cream on the inside and a delicious shell of chocolate on the outside — it doesn't get much better than that!
While Dairy Queen's dilly bars are an irresistible summer treat, you might not always be able to get to a Dairy Queen to satisfy the craving. So, what if you could replicate a dilly bar at home? Recipe developer Kit Hondrum of Kit's Kitchen has made it oh-so-easy to make the beloved treat right in the comfort of your own kitchen. And best of all, you only need two ingredients to make these dilly bars: vanilla ice cream and chocolate!
Gather the ingredients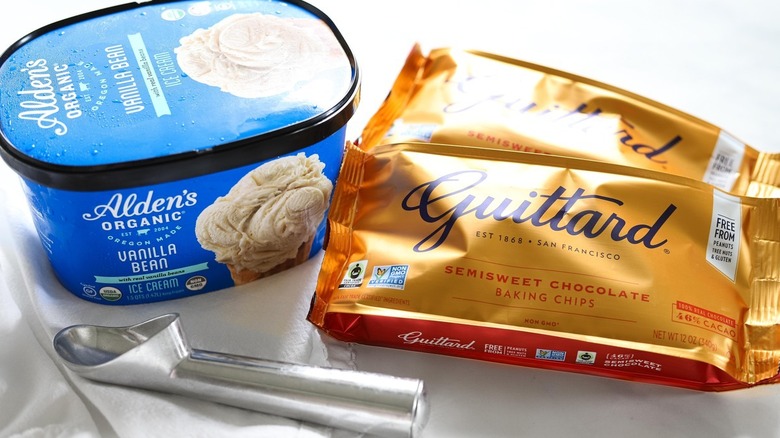 Because the ingredients are so simple, Hondrum advises that you seek out exactly the right ingredients so your bars turn out perfectly. "Make sure to choose a brand of ice cream that freezes pretty hard," she explains, adding that some brands of ice cream are softer than others, even when frozen. Look for ice cream that stays nice and firm when you press on it.
It's also important to use the right chocolate. You can use dark chocolate or semi-sweet chocolate chips, but anything other than dark or semi-sweet will result in a dessert that she thinks is a little too sweet. Also, be sure to have some popsicle sticks handy, as well as a baking dish and parchment paper to lay the dilly bars on.
Allow your ice cream to soften and then smooth it out in a baking dish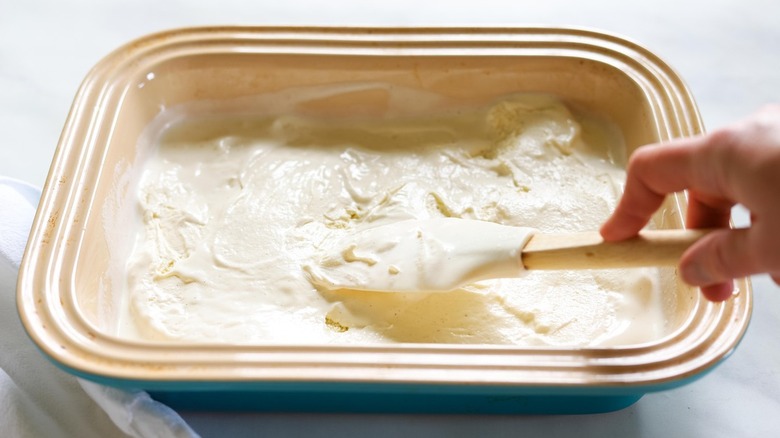 As soon as you've selected the right ingredients for this recipe, you can go ahead and get started on making your copycat Dairy Queen dilly bars.
First, pull your ice cream out of the freezer and allow it to soften up a bit. You don't want it to be melting, but rather just soft enough to spread out easily in a baking dish. Once it reaches that point, scoop the ice cream into a baking dish and spread it out evenly with a spatula. Then go ahead and pop the ice cream back into the freezer for at least four hours, but ideally overnight.
Cut out discs from your refrozen ice cream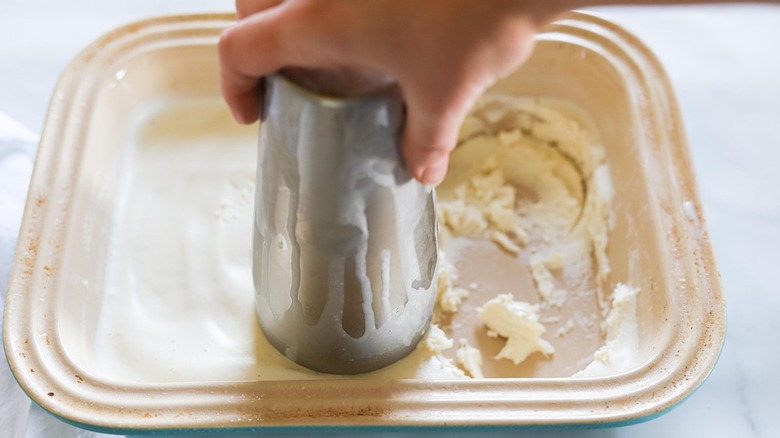 Once your sheet of ice cream has refrozen, you can cut out the circular dilly bar shapes or discs.
First, line a baking sheet with parchment paper so the ice cream won't stick when you set it down. Then, grab your dish of ice cream from the freezer and, using a cookie cutter and something with a three-inch diameter, begin cutting out the ice cream discs that you'll use for the dilly bars. Hondrum notes that a cocktail shaker provides the ideal size for the ice cream discs.
As you cut out the discs, simply place them onto your prepared baking sheet. Try to work quickly during this step so your ice cream doesn't turn into a melted mess!
Stick popsicle sticks into your ice cream discs and refreeze them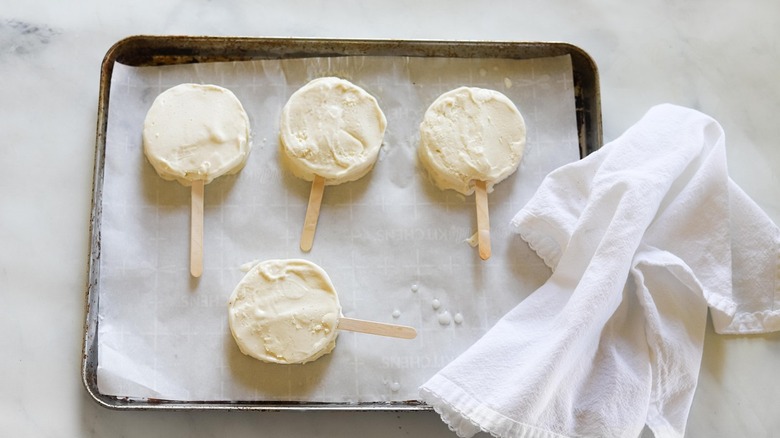 After you've cut out your four ice cream discs, you can go ahead and grab your popsicle sticks. Carefully slide a popsicle stick into each ice cream disc, ensuring that it goes about two inches into each disc.
Then, you can smooth out your discs around the edges and on the tops so they look a little cleaner, but this step is totally optional. They'll still taste just as good either way!
Finally, take the baking sheet with the ice cream popsicles and place it back into the freezer for another minimum of four hours.
Melt the chocolate and allow it to cool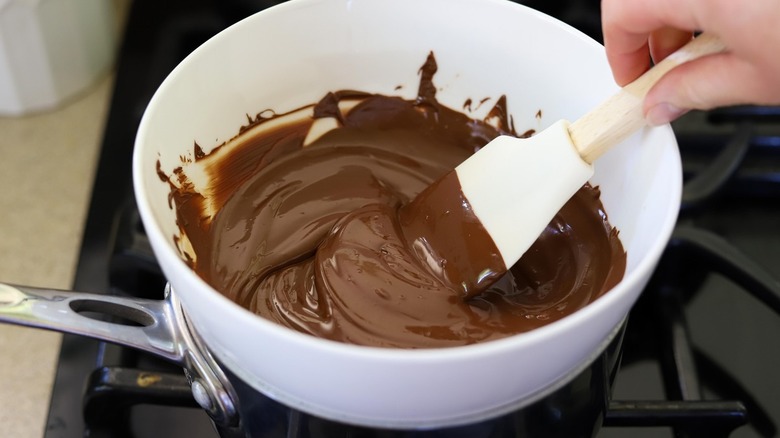 As your ice cream popsicles finish refreezing, you can prepare the chocolate.
Melt your chocolate on the stovetop by using a double boiler setup, or carefully melt it in intervals using the microwave. Depending on the type of chocolate you have, it may be pretty thick. "If you think the melted chocolate is looking too thick to dip ice cream into, just thin with a bit of coconut oil until you get a nice smooth consistency that looks right for dipping," Hondrum explains.
Once you reach the desired chocolate consistency, let the chocolate cool down a bit. You don't want it to harden, but you also don't want it super hot, otherwise it will melt your ice cream when you dip the popsicles!
Dip your ice cream popsicles into the chocolate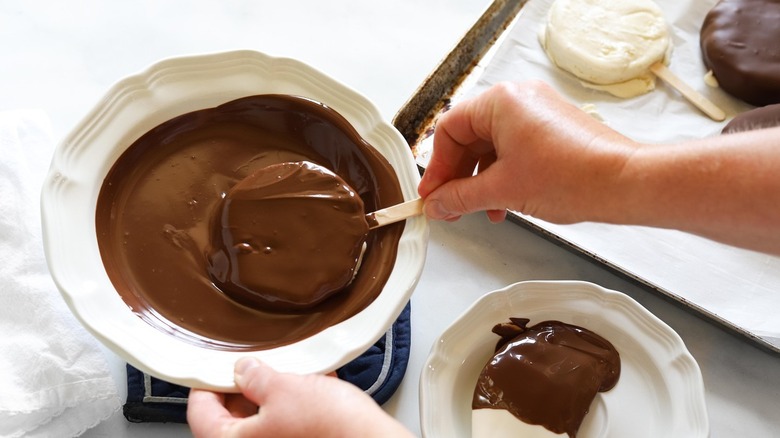 Once your chocolate has cooled off, grab your ice cream popsicles from the freezer. Carefully dip one of the popsicles into the melted chocolate, ensuring that each side and every edge is thoroughly covered in chocolate. After you've covered the ice cream popsicle in chocolate — thus officially making it a dilly bar! — simply place it back onto the parchment paper. Repeat this process for each of the four dilly bars.
Freeze your dilly bars one more time and then enjoy!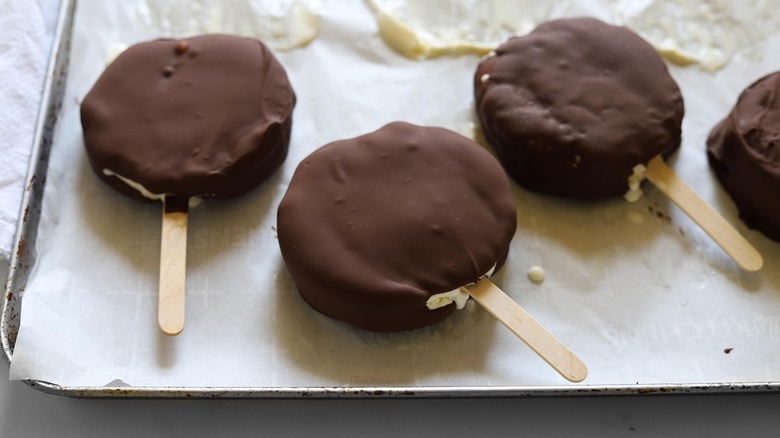 After you finish dipping each of the dilly bars into chocolate, you'll want to pop them back in the freezer so the chocolate solidifies around the ice cream. Freeze them for at least two hours, and after that point, you're ready to enjoy!
These copycat dilly bars taste just as good as if they came from Dairy Queen, but they'll have the added bonus of being homemade. With only two ingredients, these dilly bars could not be easier to make, and it's pretty safe to say that they will become an absolute hit in your household this summer!
½ gallon vanilla ice cream
12 ounces dark chocolate bars or semi-sweet chocolate chips
Remove the ice cream from the freezer and allow it to soften.
Place the ice cream in a baking dish and spread it out in an even layer using a spatula or the back of a large spoon.
Refreeze the ice cream until it's completely hardened, at least 4 hours or, preferably, overnight.
Line a sheet pan with parchment paper.
Working quickly, use a cookie cutter or object with a 3-inch diameter and a sharp edge to cut out 4 discs of ice cream.
Place the ice cream discs on the sheet pan.
Insert a popsicle stick 2 inches into each ice cream disc. Smooth out the sides and tops, if desired.
Refreeze the ice cream for another 4 hours minimum or overnight.
Melt the chocolate using a double boiler or carefully melt it in intervals in the microwave.
Allow the chocolate to cool to room temperature. Carefully dip and coat each ice cream disc in chocolate.
Place the dilly bars back on the parchment paper and refreeze for at least 2 hours or until completely hardened.