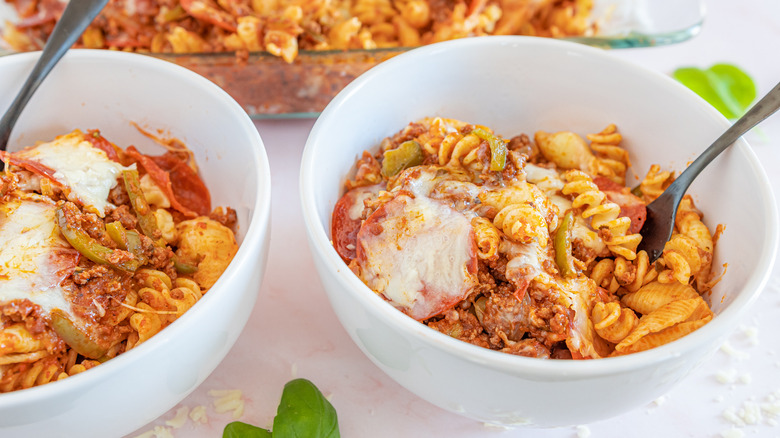 It's been a while since Pizza Hut's coveted cavatini pasta was on the menu, and fans have definitely missed it. Really, is there anything better than a huge pan of piping hot pasta paired with plenty of toppings? It had everything a pizza in the form of pasta should, from sausage, onion, and peppers to plenty of sauce and a whole lot of ooey, gooey, delicious cheese.
Alas, if you're longing for that same dish you grew to love, you can pull off making it at home. Luckily, recipe developer and food photographer Petar Marshall has put a recipe together. "This copycat Pizza Hut cavatini recipe comes together in just a few easy steps," says Marshall. "And even if you haven't had Pizza Hut's classic cavatini in the past, you'll still want to try this delicious pasta dish."
Jampacked with flavor, and yes, more and more cheese, you can have dinner on the table in under an hour.
Gather the ingredients for this copycat Pizza Hut cavatini recipe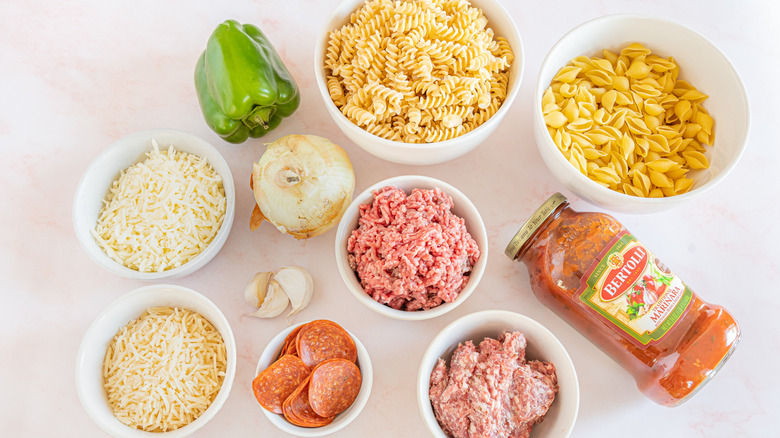 To get started on making this copycat Pizza Hut cavatini pasta on your own at home, you'll want to grab all of the ingredients ahead of time. For this recipe, you'll need, one 16-ounce box of rotini pasta noodles, four ounces of shell pasta noodles, eight ounces of ground sausage, 16 ounces of ground beef, one package of sliced pepperoni, one 24-ounce jar of marinara sauce, one eight-ounce bag of shredded mozzarella cheese, one six-ounce bag of shredded Parmesan cheese, one onion, one green bell pepper, and three cloves of garlic.
"For this copycat recipe, I used simple Italian ground sausage," notes Marshall. "However, if you want to add a bit more of a kick, you could swap it out for a spicy sausage option."
Cook the noodles for this copycat Pizza Hut cavatini recipe
The first step to making this copycat Pizza Hut cavatini recipe is to preheat the oven to 350 degrees Fahrenheit. Then, start cooking the noodles for the dish. Start off by filling a large pot with water and putting it on the stove on medium heat. Allow the water to come to a boil, and then add in the rotini noodles and shell pasta noodles.
"Cook the pasta until al dente," says Marshall. "No need to cook it too long here, since it'll go in the oven with the sauce as well." Once the pasta is cooked, drain it and set it aside while you prepare the remaining ingredients.
Prep the vegetables for this copycat Pizza Hut cavatini recipe
To prepare the vegetable additions for this dish, you'll want to grab a cutting board and a sharp knife. Mince up the garlic, and then prepare the onion. The onion and green bell pepper should be cut into small, thin julienned strips like you would find as a topping on a pizza.
Once the vegetables are prepped, it's time to get cooking. Put a large pot or skillet on the stove and sauté the minced garlic. Add in the onion and green bell pepper slices.
Add in the ground beef and sausage for this copycat Pizza Hut cavatini recipe
Once the vegetables are cooked, add in the sausage and ground beef. Use a wooden spoon to break up the meat and cook the mixture until no more pink is showing in the meat. Add garlic salt and pepper to taste.
Lastly, once the vegetable and meat mixture is cooked, pour the entire jar of marinara sauce into the pot and stir. "You'll want to allow the sauce to cook with the meat mixture for a few minutes so it can slightly reduce," says Marshall. "Otherwise, the dish will have too much liquid." Allow the sauce mixture to cook for about three minutes before moving onto the next step.
Layer and bake this copycat Pizza Hut cavatini
Once all of the ingredients are prepped and ready, it's time to assemble your final pasta dish. Using a 9×13-inch glass baking dish is best for this recipe.
Start off by adding a layer of the cooked noodles to the bottom of the dish. Top it with the meat sauce mixture, and then use your hands to add a layer of pepperoni. Sprinkle the pepperoni with plenty of both mozzarella and Parmesan cheese, and then repeat this step. "You'll end up with two layers of the noodles and meat mixture," says Marshall. "And that means there's plenty of ooey, gooey cheese in the dish, not just on the top."
Once the dish is layered, cover the top with tin foil and bake it for 35 minutes. Remove the tin foil gently, and then bake the pasta for another five minutes to lightly brown the cheese on top.