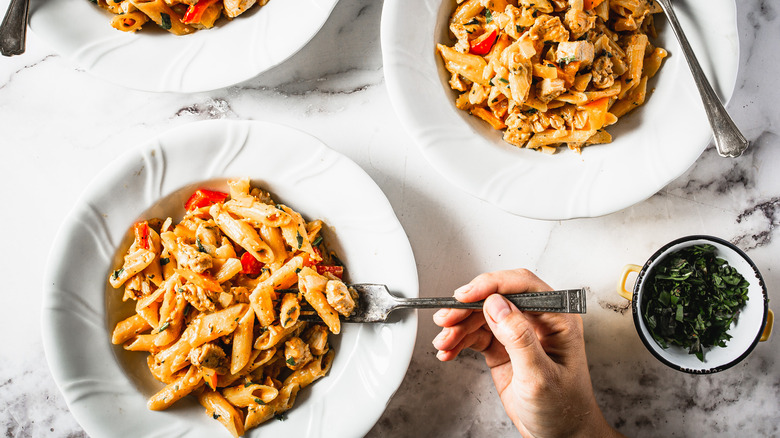 This one-pot creamy Cajun chicken pasta with chicken, bell peppers, cream cheese, and penne pasta can be ready to serve up in less than 30 minutes. Cajun food is known for its hearty, spicy fare and copious use of local protein such as chicken, pork, and seafood. Whether you've had it before or have yet to give it a try, this Cajun pasta recipe brought to you by food blogger and photographer Ksenia Prints of At the Immigrant's Table is sure to become a staple in your home.
Cajun cuisine came to be in the 18th century via Acadian immigrants who made their way to the South (most specifically, Louisiana). It originally retained a lot of the French cuisine notes, but over time, the cuisine became synonymous with rich, flavorful, and oftentimes affordable uniquely Southern fare.
Today, dishes like this creamy Cajun chicken pasta reflect the heat of spices, but blend it with creamy, cheesy comfort Southern food staples such as noodles and cream cheese. Cooked all in one dish, this is a dinner you'll be happy to get to the table in just about no time at all.
Gather the ingredients to prepare creamy Cajun chicken pasta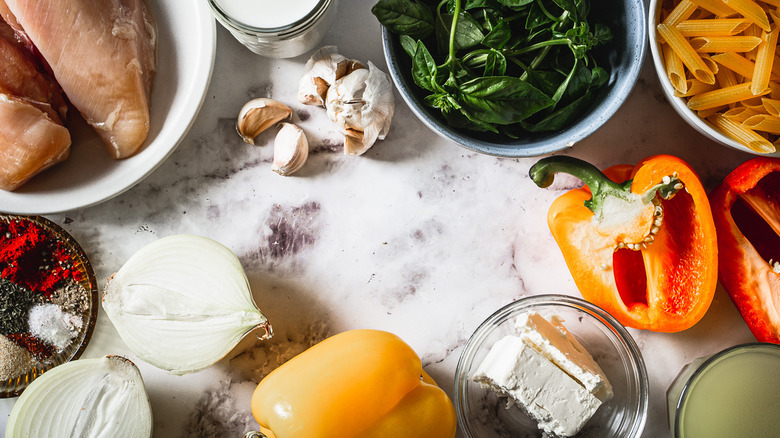 The ingredient list for this one-pot pasta dish may seem long, but don't be discouraged — it's only because you'll be making your own Cajun spice mix. If you already have some Cajun seasoning lying around, feel free to skip the following step and just grab 2 tablespoons of the mix. Otherwise, you'll need to mix paprika, oregano, dried thyme, garlic powder, onion powder, cayenne pepper, black pepper, white pepper, and salt.
You will also need penne pasta (though you can also use fusilli or other short pasta), cooking oil, chicken breasts, yellow onion, bell peppers of any colors, and garlic cloves. And as for the creamy sauce, you'll want to grab chicken broth, milk, cream cheese, and fresh basil.
Mix the Cajun spice seasoning
As previously mentioned, you will be making your own Cajun spice seasoning for this recipe. If you already have some Cajun seasoning lying around, feel free to skip the following instruction and just grab 2 tablespoons of the mix. Note that not all Cajun seasonings are the same, and the added ingredients may vary, but all should contain paprika, chili or cayenne pepper, and garlic and onion powders.
To make the Cajun seasoning, mix the following ingredients in a small bowl: the paprika, oregano, thyme, garlic powder, onion powder, cayenne pepper, black pepper, white pepper, and salt. Be sure to mix well.
Sear the chicken pieces in a pot
To a large pot or Dutch Oven set over medium heat, add the cooking oil. You want to use a pot that is going to be big enough to contain your diced chicken, vegetables, and have enough room to cook the pasta — so you better go big or go home! You don't want to be switching pots halfway through the cooking process.
Add the diced, cut chicken to the pot. Season with the Cajun seasoning, reserving 1 to 2 teaspoons. Sauté for two minutes on each side, but do not worry about cooking the chicken fully at this point, as it will continue cooking with the rest of the ingredients.
Add vegetables and the remaining seasoning to the pot
Add the diced onions, bell peppers, and minced garlic to the pan with the lightly seared chicken bites. Stir, and sauté for two minutes more.
Season the chicken and vegetable mix with the remaining 1 to 2 teaspoons of Cajun seasoning. This helps ensure the seasoning gets equally spread out among all the ingredients, and that it doesn't just permeate the chicken. Let it cook for one minute more. You may need to add a bit more oil to prevent the chicken and vegetables from sticking to the bottom.
Add the pasta, broth, and milk to the pot, and finish cooking
Add the pasta, broth, and milk to the pot. Whisk until smooth, and stir everything together. Cover with a lid, and allow the sauce to come to a boil.
Once boiling, reduce the heat to medium-low, and allow the pasta to cook, covered, for about 10 minutes, stirring every few minutes until the pasta is tender and everything is cooked through. Stirring the pot is crucial, as this milky, creamy sauce can burn quickly, and the chicken and pasta tend to clump together and stick to the bottom if left unattended. Add the cream cheese to the pot, and stir everything thoroughly.
Serve the creamy Cajun chicken pasta topped with fresh basil
Your one-pot Cajun chicken pasta is ready to enjoy — and it's best served fresh to the table! The sauce is nice, hot, and creamy, enveloping the perfectly cooked al dente pasta and blending with the juicy, seasoned chicken bites. The diced bell peppers and onion bits dispersed throughout add a sweet note to this otherwise creamy bowl of comfort food.
Serve your creamy Cajun chicken pasta immediately, topped with some fresh basil for garnish. Leftover creamy Cajun chicken pasta will keep in a sealed container for four days — that is, if there is any left!