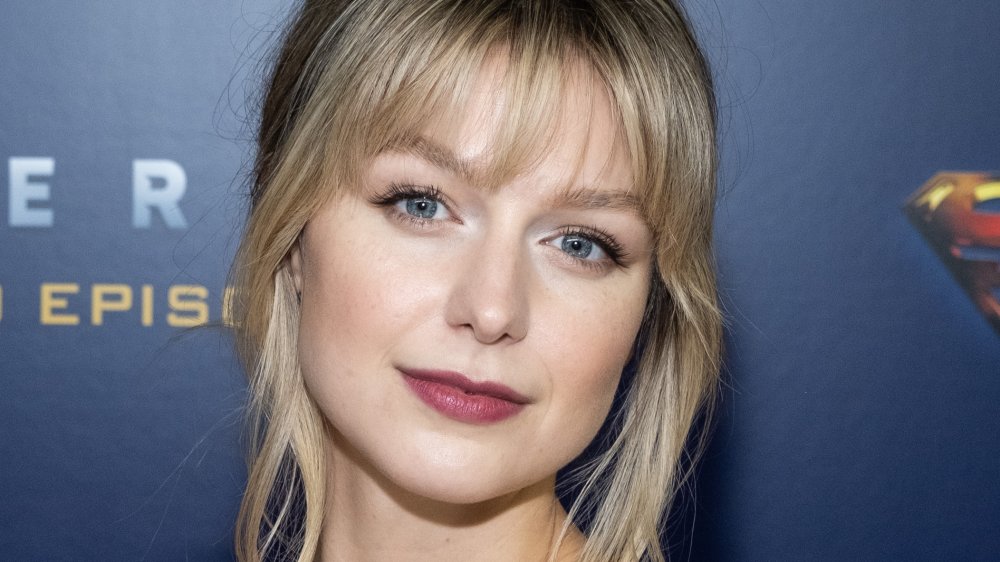 Melissa Benoist is most recognizable for her role as Kara Danvers, aka Supergirl. In real life, Benoist is also a bit of a super woman herself.
Besides the fact that she is the first woman to lead a primetime superhero TV show since Wonder Woman went off the air in 1979 (via MTV News), Benoist has garnered a number of incredible achievements throughout her acting career. She has starred in successful TV shows (she notably joined the cast of Glee in Season 4), appeared in the Academy Award-winning movie Whiplash, had a run on Broadway in 2018, and has shared the screen with stars such as Mark Wahlberg, Miles Teller, Julia Garner, and more.
But she's not immune to hardships in both her personal and professional lives. She's had her share of ups and downs in love and in her career. To find out even more about this multi-talented actress, read on for the untold truth of Melissa Benoist.
Melissa Benoist was pursuing the spotlight even at 3 years old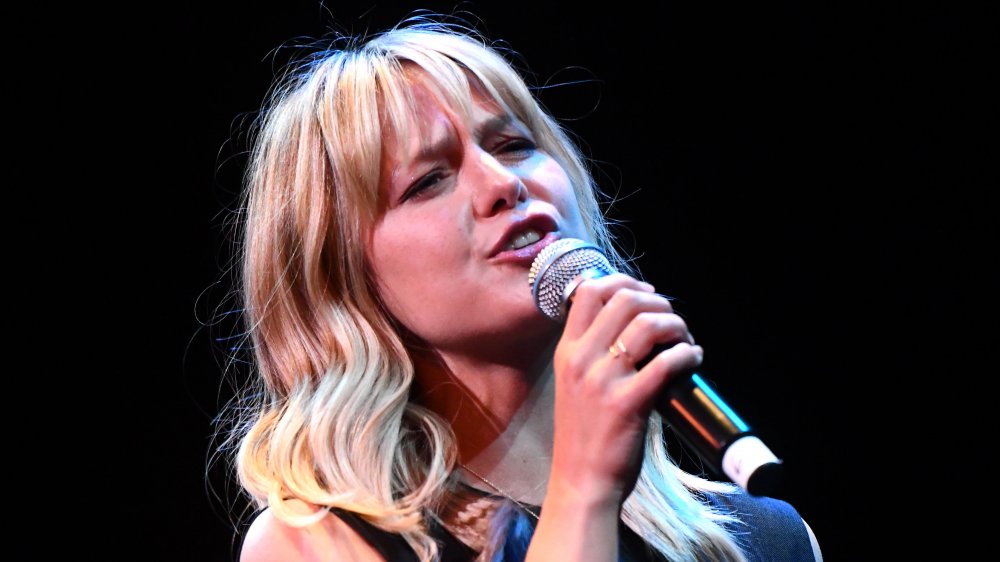 Melissa Benoist knew she wanted to be an actor for most of her life. In an interview with Entertainment Weekly, Benoist credited her parents with allowing her and her siblings to have the freedom to discover and pursue their own passions and interests, whatever they may be. She started dancing when she was 3 years old, which impacted the course of her life.
She recalled an experience where she knew in her gut that she wanted to be a performer. There was a moment at the end of a ballet recital where 3-year-old Melissa Benoist saw performing as a potential career path. "I think we say, 'He's Got the Whole World in His Hands,' and I was singing louder than anyone else. I wanted to be center stage. I think that was the moment that I realized, 'I like this,'" she told EW.
Melissa Benoist left Colorado and moved to NYC for college
When she was 18, Melissa Benoist packed up her belongings and traded the suburbs of Denver, Colo. for the bright lights of New York City. There she attend Marymount Manhattan College on New York's Upper East Side, as noted by Vanity Fair. With her career ambitions in sight, she initially planned to study musical theater only to switch majors to theater during her sophomore year.
Like many young adults, she had her share of awkward college roommate experiences. At 18 years old, she was in New York City, getting dropped off by her mom. "Most kids are excited to leave the house, and my mom and I kind of had this sobbing saga on the corner of like 55th and 2nd avenue. Like, legitimately wailing together," she told James Corden on The Late Late Show. She then admitted her roommate was "weirded out" by this and they didn't talk for some time after that.
Despite this experience, she credits NYC with her own self-discovery. She said New York is her favorite place in the world, and she found herself in the city. "Every time I go back, I feel like I'm my best self," she told the New York Post.
Melissa Benoist felt like an outsider in high school… just like her character on Glee
In 2012, Melissa Benoist joined the cast of the hit show Glee as character Marley Rose in Season 4 and sang for New Directions through Season 5. As noted by The Denver Post, her character was introduced as "The New Rachel" (which was also the title of the Season 4 premiere episode). Benoist's first performance was "New York State of Mind" opposite Lea Michele, whose character sings the song at an audition in NYC. One could feel overwhelmed by the pressure of performing a song with the show's star, but Benoist may have just been focusing her energy on the similarities she shared with Marley Rose.
Like her character, Benoist participated in extracurricular activities, including theater. But she also considered herself a wallflower who spent a lot of time on her own. "I ate lunch by myself, and I was always okay with it. But I was definitely made fun of and I always felt like an outsider. And Marley experiences that," she told Teen Vogue. Benoist admired how her character was figuring herself out and learning how to speak up for herself — not just with her own words but with music, too.
Melissa Benoist fell in love on set
In February 2019, Melissa Benoist announced she was engaged to actor Chris Wood, whom she had met on the set of Supergirl. Wood, who is also known for his roles in The Vampire Diaries and The Carrie Diaries, played Benoist's love interest. The couple both posted on Instagram to share their news. Benoist captioned her picture, "Yes yes yes it will always be yes," while Wood wrote, "The happiest."
E! News confirmed the two exchanged vows in Ojai, Calif. in September 2019. Later on, Benoist shared pictures of her and Wood on their wedding day and wrote, "I'm always going to remember looking at you every five minutes on this day knowing both of us were thinking 'how in the world did we get so lucky?' I still don't understand how, but you prove to me every day that I'm one of the damn luckiest out there."
This is the second marriage for Benoist, who was previously married to her Glee costar Blake Jenner, whom she wed in 2013. Citing irreconcilable differences, Benoist filed for divorce for 2016.
Melissa Benoist announced she was pregnant in 2020
Happily married, Melissa Benoist and Chris Wood revealed in March 2020 that their family of two would soon be a family of three. Benoist shared a family picture, which included their two dogs and showed her and Wood wearing blue shirts and holding up a blue baby shirt. She wrote, "A non-canine child is coming to our family very soon!!! @christophrwood has always been an old dad by nature but now he's going to be a real one!"
In her post, she included a humorous snap where she's standing behind her husband, resting her cheek on his shoulder and wrapping her arms around his stomach. On Wood's Instagram, he shared the same funny pic and wrote, "The photo is a joke but the news is real…!!!"
Pregnant during the 2020 pandemic, Benoist shared that she felt connected to those who were also pregnant during this time. "It's a weird time to be pregnant for sure," she told TV Insider. "But I'm hanging in and I'm not the only one, I'm not alone, so that's comforting to know."
Melissa Benoist shared that she's a survivor of domestic violence
In an Instagram video with the caption "Life Isn't Always What It Seems" shared in November 2019, Melissa Benoist opened up about her personal experience of being in an abusive relationship and identified herself as a survivor of IPV (intimate partner violence).
Benoist did not name her abuser, but she explained how the aggression escalated during the course of their relationship. The transgressions were minor at first, and she didn't initially recognize his behavior as abusive. "In retrospect, I see that each red flag followed a very clear path on the way to things becoming violent because violence is so often proceeded by mental, emotional, verbal and psychological abuse — which are all very sneaky things," she said in the video. Benoist revealed her abuser threw his iPhone at her face, which tore her iris and broke her nose. She found the strength to confide in a friend and was able to safely get out of the relationship.
In an Instagram post the same day, she shared resources for those in crisis to find assistance and support to get out safely. "By sharing my story, hopefully I can empower others to seek help and extricate themselves from abusive relationships," she captioned the post.
If you or someone you know is experiencing domestic abuse, call the National Domestic Violence Hotline at 1-800-799-7233.
Melissa Benoist's audition process for Supergirl took months
With five rounds of auditions (and a new song to sing for each one) plus two screen tests for Glee creator Ryan Murphy (via Teen Vogue), Melissa Benoist thought the show's casting process would be the most exhausting experience of her career. Then came the three-month long audition process for Supergirl.
"I never thought that I would say it, but it was even more intense than Glee," she told Entertainment Weekly. Understanding that the show's executives wanted to find the right person to bring Kara to life, Benoist gave it her all during the three-month process, which she said included multiple screen-tests and auditions. Her first audition was around Halloween 2014, and she landed the part in February 2015.
When she received the call and was told the role was hers, she was overwhelmed with feelings. "Elation, relief, immense joy and then, there was also a huge sense of responsibility that came immediately," she said. "I definitely thought to myself, 'Oh man, you've got your work cut out for you.'"
Melissa Benoist's superhero workout regimen is super intense
To embody Supergirl, Melissa Benoist knew her workout routine was going to go through major changes. Boxing played a big part of her superhero regimen, and she confessed she had to learn how to properly throw a punch. "I don't think I've ever hit anyone before, and so I definitely had to learn technique. Like how to actually punch someone and not hurt yourself more than you're hurting the person you're punching," she told InStyle during the 2015 San Diego Comic-Con.
In addition to boxing, Benoist also focused on core work, Pilates, and plyometrics (jump training), all of which helped her prepare for the show's fight scenes and stunt work. "All of it was really hard, just hard things. And a lot of core work because I have to do the flying stunts. I'm up on a wire and you have to hold your entire body weight, so there's a lot of training involved," she said on CBS This Morning. Clearly how Melissa Benoist got ripped for Supergirl wasn't easy.
Melissa Benoist made her directorial debut in 2020
In 2020, Melissa Benoist added director to her resume. But sitting in the director's chair for the first time, Benoist said she felt terrified. Her fear was met with excitement because she knew she was going to be able to bring her vision for the episode to life. Talking with Entertainment Weekly about her directing experience, Benoist said she was thrilled by the opportunity to do what she wanted to do for the shots.
As an actor and now a director, Benoist utilized her years of experience on the show to help her guide her costars in their scenes. "So it's almost a little unfair because since day one, I've just seen how each character's arc has progressed and changed, and grown," she said. "So that really informed my approach to it all. And really we all just want to tell good stories, and that was my main focus the whole time."
Melissa Benoist admitted she feels pressure portraying a superhero
Stepping into the famous superhero cape and costume was an empowering experience for Melissa Benoist. However, Benoist deeply cares about how she portrays Supergirl as well as how fans respond to her character.
She said she felt pressure to make sure she's portraying a character who is also empowering to the girls and women watching the show. "I want to do right. Of course this is a broad statement, but I want to do right by women. I want to portray someone they can relate to and look up to that's not a trite or a shallow depiction," she told Entertainment Weekly.
Benoist said she wants Kara to be all the things real women are, including "complicated and flawed." She hopes women will think they too could be Kara or Superwoman. Most of all, she hopes the character isn't "campy," but rather is more like real-life. "It doesn't matter if it's women or men I inspire, I just want to inspire people in general to realize their strengths and their potential, and that you can do the things that you feel like are impossible to accomplish," she said.
This is what Melissa Benoist does in her free time that centers her
Passionate about acting and performing, Melissa Benoist also finds peace being at home away from the hustle and bustle of Hollywood. Since she was a kid, she has always found ways to balance both the extrovert and introvert parts of her personality.
Noting that she can be outgoing, energetic, and goofy when surrounded by people, she recognizes that she also likes to be alone. Sometimes time spent alone is rejuvenating. "I love solitude, and I'm not afraid of it," she told the New York Post.
Now, when she has down time at home, Benoist likes to get crafty in the kitchen or at her pottery wheel. "I love sitting at a [pottery] wheel, even if I mess up every piece I'm trying to throw. It's such a meditating and calming feeling; it kind of grounds me," she said.
Melissa Benoist shared a stunt double with this celebrity
From flying to fighting, Melissa Benoist's Supergirl sees plenty of action on any given day on set. The actress loves to participate in her own daring stunts, and it forces her to face some of her fears. "All of them are fun. Some of them are scary," she told Extra.
However, for her safety, she is unable to perform every single stunt. She tries to do as many as she can and is able to, but some of the more complicated and dangerous stunts are left to the professionals as to protect the actors from serious injuries, as she told InStyle.
Fortunately, Benoist's stunt double is super talented and has decades of experience on other hit TV shows. "My stunt double is amazing. She was Jen Garner's on Alias and Buffy's. She's all over the place, and she's so cool. I wish people could see what they go through. It's insane," she said.
Flying isn't easy but Melissa Benoist loves it
Hard work pays off, and that's especially true for Melissa Benoist when it comes to her flying scenes as Supergirl. The physically demanding stunt required training and practice for the actress to get it right.
"The wire work is really difficult, but so fun," she said during a panel at San Diego Comic-Con, as reported by People. "And when you get it right, watching the result is exhilarating." Benoist said it's so cool to see the end result of the flying scenes because she knows what it felt like behind the scenes and how much work it was to nail it.
Benoist, who trained in ballet as a child, credits her dancing background with bringing a certain level of elegance to flying. In an interview with InStyle, she described the differences between Superman's flying, which is strong and "solid", and Supergirl's flying. For her character, she said she tries to bring a feminine strength and grace to the portrayal.
Melissa Benoist is a "musical theater nerd"
In 2006, The Denver Post named 17-year-old Melissa Benoist one of its "Can't Miss Kids," when it highlighted five young local actors who showcased exciting career potential. As a teen, Benoist starred in a number of local theater productions, including Cinderella and Bye Bye Birdie. As noted by The Denver Post, she performed the lead role in a production of Thoroughly Modern Millie during her college days in New York City. All of her stage experience prepared the self-described "musical-theater nerd" for her Broadway debut as Carole King in Beautiful in 2018.
"The stage has always felt like home to me. Carole King's iconic music was a mainstay in my house growing up and now it will be my honor and pleasure to sing her music and portray her inspiring story of resilience every night," she said in a statement to People announcing her casting. "This is wish fulfillment at its finest!"
Yes, even Supergirl has her own bucket list of dreams to accomplish!