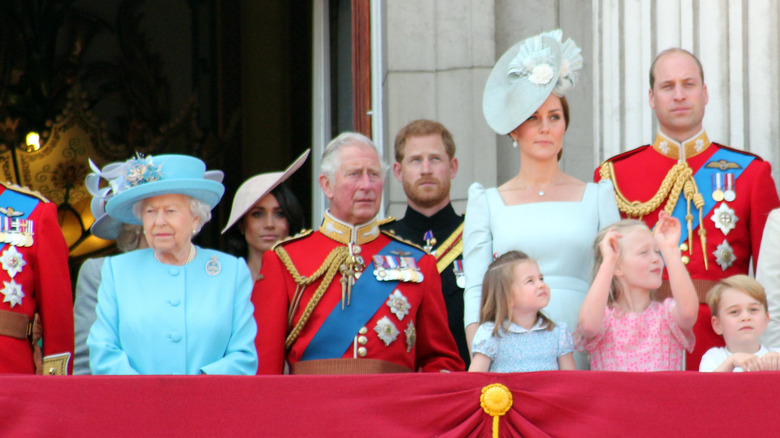 They are one of the most famous families in the world, living in the ultimate lap of luxury and having the highest of standards. The British royal family has it all. From million-dollar weddings to having servants squeeze their toothpaste out for them, as highlighted in the documentary, "Serving the Royals: Inside the Firm." The royal family members don't have to worry about the tedious and minuscule tasks that most people have to deal with in their daily lives. The royals have help with everything.
Sometimes, however, the members of the royal family can be viewed on a human level. There are moments when they are people just like the rest of us — like when Prince Harry hosted a wild party in Las Vegas (via CNN), or when Prince Charles's raunchy phone call with Camilla Parker Bowles was leaked to the press in 1989 (via Esquire). But for the most part, the royal family has privileges that most folks just can't fathom, and one of those privileges is having servants, stylists, chefs, and nannies at their beck and call.
Throughout the years, many royal employees have broken their silence to divulge all the juicy secrets about this aristocratic family that the general public is obsessed with knowing. So, what do royal employees have to say about their job, and what strict rules must they follow?
Royal servants are not allowed to vacuum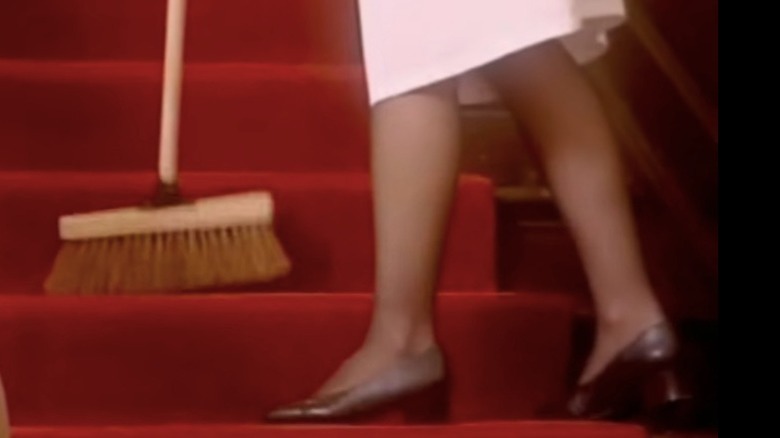 The royal family wants their home clean, but they don't want to hear you cleaning it. The best servant is quiet and invisible. Since vacuum cleaners are loud and distracting, servants are prohibited from using them. Instead, royal staff members are required to sweep all floors, including the carpets. "They want you there but they don't want you there. They want you there because you have to be there. They want you there because they can't manage without you," Peter Russell, a royal servant from 1954 to 1968, explains in the documentary, "Royal Servants: Behind Closed Doors" (via YouTube).
The offensive noise of a roaring vacuum is best avoided in order to give the allusion that royal homes are always pristine and don't need to be cleaned. The royal family hires the most professional roster of butlers and servants in the world and makes even the most ordinary tasks such as cleaning floors a vigorous and meticulous effort for their staff.
Royal servants are not allowed to walk through the center of the carpets
Buckingham Palace is obviously extremely elaborate, with the most expensive furnishings dating back to previous royal families centuries before. Even Windsor Castle is home to the world's biggest dolls' house, commissioned in the early 1920s, notes the Royal Collection Trust. With all this upscale decor, employees of the royal family must tread lightly — literally. In 2003, Mirror reporter Ryan Parry went undercover as a royal footman and discovered what he called "bizarre rules" about walking on the carpets of Buckingham Palace.
According to Parry, junior staff members of the palace are not allowed to walk down the middle of the carpet in order to avoid ruining the threads, while footmen must keep to the "slow lane" or the edge of the carpet. These protocols keep the many people walking through the palace in line. From servants to guests to government officials, Buckingham Palace is like a busy hotel, and with this heavy traffic, the royal family has instated some rigorous law and order.
Royal teas must be checked with a thermometer
The royal family, like most British people, love a good cup of tea. However, the staff serving the royal family have to follow very specific instructions when serving tea to this British clan. According to The Times, Evan Samson, Dumfries House's hospitality manager, exposed that Prince Charles is very particular about how his tea is served when he visits the Palladian country house. When preparing the tea, Evans suggests using a teaspoon measurement of tea leaves per cup and reveals that there must be an exact temperature of 70 degrees Celsius (158 degrees Fahrenheit) for green tea and 100 degrees Celsius (212 degrees Fahrenheit) for Earl Grey or English breakfast tea.
The prince's hot beverage must also be checked with a thermometer before being served, and honey should always be used to sweeten the tea rather than sugar. When serving the tea to the prince, the teaspoon should be situated precisely to the right underneath the handle of the cup.
Royal employees must be readily available but discreet at all times
The royal family needs their servants, but they don't want to have to engage with them. Employees of the royal family are required to "melt into the background" without distracting the family, royal biographer Ingrid Seward told The Sun. While it's always an obligation for staff to be courteous and polite, employees of the British family are expected to be discreet and noncommittal should any royals walk into the room. In other words, don't be seen or heard.
However, even though the royal family has the upper hand, on another level, the employees also have some control. According to former royal butler, Paul Kidd, in "Royal Servants: Behind Closed Doors" (via YouTube), "Once you are in the royal family's home, they are then at your mercy." While royal staff members are supposed to pretend they're not there, the truth is, they are. Therefore, any information that they hear or situations that they witness can be used against the royals if the staff choose to reveal any secrets. So, while there's a strict rule to blend into the background, British royal employees also hold some power in doing so. They are present for conversations and situations that most people would only dream to be a fly on the wall.
Royal nannies are banned from using certain words
Maria Borrallo, the nanny who tends to Prince George, Princess Charlotte, and Prince Louis, trained at the notable Norland College in Bath, England, before being hired to mind the world's most famous children. At this college, students like Borrallo study early years development for three years, Norland Vice Principal Mandy Donaldson told Business Insider. However, as well as learning social and emotional development, students are also taught the importance of vocabulary.
After spending one year studying at Norland to conduct research for a documentary, Louise Heren told the Mirror that there is one word that royal nannies are prohibited from using to describe royal children. "Kids" is strictly off the table — most likely because "kids" are baby goats and an informal way of referring to children, according to Oxford Learner's Dictionaries. Instead, the royal nanny must say "children" or refer to them by their actual names. According to Heren, the word "kid" is disrespectful and dissuades the royal children from being seen as individuals. This makes sense since the royal children are one day going to be very influential people in their own right, with some of them being heirs to the British throne. This practice separates the royal children from being merely youngsters, and, instead, places them in a position of importance and notoriety.
Royal servants must be prepared to stand for hours
According to former royal butler, Peter Russell, his job often consisted of being Princess Margaret's "human ashtray." Even the popular Netflix show, "The Crown," portrayed the princess as a heavy smoker and quite the gluttonous socialite. But unlike most people, the menial task of finding somewhere to dispose of your ashes or cigarette was far beyond the princess' job.
If the princess was at an event for hours with a cigarette in her hand — which was often the case — her servants were required to wait on her with an ashtray in hand for as long as she was there so that she didn't have to think about where to tip her ashes. "At a banquet for instance or a big social function, it meant you had to dance attendance on her all night long by possibly just standing to her left or right with an ashtray so she didn't have to look to see where she flicked her ash," Russell said in "Royal Servants: Behind Closed Doors" (via YouTube).
This prolonged and tedious work is even more interesting when you take into consideration the yearly salary of royal servants. According to Cheat Sheet, servants such as butlers and housekeeping assistants take home salaries around $19,000 per year or $10 an hour, respectively, for looking after the most high-profiled family on the planet.
Turning your back on the queen is considered rude
Although this rule traditionally applies to the staff of the British royal family, it also applies to everyone else who meets the queen. Turning your back on the head of the Commonwealth is considered rude, and most people, apart from the queen's close relatives during informal settings, are advised to walk backwards out of the room in order to show respect to the crown. To avoid tripping when walking backwards, the queen is known to occasionally turn her back first to give people a chance to walk out the easy way.
According to Jane Eastoe in her book, "Elizabeth: Reigning in Style" (via the Daily Mail), milliner Frederick Fox found himself in a predicament when meeting the queen for a fitting. "Her Majesty spotted my dilemma and turned her back on me to ask Bobo [the queen's dresser] to fetch some specific shoes — giving me the opportunity to withdraw," Fox said. However, this age-old royal tradition has become more lenient in the past decade with concerns over health and safety and the fear of Buckingham Palace being sued, according to a Buckingham Palace spokesperson to the Daily Mail.
Employees must give the royal dogs special treatment
Everyone in the British royal family has special privileges — some more than others. But nonetheless, all royal family members have assistance with daily tasks such as laundry, cleaning, and cooking. Not having to mull over and prep three meals a day is a paradise most middle-class people can only dream of. However, in the royal family, it's not just the people that have this advantage — but also the dogs.
The royal chefs are not just required to cook a la carte dishes for the queen and her family. They also have to create fresh-cut meals for the queen's dogs. As well as having their own butlers, the royal pooches are also prepared a variety of luxurious dishes. According to former Buckingham Palace chef, Darren McGrady, one of the first jobs he had at the palace was cooking fresh food for the royal Corgis and preparing their very own menus. The royal Corgi menus consist of cabbage, rice, and a variety of different meat including chicken, beef, rabbit, and liver.
Employees should avoid wearing strong perfume or cologne
Most people wear perfume or cologne to enhance their personal hygiene and to present themselves as more professional and appealing. However, sometimes the wrong fragrance can start a frenzy and warrant a whole new rule to be added to the list of guidelines that employees must follow when working under the royal family. For one particular staff member though, the cologne he chose to wear one day wouldn't go down well with the queen's husband.
According to royal biographer Ingrid Seward to The Sun, royal employees should avoid wearing strong scents. This rule was introduced after one of Prince Philip's footmen wore an aftershave that made the prince sick. According to Seward, the duke of Edinburgh was puzzled as to where the overpowering smell was coming from. Eventually, the origins of the distinct smell was discovered, hence this rule. "I think [the footman] had to stop wearing it — they can't wear overpowering scents," Seward told The Sun. The fragrance in question is still a mystery.
Royal chefs are banned from cooking certain foods
Royal chefs have an incredibly important job — feed the British family every day, make sure that the menu consists of food that they like, and don't poison them. Certain foods are off the table for the royal family and for different reasons. For starters, the queen despises garlic, so the royal staff needs to ensure that this particular food doesn't appear on the menu. "The queen would never have garlic on the menu. She hated the smell of it, she hated the taste of it," former royal chef Darren McGrady told Marie Claire.
Additionally, shellfish are prohibited — not because they are disliked but because they may cause food poising. According to the BBC, the ban on shellfish is to purposely avoid any members of the royal family from experiencing any stomach disruptions and, in turn, affect their royal duties. The palace also restricts rare types of meat, water that's foreign, and food that's too spicy.
However, the ban on royals eating raw fish was reportedly broken by one of the heirs to the thrown. On a tour to the cultural center Japan House on Kensington High Street in London in 2018, Prince William tasted some sushi and claimed that he and his wife love it, reported the Independent.
Royal servants should never say, "Dinner's Ready!"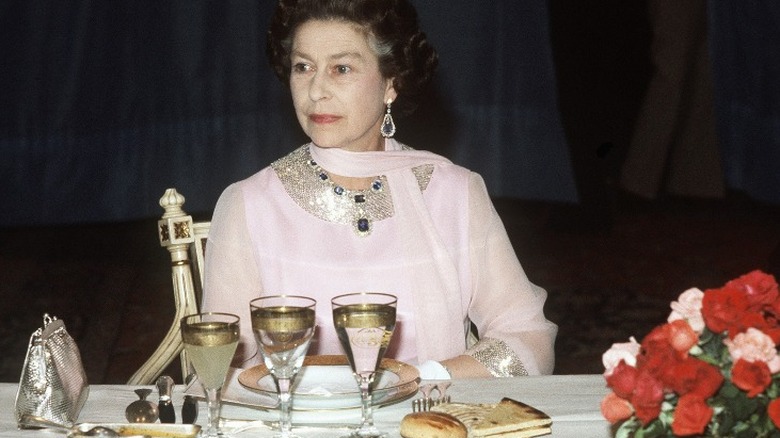 It can be a very daunting experience being in contact with a member of the royal family. How do you act? What do you say? Do you bow? Royals are used to meeting and greeting people and are much more prepared to handle the nerves and excitement of the general public when on trips or tours. However, when you don those infamous tailcoats and top hats, there is a certain code of conduct that royal employees must follow.
No matter what you say when you're speaking to the queen, keep it formal. Former royal butler Paul Kidd, in "Royal Servants: Behind Closed Doors" (via YouTube), recalled accidentally saying, "Your majesty, your dinner's ready." This kind of tone and casual phrase is far too informal when communicating with the queen on a professional level. Instead, the correct way of telling the queen that her dinner is ready is by saying, "Your majesty, dinner is served." Kidd remembers the queen being "slightly irritated" by this.
Royal stylists must consider outfits for everything when traveling, even death
Royal stylists have a demanding job. For every trip, tour, and banquet, the members of the royal family must be styled to perfection as photographers and tabloids analyze their every fashion decision. What's even more demanding is how often the royal family needs to be styled. According to Elizabeth Holmes in her 2020 book, "HRH: So Many Thoughts on Royal Style" (via Insider), all of the queen's outfits are documented, and recycled outfits are spaced out to avoid being targeted by the fashion police. After the queen has worn an outfit a couple of times, it's either rearranged to go with a different design, or it gets worn when she's at home and out of the public eye.
However, with all these fashion rules comes a more serious obligation that all royal stylists must adhere to. According to the Independent, packing a black outfit when a member of the royal family is on a trip is an important rule that royal stylists must follow. This protocol was put in place after the death of the then-Princess Elizabeth's father while she was on a trip to Africa in 1952 but didn't have the appropriate black outfit when traveling back to the United Kingdom. This event was also portrayed in the Netflix original series, "The Crown," in which a black outfit was carried onto the plane on the tarmac with the new queen waiting for it inside.