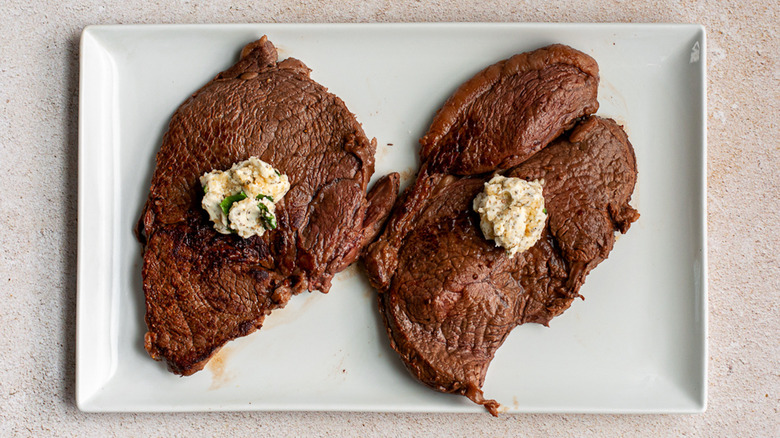 Some people claim that a well-executed steak doesn't need sauce, but everyone has their own preferences. Whether you enjoy dipping your steak into sauce or not, chef and recipe developer Christina Musgrave perfected a tender sirloin steak recipe that can go from stove to table in under 15 minutes. While steak sauce is optional, a homemade herb butter mixture placed on top of each steak in this recipe packs enough flavor to make anyone's taste buds dance.
This recipe makes two servings, so you can share a steak on date night or have two home-cooked meals at your disposal. It won't be long until this meal makes your weekly to monthly rotation. It also won't be long until family members and friends are asking you for the recipe. So get ready to go on a flavor journey consisting of sizzling steak, savory smells, and one to two satisfied appetites. Follow the below steps to prepare two juicy and tender sirloin steaks.
Gather the ingredients to prepare this tender sirloin steak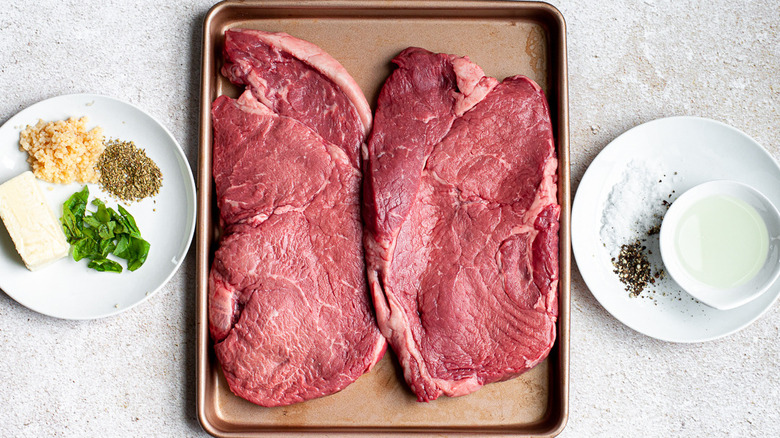 First, you'll need to gather the ingredients for the tender sirloin steak recipe. You'll need salt, black pepper, olive oil, and sirloin steaks. You'll also need butter (unsalted and softened), garlic cloves (minced), fresh or dried basil, and fresh or dried oregano.
In addition, feel free to take this time to prepare a cast-iron or large skillet, as well as a bowl for mixing. If you haven't done so already, now's also prime time to mince the garlic cloves. Once you've crossed all of that off your list, it's time to move on to the next step: seasoning the steaks!
Prepare the steaks
Before you put the steaks on a pan and allow the pleasant aroma that follows grace the kitchen, you'll pat the steaks dry. (Two notes: Paper towels will work like magic, and you don't want to skip this necessary step.)
Next, you'll season the steaks evenly with 1 teaspoon of salt and 1 teaspoon of black pepper. And that's literally it. A good piece of meat doesn't need an overwhelming amount of seasoning in order to reach perfection. Get ready, because it's officially time to cook your steaks!
Cook the steaks
Now that the steaks are seasoned, you'll heat the olive oil over medium heat in a cast-iron or large skillet. You'll then add the steaks to the pan, and cook them for four minutes on each side. This will yield a medium-rare steak.
Although this recipe requires about 10 minutes for cooking, using a thermometer will ensure that your steaks are cooked enough. "A cooking thermometer is always great to use so you know exactly when your steak is done to your liking," Musgrave notes. "[I] definitely recommend using one."
Make the herb butter mixture
While the steaks are cooking, you'll combine the butter, garlic, basil, and oregano in a small bowl, and mix well. Next, you'll put the mixture in the refrigerator for five minutes. "I put it back in the fridge to let it solidify a bit," Musgrave says. "This helps it melt slower, so your plate isn't a mess right when you add the butter to the steak." (Keep in mind that while this herb butter takes absolutely spectacular atop sirloin steak, it's also a great spread to slather on a warm biscuit, fresh out of the oven!)
Add the herb butter mixture to the steaks
When the steaks are finished cooking, you'll remove them from the pan, and place them on a platter to rest. Finally, you'll top each steak with half of the herb butter mixture apiece. It's finally time to dish up the steak, dig in, and enjoy!
If you're looking for a side dish to serve with your sirloin, it's hard to go wrong, as many sides pair well with steak — yet we still have you covered. "This is great with salad, steamed vegetables, or mashed potatoes," Musgrave says.