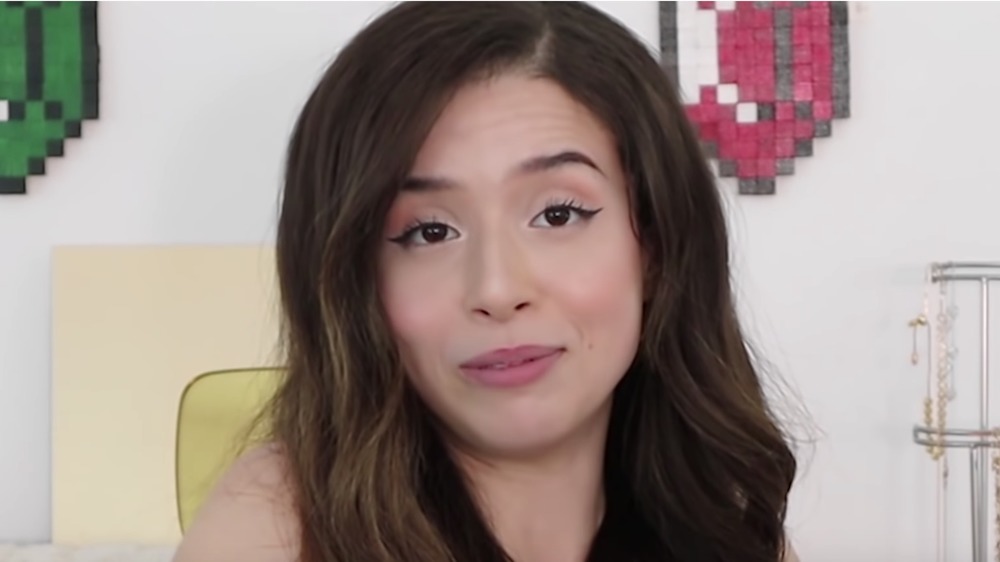 Makeup has long been a polarizing topic, a trend that has carried over into the world of streaming where female gamers have reported dealing with harassment and a number of other harsh realities. As the presence and treatment of women in gaming has gained increasing scrutiny, many of Twitch's most popular female streamers have taken part in a growing trend: posting no-makeup videos or selfies.
The motivations behind these reveals vary. Some streamers have taken the plunge in effort to support fellow female content creators or the Twitch community as a whole. Others merely seem to want to offer their viewers and fans a more candid look at their everyday lives. Whatever the reasoning, a number of Twitch stars have hopped on the bandwagon. Here's a peak at what some of these streamers look like without makeup, as well as the situations that led them to take such a step despite the potential backlash.
Pokimane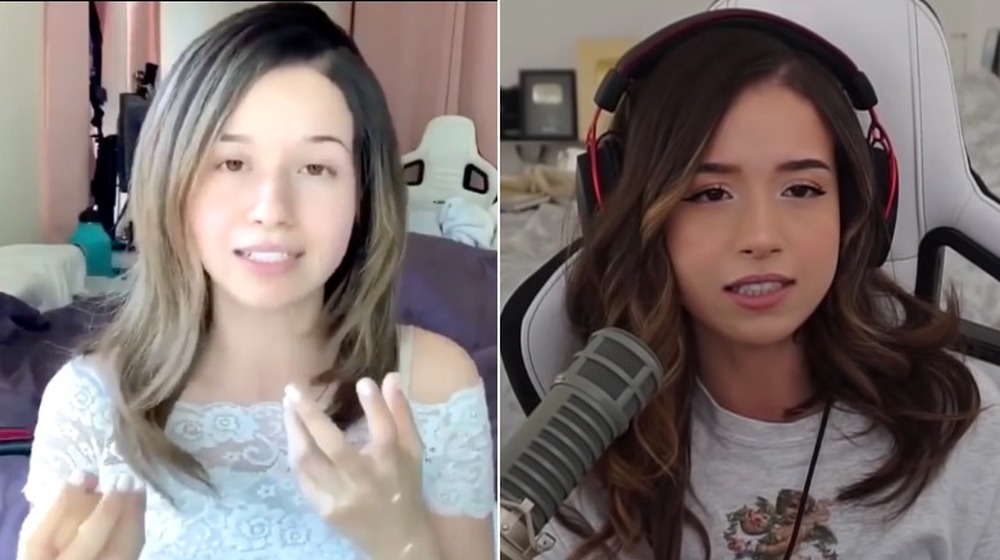 Imane Anys, a.k.a. Pokimane, remains one of the world's top female streamers after rising to fame and fortune through her League of Legends and Fortnite plays. In 2018, she caused a bit of a stir by streaming sans makeup in support of another Twitch streamer, even going through her makeup routine for the benefit of viewers and predicting that there would be backlash. The stream, which has since been removed, set off a Twitter conversation about unrealistic expectations and the accessibility of women streamers.
As part of the discussion, Pokimane said that she was at peace with her own imperfections. She also tweeted out another set of makeup free selfies with the caption, "No one looks good 24/7, and a lot of different things can affect someone's appearance! We're all only human, so let's be kind to one another."
KittyPlays
KittyPlays, whose real name is Kristen Michaela, has 1.1 million followers on Twitch. She isn't necessarily in Pokimane's league — but she has attracted a large number of devotees by playing Fortnite, Fall Guys and Among Us. Like several other female streamers, she's done a makeup tutorial or two, showing the before ("even if you're having the worst skin issues in your whole life") and after so fans can see her looking both natural and put together.
KittyPlays believes women should learn what makes them feel the best and express themselves that way. "It's time to start showing the world that the gaming women are extremely dynamic. We are very special," she said in a makeup tutorial from 2019. She urged others to figure out what they can bring to the Twitch community: "how you can change the meta and how you can improve on it and explore it," as she put it.
InvaderVie
With 185,000 followers, Twitch streamer InvaderZie hasn't quite hit the big leagues — but that doesn't mean she isn't making waves. She lost a bunch of her fans earlier this year when she aired a rant shaming viewers who don't donate or subscribe. Still, she also drew some attention from bigger streamers. Those included Pokimane, who weighed in on the controversy in a series of tweets.
InvaderZie's Instagram feed is full of selfies, both of her in daily wear and cosplay outfits. In one, she looks like she has just showered and the caption reads, "This is no make-up." The moment appears to be a rare exception to her usual routine, however. As a self-proclaimed former professional Disney princess, it's clear she knows her way around an eyeshadow palette.
LilyPichu
Lily Ki, known as LilyPichu on social media, has been streaming for more than a decade. She plays games like Minecraft, Among Us, and League of Legends, and has gathered 1.6 million Twitch followers. In the past, she's clearly been unafraid of showing off her less serious side, as she even posted a selfie to Twitter of herself in bed while wearing a Pokimane t-shirt, with whom she worked and lived at the OfflineTV content house.
For Lilypichu, going without makeup is more normal than some other female streamers. You often see her hosting videos in the form of a cute anime-style avatar instead. She said in a recent Twitch video that she tries to do a feed once a week in which she's wearing nice clothes and cosmetics. According to her Instagram feed, she's also been experimenting with different cosmetics, so fans may get to see more of her makeup looks.
Neekolul
Twitch partner Neekolul began her Twitch streaming career in 2017 with Fortnite, but soon moved on to other games, including League of Legends and Dead by Daylight — although today she mostly seems to play Among Us.
You may know Neekolul as "the OK, Boomer girl," who became Internet-famous for her political support of presidential candidate Bernie Sanders. She went viral on TikTok with a singing and dancing video first, and her popularity gained her hundreds of thousands of followers on the platform. However, she made additional news when she lost many of her new viewers after revealing on Twitch that she has a boyfriend.
In 2019, she posted a couple of selfies to Twitter taken from her car, saying, "Some no make up selfies to scare u today." In the past, she has also been accused of wearing too much makeup, but quickly dismissed those concerns over social media.
Adept
Adept, whose 275,000 Twitch followers like to watch her play Overwatch, Among Us, and In Silence, is no stranger to streaming without makeup. In fact, she posts occasional makeup and skincare content, which means there are definitely images of her out there with an unpainted face. This has unfortunately opened her up to criticism from viewers.
"There's a whole-a** video of me without makeup on," she said in a Nov. 1, 2019 stream after discovering Discord users were passing around one of her no-makeup screengrabs (via Dexerto). "There's tons and tons of makeup streams of me with no makeup on. We all established I'm ugly. Stop trying to use the one screenshot to justify that I'm ugly." Adept further criticized the individuals in question, saying that the screenshot "doesn't make me as ugly as you are."
Adept is clearly skilled at putting on cosmetic products, but she also has a sense of humor about makeup mishaps. In October 2020, she posted on Twitter about getting a concealer wand shoved up her nose. While one of her male followers seemed a bit confused as to what she was talking about, her female fans could probably relate.
HoneyPuu
Koblenz, Germany's Isa, also known online as HoneyPuu, is a Twitch streamer who has a ways to go before she catches up with some her contemporaries. Nevertheless, she's attracted an impressive 81,600 followers to date. Since 2019, she has streamed mostly League of Legends, although she also plays Call of Duty: Warzone, Among Us, and Sims 4, among others.
HoneyPuu's popularity may be somewhat limited in the U.S. because she doesn't speak English in her videos, but she, too, jumped on the clean face bandwagon when she posted a no-makeup, unfiltered selfie to Instagram in August 2020. On the About section of her Twitch page, the streamer describes herself as a 20-year-old woman who loves cats (hers are named Clea and Simba). In addition to wearing makeup, HoneyPuu also sports small tattoos and has spoken about them in her livestreams.
Dessyyc
While Dessyyc might not be the absolute biggest name on Twitch, she is blowing up on TikTok. With over 3 million followers on the video-sharing platform, the 25-year-old Canadian cosplayer and gamer has plenty of clips of her in full cosplay makeup, and her fans love it. Even when she's streaming "Valorant" or "Overwatch" to her 26k Twitch followers, she generally has a full face of makeup on.
However, she shows her bare face frequently on TikTok. Dessyyc posts fun transition videos quite often, showing the process of going from no makeup and casual clothes to a full cosplay getup in just a few seconds. She also does makeup tutorials on her YouTube channel, showing viewers how to do specific cosplay looks. Her tutorials are made to be relatively easy to replicate, as well. Instead of focusing on specific makeup palettes that could cost a lot of money, she takes her time to explain different colors and techniques.
She has made videos on special effects makeup that are chilling. Through her content, Dessyyc has shown that she's quite talented, but she's not afraid to show the world her natural look, either.
DizzyKitten
DizzyKitten, a variety Twitch streamer with over 600k followers, shared her no-makeup look with fans a few years back. During the stream, she talked about how weird it was to see herself without eyeliner on camera because of how much it "changes the way you look." However, despite any reservations she might have had, she was all laughs and giggles throughout the stream, and the Twitch chat was full of support.
She also mentioned that her face pretty much looks the same if she wears any makeup that's not eyeliner, which is the one product that she felt made a noticeable difference. Ultimately, she ended up doing her makeup on stream to show fans her process and her favorite products.
DizzyKitten mostly streams games or "teatime" streams, as she calls her Just Chatting streams. She's also a popular ASMR streamer. She's been streaming since 2013, and judging from her vulnerable and fun makeup tutorial stream, she had no problem with being open with her fans.