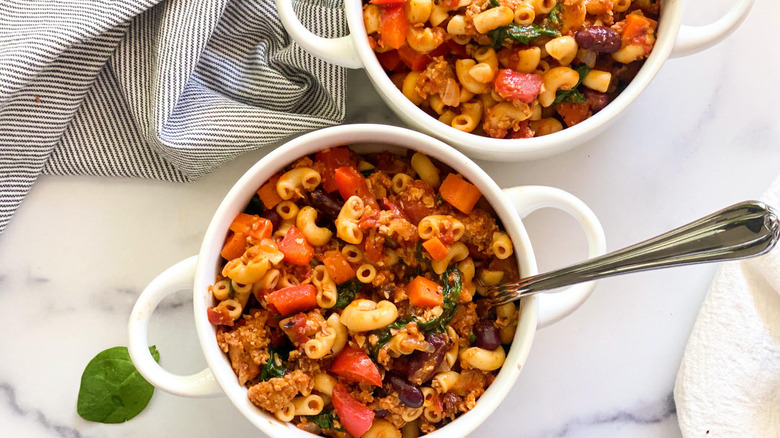 What if we told you that you could make a macaroni-based dish that is full of plant protein, teeming with vegetables, and is super delicious? Now that we have your attention, let us introduce you to this great fire-roasted chili mac. Not only is the dish packed with plenty of spices that give it a tremendous flavor, but it's also full of tomatoes, carrots, and kidney beans. That's right … it's filling, and it won't make you feel guilty about eating it. Sounds pretty good to us!
Wellness coach and recipe developer Miriam Hahn of Youcare-Selfcare came up with this delightful recipe that is great to please a crowd, the family, or just yourself. "What I love most is that it is super delicious and can be made plant-based, making it healthier," Hahn shares. "It is something that can be made ahead, making it a great meal prep meal. It is so nice to have on hand for a quick lunch or dinner."
Keep reading to find out how to make this yummy fire-roasted chili mac.
Gather the ingredients
There are just a few items that you'll need to make this fantastic fire-roasted chili mac. Of course, the most essential thing on your list is the base, aka the macaroni. You'll also need an onion that you can buy pre-chopped or chop yourself at home as well as garlic, minced. Finally, add a package of Beyond Meat Italian Sausage. Alternatively, you can use regular sausage –either way, make sure the casing is removed.
You'll also need fire-roasted tomatoes, water, tomato paste, and a vegetable bouillon cube. In terms of spices, pick up some chili powder, smoked paprika, salt, and pepper. To complete your list, add carrots, a red bell pepper, a can of kidney beans, and fresh spinach.
Now, let's get cooking.
Cook the pasta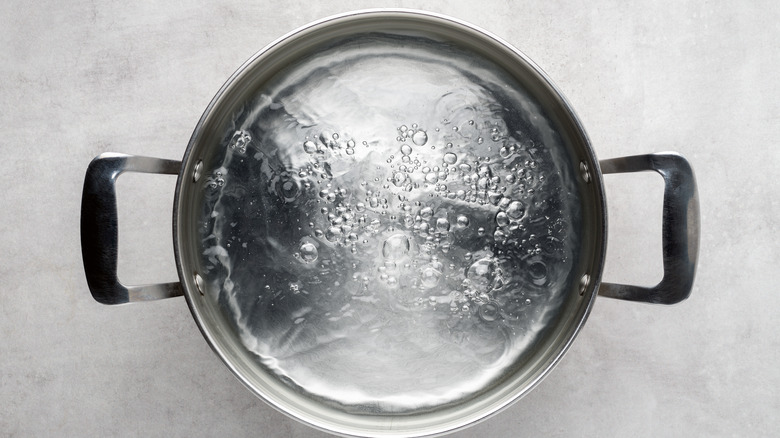 For the first step in the cooking process, it's time to get your macaroni going. As every brand offers slightly different cooking instructions, follow the back of the box to see how to cook the macaroni. Remember to reduce the cook time by two minutes since you'll cook it a little more later.
When the pasta finishes cooking, you can drain it and set it to the side. If you're good at multi-tasking, you can go ahead and move to the next step while the macaroni cooks.
Cook the sausage and onion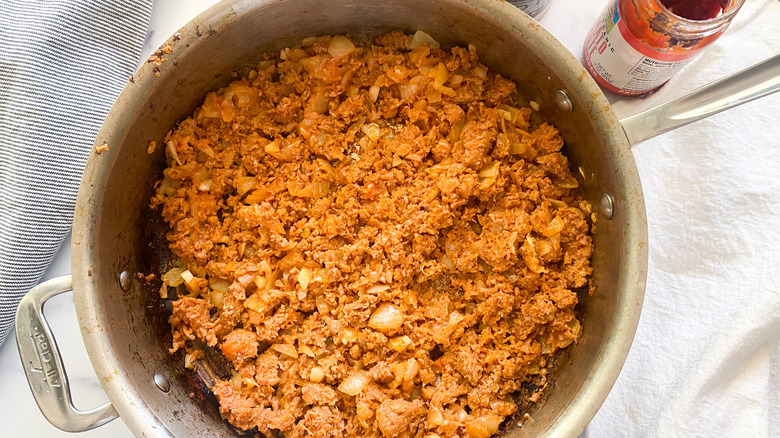 Take out a skillet and add in the onion and garlic with a little water or oil. "When you sauté, you can use a deep skillet or a stockpot," Hahn says. "Either one works fine." You'll also want to be sure to put in either water or a little bit of oil, so the onion doesn't stick to the bottom. Sauté the mix for about 5 minutes. By now, your kitchen should be smelling pretty good.
Once the onions cook for 5 minutes, toss in the sausage. Use a wooden spoon to break it apart, so it cooks more evenly. Then, put your burner on medium-high and continue cooking until it's all broken down.
Add the tomatoes and other ingredients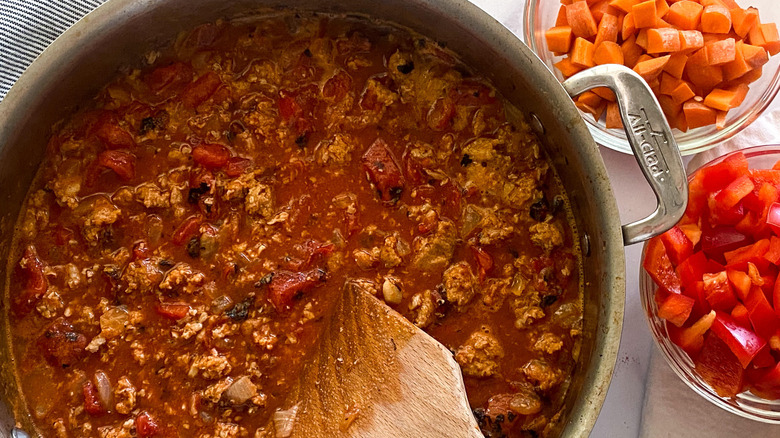 Once you break the sausage down, it's time to add just about everything else to the skillet. Go ahead and toss in the fire-roasted tomatoes. Remember, you don't need to drain them ahead of time as the extra liquid is suitable for this dish. At this time, you can also throw in the tomato paste, bouillon cube, chili powder, smoked paprika, salt, and pepper. Bring the mixture to a boil.
Next, throw in the carrots and red bell pepper. Continue to cook everything on high until the carrots are done, about 8 minutes.
Add the beans and spinach and enjoy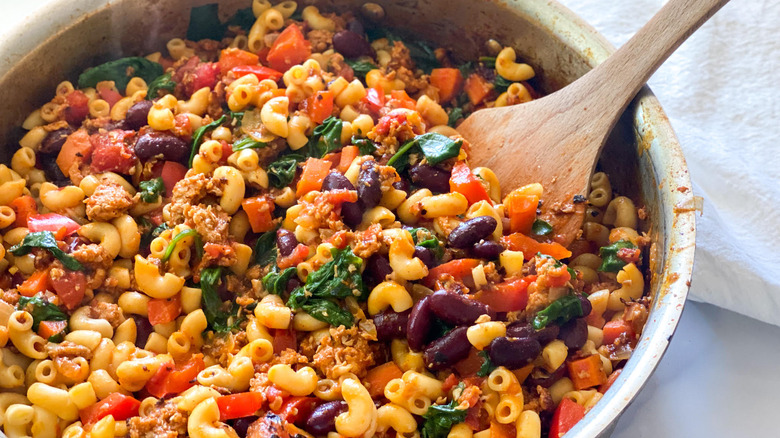 In this step, you can dump in your drained and rinsed kidney beans, cooked pasta, and spinach. "You can actually lower the heat when you add the spinach and beans. You are no longer cooking, just wilting the spinach and warming through the beans," Hahn says. Then, continue to cook the entire mix until the spinach wilts.
Now, it's ready to be served. As always, you can use a serving dish of your choice. For example, this chili mac would make a great main course, but it could also be served on the side. "It has so much in it that you don't really anything to go alongside it but a green salad complements it well," Hahn shares. Enjoy!
8 ounces macaroni
1 onion, chopped
2 cloves garlic, minced
1 (14-ounce) package of Beyond Meat Italian Sausage (or regular sausage), casing removed
1 (14.5-ounce) can fire-roasted tomatoes, undrained
14.5 ounces water (you can fill the tomato can with water)
2 tablespoons tomato paste
1 vegetable bouillon cube
1 teaspoon chili powder
1 teaspoon smoked paprika
1 teaspoon salt
¼ teaspoon pepper
2 carrots, diced
1 red bell pepper, diced
1 (15-ounce) can kidney beans, drained and rinsed
3 cups spinach
Boil water and cook the pasta, decreasing the cook time by 2 minutes. Drain when done.
While the pasta is cooking, sauté the onion and garlic in a little water (or oil) in a deep skillet or stockpot for about 5 minutes.
Add in the sausage and break it apart with a wooden spoon. Cook for a few minutes on medium-high until it is all broken down.
Add in the tomatoes, the can of water, tomato paste, bouillon cube, chili powder, smoked paprika, salt, and pepper. Bring to a boil.
Now add the carrots and red bell pepper. Cook on high for about 8 minutes until the carrots are done.
Add the beans, cooked pasta, and spinach and adjust heat to low. Stir until spinach wilts.
Serve in individual bowls and enjoy!