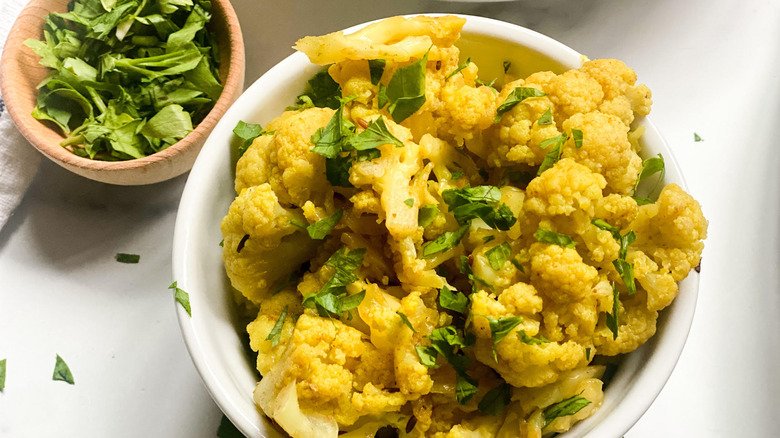 Let's be honest: cauliflower isn't the most exciting vegetable in the world. Sure, it's packed with nutrients. In fact, according to Healthline, it's "an extremely healthy vegetable" that is packed with vitamin C, is a fine source of vitamins K and B6, has a decent amount of folate, potassium, and manganese, and delivers three grams of fiber per mere 25-calorie serving. But when it comes to flavor, cauliflower on its own is hardly exploding at the seams.
But that's a good thing, not a drawback. Why? Because cauliflower is one of those foodstuffs that positively drinks in flavors when it's exposed to them. And this recipe from chef and recipe developer Miriam Hahn of Youcare.Selfcare exposes this healthy veggie to a huge amount of flavor. Think flavors like coriander, garlic, garam masala, turmeric, onion, and more.
Don't worry, while this recipe is big on flavor, it's small on difficulty. In fact, Hahn says, "This is a super easy recipe [that's] definitely beginner level as long as you know how to use the Instant Pot." And in case you wanted a second opinion on the health benefits, she adds, "Cauliflower is a cruciferous vegetable and offers so many health benefits. I usually buy a couple of cauliflower heads per week and cook them different ways." So if you like this one, then a new world filled with cauliflower may be opening up for you!
Gather your ingredients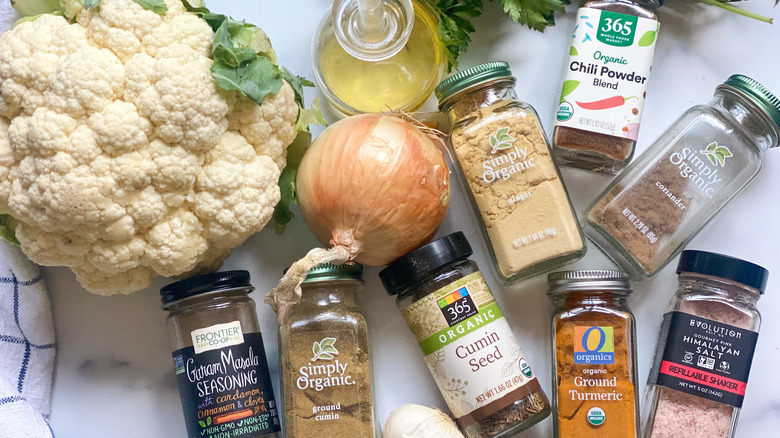 To make this super healthy, refreshingly easy, and absolutely delicious dish, you'll need about a tablespoon of oil (think avocado oil or just a vegetable oil), cumin seeds, a chopped onion, a chopped garlic clove, one tablespoon each of coriander and ground cumin, a teaspoon of salt, a half teaspoon each of garam masala, chili power, turmeric, and ginger powder, a head cauliflower chopped into medium size florets, a cup of water, and about a quarter of a cup of fresh cilantro, chopped for garnish.
And in case you're wondering, garam masala is a spice blend of cardamom, cinnamon, cloves, cumin, pepper, and coriander, and it's the star of the dish despite the mere half teaspoon used.
Chop, measure, and start the sautéing
First things first, measure your spices, make sure your garlic and onion are chopped, wash and slice your cauliflower, and then get cooking. Actually first, a note from Hahn, who tells us that "The only mistake to avoid would be cutting the cauliflower too small. You want medium florets (or even large) because they do get soft when cooking and break apart."
Start the cooking by adding the oil to the Instant Pot and selecting the Sauté mode. Once the Instant Pot is hot, add the cumin seeds and cook them for 1 or 2 minutes, until they start to sizzle and brown. Now add the chopped onion and garlic.
Cook these ingredients for 5 minutes, stirring occasionally. And while those are cooking, combine the coriander, cumin, salt, garam masala, chili powder, turmeric, and ginger powder in a small bowl and stir them together.
Add the cauliflower and spices and pressure cook everything
Now it's time to add the cauliflower to the Instant Pot. Then sprinkle the spice mix over it and stir well to combine everything. Then add the water and stir it all again. Next, select cancel to stop the Sauté setting.
Next, secure the Instant Pot lid and make sure the nozzle on the lid is set to Sealing. Then select Pressure Cook and set the time to 2 minutes. The Instant Pot takes about 15 minutes to reach full pressure — at that point, the cook time will begin and the time will start to count down on the front panel. If you have not done so already, now is a good time to chop that cilantro.
Let off the steam, then serve topped with cilantro
Once the timer goes off, carefully change the nozzle on the Instant Pot to Venting and stand back, as a large amount of steam will shoot out of the top of the device. Then remove the cauliflower from the Instant Pot with a slotted spoon, top it with the cilantro, and serve.
Ah, but how best to serve this delicious gobi masala? Hahn says, "I usually add this to a Buddha bowl that has a mix of other veggies, tofu, and beans, but it makes a great side dish for any meal. You can serve it with chicken or meat. Or you can serve it over rice with a curry dish. [It's] also great with eggs or a tofu scramble."
And in case you have leftover, she adds, "You can store this easily in a sealed container and just reheat it on the stove or in the microwave [and] it should last fine for several days."
Getting sick of roasted cauliflower? This delicious gobi masala packs a powerful flavor punch, perfect as a side dish or paired with a protein.