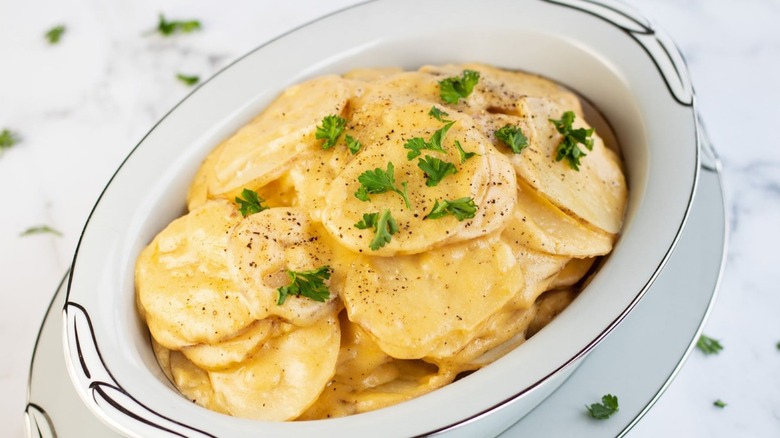 Au gratin potatoes are the ultimate rich, umami-heavy accompaniment to a nice, juicy steak. Come to think of it, there are few, if any, proteins we can imagine wouldn't taste divine with a side of au gratin potatoes. Think about it: scallops, roast chicken, Impossible sausage with au gratin potatoes? If only you had the time to sit around for 90 minutes while your stove works its magic, you could swimming in au gratin potatoes on a daily basis. But wait! We've got a solution. Bake It With Love's Angela Latimer has devised a way to use a slow cooker to make au gratin potatoes!
Since Latimer's recipe involves a slow cooker, the cooking time, will, of course, be longer than if you were using your oven. But the beauty of a slow cooker is it allows you to set it and forget it — in this case for three hours, although it might take as much as another hour for the potatoes to cook all the way through to tender perfection. That being said, when it comes out of the slow cooker, you'll have potatoes au gratin for eight, which you can justifiably claim took four hours to make, though the fact is you'll have spent about 15 minutes of active time, total. Not bad, eh?
Gather the ingredients for these slow cooker au gratin potatoes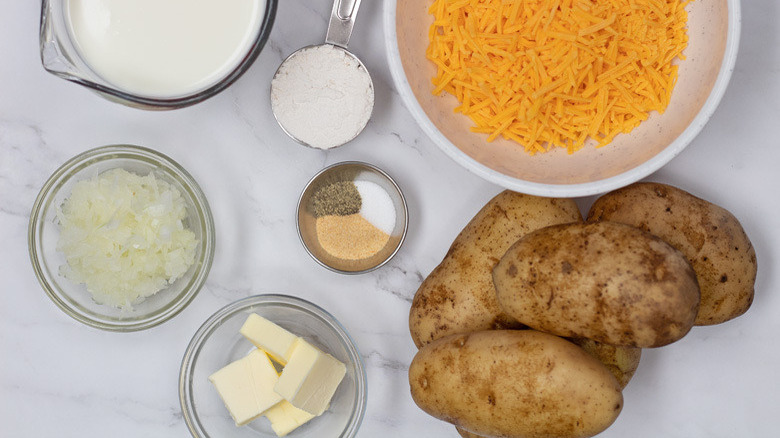 To make Angela Latimer's slow cooker au gratin potatoes recipe, you'll need three pounds of russet potatoes, although Latimer says it's fine to substitute Yukon Gold potatoes for this purpose. These are going to end up being sliced very thin, so you're also going to need either a mandoline, which is a game-changing trick to perfectly cooked scalloped potatoes and is Latimer's personal tool of choice, or a food processor with an ⅛-inch thin-slice blade, or a sharp chef's knife. We'll get into more of that in a bit, after we finish collecting our ingredients.
In addition to your potatoes, you will also need four tablespoons of butter, one small yellow onion, preferably grated (but diced will work well too), a quarter cup of all-purpose flour (don't worry about sifting for this recipe), two cups of milk (whole or 2% please), two teaspoons of garlic powder, half a teaspoon each of salt and freshly ground pepper, plus more to taste. And of course, you will need cheese. Two cups of grated cheddar cheese, to be specific, although Latimer points out that you can use a variety of different cheeses instead. "Colby Jack is great for melting and less greasy. A combo of cheddar and Monterey Jack is also great. Sharp cheddar is quite tasty. And Gruyère cheese is a real treat!" according to Latimer.
Chop chop! It's time to prep and slice your potatoes
After you've rinsed your potatoes and cut off any visible shoots, the next obvious question is, as Angela Latimer puts it, "To peel or not to peel?" Latimer's answer is that it's totally up to you. "It's totally a personal preference!" What is more important — because it affects cooking evenness — is that your potato slices be uniform in thickness. "The slices should be about an eighth of an inch in thickness," Latimer said.
Latimer likes to do this kind of precision cutting using a mandoline. If you have a mandoline, and you've used it before, then what else is there to say except "get slicing"? If you've never used a mandoline before, Latimer points out that it is absolutely necessary to use the hand protector/guide shown in the photo, one of which should come with your mandoline. A cut resistant glove can offer another layer of protection, but not everyone bothers. Ultimately, Latimer suggests that if this is your first time using a mandoline, then do read the manufacturer's instructions carefully.
If you don't have a mandoline, a food processor with an ⅛-inch slicing blade is fine. And if you decide to use a chef's knife, Latimer recommends slicing each potato in half lengthwise, then cutting those into half-moon slices.
Melt the butter and cook the onions
After you're done slicing the potatoes for your slow cooker potatoes au gratin, you'll want to turn immediately to putting the au gratin sauce together. Start by spraying the inside of your slow cooker's cooking vessel/pot with cooking oil or non-stick cooking spray. Then, in a medium-sized saucepan, heat four tablespoons of butter, add the onion, and sauté until the onion is tender and fragrant, stirring with a wooden spoon as you go. This should take no more than two minutes if your onions have been grated. If they are diced, it might be another minute or so.
Add flour and milk to turn those buttery onions into a sauce
In order to transform those sautéed onions you just made into your the gratin sauce for your potatoes, you will need to add the flour. Do so all at once, and then whisk until all of the flour is moistened. It's okay if it's clumpy. Then gradually whisk the milk into the flour and onion mixture, adding one third of the milk at a time. Whisk until the milk is fully incorporated, and then add the garlic, salt, and pepper, and continue cooking, whisking occasionally, until the sauce begins to thicken. Then remove the saucepan from the heat.
Add the cheese
After moving your saucepan containing your au gratin base to a heat-proof surface, immediately add all of the cheese, and stir until melted. Now, a word about cheese from recipe developer Latimer: As much as it might be tempting to use a package of pre-grated cheese, it's best to do the grating yourself. "Packaged shredded cheeses, while convenient, do not melt as well as freshly grated cheese," Latimer pointed out. "They are treated to prevent the cheese from clumping. Also, packaged shredded cheese tends to yield greasier au gratin potatoes."
After all the cheese has melted, your beautiful, delightfully scented au gratin sauce will be all ready. Set it aside for the moment as you prepare the slow cooker with the potatoes.
Arrange your potato slices in your slow cooker
Now is the time to place your thin potato slices in the slow cooker pot, which you've already coated with cooking oil or spray. Latimer's recommendation is to arrange the slices in three layers, as follows: Add a first layer, and then add a couple of turns of freshly ground pepper on top. Then add another layer, and more freshly ground pepper. And finally, add a third layer, and another couple of turns of freshly ground pepper.
Pour in your au gratin sauce and turn your slow cooker to high
The final step is to pour the cheese over your layered potatoes, and then gently shake the cooking vessel from side to side on your counter to encourage the sauce to slide down through the layers. Whatever you do, don't stir.
Now, set your slow cooker to high for three hours. At the end of three hours, check to see if the potatoes are tender. If not, continue cooking them for up to an hour more. When the potatoes are perfectly tender, turn off the heat. This is an important step if your slow cooker has a default warming setting. Allow the potatoes to cool for 15 to 20 minutes, during which time the sauce will thicken. Then garnish with more freshly ground black pepper and chopped fresh parsley or chives, if desired, and serve.
4 tablespoons butter
3 pounds russet potatoes
1 small yellow onion, finely diced or grated
¼ cup all-purpose flour
2 cups whole or 2% milk
2 teaspoons garlic powder
½ teaspoon salt
½ teaspoon freshly ground pepper
2 cups grated cheddar cheese
Chopped chives
Chopped fresh parsley
Wash the potatoes and evenly slice them into ⅛-inch slices.
Coat the inner pot of your slow cooker generously with cooking oil or non-stick cooking spray.
In a medium saucepan, melt the butter over medium-low heat and add the onion.
Sauté the onion until the it's tender and fragrant.
Add the all-purpose flour, and whisk to combine until moistened.
Gradually whisk the milk into the flour mixture a third at a time, until fully incorporated.
Add the garlic, salt, and pepper, and continue cooking, whisking occasionally, until the sauce begins to thicken.
Remove the saucepan from the heat, then add the grated cheese and stir until the cheese has melted.
Arrange the potato slices in your slow cooker in 3 layers, adding a couple of turns of freshly ground pepper between each layer.
Pour the cheese sauce over the potatoes, then shake the slow cooker to gently to allow the sauce to settle through the layers without stirring.
Cook on high for 3 to 4 hours, until the potatoes are tender.
Turn the heat off completely and allow the au gratin potatoes to cool for 15 to 20 minutes before serving.
Garnish with more freshly ground black pepper, and chopped fresh parsley or chives if desired.