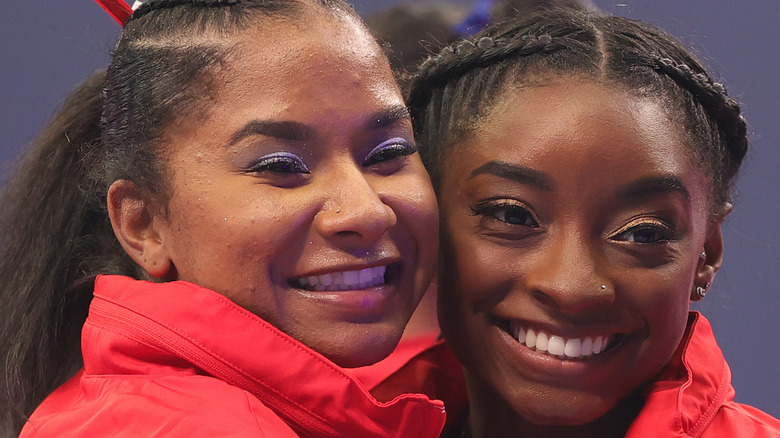 It's official — the 2020 Tokyo Olympics are finally here. After a year's delay due to the outbreak of COVID-19, fans all over the world can finally celebrate the return of one of the world's most popular sporting events. This year, the U.S. is sending its second largest team of all time, with 613 athletes set to compete (via NBC). Whether you're a fan of soccer, gymnastics, basketball, swimming, or even skateboarding, this Olympics will have something for everyone.
With so many American athletes heading to Tokyo, you may be feeling a little overwhelmed — how on Earth can we keep up with all of the incredible people representing the country? Well, we've got you covered. From Simone Biles to Allyson Felix, we've found out some interesting details about all of the biggest female stars at this year's Games. Here is the truth about the U.S. Women's Team heading to this year's Olympics.
There are more women from the U.S. in the Olympics in 2021 than ever before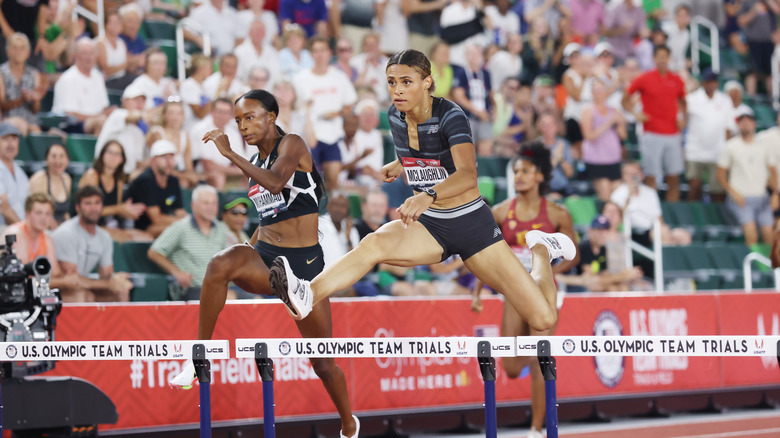 It's no secret that the sporting world in general tends to discriminate against female athletes. After all, women weren't even allowed to compete in the Olympics until 1900 when only 22 women appeared. Since then, women have slowly but surely gained more and more equality in the Games. This year marks a special milestone for the US team — with 329 women set to appear in Tokyo, this will be the most American women ever to compete. Plus, it will be the third year in a row that American women outnumber American men at the Olympics (via NBC).
Of course, the Olympics still have a long way to go before discrimination against women is gone for good, especially when it comes to coverage. After noticing gender bias in 2016, for instance, U.S. gymnastics powerhouse Simon Biles said, "I'm not the next Usain Bolt or Michael Phelps. I'm the first Simone Biles" (via Sporting News). With more American women competing than ever before, there's never been a better time to support our female athletes in their own right.
There are 12 moms from the U.S. on the Women's Olympic Team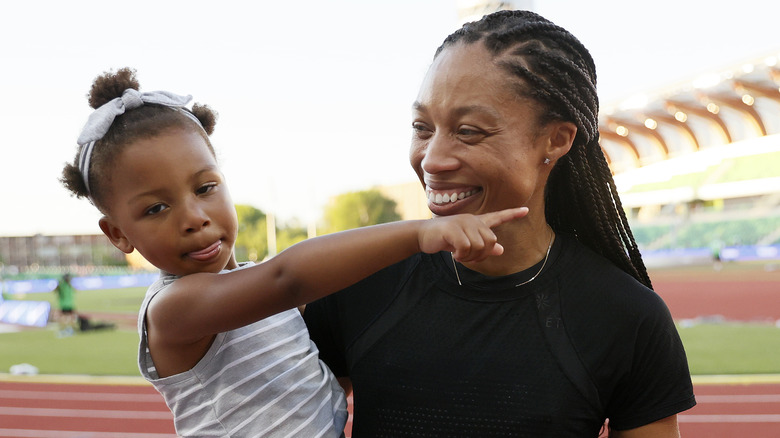 Not only are there more U.S. women on the Olympic team than ever before, there is also an impressive number of Olympian mothers on the team. According to NBC, 12 mothers are heading to the Games in Tokyo.
As Runner's World reported, being a mother and an Olympian isn't easy — not only do these athletes have a lot on their plates, they also have to deal with discriminatory restrictions and microaggressions. One small win for mothers came when the organizers of the Games finally announced in June 2021 that nursing mothers would be allowed to bring their babies to Tokyo (via The Washington Post). American runner Aliphine Tuliamuk wrote on Instagram, "What a relief it feels not to have to imagine my breastfeeding daughter being miles away from me. Many thanks to the IOC President Thomas Bach for reading and responding positively to our letter petition[ing] our daughter to join us." It's wonderful to see that the Olympic committee is taking women's equality seriously this year.
The moms of the U.S. Women's Gymnastics Team couldn't be prouder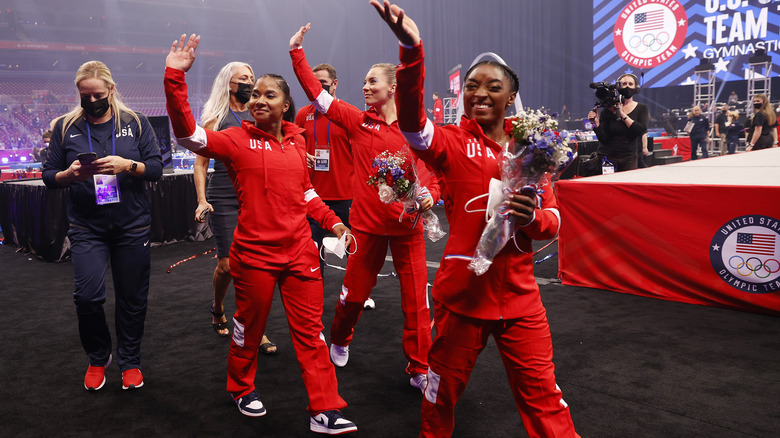 For many of us, it's hard to imagine even being a mother — now imagine being the mother of an Olympian! For every member of the famous U.S. Women's Gymnastics Team, there is one incredibly proud mother.
Today spoke with the six mothers of the U.S. Women's Gymnastics Team to find out what it felt like to see their daughters head off to Tokyo. Kim Skinner, mother of MyKayla Skinner gushed, "It's totally amazing," while Gina Chiles, Jordan Chiles' mother, said, "Every moment that I watch Jordan is the most amazing moment as a mom."
Not only are these six moms proud of their daughters, they're also proud of themselves for helping them get to Tokyo. After all, each of the young women has been part of the gymnastics community since she was young — and that's a lot of hours in the gym. Luckily, their sacrifice paid off!
The U.S. Women's Soccer Team is going into the Olympics after a winning streak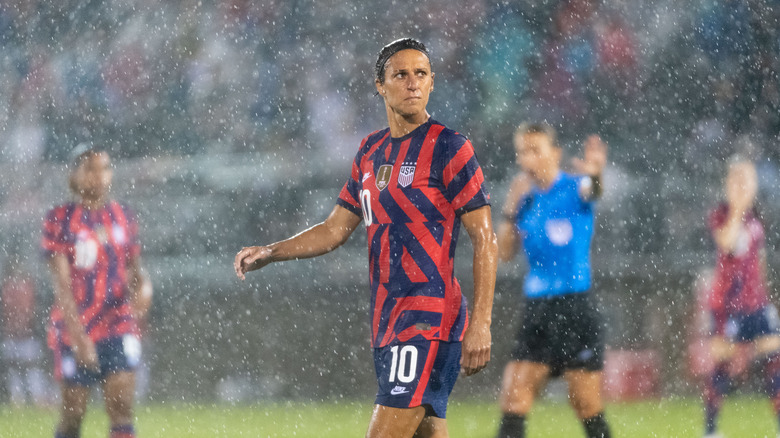 Hopes are pretty high for the U.S. women's soccer team at the 2020 Olympics in Tokyo. In fact, this team is entering the Olympic Games on the back of an impressive winning streak. As The Guardian reported in July of 2021, the women beat Mexico 4-0, meaning they are going into the Olympics undefeated in 44 matches. As of 2021, this is the team's second-longest winning streak ever.
The team's coach, Vlato Andronovski, said, "I feel like we are moving in the right direction and slowly but surely fulfilling all the tasks necessary to be fully prepared for the Olympics." In an interview with The Philadelphia Inquirer, team member Carli Lloyd echoed her coach's optimism, saying, "I think this is the first time in my career where I'm entering a major tournament feeling, physically and mentally, more prepared and ready than I ever have been." Hopefully, they can keep up their winning streak throughout the tournament — by the sound of things, American soccer fans certainly have a lot to look forward to.
Simone Biles and Jordan Chiles share a coaching team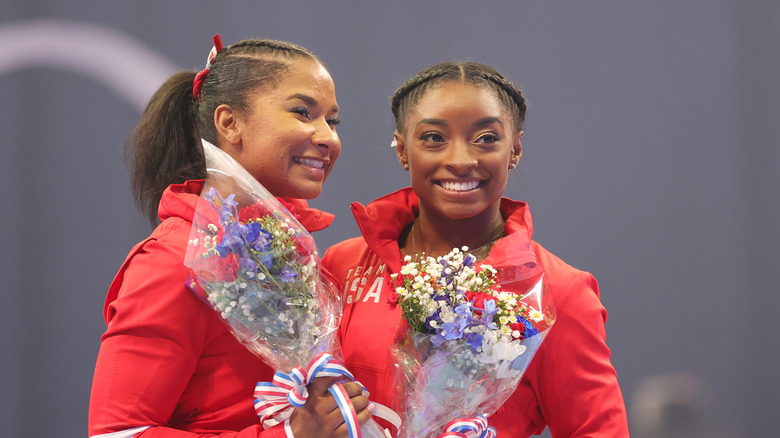 All eyes are on the U.S. Women's Gymnastics team this year — and with superstars like Simone Biles and Jordan Chiles on the team, it's easy to see why. It turns out, there may be a reason why these two gymnasts are so good: they have the same two coaches.
According to Sports Illustrated, Chiles moved to Texas to train with Biles in 2018 after a disappointing score at nationals. The pair are now trained by Laurent and Cecil Landi — who, thanks to a new rule that allows one coach per player, are both able to come to support the gymnasts at the Olympics. As Biles said, "I'm excited that we get to have both Cecil and Laurent because we are all a team. To have the entire team go to Tokyo, it means the world." We just hope that the extra support brings the young women some extra luck and confidence when they start competing.
There are two sisters playing together on the Women's Olympic Soccer Team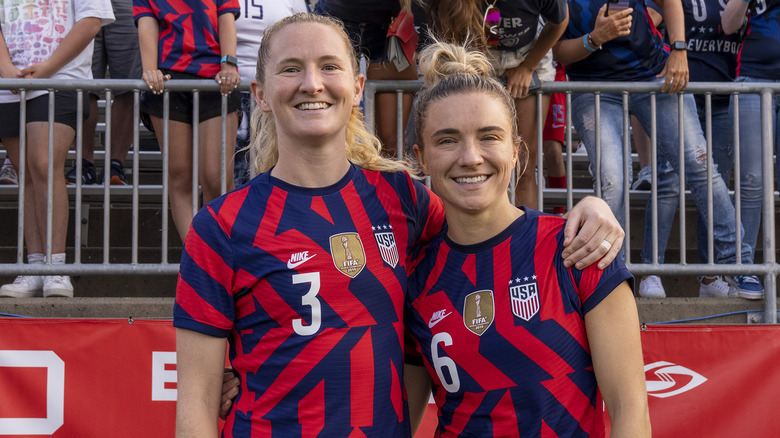 Simone Biles and Jordan Chiles aren't the only pair who have supported each other on route to the Olympics: the U.S. Women's Soccer Team has a pair of sisters. Sam and Kristie Mewis both play in midfield positions. While Sam played in the World Cup in 2019, her sister Kristie is brand new to the team — the only newbie to join the squad for this year's Olympics (via NBC).
Usually, the sisters are competing against each other rather than working together; they even play for different professional teams. The sisters' mother, Melissa Mewis, told NBC 10 Boston in 2019, "When I look back now, "Sam wouldn't be where she is today without Kristie. And that's physically, mentally and emotionally."
In an interview with The Philadelphia Inquirer, Kristie gushed, "It's … been amazing having my sister with me because she's obviously been there before, and she's such an inspiration, and I look up to her so much." Let's just hope these sisters use their years of playing together — and against each other — to help the team bring home a medal.
Carli Lloyd is the oldest U.S. woman heading to the Olympics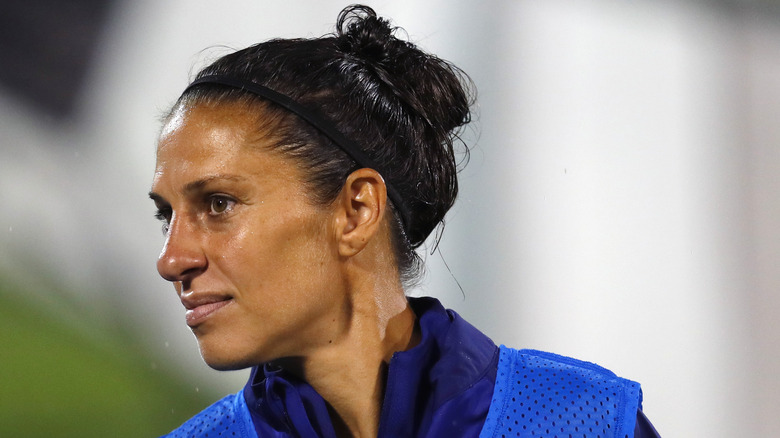 Most athletes end up retiring in their early thirties — after all, playing any sport at a professional level takes its toll on the body. However, there are few women on the U.S. Women's Olympic Team who have kept on going: Carli Lloyd from the U.S. Women's Soccer Team is the oldest American woman heading to Tokyo. She is 39.
So, how has Lloyd managed to stay so fit? Well, she never felt that weight training helped her much, as it weighed her down and made her feel "sluggish," as she told NPR. Instead, she focuses on running, plyometrics, jumping, and really specific soccer exercises. "I really believe that because of that, my body has been able to have this longevity throughout my career," she explained. Hopefully, Lloyd's body will serve her well in her fourth Olympics in Tokyo in 2021. From what we've seen of the women's soccer team so far, we aren't at all worried.
Olympic medalist Katie Ledecky had to move away from home to train for the Olympics
Obviously, the 2020 Olympics have been a little different than usual. For one, the COVID-19 pandemic meant that the event was delayed by an entire year. It also meant that some competitors had to get creative when it came to training.
Swimmer Katie Ledecky, one of the best-known athletes on the U.S. Women's Olympic Team, almost had to give up her Tokyo Olympic dreams. As she explained to Insider, it became almost impossible to keep training throughout the pandemic. So in order to maintain an adequate training program, she stayed in her apartment in the Bay Area, and kept in touch with family members via Zoom. "I haven't seen my family in over a year — not one family member," she revealed.
For Ledecky, the sacrifice was worth it — as long as she could compete in the Olympics and make everyone proud, she was happy. Talk about having the mentality of a champion!
These two best friends have been competing at the Olympics together since 2004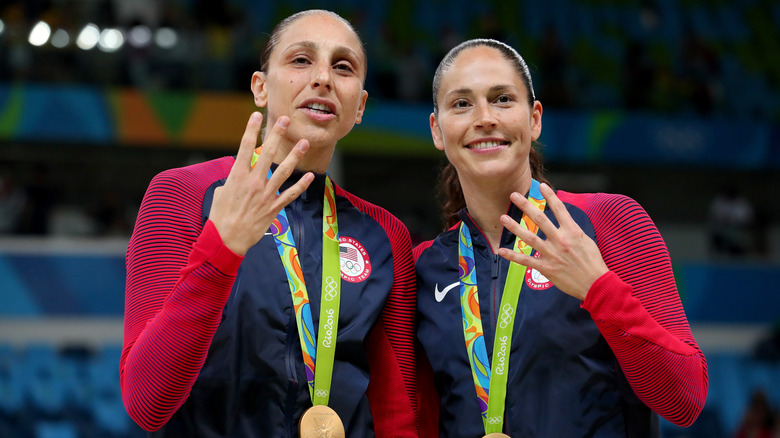 We absolutely love stories about female friendship, and when it comes to the U.S. Women's Olympic Team, there are a few famous friendships that we can't get enough of. Basketball players Diana Taurasi and Sue Bird are both members of Team USA at the Tokyo Olympics. As Taurasi told Insider, their long-standing friendship has helped them perform for years. The pair have played together since they were in college. Since then, they've appeared in every summer Olympics since 2004 — and brought home the gold medal each time.
For Taurasi, playing alongside an old friend makes everything just a little bit easier. "When you get to do what you love with people you love, I think it just changes the dynamic of that situation. … Playing in Russia, playing in college, we've gotten to do a lot of pretty cool stuff, and we've gotten to do them together," she said. Let's hope these BFFs get to bring home yet another gold for Team USA.
Allyson Felix had to fight hard to make the Women's Olympic Team for the fifth time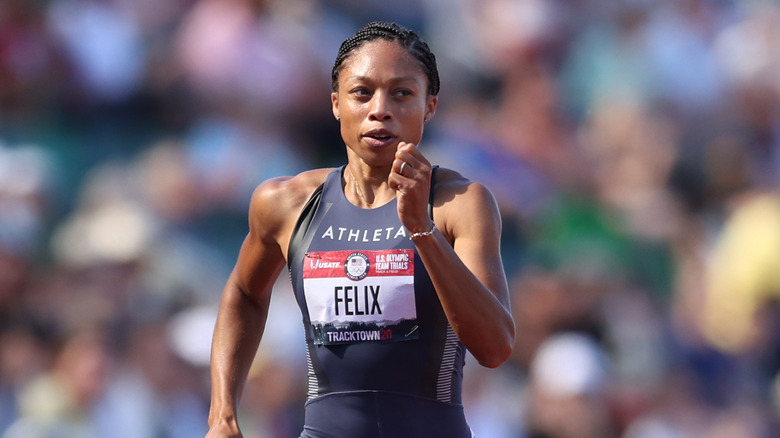 Allyson Felix is one of America's most celebrated runners, having competed at four previous Olympic Games. As of 2021, she is now 35. As a track runner, it's becoming harder and harder to keep up with younger competitors — but don't worry, Felix will be appearing at one more Olympics in Tokyo this year. As she told NBC, it definitely wasn't easy earning her spot on the team.
"It has been a fight to get here," she shared. "And one thing I know how to do is fight, so I just wanted to do that all the way home." And Felix certainly had to fight to get through the Olympic trials. At ESPN reported, she came in second in the trial race, after speeding past two other runners at the very last moment. Let's hope she can take this fighting spirit all the way to Tokyo.
Mental health is vital for the U.S. Women's Olympic Team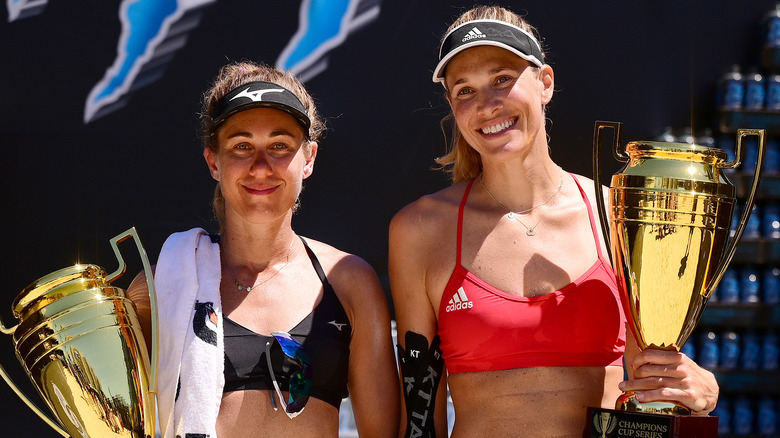 For the world's top athletes, competing is only partly about physical power and endurance — it's also about mental strength. That's why the women of Team USA are focusing on taking care of their mental health at this year's Olympics. The U.S. Olympic and Paralympic Committee created a mental health task force to make sure the athletes had the support they needed.
April Ross, a beach volleyball player, told USA Today, "I think mental health is huge, and it's been a big focus of mine for the last five years or so." Ross explained that she and the rest of the team had worked with a sports psychologist to help them understand how mental health could contribute to better performances. For Ross, meditation and journaling are chances to look inwards and recalibrate after a long day of physical training.
Gymnast Jordan Chiles also spoke about the importance of mental health, saying, "I honestly was just in a dark place before coming [to the Olympic training center] and just having the environment that I'm in right now gave me that ability to come out of my shell." It's great to see these athletes focusing on both mind and body before heading to Tokyo.
Staying motivated after the Games were delayed wasn't easy for the U.S. women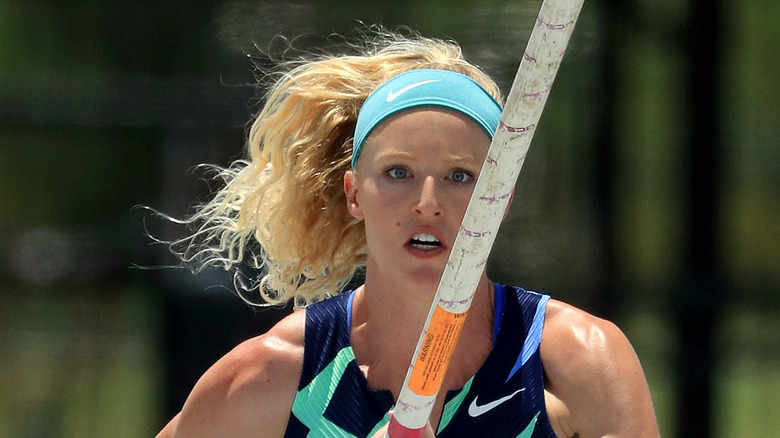 Imagine training for one sporting event for four years. Now imagine that that event was delayed for another year. This is exactly what happened to Team USA in 2020 when the Tokyo Olympics were delayed due to the COVID-19 pandemic. It meant that the competitors had to find ways to keep training and keep staying motivated for a whole year.
At the time, Sandi Morris, a pole vaulter, told The Guardian that she couldn't afford to lose motivation for even one month. "I'm pretending like it's going forward and I'm just going to stay positive and train as if it's happening for sure," she revealed. Carli Lloyd, who is on the U.S. Women's Soccer Team, explained to USA Today that she was lucky enough to have a home gym and a stretch of lawn at her house.
On the other hand, Mimi Knoop, the team manager for the Women's Olympic Skateboarding Team, told Yeah Girl Media that the delay had a few silver linings. "Really it kind of opens it up — on the street side as well — to possibly some younger skaters who haven't matured their skating quite yet, but have the potential to do so," she said.
This record-breaking sprinter is missing the Tokyo Olympics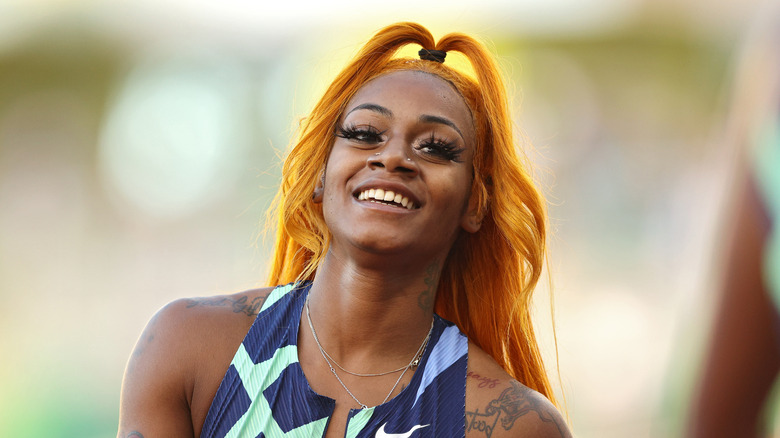 Any fan of track and field will already know the name Sha'Carri Richardson. In 2021, she made headlines after winning the Olympic trial 100m sprint in just 10.64 seconds (via Twitter). This made her Team USA's biggest hope for that event at the Olympics.
However, just a few days later, it was announced by the USADA that Richardson would not be competing because she had tested positive for marijuana. After testing positive, she was given a 30-day ban from running, which automatically ruled her out for Tokyo. In an interview on Today, Richardson explained that she had taken marijuana after her mother died just before the trials. "People don't understand what it's like to have to … go in front of the world and put on a face and hide my pain," she confessed.
Richardson isn't the only runner who will be missing the Games after a positive drug test. According to The New York Times, Shelby Houlihan, an American 5,000m race runner tested positive for nandrolone, and Christian Coleman and Brianna McNeal missed their drug tests altogether.
This experienced Olympian has taken this brand new Olympian under her wing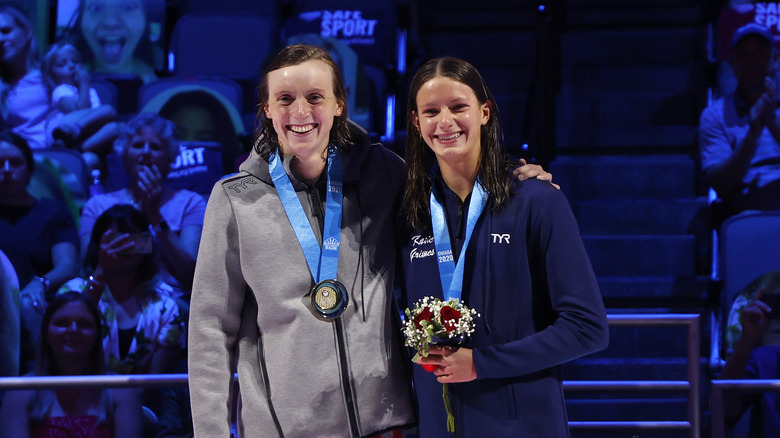 Heading to the Olympics for the first time can't be easy. Luckily, some of Team USA's youngest competitors have some excellent mentors watching out for them. Swimmer Katie Grimes is just 15 years old, so Tokyo will be her first Olympics. By the looks of things, however, she'll have the legend Katie Ledecky looking out for her every step of the way.
At the swimming trials, Ledecky told NBC, "I told [Grimes] after her mile the other day when she got third, 'You're the future,' and I told her after that, 'She's the now.'" Ledecky added, "I think Katie-squared is going to crush it in Tokyo." It's so lovely to see this seasoned Olympian taking this newbie under her wing and help her get ready for the biggest event of her life so far. We can't wait to see these two competing together in Tokyo.