Even some of Olivia Wilde's biggest fans may not realize that isn't her real name. As a profile in The Guardian pointed out, she was born Olivia Jane Cockburn, taking her surname as an homage to famed Irish writer Oscar Wilde. Wilde first came to prominence as an actor, with IMDb listing an extensive roster of screen credits including "The O.C." (in which she played the bisexual love interest of Mischa Barton's character), a doctor dubbed "Thirteen" on TV's "House," Disney's "Tron: Legacy," HBO's "Vinyl" and so many more.
While her stunning beauty led her to be cast in typical Hollywood "hot girl" roles, Wilde proved she was so much more when she stepped behind the camera to direct "Booksmart," a female-oriented 2019 high school comedy that may have stalled at the box office but proved to be a winner with critics and viewers, earning an enviable 96% score on Rotten Tomatoes.
Wilde has also made headlines through her personal life, due to her now-defunct longterm relationship with "Ted Lasso" star Jason Sudeikis and, subsequently, a rumored romance with one of music's most electrifying young performers, Harry Styles. To learn more about this talented multi-hyphenate, read on to discover the untold truth of Olivia Wilde.
She bossed around Mick Jagger when she was a child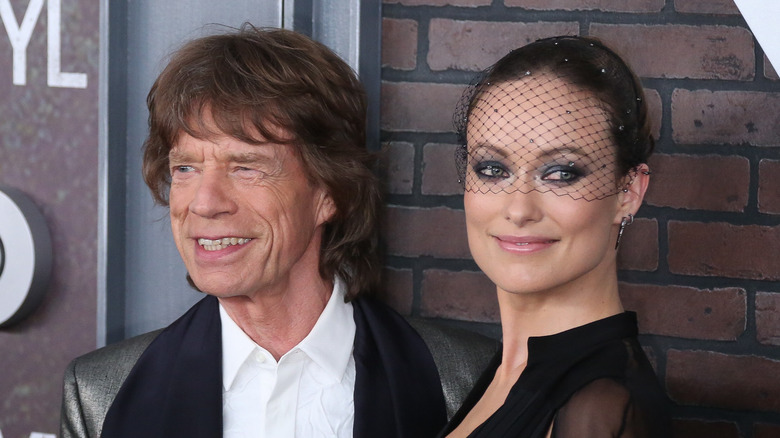 Among Olivia Wilde's many roles was playing Devon Finestra in HBO drama "Vinyl," set within the music industry during the 1970s. The project was immediately met with excitement due to its executive producers: Martin Scorsese, director of such cinematic classics as "Taxi Driver" and "Goodfellas," and legendary Rolling Stones frontman Mick Jagger.
Interestingly enough, Wilde first met Jagger years earlier — many years. Her parents were journalists Andrew and Leslie Cockburn, who travelled in some star-studded yet bohemian circles. While growing up in Washington, DC's posh Georgetown neighborhood, a profile in The Guardian pointed out, the only household rule Wilde had to obey was "never be boring."
"I actually met Mick Jagger as a child," she told the newspaper. "It's become a family joke because I ordered him to get out of my chair at the dinner table and he told me to go to bed." Asked if she reminded Jagger about the incident now that he was, for all intents and purposes, her boss, Wilde quipped, "Noooo, I didn't dare. He won't remember some small child at a dinner party in the '80s."
Olivia Wilde used to be a legit princess
Olivie Wilde married young, just 19 when she wed Italian filmmaker and photographer Tao Ruspoli. As Wilde recalled for Women's Health, there were a couple of factors that made him stand out from other men she'd dated. Among these: the fact that he was nearly a decade older than her, lived in a school bus, and was also a bonafide Italian prince. When they eloped, on that school bus, Wilde admitted that her father "did have a minor heart attack…".
So did marrying a prince make Wilde a princess? Technically, yes. "Since it's only a papal title, it doesn't carry a lot of weight, but his family does have a beautiful castle and palazzo in Italy, so that makes me feel like a princess," she told TV Guide. Speaking with Playboy, via Us Weekly, Wilde said that she never used her princess title, although she would occasionally receive mail addressed to "Principessa."
Sadly, the marriage didn't last, and the couple split after eight years. For Wilde, however, the breakup was like a new beginning. "I got a divorce and felt like I finally started my career," she told Elle. "I started making movies and projects I really believed in."
Chris Farley challenged 10-year-old Olivia Wilde to a brownie-eating contest
As earlier noted, Olivia WIlde's journalist parents had numerous celebrity friends and connections. One of these brought them to attend a broadcast of "Saturday Night Live" when she was just 10 years old. It was while attending the afterparty, Wilde recalled in an interview with the New York Times, that she wound up encountering iconic "SNL" cast member Chris Farley. Farley being Farley, he challenged the youngster to a brownie-eating contest. "He won," she admitted, "but I gave him a run for his money."
Wilde elaborated on her childhood interaction with the "Tommy Boy" star during a 2019 sitdown with "The Howard Stern Show," revealing that going to "SNL" was her "birthday treat" (her parents had known the show's creator, Lorne Michaels, since the 1970s). She was at a dessert table eating a brownie, she said, when Farley "came up and he locked eyes with me, and he took a brownie and he shoved it in his mouth, and then without breaking eye contact took another brownie and shoved it in his mouth, and took a total of 10 brownies and started pounding his mouth … and I was in hysterics."
She got her first tattoo at 13
Growing up in a privileged, bohemian environment, Olivia Wilde didn't experience what most people would think of as a "normal" childhood. This was something she didn't come to recognize until she was an adult. "I didn't understand boundaries," she said in an interview with Complex. "And then when I was 13 I got a tattoo to be rebellious. And my mom, when she saw it, I didn't get the reaction I wanted. She was like, 'Wow, if I was gonna get a tattoo, I probably would have gotten something else.' And I was like [gasp]…".
In hindsight, the reaction of Wilde's mom is understandable. "It's a dragon spitting fire, and the fire is also a shark. It was my 13-year-old vision of wind, fire, and water," Wilde said, describing her first tat. "It's on my lower back," she added. "Very lower back, very lower back."
Since then, Wilde has continued to add ink, with each of her tattoos having special meaning. One example was a tat she received in 2018, which she shared via Instagram. The work of tattoo-artist-to-the-stars Dr. Woo, this one featured an intricate drawing of a constellation in space, which she dedicated to her young son Otis.
She clashed with Shia LaBeouf over a music video
In October 2020, singer Rainsford (real name: Rainey Qualley) took to Instagram to share stills for the new music video for her song "Love Me Like You Hate Me." The video is chock full of steamy scenes featuring the singer's sister, actor Margaret Qualley, and her then-boyfriend Shia LaBeouf. In her Instagram post, Rainsford offered "special thanks" to Olivia Wilde.
A subsequent report from The Hollywood Reporter, however, claimed there was a lot more going on than anyone realized. Wilde, in fact, had actually directed the film as a favor to Margaret Qualley, with whom she'd previously worked. After filming, Wilde was reportedly given a period of time to edit her footage to submit. Before that deadline, LaBeouf created his own cut of the video, sending it in a group email that included Wilde. She replied by saying she'd be happy to give it a look, and would be submitting her cut shortly.
LaBeouf replied by telling Wilde she responded incorrectly, and should have said "we should go with this," referring to his cut. "Great jazz musicians know when not to play," he wrote. Wilde was not having it. "I'm out," she wrote back, exiting the project entirely.
Olivia Wilde has set aside a comfortable nest egg
As an actor, Olivia Wilde's first screen credit was in the 2004 comedy feature "The Girl Next Door," which led to a series regular role in the short-lived TV drama "Skin." She followed that up with a high-profile recurring role on "The O.C.," and further roles in bigger projects, including playing Thirteen on "House," a starring role in Disney's "Tron: Legacy," and opposite Daniel Craig in "Cowboys & Aliens." In addition to being an in-demand actor, in 2019 Wilde made her directorial debut with the comedy "Booksmart," propelling her into a whole new career as a director.
All that work has paid off, literally; according to Celebrity Net Worth, Wilde is estimated to be worth a cool $20 million.
As Wilde explained during Marie Claire's Power of Presence luncheon in 2012, as reported by Refinery29, it may have been her beauty that got her in the door, but it was her brains that took her to the next level. "What I found most in Hollywood, and being a woman in Hollywood, is about defying expectations, because everyone expects every actress to be stupid," she said. "So, it terms of learning the executive presence, it's really about proving them wrong."
She's a classic car aficionado
Among Olivia Wilde's passions is her appreciation of vintage automobiles. "I love old cars. I grew up on the East Coast, and I always thought if I lived on the West Coast, the first thing I'd want is an old, classic car," she said in an interview with Complex. "It used to be a '54 Bel Air that was my dream car, and then I saw this '58 Chevy, and I was like, this is it… I was like, That's more like me. [Laughs.] I love it. I love my car."
Which is not to say there's not a downside. As she told Vanity Fair, "There's nothing worse than taking your friends out in a classic car and having it break down, thereby proving everyone right about why having a classic car is a pain in the a**." She recalled hosting a "girls' night out and got all my girlfriends together in my Chevy, had the stereo system fixed so it was just blasting music, and we were having a great time. Until it stalled in West Hollywood … everyone went home in cabs. And it was just so sad, because I started out as such a bada** and ended up just really embarrassed."
She has a strict 'no a**holes' policy on set
As a director, Olivia Wilde credits her 15 years as a working actor as "my de facto film school," she told The Guardian, "shadowing great directors and also learning from bad directors. Bad professional experiences are just as valuable as cautionary tales."
Speaking with fellow director Emerald Fennell for Variety"s "Directors on Directors" series, Wilde explained how she came to institute a "no a**holes policy" on her sets. "Someone, who's a very established actor and director in this industry, gave me really terrible advice that was helpful, because I just knew I had to do the opposite," Wilde explained. "They said, 'Listen, the way to get respect on a set, you have to have three arguments a day. Three big arguments that reinstate your power, remind everyone who's in charge, be the predator.' That is the opposite of my process. And I want none of that."
This policy ultimately led Wilde to fire Shia LaBeouf after casting him for her "Booksmart" followup, "Don't Worry Baby." According to Variety, Wilde axed him because he "displayed poor behavior and his style clashed with the cast and crew." He was replaced by singer Harry Styles, whom Wilde got pretty close to…
News of her split from Jason Sudeikis overlapped with her rumored romance with Harry Styles
As Olivia Wilde and Harry Styles worked together on "Don't Worry Baby," rumors emerged that they were dating. "Olivia and Harry are together for long days on set and have gotten to know each other really well, so it's all very organic," a source told Entertainment Tonight in January 2021. "This backed up an earlier report from Page Six, which featured video of the two holding hands at a wedding, plus a Daily Mail report of her driving Styles' Range Rover.
The beginning of Wilde's alleged romance with Styles coincided with the end of her relationship to Jason Sudeikis, her partner since 2011 and father of their two young children, Otis and Daisy.
Wilde hired Styles in September 2020; two months later, news broke that Wilde and the "Ted Lasso" star were calling it quits. However, a source told Entertainment Tonight that Sudeikis and Wilde had actually separated at the beginning of 2020. "So it's not like she's rushing into something," the source said. "Olivia and Jason talk all the time and are still close because of the kids. It's highly unlikely he was blindsided by this news."
She won a pancake eating contest in Australia
Olivia Wilde is clearly a woman of many talents, yet who knew that competitive eating was among them? Yet that is apparently the case, judging by an interview she gave to Women's Health. In that interview, Wilde recalled entering a pancake-eating contest — and emerging victorious.
"Once, in Australia, I ate 33 pancakes in 20 minutes, and I only did it because they said a girl could never enter the competition," she said. "I won against these giant men, and they were convinced I was cheating. Guys have some sort of sick fascination with girls who can eat."
During a 2011 appearance on "Live with Regis and Kelly," as chronicled by Irish Central, Wilde elaborated on her pancake-eating prowess, revealing there's actually a high degree of skill involved in being able to inhale that many flapjacks in such a limited period of time. "There is a technique, I could sell it to you … it involves piling and there is a way that you hold it… it's complicated," she explained.
Olivia Wilde is an Irish citizen
Olivia Wilde was born in New York City and spent much of her childhood in Washington, DC. Her summers, however, were spent in Ireland; as she told Ireland's Independent, her father, Alexander Cockburn, was born in London but grew up in Ireland, and eventually became an Irish citizen.
"It was amazing," Wilde said of her summers on the Emerald Isle, in the tiny village of Ardmore. "I feel like the luckiest child in the world because I got to grow up there. In summer is when you really grow up," she said. "People in Ardmore would say, 'Oh isn't living in America cool: you live in a big city, you get to be close to all these things we only see on TV' — but I found Ireland much more inspiring as a kid, much more fun, and the people had such an amazing effect on me, and I credit a lot of my growth as a child and a lot of my happiness with the people I was surrounded by in Ireland," added Wilde.
As The Irish Post reported, Wilde followed in her father's footsteps and also holds an Irish passport.
She'd be down to join the Marvel Cinematic Universe
One of the secrets of Marvel Studios' success at the box office has been the ability to draw A-list actors with considerable skills to their superhero stories. While there are some in Hollywood who maintain a certain snobbery about being involved with a Marvel project (director Martin Scorsese, for example, once said that Marvel's movies "aren't cinema"), Olivia Wilde is not among them.
Interviewed by MTV UK, Wilde was asked if she'd be willing to direct a Marvel movie. "Totally, yeah, absolutely," she replied. "I think that it's exciting that now women like Ava DuVernay and Chloé Zhao are directing Marvel films and it's exciting to think about what that will do to the franchise," she said of acclaimed female filmmakers DuVernay (whose credits include the Oscar-nominated "Selma") and "Nomadland's" Oscar-winner Zhao, director of Marvel's "Eternals."
The way Wilde explained it, she was just happy to see more women behind the camera, regardless of what kind of a movie was being made. "I'm a proud member of the movement of female directors," added Wilde, "and I don't think there's any genre that should be off the table."
Martin Scorsese influenced her directing style
When Wilde was tapped to star in HBO's "Vinyl," it provided the opportunity to work with Martin Scorsese, the series' co-creator and executive producer. Scorsese also directed the series pilot. Given that Wilde had set her sights on directing herself, she soaked up as much as she could from her up-close, firsthand look at one of cinema's most acclaimed filmmakers in action.
When Wilde was subsequently hired to direct "Booksmart," reported The New York Times, the first-time director was given a tight shooting schedule, with just 26 days to film the entire movie. Wilde turned to the lessons she learned from being directed by Scorsese in order to make the most of the limited time she was provided.
One of these lessons came from Scorsese's insistence that all actors on "Vinyl" know their lines inside and out before shooting, in order to avoid lost time from botched takes when actors forget lines. Following in Scorsese's footsteps, Wilde made the same demand of the actors she hired for "Booksmart."
Olivia Wilde freaked out when she received a phone call from President Obama
Given that she was raised by journalists, it shouldn't be surprising that Olivia WIlde has long had a keen interest in politics. In 2018, in fact, she spent a considerable amount of time on the campaign trail when her mother, Leslie Cockburn, ran for Congress (she was ultimately not elected).
Prior to that, Wilde volunteered for the campaign of future President Barack Obama. That volunteer work, she revealed in an interview with Cosmopolitan (via Digital Spy) led to an embarrassing moment when Obama called her up while she was on the set of "House," so he could offer his gratitude for her work on his campaign. "He was calling to thank me for traveling to Iowa in October 2007 to volunteer for the campaign," she recalled. "I was very professional the whole time we spoke, then I hung up the phone — or so I thought — and started squealing for about 15 seconds."
As she hinted, she hadn't actually hung up the phone. "I later found out from a friend who was with him that he listened to the shrieking and laughed the entire time," she said.