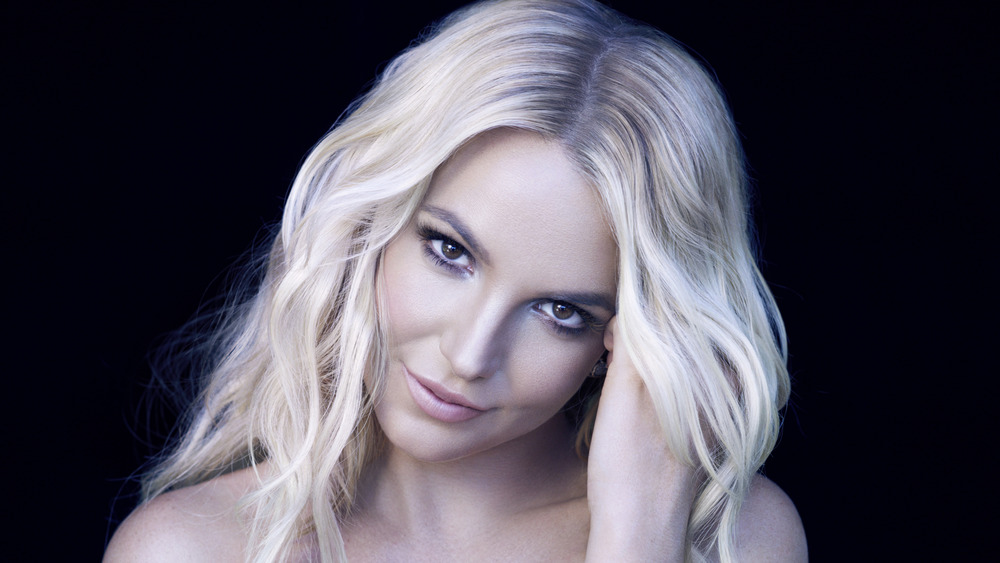 It turns out there may have been more truth to Britney Spears' hit "Lucky" than the world initially knew. The singer has lived her entire adult life in the spotlight, for better or for worse — and unfortunately for Spears, it was usually worse. Fans had a hard time understanding how the pop princess fell from the top of the charts to the depths of her public meltdown in 2007 — until the tabloids started reporting that she suffered from mental disorders. A People magazine editor told the Today show that she battled both bipolar disorder and postpartum depression. The Mirror reported that Spears was previously prescribed Prozac, but that she didn't take it regularly, which allegedly made her behavior even more manic.
Spears seemingly confirmed her bipolar diagnosis and has long spoken out about her struggles with anxiety. A source close to the singer affirmed her battle with anxiety to The Mirror, saying she'd wake up during the night in fear and often "had trouble sleeping" during her European tour in 2000. Those conditions did not live in a vacuum. Spears' family history, personal life, and extreme professional pressures all played a role in what turned out to be a devastating meltdown of a truly "Original Doll." This is Britney Spears' tragic real-life story.
Childhood trauma shaped Britney Spears' life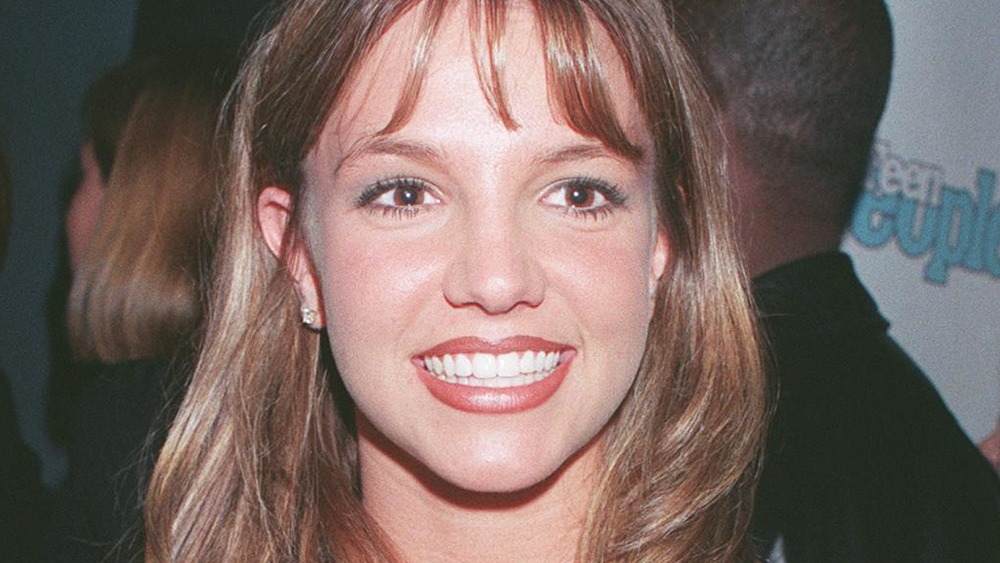 Britney Spears told People that she was actually thrilled when her parents, Lynne and Jamie Spears, divorced in 2002, saying, "It's the best thing that's ever happened to my family. My mom and dad, bottom line, do not get along. When I was a baby, they argued. I wanted this to happen 10 years ago."
The Mirror reported that Jamie struggled with alcoholism. Jamie's brother Willie told the outlet that Jamie would frequently get drunk and fight with Lynne, and that Jamie once "tried to drive off with Britney" after an argument. Lynne reportedly filed for divorce, and even tried to get a protective order against Jamie after she alleged he'd cheated in December 1979, but the divorce filing was withdrawn.
When her parents' fights were particularly traumatic, young Brit retreated to her aunt's nearby trailer. Jamie got sober in 2004 and reunited with Lynne in 2010, with sources telling Us Weekly that Britney's troubles partly inspired the reconciliation. Jamie's issues may have extended beyond him: Rolling Stone reported that his mother died by suicide when he was 14. A former manager for Britney told the magazine, "She is the product of some very, very bad genetics."
Sources told The Mirror that Britney performed to escape her troubled home life. Her ex-boyfriend Adnan Ghalib explained to The Sun, "Her childhood was centered around becoming a star and I feel she is determined to give her kids a real childhood, unlike what she had."
Britney Spears felt extreme pressure to please everyone around her
Britney Spears was nominated for the Best New Artist Grammy in 2000. She lost, which hurt her, largely in part because she so badly wanted to please her parents. "My mom wanted me to win so bad. And my dad," she told Rolling Stone. "I felt kind of sad that I let them down. And then I talked to them, and they were worried for me. My mom said, 'Baby, I could care less if you win or not. I love you.'"
Spears also admitted that she often felt lonely and torn between her Kentwood, La., upbringing and her Hollywood lifestyle. Spears admitted she appreciated being reminded that she was so young at the time, explaining, "It makes me feel good when people realize I'm just a kid, because people expect so much out of me right now."
Spears' discomfort with fame hasn't exactly faded with time. She said in her I Am Britney Jean documentary in 2013 (via The Hollywood Reporter) that she believes she thrives under pressure, but that she felt "alienated from the public" when she was constantly hounded by paparazzi. She also revealed, "I'm a shy person and I'm particularly not really made for this industry because I am so shy. It's not something I deal with so well."
Low self-esteem and body image issues plagued Britney Spears
A source told Rolling Stone that Britney Spears got breast implants early in her career. Her mother, Lynne, was reportedly encouraging of the first augmentation, but Britney was devastated at the public backlash to her suddenly ample chest. "When Britney saw the papers, she was crying in the bathtub uncontrollably, asking, 'Why is everyone being so mean to me?' It was very hurtful for her to go through something so private so publicly," a friend told the magazine. Choreographer Darrin Henson, who frequently worked with Spears, explained of the public outcry, "When other girls did their boobs, they were like, 'Yeah, I did my boobs, move on,' but Britney was brought up to lie about herself." Spears allegedly later had her breast implants removed after her natural breasts grew larger.
It wasn't the only cosmetic tweak Spears may have used. She admitted to In Style (via HuffPost) in late 2013 that she'd had lip injections and other "fun stuff," the latter of which she didn't specify. Experts have also speculated that Spears also underwent a nose job. She admitted in her youth, "I wish my hair was thicker, and I wish my feet were prettier. My toes are really ugly. I wish my ears were smaller. And my nose could be smaller."
Britney Spears was severely overworked
In her 2000 Rolling Stone profile, it was revealed that Britney Spears had just "one hour of scheduled quiet" to herself each day. Part of her public breakdown, a friend of the singer told Rolling Stone in 2008, stemmed from never having downtime to learn who she was. "For years, everyone manipulated Britney … If she didn't want to come out of the trailer, the label would come to me, saying, 'Please talk to Britney, make sure she performs, and we'll take you on a shopping spree.' Now this is her time to play," the pal said. Another anonymous friend noted that even when there were discussions about giving Spears a break, "the machine always won."
Her team was reportedly so controlling that they even picked out her underwear and lip gloss in an effort to maintain her sexualized yet virginal image, her pal alleged. In 2002 Spears told Rolling Stone that she wanted freedom to go to Starbucks and pump her own gas with assistants or bodyguards around, adding, "I'm supposed to take six months off, but I probably won't. The whole point of me taking a break is to be out of the public eye and not see my face on TV, because I'm sick of myself." Two years earlier, she told Rolling Stone, "My anxiety has just been crazy … Maybe I'm just changing and getting older, but I find I need to have my downtime, just to myself, or I'll go crazy."
Her love life scarred her
In 2000, Britney Spears and Justin Timberlake were the pop power couple. After they split, however, Timberlake used his "Cry Me A River" video to strongly hint that she cheated, which she denied to People. Timberlake also dished on their sex life and publicly dissed Spears several times. An attorney for the Spears family revealed in 2012 that her family noticed Britney grew depressed and angry after she and Timberlake split, E! News reported, which they claimed led her on a downward spiral.
Post-JT, Spears married childhood pal Jason Alexander for 55 hours in December 2003, only to annul the union immediately. Alexander later told ABC News that despite them both allegedly being intoxicated at the time of their impromptu Las Vegas wedding, he believed they were in love with each other. (In 2016, Us Weekly reported that Alexander spent four months behind bars in 2015 for a domestic violence incident with his then-girlfriend, so it seems like Brit dodged a bullet.)
In 2013, Spears ended her engagement to manager Jason Trawick, with TMZ reporting that Spears wanted more kids and Trawick didn't. Other sources claimed he was stressed over having to care for Spears and needed a partnership with more equal footing. She rebounded in 2014 with David Lucado, who was accused of cheating on her, then with Charlie Ebersol, with whom it simply didn't work out. As of this writing, Spears is dating model and trainer Sam Asghari. They've been together since 2016.
Britney Spears' relationship with Kevin Federline was devastating
Britney Spears had a whirlwind marriage to dancer Kevin Federline in 2005, with whom she shares sons Sean Preston and Jayden James. However, the end of the marriage was traumatic for them both. Sources told Rolling Stone that she began dating Federline because he was a backup dancer for ex Justin Timberlake, and she wanted to spite him. The outlet also reported that Federline encouraged her to fire most of her team, including mom Lynne and longtime manager Larry Rudolph.
A friend told Rolling Stone that Federline often ditched her for his friends, making her feel abandoned and lonely. She reportedly turned to partying to cope with her sadness, which a pal said she blamed on postpartum depression. Spears filed for divorce from Federline in November 2006, which he told Us Weekly (via Independent.ie) blindsided him. Spears went on to say in her Britney Spears: For The Record documentary (via MTV News) in November 2008, "I think I married for all the wrong reasons. Instead of following my heart and, like, doing something that made me really happy. I just did it because … for just, like, the idea of everything."
Spears and Federline engaged in an ugly custody battle for their sons post-split. Rolling Stone reported that in accordance with the former couple's prenuptial agreement, Federline got a cool $1 million from Spears, plus $20,000 a month in child support for the boys (which was upped in September 2018).
Was Britney Spears secretly battling substance abuse?
During Britney Spears' meltdown, she may have been battling substance abuse problems. In 2007, Spears' ex-bodyguard alleged that he saw her abusing drugs, though he noted that he never saw her use drugs around her kids. People reported that the singer was ordered to undergo random mandatory drug testing as part of her custody arrangement with Kevin Federline.
It wasn't until 2012 that the public learned which drugs Spears was allegedly using during that period. E! News reported on a lawsuit between her father, Jamie Spears, and her former manager, Osama "Sam" Lutfi. The outlet stated that Jamie's team alleged that Sam told the Spears family that he had been crushing up Britney's pills, and hiding the medication in her food. Jamie also accused Lutfi of hiding Britney's phone, and encouraging paparazzi to trail her.
Lutfi, meanwhile, alleged that Spears abused amphetamines and that he was just trying to keep her safe and clean. In 2015, Star reported that Spears secretly went to rehab to battle an addiction to the prescription drug Vyvanse, which is typically prescribed for ADHD.
Britney Spears' breakdown was a long time coming
In February 2007, Spears shaved her head, an act experts believed was her "acting out" against public pressure and restrictions she's had since becoming a star. According to a Life & Style timeline of the tumultuous period, Spears checked into a Malibu rehab center, left after less than 24 hours, then checked in again, staying for a month. Upon her exit, she blamed a manager trying to control her post-divorce for her behavior.
In the following months, Spears embarked on a relationship with paparazzo Adnan Ghalib, and an allegedly dangerous streak of behavior that included a hit-and-run of a parked car, and driving without a valid California driver's license. In September 2007, she attempted a disastrous comeback at the MTV Video Music Awards (above); a month later, she lost custody of her sons to Federline.
In January 2008, Spears engaged in what ABC News described as "a nearly three-hour custody standoff involving her young sons," while allegedly "under the influence of an unknown substance." She was removed from her home and hospitalized on an involuntary psychiatric hold, then released. Weeks later, she was committed again. A source close to Spears told E! News that the singer's failed marriage triggered her, explaining, "She had worked so hard and yet she had nothing to show for it. No husband, no access to her kids, a fractured relationship with her family and what she felt was no say in her life. She felt worthless."
Does Britney Spears want to leave fame behind and just be a mom?
During Britney Spears' marriage to Kevin Federline, however brief it was, she dedicated most of her time to caring for their sons and didn't work much — and it seems like she wouldn't mind going back to that lifestyle. The singer admitted to NME in 2016 that she'd considered quitting the music industry to be a teacher, and she told People a big incentive to her Las Vegas residencies was the time it offered her to be with her sons.
Even ex David Lucado admitted that Spears couldn't care less about her entertainment career compared to being a mom. "If anyone knew the real Britney, they would know that she would rather be remembered for being the great mother she is rather than the artist she is," Lucado told The New York Times. "And if anyone could see her interactions with her kids, they would know that there is no need for a conservatorship over Britney's personal life."
Her father's illness was Britney Spears' 'breaking point'
Because Britney Spears relies so heavily on her father, when Jamie Spears fell ill in late 2018, she took it hard. Britney hit the brakes on her Domination Las Vegas residency. Jamie reportedly suffered a ruptured colon and was hospitalized for nearly a month, but still has not fully recovered, as of this writing. People reported that Jamie underwent a second surgery for the condition in March 2019 and that he hasn't been doing well.
In April 2019, it was reported that Britney checked into a mental health and wellness treatment center. A source told Us Weekly, "Britney was distraught when her dad first got sick. Then there was a period where she was handling it better and feeling more positive because Jamie seemed to be improving, but then his condition worsened and she couldn't emotionally handle the thought of potentially losing him. It was her breaking point." Insiders clarified to E! News that Britney wasn't being treated for any sort of substance abuse issues at this time and simply needed rest and to focus on herself — and that her sons can visit her at the facility.
Her father is still her conservator
After Britney Spears' breakdown, her father, Jamie Spears, was named her conservator, placing him in charge of her vast fortune and all financial decisions. According to The New York Times, the pop star initially opposed the idea of a conservatorship, but eventually came around to the idea for the sake of securing future financial stability for her two young sons. "At the height of her fame, Britney was taken to a place where she couldn't be a normal person," a source close to the singer told Page Six. "It was very difficult for her to trust people — and she has always relied on her dad to help her do 'normal' things."
About a decade later, that arrangement fell apart. After Jamie's 2018 health scare, he temporarily granted control of the conservatorship to a professional named Jodi Montgomery. By the summer of 2020, Britney and her lawyer filed paperwork to make Montgomery her permanent conservator. A few months later, TMZ reported that the elder Spears had also made some decisions of which his daughter didn't approve, including hiring a new business manager without giving her any input in the matter, which Britney's lawyer said was part of an attempt by Jamie to "retain full functional control of" his daughter's money. Her trust in her father apparently flagging, Britney sought out Bessemer Trust to serve as sole conservator, but a judge would only allow that agency to co-lead, alongside Jamie.