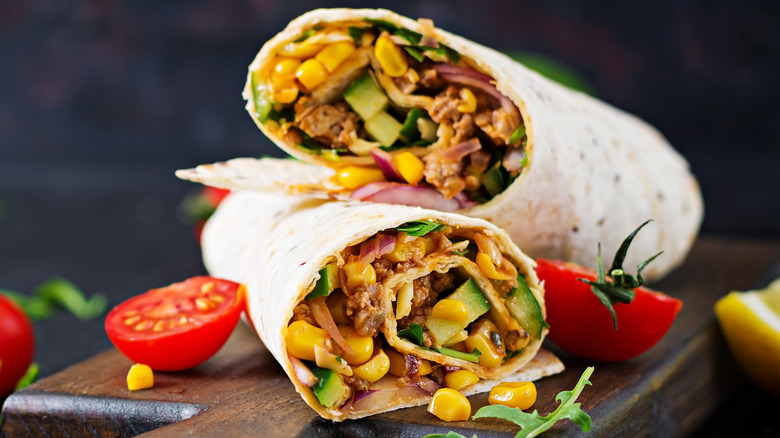 Mexican restaurants are seriously big business in the United States, where they're expected to bring in more than $66 billion in 2021, per Statista. That's nearly $30 billion more than just 10 years ago. So, why the massive change? A lot of credit can be given to the powerful rise of burrito chains across the country.
There are few single meals that can satiate a hungry appetite and a flavor-starved palate the way a burrito can. Every bite of a burrito — and there are quite a lot of them in most cases — is hearty and packed with a multitude of flavorful ingredients. Even better, burritos can be eaten with your hands on the go, and all for a lower cost than most fast-casual menu items. It's honestly surprising the onslaught of burrito chains didn't occur earlier. Either way, it's here now, and likely here to stay for quite some time.
Every corner of the country has at least one but likely several burrito chains that have come to dominate their home region and are beginning to spread across the country. That is, if they haven't already. Here is a sampling of the burrito companies coming to a restaurant near you as they take over the country.
California Tortilla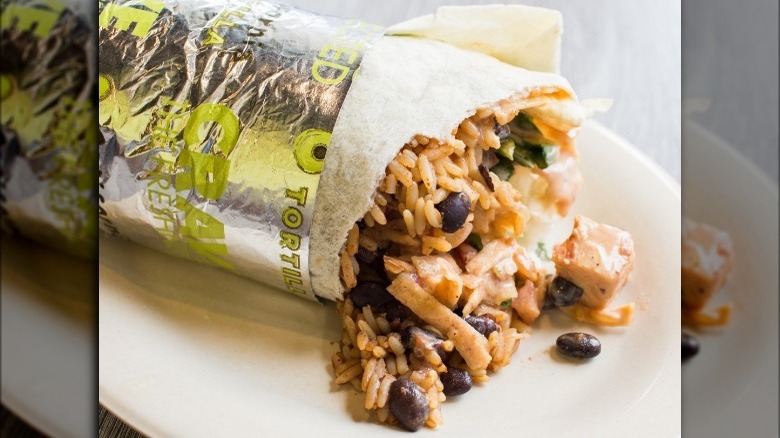 Don't be fooled by the name — California Tortilla is primarily an East Coast chain that got its start in Bethesda, Maryland. Although The Washington Post reports that the first restaurant opened its doors in 1995, the brand didn't become a major player in the quick-serve burrito world until it began franchising in the early 2000s. In just four years, from 2003 to 2007, California Tortilla went from two restaurants to 31. It now has nearly 40 locations up and down the East Coast, as well as one outpost in both Tennessee and Kansas.
California Tortilla's burrito offerings range from the "Korean BBQ Burrito" to the vegetarian "No-Meato Burrito", as well as the "California Screamin' Burrito," which consists of blackened chicken, rice, queso, fajita veggies, salsa, and the signature California Screamin' sauce. Speaking of which, one of the restaurant's claims to fame is the ridiculous number of hot sauces it has available. Known as the "Wall of Flame," California Tortilla offers its customers 75 different sauces, ranging in heat from mild to the intimidating "tongue-melting" level. It may take some time to taste test them all but, once you do, you can bring the whole bottle home with you, as all the hot sauces there are available for purchase.
Dos Bros
Two friends — and not brothers, despite the name of their restaurant — started Dos Bros with the simple idea of offering fresh, high-quality Mexican food at a reasonable price. "We didn't really need to reinvent the wheel," cofounder Kush Shah told CityScope Magazine. "We just had to come up with something that consumers were already comfortable with."
After opening the first store in Cleveland, Tennessee in 2015, the company took its time expanding. "From our first location to our second, it took almost one and a half years," Shah told CityScope. "I had people lined out the door from the first month that we opened to franchise us out, but we took our time." The patience has apparently paid off, as Dos Bros has just about taken over its home state with a dozen Tennessee locations and even crossed the border into Georgia. It also has future stores planned for Atlanta, Chicago, North Carolina, and Alabama.
Enough about the history, let's get to the food. Sticking with its founding principle of not reinventing the wheel, Dos Bros' menu is straightforward, but includes the best ingredients and classic cooking techniques. Customers build their own burrito, a la Chipotle. They can choose between proteins such as carnitas, barbacoa, spicy tofu, chicken, or steak, then throw on some classic toppings like salsa, cheese, sour cream, guacamole, and queso, and dig in!
Freebirds World Burrito
Despite its name, Freebirds has not taken over the world quite yet, but it has certainly taken over its home state of Texas. The chain currently has more than 50 locations throughout the Lone Star State, including in its home base of Austin, with plans to double that number within the next five years (via Fast Casual). Although it's entirely Texas-based now, Freebirds first opened in Santa Barbara, California way back in 1987, per QSR. The concept proved so popular out West that a second location was opened in College Station, Texas. Since then, the chain has gained cult-like popularity.
At Freebirds, it's all about choices and customization. "In today's world of plop-and-serve, we pride ourselves with a one-on-one guest experience," the company's vice president, Chris Cheek, told QSR. Burritos there come in four different sizes and guests can add any of the restaurant's 40-plus freshly made ingredients, according to Freebirds. This includes signature items like roasted garlic, pure Hass avocado, and potatoes.
Wahoo's
Few restaurants of any kind have a backstory that can match that of Wahoo's. In the 1970s, KCET reports, brothers Wing, Mingo, and Ed Lam — who are of Chinese descent and were born and raised in Brazil — moved to Southern California with their parents. Naturally, they fell in love with surfing there, as well as their custom of grabbing fish tacos after a day in the waves. But the tacos they found were always made with subpar fish. Having worked in their parents' Chinese restaurants, the brothers believed they could do better and so, in 1988, they opened the first Wahoo's (named after a popular tropical fish). There are now more than 60 Wahoo's locations across six states — California, Hawaii, Colorado, Nevada, Texas, and New Jersey — and even one in Tokyo, Japan.
The Wahoo's menu is influenced by the brothers' unique culinary background, allowing the chain to stand out in a crowded market. "We combined our love for surfing with our love of Mexican food and we put a Brazilian twist to it," Mingo told CompanyWeek. That twist is evident in the restaurant's one-of-a-kind burritos. Some of the most notable menu items include the Banzai Burrito with banzai veggies, the Hawaiian Onion Ring Burrito with Teriyaki steak and Maui Onion Rings, as well as Mr. Lee's SCReaM'n Chicken Burrito, which has spicy chicken and famous Mr. Lee's spicy chili sauce.
Pancheros Mexican Grill
There are few demographics more burrito-craved than hungry college students. So when Pancheros Mexican Grill opened its first location across the street from the University of Iowa in 1992, it was pretty much destined for success. Before long, there were Pancheros restaurants popping up in cities across the Midwest. The chain's humble beginnings in less-populated areas of the country ultimately proved beneficial. "We grew from smaller markets and out into the rest of country," Pancheros founder Rodney Anderson said. "We didn't have the opportunity to not be efficient, to not offer an exceptional product, simply because there weren't a lot of people around. We had to get everything right and build our reputation one person at a time." Today, the chain boasts 70 locations in 12 states.
In the crowded burrito market, Pancheros stands out thanks to its freshly made tortillas. Each one is pressed in-house right in front of customers. The restaurant claims that their tortillas are so structurally sound, the burrito can stand up on its own. Another Pancheros calling card is what the chain calls "Bob the Tool," a specially designed plastic spatula used to mix all the burrito ingredients together before being wrapped (via Fast Casual). This helps make sure every bite is the perfectly mixed and flavorful bite that it should be. What ingredients are those, you may ask? You can choose from marinated and grilled meats or veggies, plus whole pinto or black beans, rice, cheese, and salsa.
Del Taco
If you live in California — or know someone who does — you've certainly heard of Del Taco. But this West Coast chain is taking over the United States one eastward step at a time. In 1964, Del Taco founders Ed Hackbarth and David Jameson opened their first restaurant in Yermo, California. Little did they know the brand they created would grow to become one of the largest Mexican quick-service restaurant chains in the country. Today, there are nearly 600 Del Taco restaurants in 15 states, with a whopping 370 in California alone. More recently, the company has been expanding in the Southeast, per QSR, opening stores in Florida, Georgia, Alabama, and South Carolina.
Don't be fooled by its name, though, as Del Taco knows burritos just as well as tacos. The chain's list of offerings is as impressive as it is extensive. Are you a traditionalist? Try the Del Beef Burrito with seasoned beef and toppings. Vegetarian? Skip the beans and tofu and go for the Beyond 8 Layer Burrito, filled with Beyond Meat plant-based crumbles. Feeling adventurous? Dig into Del Taco's Epic Honey Mango Crispy Chicken & Bacon Burrito. This rightfully designated "epic" creation features three crispy chicken strips, crispy bacon, famous crinkle-cut fries, freshly grated cheddar cheese, cool sour cream, and honey mango sauce.
El Pollo Loco
El Pollo Loco was established south of the border in 1975, when Juan Francisco Ochoa began cooking up citrus-marinated chicken using a family recipe and selling it out of an old shoe store in Sinaloa, Mexico. Five years later, the first American El Pollo Loco location opened in Los Angeles. Now, the nation's leading fire-grilled chicken restaurant chain boasts 478 restaurants across six states, including Arizona, California, Nevada, Texas, Utah, and Louisiana. While the brand has been successful in the Southwest for decades, it now has its eyes on other regions of the country. According to QSR, El Pollo Loco has a three-year "acceleration agenda," that includes expanding its footprint in the West and Southwest before looking to open stores in the Eastern United States, too. The outlet reported that the company has already begun recruiting new franchisees.
If you're a health-conscious eater but still craving the hearty deliciousness of a burrito, El Pollo Loco is the place to go. The chain's menu includes both a Chickenless Pollo Burrito and Vegan Chickenless Pollo Burrito, as well as what it claims is The World's First Keto Burrito. Other unique burrito offerings include the Queso Blanco, Chicken Tinga, and Chipotle Chicken Avocado.
Qdoba
The restaurant chain now known as Qboda was founded in Denver, Colorado in 1995 as Zuma Fresh Mexican Grill. It wasn't until 1999 that the company rebranded to Qboba. It proved to be a wise move as the chain has taken over ever since. By 2005 it had 200 locations across the United States. Just two years later it had doubled that number. Qboda now has more than 700 stores in 47 states, making it the third-largest Mexican chain in the country, per Restaurant Business, behind only Taco Bell and Chipotle.
Speaking of Chipotle, Qdoba offers a similar build-your-own burrito experience as its competitor. Choose from proteins like adobo chicken, seasoned beef, grilled steak, pulled pork, smoked brisket, and Impossible Foods plant-based protein, then select from a list of toppings that includes cotija cheese and pickled jalapeños. One of Qdoba's calling cards is its extensive offering of more than a dozen different types of salsas and sauces. These range from traditional guacamole and salsa verde to picante ranch dressing and fiery habanero salsa.
Dos Toros Taqueria
When brothers Leo and Oliver Kremer founded Dos Toros in New York City in 2009, they had precisely zero restaurant experience between them (via Nation's Restaurant News). What they did have, however, was a deep passion for burritos, which has apparently proven to be more than enough for a successful restaurant business. Dos Toros has become so popular it's all but taken over the Big Apple with nearly 20 restaurants in New York City alone and another across the river in New Jersey. But it has expansion sights set beyond the East Coast, as well. In 2017, Dos Toros opened its first restaurant in Chicago, as Eater reports.
The restaurant is known for its Mission-style burritos, which originated in the Kremer brothers' home base of Northern California, according to Food Republic. These types of burritos are usually larger and contain larger portions of ingredients. You can fill your Dos Toros Mission-style burrito with pollo asado, carne asada, carnitas, rice and beans, or Impossible Foods ground beef. Some of the chain's notable fillings include farro, crushed chips, and its signature hot sauce that comes in smokey, verde, and habanero varieties.
Moe's Southwest Grill
Customers have been hearing, "Welcome to Moe's" as they walk through the restaurant's doors ever since the chain opened its first location in Atlanta, Georgia more than 20 years ago. Nowadays, that phrase is being said more than ever as Moe's Southwest Grill has grown to more than 700 locations, making it one of the top five largest Mexican chains in the country. But the chain isn't resting on its laurels, it's continuing to expand in innovative ways. In June of last year Moe's opened its first kiosk-only restaurant. QSR reported that it was the first such store among all fast-casual Mexican restaurants.
When it comes to its famous burritos, Moe's offers two styles: the "Homewrecker," a Mexican burrito with your choice of protein plus rice, beans, shredded cheese, shredded lettuce, pico de gallo, sour cream and guac; or a "Build Your Own" burrito with the protein and add-ons of your choice. The proteins available include sirloin steak, natural white meat chicken, adobo chicken, ground beef, pork, and organic tofu.
Taco John's
Taco John's started as a single taco stand in the small town of Cheyenne, Wyoming in 1968. As off the beaten path as it may have been for many diners, the food was simply too good to miss. The following year, two local businessmen purchased the franchise rights and named the restaurant after John, the taco stand's owner. Fifty-plus years later, Taco John's has expanded to nearly 400 stores in 23 states, primarily in the Midwest, and keeps on growing. In June of 2021, the company announced plans to open five new restaurants in Colorado, according to QSR.
Taco John's may have originated as a taco stand, but over the years, the restaurant has learned how to whip up some seriously over-the-top burritos. We're talking a Chicken Grilled Burrito with cheese, ranch, and the chain's signature Potato Olés, for instance. Or you could order a Boss Burrito featuring more than a pound of cilantro-lime rice, black beans, and either grilled chicken or steak. And if the burrito craving hits you early in the day, fear not, as Taco John's offers four different types of breakfast burritos, namely the Junior Breakfast, Scrambler, Meat and Potato, and Spicy Chorizo burritos.
Rubio's Coastal Grill
In 1973, Ralph Rubio, then a student at the University of San Diego, took a spring break vacation to San Felipe, Mexico. What had been meant to be a trip of leisure would end up changing the trajectory of his life, as San Diego Magazine reports. It was on this trip that Rubio first discovered the fish taco. Upon his return, he noticed there were very few places selling these tacos in his area, and so he became convinced that a fish taco restaurant would be a successful business venture. Armed with the fish taco recipe of his favorite food stand in Mexico, Rubio opened his first restaurant in 1983. Rubio's Coastal Grill has now grown to nearly 200 locations in the United States, making it one of the largest chains of its kind in the country.
It's not just the number of Rubio's stores that have increased, either. Rubio's menu has expanded to include some killer burritos. Seafood is the name of the game at Rubio's, and its burrito offerings follow suit. Some of the menu's highlights include a Shrimp and Bacon burrito, Wild Alaska Salmon burrito, Beer-Battered Fish burrito, and the Ancho Citrus Shrimp burrito made with pan-seared shrimp marinated with ancho chilies, garlic, and cilantro topped with citrus rice, guacamole, black beans, salsa fresca, creamy chipotle sauce, and roasted chipotle salsa. Not in the mood for seafood? No problem. The chain also offers steak, chicken, vegetable, and bean and cheese burritos.
Fuzzy's
Fuzzy's is one of the newer kids on the burrito block, as it's only been around since 2003. But in that short period of time, it has gained a devoted following that has allowed the restaurant chain to explode from a single location in Fort Worth, Texas to roughly 150 spanning the country, with more on the way. Fuzzy's chief development officer Michael Mabry told Franchise Times in 2020 that the company hopes to reach 200 stores with the next 24 months.
There's no denying it: Fuzzy's burrito game is strong. Whatever meat — and cooking style — you prefer in your burrito, Fuzzy's has you covered. The chain offers proteins including chicken, pork, beef, fish, and shrimp, which can be prepared shredded, grilled, tempura-fried, and fajita-style. And this doesn't even include the Fuzzy's breakfast menu. There, just about every combination of eggs, cheese, bacon, potatoes, chorizo, and even shrimp is available to be stuffed into a burrito for you. And the best news? Breakfast is served all day at Fuzzy's.