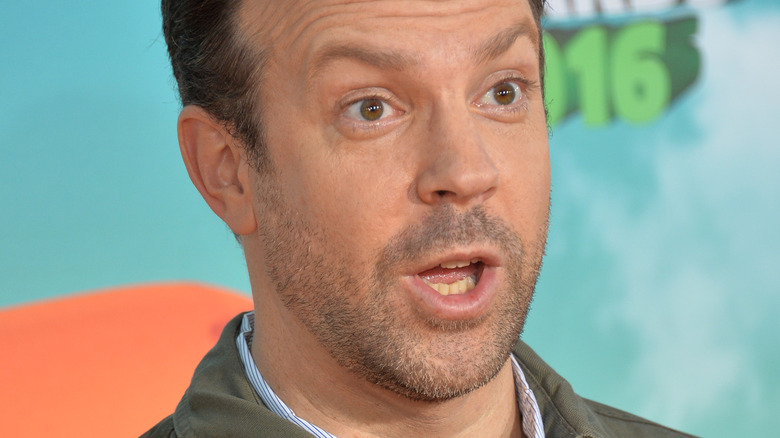 Family acts have been a Hollywood mainstay since the industry began. You've heard of a little comedy troupe called the Marx Brothers, right? Well, it wasn't just a clever name, as Wayne Campbell would say. Even behind-the-scenes, families have infiltrated Tinseltown together — does Warner Brothers ring a bell? Still, sharing a last name with a fellow entertainer can be both a blessing and a curse. Fans constantly accuse celebrities like Kendall Jenner of owing their careers to nepotism. And we all know there are plenty of stars who are only famous because of their siblings.
But what about the celebrities you didn't even know were related? There are singers, actors, comedians, and even drag queens with secret famous family members. Some celebs choose keep their connections quiet, for various reasons that we'll delve into below. Others are simply kinships that flew under the radar as the likely result of one family member simply being more famous or exposed than the other.
No matter what the reason, here are a bunch of celebs you didn't know were related.
RuPaul Charles and Cory Booker found out they were cousins on TV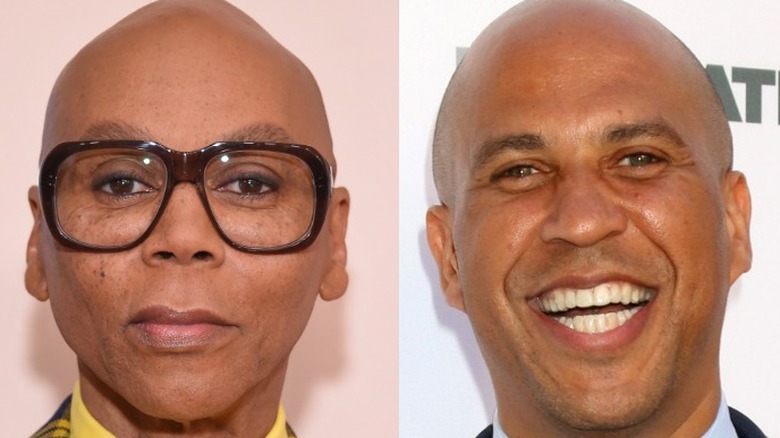 It's not often that the worlds of drag and politics intersect on television. But when RuPaul Charles and Cory Booker found out they were related, that's exactly what happened. Drag icon RuPaul grew up in San Diego. New Jersey Senator Booker is a lifelong east coaster. So imagine their surprise when, during an appearance on the PBS series "Finding Your Roots," they learned they're related.
RuPaul appears on an episode of the show. The team compared RuPaul's DNA to that of past guests and found a match in Booker. "He looks like my kin," RuPaul says of Booker in a clip from the show. "You know, actually there's a sweetness about him that I've always loved and an intellect that is undeniable. But every time I've ever seen him, he reminds me of my cousin Eulah."
The pair embraced their newfound kinship when Booker made a cameo on "RuPaul's Drag Race." On the show, Booker told the assembled contestants, "In life we were not born to fit in, we were born to stand out, to make the most out of ourselves and always elevate and enrich the lives of others." Sounds like he's a Ru fan. Booker wrapped up by saying to the queens, "Thank God for you, thank God for America and thank God for my cousin, RuPaul."
Melissa McCarthy and Jenny McCarthy are cousins who came up together
When you think of actors who broke into the biz thanks to famous relatives, does Melissa McCarthy come to mind? Probably not. But the movie star actually got her start on her younger cousin Jenny McCarthy's MTV sketch show. That's right: before she played Sookie on "Gilmore Girls," Melissa McCarthy worked for her little cousin.
Jenny got her start as a Playboy model, and after a string of successful TV co-hosting gig and appearances, got her own MTV sketch comedy vehicle, "The Jenny McCarthy Show," in 1997. Melissa snagged a role as a production assistant on the show, according to Vulture. The two cousins, who come from a big family, were in their late 20s at the time. The leg up must have helped, because less than 15 years later Melissa helped break box office records in "Bridesmaids."
Although the cousins may be cut from the same Hollywood cloth, Melissa and Jenny have differing views on modern medicine. Jenny, of course, became is infamous for her controversial statements about vaccination. Melissa seems to have a more traditional stance on the subject. Asked by The Guardian if she was aligned with her cousin's views on vaccinations, Melissa demurred, saying, "No, my kids have been vaccinated. But, um, whatever your stand is, you can't say that she hasn't put autism in the forefront of everyone's minds."
The Coppola's are a sprawling Hollywood dynasty
The classic film "The Godfather" pops up all over pop culture, and its director, Francis Ford Coppola, has younger relatives popping up all over the place as well. Sofia Coppola, who directed "Lost in Translation" and starred in "The Godfather III," is Francis Ford Coppola's daughter. And she's not the only offspring of his who went into directing. His granddaughter, Gia Coppola, helmed "Palo Alto" in 2014. Gia and Sofia and the rest of the family spend a lot of time at Francis's vineyard in Napa, California, Gia told the Financial Times. Must be nice.
Other members of the sprawling Coppola family have changed their surnames. Nicolas Cage and Jason Schwartzman are both undercover members of this Hollywood dynasty. Cage's real name is Nicolas Cage Coppola, but he sneakily dropped his surname to prevent "accusations of nepotism," according to The Guardian. His dad, August, is Francis's brother, was "a comparative literature professor."
Schwartzman also counts Francis Ford Coppola as his uncle. His mom, Talia Shire, famously starred as Adrian in "Rocky." She was also in "The Godfather," and is Francis' sister. Still, he claims that he never thought he'd be famous. When the Independent asked him if he identified with privileged characters, he said, "​​No, I've definitely never felt like that. I don't think I ever felt bold enough to think that way. I didn't think that I was going to get to be a part of movies, truly."
Dakota Johnson's grandmother is a Hollywood legend
Some people were shocked when Dakota Johnson seemingly stood up to Ellen DeGeneres on the latter's daytime talk show. Ellen is a Hollywood power player, after all, and Johnson still only had a handful of high-profile credits under her belt at that time. But the truth is, Johnson has a three-generation Hollywood pedigree, so it's no surprise she's fearless in the face of Tinseltown power.
Not only is Johnson's mother Melanie Griffith of "Working Girl;" not only is her father Don Johnson of "Miami Vice" and "Knives Out;" but her grandmother is Tippi Hedren, a favorite Alfred Hitchcock muse and icon of the 1960s. Hedren starred in Hitchcock classics, including "The Birds" and "Marnie," but in later years, she became better known for her assortment of big cats, which she let roam free on her property.
Hedren has "13 or 14 lions and tigers," Johnson revealed on "The Graham Norton Show" in 2020, although she used to have up to 60 at a time. "By the time I was born, they were all in huge compounds and it was a lot safer," Johnson said, adding, "It wasn't as totally psycho as it was when they first started." Perhaps unsurprisingly then, when asked by The Hollywood Reporter how she deals with having grown up in a famous family, Dakota joked, "I keep my therapist on speed dial."
Jason Sudeikis is George Wendt's nephew
Playing a lovable sitcom character runs in the family for Jason Sudeikis. The "Ted Lasso" star fully admits that he took advice from his famous uncle George Wendt, and his career turned out all the better for it.
Wendt played Norm in the long-running sitcom "Cheers," and worked in Chicago theatre after that show's end, according to the Chicago Tribune. Although he was reportedly a man of few words in real life, he did give Sudeikis some solid advice. "He's always been very encouraging, but there was no 'Tuesdays With Morrie' kind of relationship between him and I," Sudeikis once told Playboy (via HuffPost). "He was just a good example that being an actor was a viable option. Here's a guy from the Midwest, in my family, who took the road less traveled and it worked out for him. The advice he gave me, and I say this jokingly, is 'Get on one of the best sitcoms of all time and then ride it out.'"
The days of TV shows lasting as long as "Cheers" did are long gone, but with Sudeikis' "Ted Lasso" enjoying both tremendous critical acclaim and fan reception, he at least has a fighting chance.
Snoop Dogg's famous first cousins are in music, too
Yes, Brandy and Ray J are brother and sister. But perhaps you didn't know Snoop Dogg is related to the celebrity siblings, too.
Singers Brandy and rapper/reality TV star Ray J and rapper Snoop Dogg had parallel paths to fame in the '90s, but they rarely talked about this extended family connection. In fact, they haven't spoken much about their familial bond on the record, despite Snoop featuring Brandy on his 2009 song "Special."
Snoop did, however, divulge in an interview about the album "Special" that the stars go way back — all the way back, in fact. "[Pharrell produced] a song on my record called 'Special' that he did for me with Brandy," Snoop told MTV at the time, adding, "Brandy's my first cousin. We never really told the world because we weren't trippin' off of that, but that's my family."
Gloria Steinem is Christian Bale's stepmother
As she's a feminist icon, it's no surprise that Gloria Steinem kept the last name she was born with, even after marriage. If she had changed her name, though, we'd now know her as Gloria Bale. Steinem married David Bale, the father of Oscar-winning actor Christian Bale, in 2000. Described by The New York Times as a "businessman, environmentalist and animal rights activist," the elder Bale died in 2004 of brain lymphoma. He was still married to Steinem at the time.
Oddly, the acclaimed actor told The Guardian in 2018 that he only "found out about" his new stepmom after she exchanged vows with his dad, which, of course, also means the "Batman Begins" star and the women's rights pioneer are only related by marriage. But do Christian Bale and Steinem share views on feminism? As Christian told the same outlet, "​If we're talking equality, absolutely."
As for Gloria's feelings about Christian, although she famously called for a boycott of the novel, "American Psycho," upon which the film that gave him his breakout role was based, she later told Daily Life in 2016 of her stepson, "He is a very good person, a great lover of animals and an immensely talented actor. … I don't see him that often, but we're in touch from time to time."
Mariska Hargitay's mother was Hollywood icon
Mariska Hargitay is a TV icon thanks to her long-running role on "Law and Order: SVU." Her mom, though, was a movie icon — and is now the star of an enduring meme with Sophia Loren.
Hargitay's parents were Jayne Mansfield, one of 1950s Hollywood's legendary blonde bombshells, and bodybuilder Mickey Hargitay. Mansfield died in a brutal car accident when she was 34 and Mariska was three. Mariska and her two older brothers, Zoltan and Miklos, were the only survivors of the crash that also claimed the lives of Mansfield's boyfriend, Sam Brody, and the driver of the other vehicle.
Mariska's father lived to the age of 80, dying in 2006. Hargitay lived a "seriously normal" life with her father despite her mother's death and immense fame, she told People in 1985. Of her mother, Mariska said she "was a young knockout but she was also brilliant," and that she never read books on her. ​​"Why should I read those?" she asked the outlet, adding, "I lived with an encyclopedia — my dad." In a another remembrance of her mother with the same outlet in 2018, Mariska said that Jayne "was just so ahead of her time," that she "was an inspiration," and "had this appetite for life" that was passed down to her only daughter. "She's with me still," Mariska said through tears.
Maya Rudolph is singer Minnie Riperton's daughter
A rare celebrity kid who's stardom exceeded that of her famous parents, Maya Rudolph is probably talented enough to have gotten big without a leg up at all. Maybe that's why so few people realize Rudolph's mother was a celebrity, too.
Surprisingly, Rudolph's mom wasn't a comedian or even an actress; she was the singer Minnie Riperton. Maya's dad is Richard Rudolph, a music producer. The couple collaborated on Riperton's album, "Perfect Angel," when Maya was just two years old, according to the The New York Times. The album's biggest single, "Lovin' You," was inspired by "a lullaby" Minnie would sing for the couple's young daughter. Of the iconic track and her mom's legacy, Maya told uDiscover Music, "I've become like a receptor to the world that people that want to tell her how great she was and how much the song affected their lives and how much you know her music meant to them and how special her voice was. I'm the person by association and it's fascinating."
Minnie died when Maya was just six. "Up until very recently," Maya told The Times in 2018, "it was still, like, a sting to talk about her." She also shared with the outlet that upon hindsight of why she chose her role on the Amazon original show "Forever," which serves as an existential treatise on death, she realized a big part of it was to process her grief over the loss of her mother.
Al Roker and Lenny Kravitz's grandfathers were cousins
"Today" co-host Al Roker and rock star Lenny Kravitz not only share Roker genes, but they're also part of an undercover Hollywood fame family.
According to "Today," Kravitz's mother was Roxie Roker, an actress best known for her role on "The Jeffersons." But before that, she worked as a secretary at NBC headquarters in Rockefeller Center, where "Today" is filmed. Kravitz's father, Sy Kravitz, was an assignment editor at NBC News, and they met at work.
As the morning show's venerable weatherman-turned-anchor, Kravitz's second cousin, Al Roker, works for NBC at Rockefeller Center. The two stars' grandfathers were cousins, "Today" clarifies. Kravitz has performed on Roker's show several times over the years, and the familial connection has come up. In fact, on a late 2020 show, someone asked Kravitz "what it feels like to be a rock star." His response was as cool as it was sweet. "Ask Al Roker. Al Roker knows what it's like to be a rock star because he is one."
This podcaster and rockstar share a female relative
"I am Gerard Way, musician, artist, creator, and cousin of Joe Rogan" is how the My Chemical Romance singer introduced himself for a 2014 Reddit AMA. And yet, amazingly, no one asked the musician about the connection in the ensuing Q&A. Fast-forward five years to when podcaster/comedian Joe Rogan finally shed a bit more light on the kinship — he and Way share a female relative, although they didn't grow up together.
We have "Clerks" director Kevin Smith to thank for this revelation, as he asked Rogan about his famous cousin during a 2019 episode of Rogan's podcast, "The Joe Rogan Experience." "I gotta ask a question on behalf of someone else," Smith said. "Your grandmother named Josie — Gerard Way, lead singer of My Chemical Romance…" Smith then relayed the info that Rogan is Way's cousin, "because [Way's] Aunt Josie was [Rogan's] grandmother." Rogan acknowledged, "Yeah, we're related. … I don't know him, but we're cousins."
The confirmation kind of made the internet go wild, which included The Cut, who conducted an informal investigation into exactly how Rogan and Way are related. The big question on the blog's mind, however, was whether Rogan's grandmother is the woman who inspired My Chemical Romance's "Helena." Unfortunately, that answer remains a mystery.
Jesse Eisenberg is the brother of Pepsi girl Hallie Eisenberg
If you were of TV-watching age in the 1990s and early 2000s, you probably remember Hallie Eisenberg, the curly-haired "Pepsi girl." And you might have wondered what happened to her. Well, she's pretty much living a normal life now. And it's her brother, Jesse Eisenberg, who's become super-famous.
Surprisingly, the biggest celebrity in the Eisenberg family isn't the girl who was on every TV screen in the '90s. Instead, it's "The Social Network" actor Jesse Eisenberg. Jesse talked about his little-known family connection on "The Tonight Show Starring Jimmy Fallon" (via Yahoo). He revealed not only that he was living with Hallie at the time, but that her boyfriend — then-"The Voice"-contestant Owen Danoff — was their roommate, too.
Hallie pressed pause on Hollywood in 2010 to go to college, according to Seventeen, and that seems to line up precisely with her last acting credit for "Holly Rollers" that same year. While it's unclear what Hallie is doing professionally these days, she did hint at a work from home situation in an August 2020 post on Instagram, where she also frequently promotes her big brother's work. Jesse, of course, went on to play Lex Luthor in "Batman v Superman: Dawn of Justice" and "Justice League," as well as other high-profile projects. But since Jesse and his wife had a son, it's likely that the siblings' days as roommates are over, at least for now.
Josh Brolin is Barbra Streisand's stepson
It may be hard to imagine, but the grizzled star of "Avengers: Endgame" and "No Country for Old Men," actor Josh Brolin, actually enjoys being close and affectionate with his step-mother, Barbra Streisand.
In 1988, Barbra married Josh's father, actor James Brolin. Good Housekeeping described both parties as "unlucky in love" until they met each other. They've been together since their first date in 1996. Over the years, Barbra has become close with Josh, so close, in fact, that Josh couldn't stay away from his famous dad and step-mom — who live next door to him — during pandemic lockdowns. Josh "received criticism from fans online" for visiting them with his wife and one-year-old daughter, according to People. He later apologized on Instagram, saying it was "irresponsible," and started visiting them in a safter, more distant way.
Prior to that light scandal, Josh gushed to GMA about how over-the-moon Barbra was to become a grandmother. "She's calling all the time, emailing all the time. She has name suggestions. We got her a bracelet that says 'grandma' on it; she started crying." Babs doesn't talk about Josh much in the press, and that's likely the reason that some nasty, but unsubstantiated tabloid drama about has been floated about them. One thing that is clear, however, is Barbra's grandmotherly affection, as noted by an adorable Instagram post of her with the tot, captioned, "We were at a restaurant but the most delicious thing was my granddaughter Westlyn!"
Reba McEntire was Kelly Clarkson's step-mother for a few years
Reba McEntire and Kelly Clarkson are both entertainment industry powerhouses, but did you know they're related? Well, by marriage, that is, and some complicated ones, at that.
McEntire made major waves in 1987 when she divorced her husband of 11 years, Charlie Battles, and remarried Narvel Blackstock about a year later, per People. Blackstock would go on to sign Clarkson to his company, Starstruck Management Group, years later. That's how Clarkson met Blackstock's son, Brandon Blackstock, who is also a manager with Starstruck. She first laid eyes on him while rehearsing for the American Country Music Awards in 2006, according to People. "This guy walks by, making everybody laugh," she told the magazine. "I said, 'I'm gonna end up with him. I know it.'"
Brandon and Kelly married in 2013, making Reba Kelly's step-mother-in-law. In 2015, though, Reva and Narvel divorced. Then, Kelly and Brandon initiated divorce proceedings in 2020. It got ugly, too: Kelly accused the Blackstocks' management company of fraud and the company claimed she owed them $1.4 million, according to documents obtained by OK!. But reportedly, neither divorce could break the bond between Reba and Kelly. An insider told Closer Weekly the women were "staying close, adding, "Kelly and Reba have a bond that cannot be broken. It may get a little awkward at times, but nothing is going to get in the way of Kelly and Reba's relationship."