Trade Up
Quirky Trader Joe's has amassed a following among grocery shoppers who appreciate its unique offerings, low prices, and emphasis on natural and organic goods. But newbies may not know where to start. Here are some can't-miss customer favorites to throw in the cart on your next TJ's run.
Prices and availability are subject to change.
Speculoos Cookie Butter
$3.69
This is how big Trader Joe's cookie butter is: BuzzFeed's video of people tasting it for the first time has amassed more than 2 million views. "You could put this on my ex-boyfriend and it would make him better," one tester proclaims. The gingerbread-like spread can be slathered on everything from apple slices to bagels. Yes, please.
For more great shopping guides and grocery tips, please sign up for our free newsletters.
Gnocchi al Gorgonzola
$3.29
These fluffy gnocchi filled with a gorgonzola sauce are this author's favorite, and one of the best bets in the frozen food aisle. But don't take my word for it: Reviewers at TraderJoesFan.com also give it plenty of love. It's super-easy to prepare: Just toss it in a pan with a little oil, stirring occasionally for about seven minutes. Then try not to eat the whole package yourself.
Mandarin Orange Chicken
$4.99
This frozen dish, a store staple since 2004, regularly beats out the rest of Trader Joe's extensive lineup to be shoppers' favorite overall product in the grocer's customer choice awards. For a true takeout-like experience, TJ's recommends putting the thawed sauce in a hot pan instead of a microwave before tossing in the baked chicken. Yum.
Spiced Cider
$2.99
Trader Joe's famous spiced cider is usually around only while it's cold out, but Influenster reviewers say this seasonal treat is worth the wait. "This is delicious cold, but I love to simmer it on the stove with cinnamon sticks, lemon rind, and fresh cranberries for a festive treat," one devotee says. "Bonus points if you add in a shot of bourbon or whiskey to keep you extra warm."
Italian Organic Extra Virgin Olive Oil
$5.99
This organic olive oil (not to be confused with its non-organic counterpart) punches far above its weight. Experts at The Tasting Table say it's one of their favorite store-bought olive oils, beating out several name brands that are double the price. TJ's puts it among its "fruity and fresh" varieties, with a peppery pungency that will elevate almost any dish.
French Vanilla Ice Cream
$6.49
Who needs name-brand ice cream when there's Trader Joe's? That's the consensus of several expert taste testers, including our own. Setting the flavor apart from the competition: A custardy texture that makes for a richer taste and feel. TJ's also brags that it actually still sells half-gallons of this stuff for the price, while other manufacturers have shrunk their containers.
Pork Gyoza Potstickers
$3.29
Serious Eats says Trader Joe's potstickers are "the only one we'd stock in our home freezers" of the store brands they tried, and The Daily Meal says they're No. 1 among TJ's appetizers. To fancy things up a bit, try TJ's recipe for potsticker soup — you'll need some chicken broth, baby spinach, soy sauce, and a mirepoix, among other ingredients.
Everything But the Bagel Seasoning
$1.99
For a relatively new product (it was introduced in 2017), Everything But the Bagel has become a customer favorite quickly: Just look at its reviews on Influenster. TJ's recommends using this blend of sesame seeds, poppy seeds, garlic, onion, and sea salt on everything from popcorn to grilled chicken to baked potatoes.
$3.99
Yes, this is the infamous "Two Buck Chuck." And no, it's no longer two bucks. Still, Charles Shaw remains one of the best wines at a cheaper-than-cheap price point. A sommelier even gives the merlot, shiraz, chardonnay, and cabernet sauvignon respectable reviews during a taste test (you may want to steer clear of the white zinfandel, though).
Unexpected Cheddar
$3.99
What's so unexpected about this unassuming block of cheese? Perhaps the fact that it marries the goodness of cheddar with hints of parmesan. Or perhaps the love it inspires among food writers and customers. Today calls it a "knock-it-out-of-park pick for any cheese plate," and shoppers rate it their favorite cheese in the chain's recent customer choice awards.
Sublime Ice Cream Sandwiches
$4.79
Another author's favorite here. These things are just decadent: Creamy vanilla ice cream is sandwiched between chocolate chip cookies, and then more — lots more — chocolate chips are sprinkled along the side. These frozen treats also made the list of TJ's top 50 products of all time, released for the grocer's 50th anniversary.
Curious about how Trader Joe's sandwiches stack up against other brands? Check out our ice cream sandwich taste test.
Soy Chorizo
$2.29
Put it in a taco, chili, or frittata — really, it can go in anything. Whether you're vegetarian, vegan, or just trying to cut back on red meat, customers say the Soy Chorizo is king of meat-alternative products at TJ's. "Will I buy it again? Absofreakinlutely," raves the Exploring Trader Joe's fan site. "Top Ten item and one that I plan to keep on hand as a staple all the time."
Cold Brew Coffee Concentrate
$7.99
Adding water or milk to this Cold Brew Coffee Concentrate yields a more refreshing way to get a java buzz, and a 32-ounce bottle yields about three times that in drinkable beverages. Influenster reviewers are fans of the price — it's way cheaper than a lot of the competition — and the taste.
Dark Chocolate Peanut Butter Cups
$4.49
This sweet treat shows up as a favorite on TJ's most recent customer choice awards and its list of 50 all-time favorites. It even merits the No. 1 spot in a taste test that pits store brands against Reese's. What makes them so good? TJ's says it's actually what's not in them: artificial colors, flavors, and preservatives.
Green Dragon Hot Sauce
$3.29
Another staple that shows up on current and all-time favorite lists, this hot sauce is set apart from the competition, devotees say, by the fact it's so well-balanced. "It's not just heat and nothing else," says fan blog What's Good at Trader Joe's. "There's plenty of roasted sweetness from tomatillos with some added flavor depth from lime juice and garlic … and cilantro to add a herby twist."
$5.49
Trader Joe's has a more limited selection of toiletries and household goods than some shoppers may be used to. But one standout in that aisle, shoppers say, is the lightly scented Coconut Body Butter. Aside from pure coconut oil, other skin-pampering ingredients include vitamin E, aloe vera, and shea butter. "This stuff is magic," one Influenster reviewer raves. "This cream is thick, rich … and comes at a steal of a price."
$3.99
Another beverage that made TJ's all-time and recent customer favorites list, this ginger beer with hints of lemon and lime is non-alcoholic — but much more intense than the average ginger ale, reviewers caution. (TJ's fan blog Eating at Joe's calls it "the whiskey of the soda world," made for sipping rather than guzzling). True ginger lovers can look for the seasonal Triple Ginger Brew, an even more intense concoction, during the holidays.
$2.99
This longtime customer favorite is as simple as it sounds: a bag of dried mango slices, and that's it. There are no artificial flavors, preservatives, or other junk, and fans like it that way. Influenster reviewers say this simple treat is healthier than most, affordable, and most importantly, tasty: "They're sugary sweet with tons of fresh mango flavor," one devotee says. "The texture is even better than other dried mangos."
Black Bean and Cheese Burrito
$2.99
Looking for a cheap, filling meal that's easy to eat on the go or during a quick lunch break? Try the Black Bean and Jack Cheese Burrito, available with other prepared foods in the refrigerated section. These 10-ounce burritos are easy to zap in the microwave and top with a favorite salsa. Freezer Meal Frenzy calls these "about as basic as it gets, but by no means is that a bad thing. In fact, this burrito is fantastic."
Chunky Salsa
$1.99
Speaking of salsa, TJ's makes some of the best cheap stuff you can buy, according to Cheapism testers. Its Chunky Salsa "is bright with tomato acidity and spicy but not too hot." If you're in the mood for something less mainstream, there are other varieties on the shelf, including a well-regarded tomato-free corn and chile salsa and an uber-hot habanero ghost pepper salsa.
Organic Blue Corn Tortilla Chips
$2.99
There should be some delicious chips to soak up some of that salsa. Our taste testers give two thumbs-up to TJ's Organic Blue Corn Tortilla Chips, calling them surprisingly flaky and light, unlike other blue corn chips that can be heavy and grainy. These chips get a mention on several fan blogs as among the best of TJ's chip options, too. (Don't confuse them with the Organic Stone Ground Blue Corn Tortilla Chips, which are thicker and intentionally grainier, as they feature amaranth, quinoa, and chia seeds.)
Everything But the Elote Seasoning
This riff on the oh-so-popular Everything But the Bagel, a newer addition to TJ's, is a mouthwatering mix of chile pepper, sea salt, cheese, cumin, and chipotle. "I am already obsessed with this seasoning and am putting it on all the things," raves Feasible Feast. "I have yet to find something this is not great on, though I haven't put it in my coffee — yet."
Cauliflower Gnocchi
This stuff is good, but don't take our word for it. Cauliflower gnocchi is in the mix for best vegetarian or vegan item, best overall item and best entree. Sautee them with olive oil or butter, and you may even forget you're eating your veggies.
Plantain Chips
Hold the Cone
They're not big enough to be a full-fledged dessert, so we put these delectable little chocolate-covered ice cream cones firmly in the snack category. They're great for portion control, when you just want something small but sweet. And they've been a customer favorite for several years.
Organic Elote Corn Chip Dippers
$1.99
These crunchy delights debuted to near-universal praise a couple years ago. And yes, they're a fantastic conduit for your condiment of choice, but the surprisingly complex seasoning means they're plenty good enough to nosh on by themselves. As What's Good at Trader Joe's raves: "There's habanero spice and good pepper bite and all sorts of other things really going on that I'm not 100% sure how to explain except … dang."
Sparkling Black Tea With Peach Juice
$3.99
This fizzy, refreshing drink has had the Internet abuzz since it was released last year. Customers have already elevated it as the chain's No. 1 beverage, impressive for a new product. You can also use add some bourbon, honey, and lemon to make a summer-ready cocktail best sipped in a rocking chair on your front porch.
Salted Peanut Butter-Filled Pretzel Nuggets
$2.49
Personal story: On a pre-pandemic trip to a waterpark, three picky 8-year-olds demolished a bag of these in 5 minutes flat. There must be something magical about the pretzel-to-peanut-butter ratio, because a subsequent imposter from Costco was flatly rejected by the same crowd. Trader Joe's customers agree: These are worth the space in your pantry.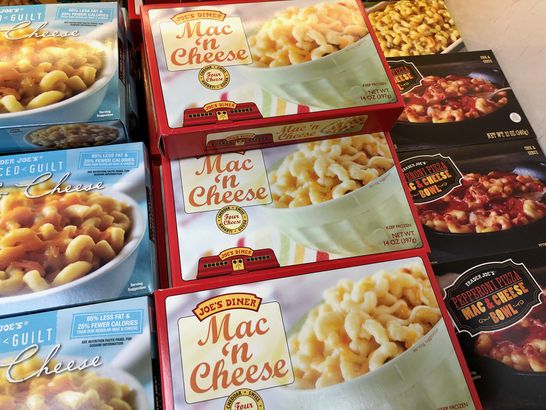 Joe's Diner Mac 'n Cheese
$2.99
A runner-up in the stiff competition for favorite entree at Trader Joe's, this frozen macaroni and cheese is not exactly health food (as Freezer Meal Frenzy notes, there are more than 700 calories packed into this little tray) but it sure is a tasty indulgence. Need your comfort-food fix for less? The Reduced Guilt Mac & Cheese is a good alternative.