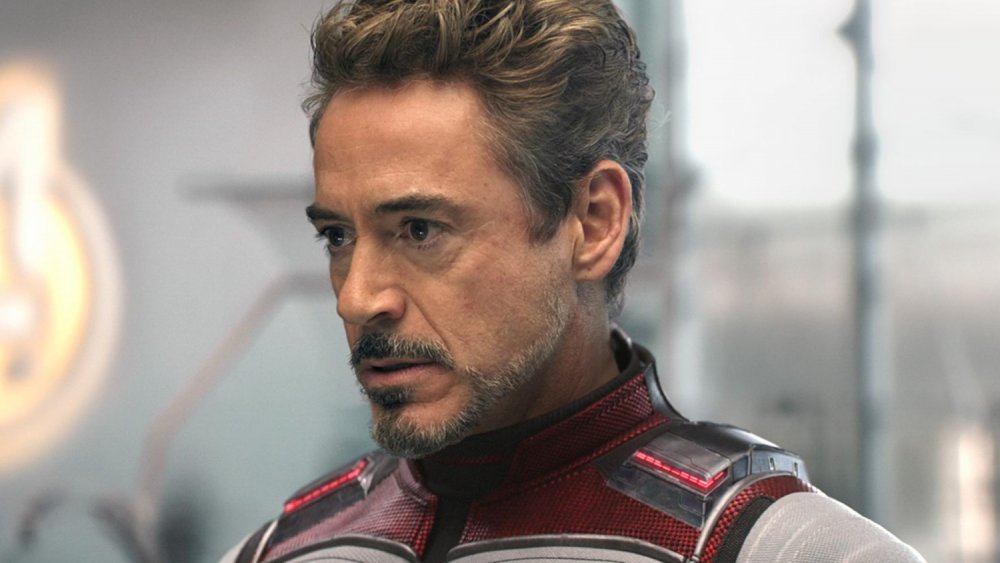 Robert Downey Jr. seems like someone who has always been an A-list movie star. Far from it.
In fact, Downey spent most of his four-decade career as "box office poison," and didn't break big until he was 43, in 2008's Iron Man. Yes, that's right: in an industry obsessed with youth, one of the biggest movie stars ever didn't become an A-list action star until his 40s. Sure, he was a well-respected thespian for many years (even being nominated for an Oscar for 1992's Chaplin) but he was nowhere near his contemporary status as one of Hollywood's highest-paid actors. Truly, the total gross of most of his early films, as listed by The Numbers, were less than he can now take home for just one film, with Avengers: Endgame earning him $75 million, according to Indie Wire.
It's not just the quantity of his bank account, though, but the quality of his films that has improved. Much of his best work has come after Iron Man rocketed him to the top. Go figure. In this way, Downey defies the cliche that blockbusters are inherently bad, while so-called "prestige" cinema is automatically…well, prestigious. And if you want proof, well, here are the best and worst Robert Downey Jr. movies, according to Rotten Tomatoes.
Worst — Robert Downey and his dad suffered from Too Much Sun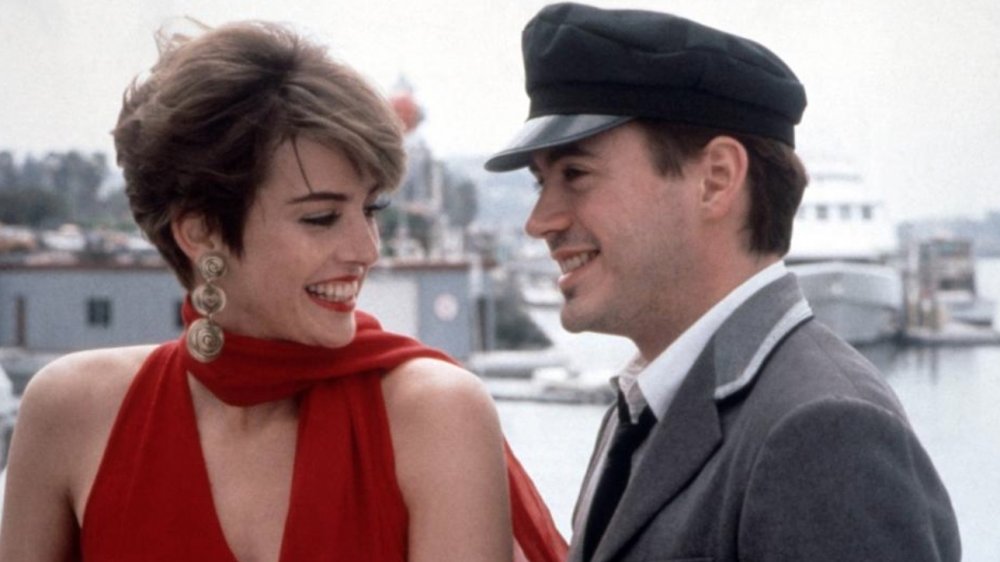 You know what they say: never mix business and family. The Downeys should have heeded that advice. In 1991, RDJ's namesake, Robert Downey Sr. — a satirical filmmaker most famous for 1969's Putney Swope — set out to make a riotous British-style sex farce in the vein of Don't Dress For Dinner. The film was Too Much Sun, and was about a Catholic priest who convinces a rich tycoon in Beverly Hills to add a proviso into his will: if he doesn't have an heir within one year of his death, the church will inherit his wealth.
The catch is that his kids are homosexuals. Uh, okay? Robert Downey Sr. cast Robert Downey Jr. as a Reed Richmond, whose job is to get the lesbian daughter pregnant. By 1991, Downey Jr. was the Jason Biggs of his day (just not as famous, if you can believe it), and frequently played teenage and young adult roles in forgettable comedies and dramedies. He was a budding talent to be sure, but nobody could carry his dad's lukewarm, unfunny satire past a 17% critic's score and 27% audience score. RDS probably wanted to give RDJ a star-making role, but instead, he just made his son look silly. Thanks Dad!
Best — the Avengers assembled one of Robert Downey Jr.'s best scores
After four films and $7.7 billion worldwide, the success of The Avengers' series may seem obvious now. Back in the early 2010s, though, it was in no way guaranteed that the epic franchise would become the unprecedented smash it is today. Sure, Iron Man and Iron Man 2 were blockbusters, but Captain America: The First Avenger and Thor were solid hits, nothing more, and managed strong (if unspectacular) 80% and 77% Tomatometer scores, respectively. Meanwhile, response to The Incredible Hulk was lukewarm, both critically and commercially.
There was, in 2012, a chance Marvel Studios had spent The Avengers' $225 million budget on what amounted to a glorified "Iron Man and His Amazing Friends" flick. Maybe in another multiverse, The Avengers experiment would have failed. Thankfully, we live in this one, where it earned $1.5 billion worldwide. As impressive as its box office was, the true achievement of The Avengers was its quality. Remember, no studio in the modern era had ever successfully brought in characters from multiple different franchises into one blockbuster, and honestly, none has successfully done so since, except for Marvel.
The Avengers wasn't just "good," it was one of the best films in the entire MCU — and Robert Downey Jr.'s career, with a 92% critics score and 91% audience score.
Worst — Gothika is insane
There's a long tradition of Academy Award winners starring in horrible movies. It's excusable when it happens early in their career, when they're just starting out … but after they've already taken home the gold? That's just bad. Case in point is Gothika, Halle Berry's 2003 followup to her 2002 Academy Award for Best Actress.
But we're not here to talk about Halle Berry — we're here to talk about Robert Downey. Alas, with its 15% Tomatometer score and 45% audience score, Gothika is one of his worst movies ever, too.
Critics ripped the movie's "preposterous plot" in which a psychiatrist played by Berry is accused of killing her husband and is placed under the care of her colleague (played by Downey) in her own mental hospital. In real life, Downey Jr. was, at this time, a recently recovering addict, and not an Oscar winner, so he didn't have as far to fall as Berry, but producer Joel Silver did withhold 40% of his salary as insurance until the film was finished, according to Today. On the bright side, the actor did meet his future wife and producing partner Susan on the set of Gothika, according to Harper's Bazaar, so Team Downey for the win!
Best — Robert Downey Jr. had Good Luck to get cast in Good Night
Robert Downey Jr.'s early career is defined by a bunch of duds earning him his "box office poison" status, while his post-Iron Man career is defined by … well, Iron Man. Meanwhile, his comeback phase of 2001-2007 is a mixed bag of hits and misses. One of the hits was Good Night, and Good Luck, in 2005. Downey hadn't yet earned enough studio confidence to become an action-blockbuster leading man (who could have seen that coming?), but he did excel in supporting parts, like this one.
Downey plays the role of CBS correspondent Joseph Wershba in the George Clooney-directed film, in which career character actor David Strathairn's Edward R. Murrow goes toe-to-toe on TV with Senator Joseph McCarthy, in the fifties, during the Red Scare. In an ensemble piece, every part is important, and Downey's performance helped power Good Night, and Good Luck to a 95% critics score and an 83% audience score, as well as six Academy Award nominations, including Best Picture. Good Night, and Good Luck may not have been a huge boost to his career, but it certainly looked good on the ol' resume.
Worst — What was Robert Downey Jr. thinking, doing Dolittle?
Robert Downey Jr. shouldn't talk to animals — he needs to talk to his agent. You do not follow up the highest-grossing movie of all time with Dolittle. Or at least, you shouldn't.
Well, he did, and his overall Tomatometer score paid the price, big time. Dolittle earned an absolutely disastrous 14% Tomatometer score from critics, however moviegoers seemed to like it for the most part, giving it a 76% audience score, which is actually higher than some of his best movies on this list. To be honest, the idea of Robert Downey Jr. playing a wacky doctor who talks to animals sounds like it should be a blast. Alas, critics panned it for its "jumbled story and stale humor."
Also, as Box Office Mojo shows, whose idea was it to spend a blockbuster budget of $175 million on a "kids only" family movie, that had almost no chance of ever making that back? Indeed Dolittle didn't come close, as it only earned $246 million worldwide, which honestly isn't too bad, all things considered … except for, you know, that insane budget. Nobody should be surprised by the movie's failure, as none of the Doctor Dolittle movies have ever earned a "Fresh" rating, especially not the original "classic" version from 1967, which earned a 29% Tomatometer score and nearly put 20th Century Fox out of business, according to the Hollywood Reporter.
How do you say "Stop making Doctor Dolittle movies," in gorilla?
Best — Iron Man changed everything
Many movie stars have a "before" and "after" movie in their filmography, in which their career suddenly took off. Sylvester Stallone had Rocky. Julia Roberts had Pretty Woman. Robert Downey Jr., of course, had Iron Man.
What makes RDJ's career breakthrough unique was he was 43 years old at the time, and had already been making movies for 25 years. By 2008, Downey had seemingly resigned himself to a career as a respectable, middle-aged, character actor. It's a good place to be for a working actor, as you can make a great living playing scene-stealing supporting roles without the pressure of carrying a film. And there's no greater pressure than carrying a big-budget, summer blockbuster upon which a studio's yearly profitability (and people's livelihoods) depend.
So, Downey deserves the utmost credit for taking on the challenge of the career-changing (and life-altering) role of Tony Stark. While Tom Cruise had once been in talks to play Tony, director Jon Favreau convinced Marvel to take a gamble on Downey, who was seen, at the time, as risky. That all changed on May 2, 2008. Powered by its 94% critics score and 91% audience score, Iron Man opened to $98 million, on its way to $585 million worldwide. Today, while Iron Man remains one of Robert Downey Jr.'s best movies, it's certainly his most important.
Worst — Air America is bad, but it formed a great friendship
Mel Gibson was at the peak of his popularity. Robert Downey Jr. hadn't broken big as a leading man, but showed a lot of potential. Put them in an action-comedy in 1990, and what could go wrong?
Air America, that's what. In both men's defense, it was hard to do much with Air America, which due to its inconsistent pace and tone (righteous "war is hell" morality play one moment, rollicking, action-comedy the next) earned an abysmal 13% critics score and 35% audience score. Air America's box office was just as bad, earning $32 million in 1990, just 24% of what Gibson's Bird on a Wire earned only a few months earlier. However, the experience wasn't a total bust for Robert Downey Jr., himself. Based on working with Gibson during this time, according to the Milwaukee Journal Sentinel, the more experienced actor later cast Downey as the lead in The Singing Detective, in 2003, back when nobody else in Hollywood trusted him to stay clean. This proved to be the spark that lit the flame of Downey's career renaissance.
Best — Richard III was not the winter of Downey Jr.'s discontent
Groan, another William Shakespeare adaptation that has been updated to a different time period besides Victorian England? Take a drink. Seriously, in the not-too-distant future, are they going to set Neil Simon's plays in space? The "Reimagined Shakespeare" trope is a genre unto itself, and oftentimes results in the Bard's best works eliciting more eye-rolls than insights. That said, there are some good entries in the sub-genre, most notably 1995's Richard III.
Sir Ian McKellen stars and co-wrote the adaptation alongside director Richard Longcraine in a cinematic vision that transports the Shakespearean play's medieval time period to the 1930s, in an England beset by war and the threat of fascist dictatorship. Ian McKellen, of course, steals the show, enhabiting the title role of the Crookback King descending into madness. However, he is supported by a stellar supporting cast, including Annette Bening, Jim Broadbent, and of course, Robert Downey Jr., as Rivers. Pulling off Shakespeare is the ultimate test for any actor, and Downey nailed it with aplomb, helping to propel Richard III to a 94% critics score and 85% audience score, a "Fresh" rating for a fresh take on Shakespeare.
Worst — Friends & Lovers was an embarrassment
Friends and Lovers is the first, and only, time that Stephen Baldwin got top billing over Robert Downey. Okay, okay, it was because of alphabetical order, but still, who wants that on their resume?
In the mid-to-late nineties there was a glut of "pretty Gen-Xers with problems" movies and TV shows, ranging from Noah Baumbach's directorial debut Kicking and Screaming, to the quintessential angsty teen drama TV show, Dawson's Creek. Next to blatant Pulp Fiction ripoffs, it was a popular genre for first-time writer-directors, as the script was the star.
Into this muck came Friends & Lovers, an ensemble comedy from first-time (and last time) writer-director George Haas, in which a bunch of twenty-somethings go on a ski trip to find themselves … or something. How bad is it? How about a 7% critics score and 33% audience score? How about Roger Ebert nailing it with, "This movie is not merely bad, but incompetent. I get tapes in the mail from 10th graders that are better made than this." How about … well, you get the idea. Robert Downey Jr. play Hans, a fast-talking ski instructor, and he was clearly in his career nadir. It doesn't get much worse than this.
Best — We're True Believers in this 1989 legal thriller
Leading man James Woods isn't something you see often, but when it does happen it's usually awesome. See David Cronenberg's Videodrome, John Carpenter's Ghosts of Mars (if only in a campy way), and Joseph Ruben's True Believer. In the 1989 film, Woods plays a jaded trial lawyer and former activist who is coerced by his apprentice (played by Robert Downey Jr.) to defend a wrongfully convicted man, in the process uncovering a huge conspiracy.
Forgive the cliche, but True Believer is the kind of movie they don't make anymore, mostly because nobody goes to see them now (and nobody went to see it then either—True Believer bombed with $8.7 million). Which is a shame, because True Believer is a solid, sophisticated suspense-thriller for grownups with believable characters and a compelling plot. While it's Woods' customary manic, live-wire energy that carries the film, RDJ is the audience's eyes and ears as the idealistic young attorney. It's an early career performance that showed the world that Downey had chops.
Technically, True Believer is Robert Downey Jr.'s highest-ranking movie, with a 95% critic's score, but we made a judgment call and did not give it the top spot because the audience score was a mediocre 63%, much lower than any other "best" movie on this list (and even less than Dolittle). Are moviegoers mistaken? Absolutely, but the Tomatometer has spoken.
Worst — Johnny Be Good is very, very bad
What movie could possibly be worse than Gothika, Dolittle, and Friends and Lovers? The ironically titled Johnny Be Good. Because no, Johnny be bad…Johnny be very, very bad.
Anthony Michael Hall, fresh off his career-defining dorky roles in John Hughes' comedies Sixteen Candles, The Breakfast Club, and Weird Science made a late-eighties pivot and bulked up to play the star high school quarterback, Johnny Walker. See, that right there spells trouble, as eighties Anthony Michael Hall should not have been playing a jock, ever. Anyway, Johnny is being recruited to play football for top colleges nationwide, with his best friend, Robert Downey Jr., telling him to wait for the best offer, while his girlfriend, Uma Thurman, wants him to go to the state school with her.
Johnny Be Good was meant to be a satire about the devious nature of the NCAA's college recruitment practices, but it pretty much just turns into the raunchy comedy you'd expect from the writers of Revenge of the Nerds. Roger Ebert even said: "The people who made this movie should be ashamed of themselves." Ouch. RDJ probably was ashamed, as Johnny Be Good's 0% critics score and 30% audience score makes it the worst movie of Robert Downey Jr.'s career.
Best — Avengers: Endgame is Robert Downey Jr.'s best
We're not just being fanboys — promise. That said, it's pretty exciting to see Avengers: Endgame top the list. Most of the attention that Avengers: Endgame has received has been about its unreal $858 million domestic and $2.79 billion worldwide box office gross, via The Numbers, making it the highest-grossing movie of all time. Far less attention has been paid to the fact it's simply a really, really good film. It's one of the best movies in the Marvel Cinematic Universe, and one of the best superhero movies of all-time, period.
That would be impressive enough, until you consider that no other superhero movie (or no other movie of the modern era, for that matter) had to contend with the same size, scope, and expectations as Avengers: Endgame. While it is an ensemble piece, it's Robert Downey Jr.'s performance as Tony Stark that gives the film its heart, mind, and soul. Without spoiling it, the finale's emotional impact was only possible because it featured an actor and movie star of Downey's caliber. While Avenger: Endgame's 94% critics score is just one point lower than True Believer, it has a 90% audience score that is much, much higher, making it the best Robert Downey Jr. movie ever, according to Rotten Tomatoes. Yep, critics liked a superhero blockbuster even more than moviegoers. What a time to be alive.