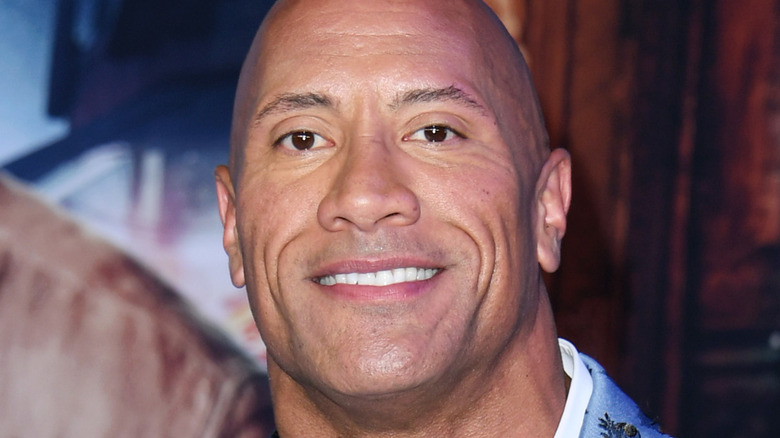 Dwayne "The Rock" Johnson is Instagram's second-biggest celebrity, with a whopping 257 million followers at the time of writing, pipping even Kylie Jenner to the post. (For those at home keeping score, Cristiano Ronaldo is the most-followed public figure.) In 2020, the BBC reported that the WWE icon is the "most valuable Instagram star" with the ability to rake in over $1 million per sponsored post. The Rock also has a sizable Twitter following and a huge Facebook fanbase.
The Rock has utilized his social media success to help propel his acting career. As Per Forbes, Johnson has been Hollywood's highest-paid actor for two years in a row now, earning $87.5 million from June 2019 to June 2020. The wrestler-turned-actor-turned-tequila kingpin takes social media seriously, maintaining impressive engagement levels and providing a constant stream of fresh, fun, motivational, hilarious, sweet, and sometimes downright bizarre content for his millions of followers to enjoy. That said, it's not all fun and games. The Rock also recognizes the importance of social media as a business tool, telling Forbes magazine, "I have established a social media equity with an audience around the world that there's a value in what I'm delivering to them."
But let's concentrate on the non-business side — the fun one — with a selection of The Rock's most unique social media posts ever.
That time The Rock 'tried to kill' Kevin Hart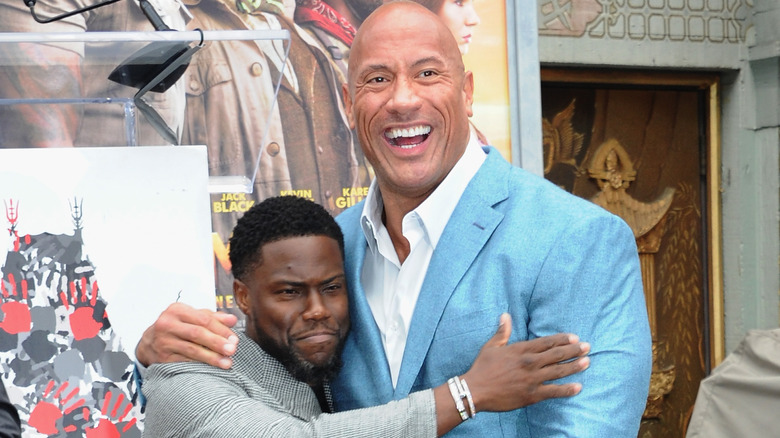 Dwayne "The Rock" Johnson and Kevin Hart love to drag each other with endless jibes, but it's clear that in reality, they're tight. The two first collaborated on-screen when they co-starred in the action-comedy flick "Central Intelligence."
"Since working with him, I can honestly tell you that I've never had this type of brotherly chemistry with anyone that I've worked with, and it's a cool thing," Johnson told The Hollywood Reporter at the film's premiere back in 2016. "If we never do another movie again, then I know I got a brother for life who I have this crazy chemistry with."
Cut to a 2018 social media post, where Johnson quipped about trying to murder Hart. "Flashback to when I tried to kill @kevinhart4real onset of #JUMANJI. Pushed him as hard as I could." Johnson captioned a video clip on his Instagram. "As he lay motionless, I looked down and responded like Ivan Drago from Rocky 4 and said, 'If he dies…he dies.' The whole crew gave me a standing ovation. Kevin cried. Hard. Please no one call Child Protection Services on me, and this weekend, go enjoy the global phenomenon that's called #JUMANJI."
Jokes aside, their brotherly love was never more apparent than when Hart was involved in a car accident in 2019. Johnson shared his concern for his bestie via Instagram. "Stop messing with my emotions, brother," he wrote. "We have a lot more laughing to do together. Love you, man. Stay strong."
The Vin Diesel 'candy a**' feud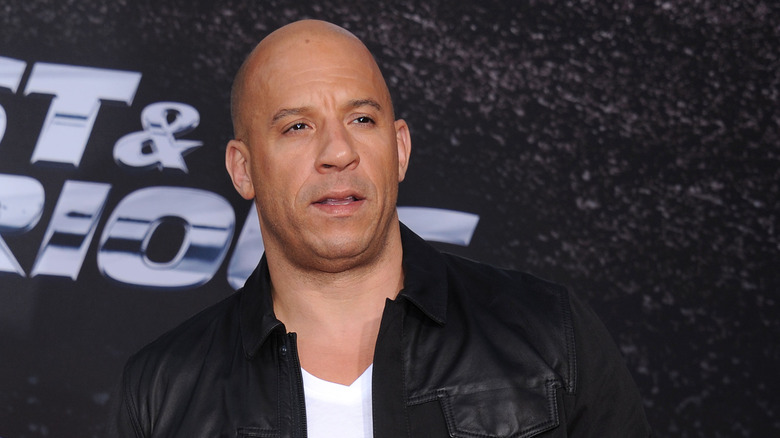 Dwayne Johnson's bromance with Kevin Hart runs deep, but at one point in time, The Rock's feud with fellow action star Vin Diesel was positively cavernous. The bad blood dates back to August 2016 when Johnson let loose with his feelings about at least one of his "The Fate of the Furious" co-stars.
"Some [male co-stars] conduct themselves as stand-up men and true professionals, while others don't," The Rock vented in an Instagram post that's since been deleted (via Men's Health). "The ones that don't are too chicken s**t to do anything about it anyway. Candy a**es. When you watch this movie next April, and it seems like I'm not acting in some of these scenes and my blood is legit boiling — you're right." Johnson hash tagged the post "zero tolerance for candy a**es" just for good measure. As Vanity Fair pointed out, it didn't take long for people to suspect that he was referring to Diesel.
When Johnson posted a thank you shout-out to the cast and crew, Diesel's name was conspicuously absent from the list. And, a month later, Michele Rodriguez confirmed the feud in an interview with People. "Any human being who knows what men are like knows to stay out [of those] situations and let them figure it out," she said. But by April 2019, it appeared as though the two had kissed and made up. "In my house, he's 'Uncle Dwayne,' and I'm proud of that," Diesel told Entertainment Tonight. "We still love each other; that's my boy."
Trolling 'enema lovin' popcorn fart' Kevin Hart over toys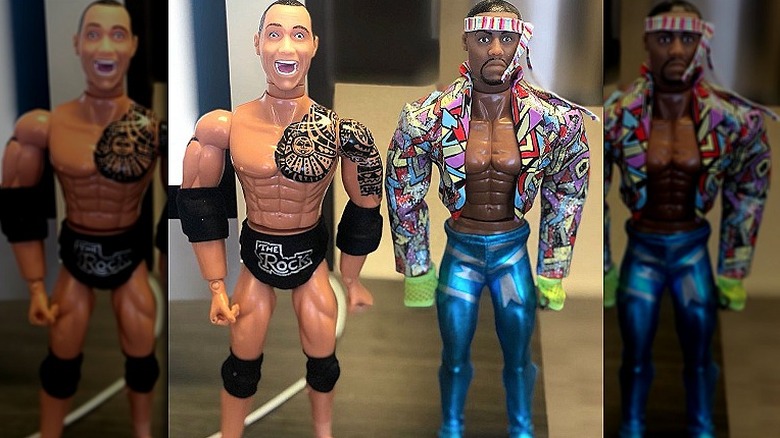 In August 2018, Dwayne "The Rock" Johnson was back to doing what he loves best: trolling his buddy Kevin Hart. This time it was over a set of action figures sent over by soft drink brand Mountain Dew. And yes, they are The Rock and Kevin Hart action figures.
Hart posted a photo of the dolls on his Instagram and wrote, "This might be the funniest/best gift ever 😂😂😂😂 major thank you to my @mountaindew family for surprising me with this…and also thank you for making me look so much better than @therock ….He looks so stupid!!! Look how dumb his mouth looks 😂😂😂😂 He looks like a d**khead….and look at me standing over there looking all cool & stuff. Man…I look incredible…I look so bada**!!!! Goooooo Meeeeeee #KickStart #MountainDew #TheRockLooksSoStupid"
The Rock was quick to shoot back, bursting his buddy's bubble — and busting his balls at the same time. "This is the dumbest s**t I've ever seen," Johnson replied. "You look like your [sic] receiving a Mountain Dew enema up your a** — with a confused look on your face because you actually like the feeling." The Rock reposted the exchange on his own Instagram page, captioning it, "It's non stop with me and this lil' enema lovin' popcorn fart @kevinhart4real #BrotherlyLove."
Pumping iron with Elon Musk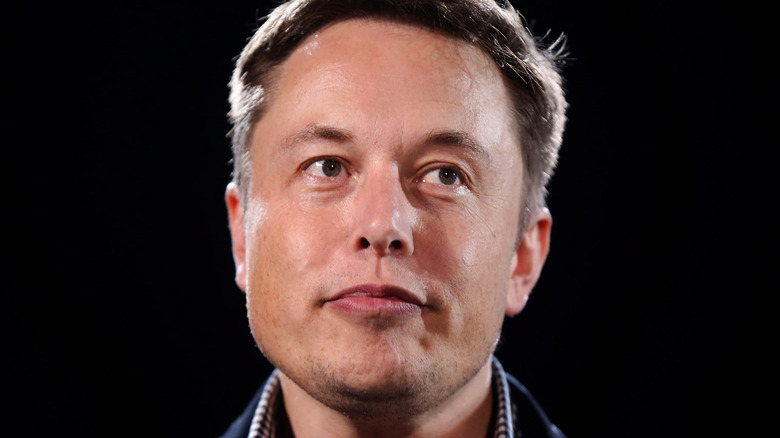 Dwayne "The Rock" Johnson's heart is clearly as large as his pectorals because he has plenty of love to spread around. Johnson made room for another pal in his life — in addition to Kevin Hart — when he struck up an unlikely rapport with billionaire business magnate Elon Musk in 2019.
The actor and entrepreneur-turned-"SNL" host got chummy after the not-so-gym-bunny Musk tweeted a series of images showing his head photoshopped onto The Rock's bulging body. "Yeah, I lift a little …" Musk captioned the pics. The tweet spawned a bunch of hilarious responses, including another photoshopped image of Musk's head on Johnson's body, doing pushups, along with a new nickname for the SpaceX CEO: "Elon Muskular." It didn't take long before The Rock muscled in (no pun intended), branding "beast" Musk a "handsome SOB" and even including a coquettish winking emoji.
The billionaire tech dude shot straight back. "Oh stop, you'll make me blush," he wrote. But the back-and-forth didn't end there. It finished with Johnson and Musk promising to meet up for "tequila and steak," sparking some serious Twitter trolling — and a whole load of new nicknames. As Funny or Die noted, the list of monikers includes Elon Rock, Dwayne Musk, Elon "the planetoid" Musk, Dwayne "the Musk" Johnson, and Elon "The Rock" Johnson.
When The Rock exalted Saudi Crown Prince Mohammad bin Salman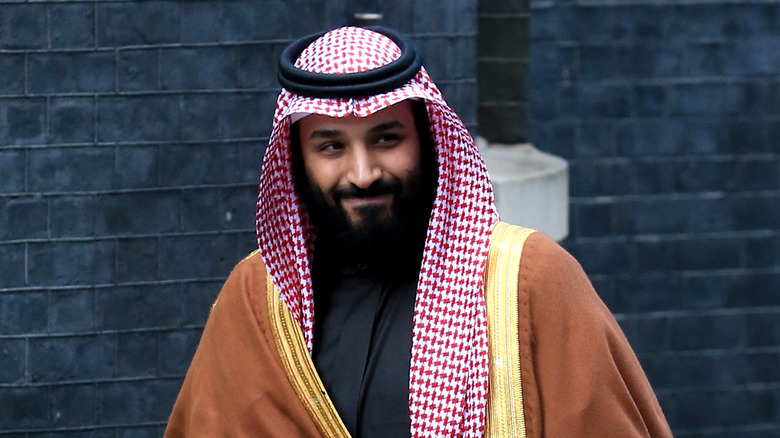 One of Dwayne "The Rock" Johnson's most bizarre social media interactions was when he posted a gushing tribute to the Crown Prince of Saudi Arabia in April 2018. "An historic night it was. A pleasure to have a private dinner with the Crown Prince of Saudi Arabia, Mohammed bin Salman, his royal family, and distinguished cadre," The Rock wrote on Instagram. "Fascinating experience to hear his deep-rooted yet modern views on the world and certainly the positive growth he desires for his country. As always, I asked a lot of questions. Listened and learned. Thank you, everyone, for a great night. Luckily, I brought my own tequila."
"On a personal note, I was extremely flattered and truthfully, blown away to be told about the level of love the Saudi people have for me and my popularity throughout the country. Very humbling and cool, and I look forward to my first visit soon to Saudi Arabia," Johnson concluded in a paragraph that's since been edited out (via Business Insider).
The Rock's message went up a few months before MBS was accused of ordering the assassination of journalist Jamal Khashoggi in October 2018. (Saudi Arabia has denied MBS' involvement. A U.S. intelligence report released in 2021 indicated he did approve the killing, per CNBC.) When CNN's Oliver Darcy tweeted that Johnson's post "did not age well," the actor wrote the criticism off as "a silly, clickbait post."
The time he held baby Kevin Hart on his 'pec meat'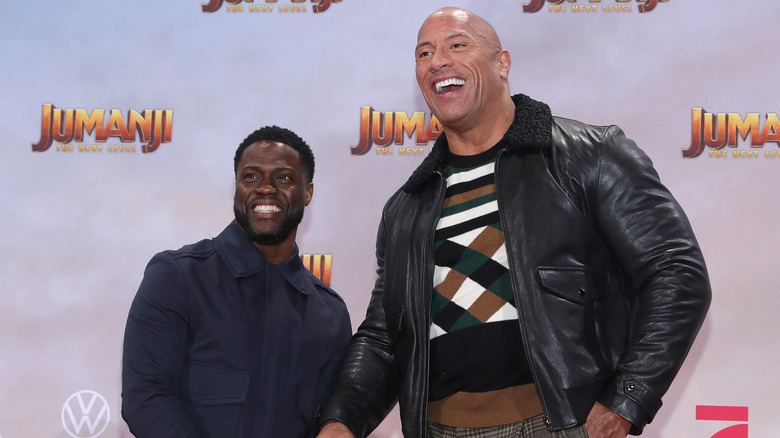 On April 23, 2018, Dwayne "The Rock" Johnson announced the birth of daughter Tiana Gia by posting an adorable photo he took while lying on a hospital bed, cradling the newborn in his arms, tight to his chest. Johnson included a loving tribute to his family's new addition, along with heartfelt praise for her "rockstar" mom. "I was raised and surrounded by strong, loving women all my life, but after participating in baby Tia's delivery, it's hard to express the new level of love, respect, and admiration I have for @laurenhashianofficial and all mamas and women out there," he wrote in part.
Never one to pass on a chance to troll his BFF, Hart fired off a hilarious doctored photo. In the altered image, Tiana was replaced with a miniature baby version of the comic. "The Internet will forever be undefeated 😂😂😂😂😂 This is hilarious as hell 😂😂😂😂😂," he captioned the Instagram post.
Johnson took it all in his stride, reposting Hart's photo on his account. "To my beloved son, @kevinhart4real. Twinkle Twinkle little Hart. I just don't know where to start. Daddy will always love and protect your tiny little soul. Even though you were delivered directly out of the butthole. #Shhhh #JustShutYourLittleMouth #AndGoNightNight #OnDaddysPecMeat," he captioned the image.
The Rock and the hawk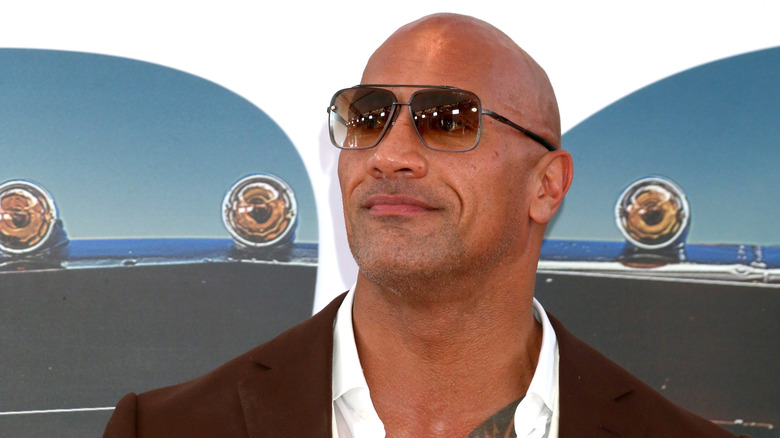 The Rock works hard for his body. Dwayne Johnson hits the gym six days a week, follows a grueling workout routine, adheres to a thought-out diet, and gives cheat meals his all. As he wrote on Instagram in 2018, "I make my cheat meals EPIC because, hell, we all work hard and only live once." He sticks to the plan — unless there's a hawk and a Copperhead snake wrestling it out to the death in his backyard, of course.
In July 2021, Johnson was stopped in his gym-going tracks by a literal force of nature, which he captured on camera. In the Instagram video that went viral within minutes of him posting it, you can see a hawk with its talons deep in a snake before going on to rip apart and hungrily devour its prey.
"It's either this hawk's Copperhead snake 🐍🦅 or my weekend workout 💪🏾," Johnson captioned the video clip. "I tried to open the door with some firm DJ energy, and instead of flying away, he got pi**ed and hasn't stopped ka kaw'ng me since 🤣. Clearly, we both have a few things in common 😈💀 but he's gotta eat, and I gotta train….Wish me luck; this could get ugly 😂🤞🏾💀🐍🦅💪🏾. (for the record, seeing a hawk in their hunting/kill/eat mode up close and personal is amazing. Hawks are deceptively massive, impressive and a very powerful mana 👏🏾👏🏾)." Zoinks.
The Rock's 'creepy porn stache'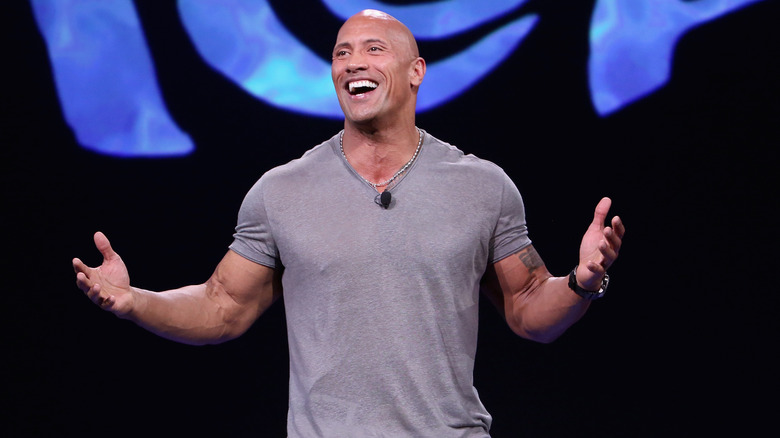 Be it a snapshot of a ridiculous homecoming dress or an adolescent perm that we wish we could just erase from living memory, there are some throwback pictures that we'd like to keep locked away. But no matter how hard we try to forget, embarrassing photos have a nasty habit of resurfacing. Even Dwayne "The Rock" Johnson went through an awkward stage, and he learned, like most of us do at some point in our lives, that nothing ever really disappears from the interweb.
As per Metro, back in 2015, Dwayne Johnson posted a photo of himself as a teen in the 1990s, and sure enough, the image resurfaced about two years later. A fan reposted the black and white pic as a meme, trolling the actor hard with the caption, "16-year-old Dwayne Johnson looking older than current Dwayne Johnson." And, it's true: With his little mustache and snazzy suit and tie, The Rock looks like an insurance salesman or a real estate agent.
Never one to shy away from some good-natured teasing at his own expense, the Rock put the meme up on his Instagram, dragging himself over his questionable facial hair. "Ah, remembering the faces of all my high school girlfriends' parents meeting me for the first time. #6Foot4 #240lbs #DeepVoice #CreepyPornStache," he captioned the pic, which at the time of writing had nearly 720,000 likes.
Dwayne Johnson described the taste of his blood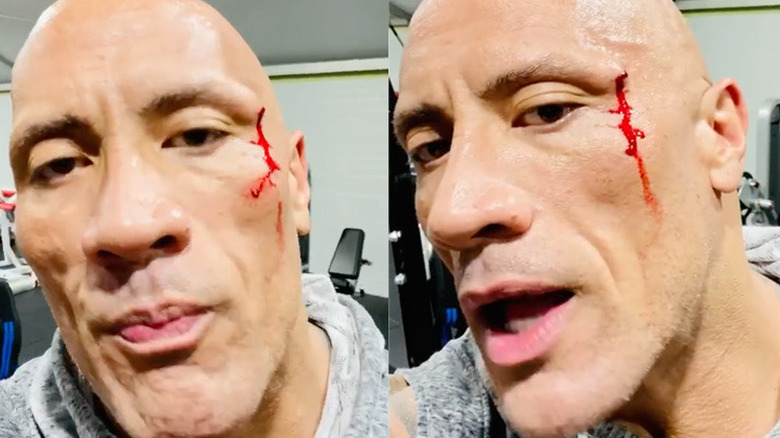 Six days a week, Dwayne "The Rock" Johnson heads to one of his "Iron Paradises." One of his custom-built gyms is on the grounds of his Miami mansion, and the other is in a barn on his Virginia farm. As per The Barbell, they even go on the road with him. Whenever Johnson is working away on set, he takes his workout facility with him — well 50,000 pounds of it.
From time to time, things can get a bloody in the Iron Paradise — especially when The Rock is throwing around 50 pound chains. Johnson posted video of what can go wrong on his Instagram in 2020, showing off a deep and bloody gash to the side of his eye. Johnson, being Johnson, didn't let a little thing like a grisly face wound dent his workout, however. After a quick taste of his tequila-infused blood, he was back up and at it.
"We ain't playin' tiddlywinks, and we ain't reciting nursery rhymes – it's called the #ironparadise for a reason, and things get extremely intense," Johnson captioned the clip. "Threw around my 50lb chains ⛓ for a drop set – I got lumped up and need stitches 😂🧵. Taste your blood, keep training and stitch up later – rules of the house. And I can confirm my blood tastes like Teremana, calluses, and BlaMoan (black and Samoan) Hot Sauce🩸🤣😈💪🏾."
The Rock and his 'dinosaur hands' got a manicure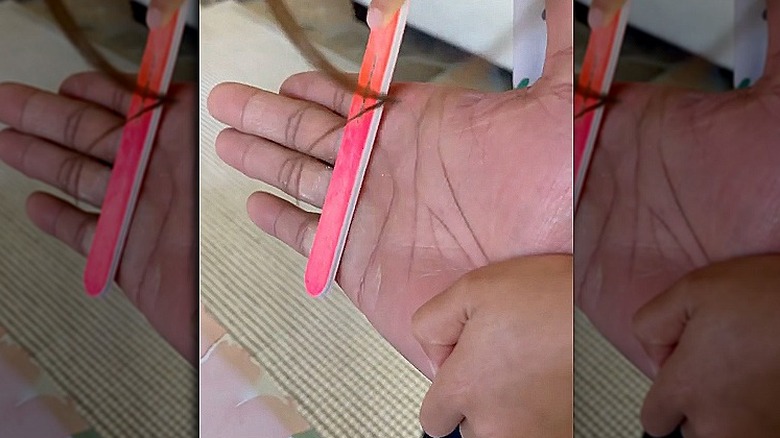 If there's one thing The Rock loves as much as his workouts, steaks, and tequila, it's his absolutely adorable daughters. Dwayne Johnson's kids, Tiana, Gia, and Jasmine, feature heavily on the proud papa's social media. Whether it's watching "The Lion King" for the umpteenth time, brushing their hair, or even enjoying tea parties with them, The Rock is clearly a devoted and doting dad. In 2020 Johnson posted a bedtime video of him singing "You're Welcome" to Tiana "as part of our nightly daddy/daughter negation to go to bed!" In the caption, he admitted that the upside of the COVID-19 pandemic was "spending all this time at home with my ladies."
However, he doesn't just dote on them; they also dote on him. In a super cute video The Rock posted on his Instagram in May 2021, his daughter Jasmine can be seen giving her daddy a (kind of) manicure — well, more of a heavy filing of his many hand calluses.
"Her 'wipe wipe blow' 🌬🤚🏾 just warmed my cold black heart 🖤🥰," Johnson captioned the video. "My baby girls are obsessed with 'daddy's cal-suss,' and Jazzy had the brilliant idea to file them down 👏🏾👏🏾👍🏾. From having tea parties to Barbie adventures to scraping daddy's calluses off his beat-up dinosaur hands – there's nothing like loving daddy/daughter bonding 😂. Btw, her answer to 'will you have calluses one day?' was 'Yup.' That's my girl 😉❤️💪🏾."
The bathroom break that got the better of The Rock's sneakers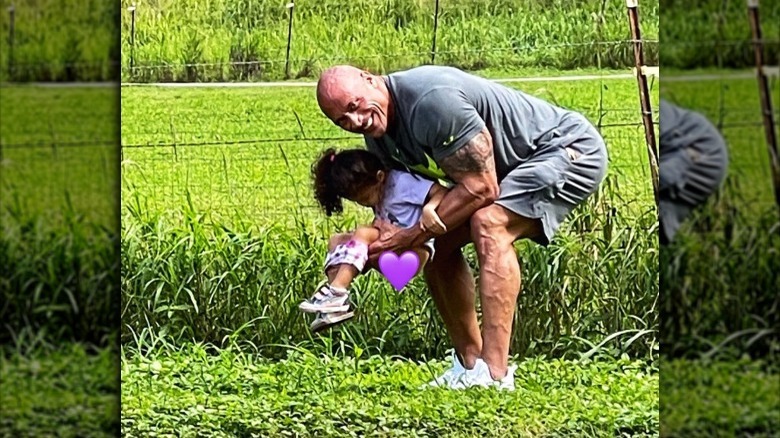 When nature calls, it's best to answer. In January 2021, baby Tiana got caught short in the middle of nowhere, and Dwayne "The Rock" Johnson took to the grass for an emergency pit stop to let his daughter pee free… all over his shoes.
Johnson posted a photo of the incident on his Instagram showing him holding his daughter as she lets nature take its course —with an "appropriate emoji" strategically placed to maintain Tiana's dignity.
"When they gotta go, they gotta go 🧚🏽‍♀️🚨. Baby Tia said she had to pee-pee, so we said, no problem, honey, you have a diaper on. Pee and I'll change it after," The Rock captioned the photo. "She refused to go in her diaper (I don't blame her:) and asked if she could pee on the grass. Sure, we're on private property, so daddy takes her to pee-pee on the grass. But then she decides to renegotiate (again, I don't blame her;) and demands daddy pick her up because she doesn't want to 'stand on the Lava Monster,' so I have to hold her while she pees….. all over my new white sneakers 😂💦. And if I ever find this 'Lava Monster' fella, I'm whipping its a** 🌋👹🤛🏾 (hell, I'll take this precious memory over my sneakers any day)."
The Rock and the '250 million-year-old dinosaur body'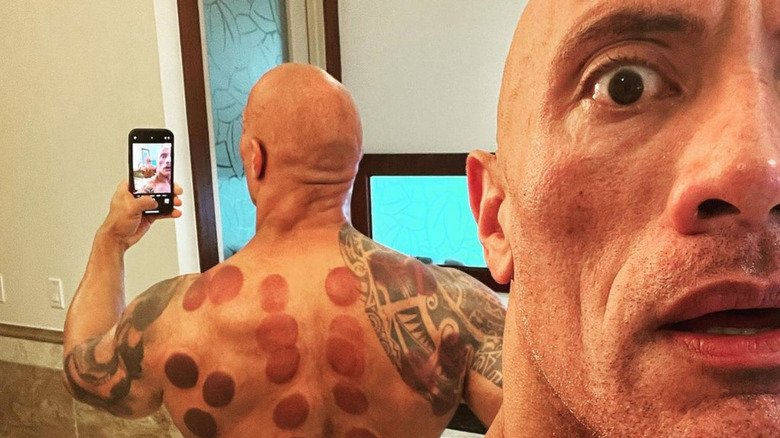 When you work out as hard as Dwayne Johnson, and you're a ten-time world champion, your body is bound to cry out for a little TLC from time to time.
In February 2021, The Rock posted a photo of himself undergoing electro-physio treatment and wrote, "Even though I look like a wounded, passed out drunk buffalo 🦬 laying face down in prairies — can't tell ya how grateful I am for these quiet healing/recovery moments." Johnson went on to share some of the many injuries he's suffered throughout his career, including "4 knee surgeries. Torn quadricep off my pelvis. Torn adductor off my pelvis. Triple hernia surgery. Ruptured Achilles' tendon. Complete shoulder reconstruction. 3 low back disc herniations. 2 low back disc ruptures." Ouch.
However, things took a bizarre turn when a month later, The Rock shared another photo, this time showing the results of a way more alternative therapeutic procedure. Following in Gwyneth Paltrow's footsteps, Johnson decided to give the ancient treatment of cupping a go. "First-time cupper over here 🙋🏽‍♂️. Looks more gnarly than it feels, but overall I enjoyed the therapy," he captioned the photo. "Always looking for new techniques to keep this 250million-year-old dinosaur 🦖 body balanced and optimal with not only all my past injuries but my daily grinding family/work/training/repeat schedule. It all takes its toll, so being proactive is critical. We only get one body, so we gotta take care of it." If you smell what The Rock is cupping, indeed.