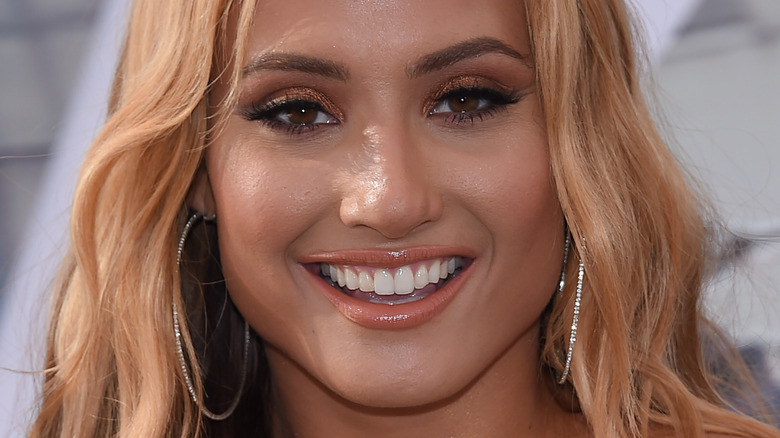 Are you a fan of Montana Tucker? While she might not be the biggest celebrity around (although that could certainly change sometime down the line), she has managed to make a few waves in the entertainment industry. For instance, if you haven't already, then you should probably check out the "summer anthem" that she released with Todrick Hall, per Markets Insider. Just take a listen to "Be Myself," and you'll likely be convinced that we'll be hearing a lot more from Tucker.
Opening up to the Daily Mail about the super poppy yet oh-so honest and confidence-boosting tune, Tucker explained that "[b]eing different is beautiful. Having flaws is beautiful. Being yourself is beautiful. Don't let anyone else ever tell you different!"
Indeed, Tucker seems to be perfectly proud to be herself while also staying true to who she really is. That includes the following facts about the star that you may not have been aware of but will definitely want to know.
Montana Tucker has been a triple threat since she was a child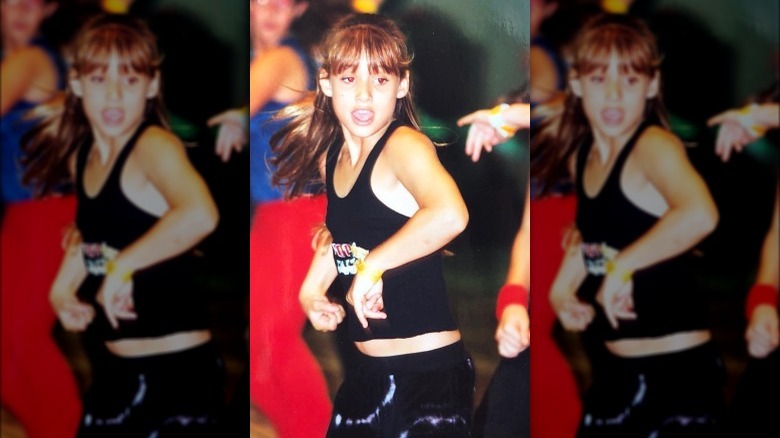 Montana Tucker may not have been a child star, however, she has been performing since she was just a kid. According to IMDb, she started modeling at 8 years old and popped up in national commercials for major brands like Sketchers, Wendys, Ovaltine, and BMW.
An avid dancer who turned pro while still young, Tucker not only took the top spot at the World Hip Hop Championships, but at 13 years old, she also began to be cast as a backup dancer for big names like Ashley Simpson and Ashanti. The very next year, she performed at the 2007 Super Bowl Pre Game, which set off a string of further impressive accomplishments, including gigs with other stars like Lil Wayne, Pitbull, Flo Rida, and Ciara.
Tucker often takes to Instagram to post about her younger years as a performer, captioning one pic by writing, "I learned at a young age that when you SMILE, the whole world SMILES back at you." If you watch Tucker as she performs, she definitely tends to smile. And the world is smiling right back in return, especially as the celeb's star continues to rise and she continues to celebrate her success.
Montana Tucker appeared as a mythical being in a Barney story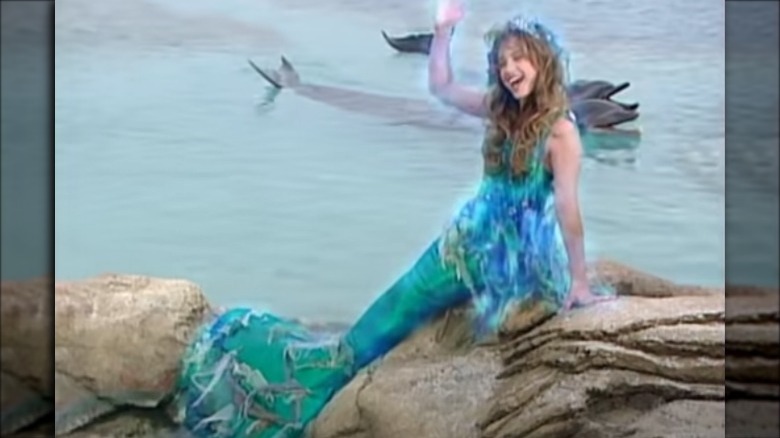 You might know Montana Tucker as a singer and a dancer, but back when she was younger, she nabbed an acting gig on a super popular children's show. Or, to be more exact, she appeared in a video that branched off from that children's show and starred none other than Barney, the big purple dinosaur.
If you ever watched "Barney: The Land of Make Believe," which first came out back in 2005, then you might remember that Barney, BJ, and Baby Bop head out on an adventure with their young friends, according to IMDb. Ending up in the Land of Make Believe, they find themselves on a quest to help a princess find her way home. Meeting up with captivating creatures and mesmerizing characters along the way, the group encounters sea life, a magician, and a mermaid named Serena. That latter adorable role was played by Tucker.
Surely inspiring a few young viewers' dreams of being mermaids themselves, Tucker could be seen with beach-worthy wavy hair, a sparkly headpiece, and a beautiful blue tail. She also happened to have a pair of dolphin friends who enjoy a laugh or two with their new pals. While it might not have been Tucker's breakthrough role, it certainly was adorable.
Buying a "dream" car was emotional for Montana Tucker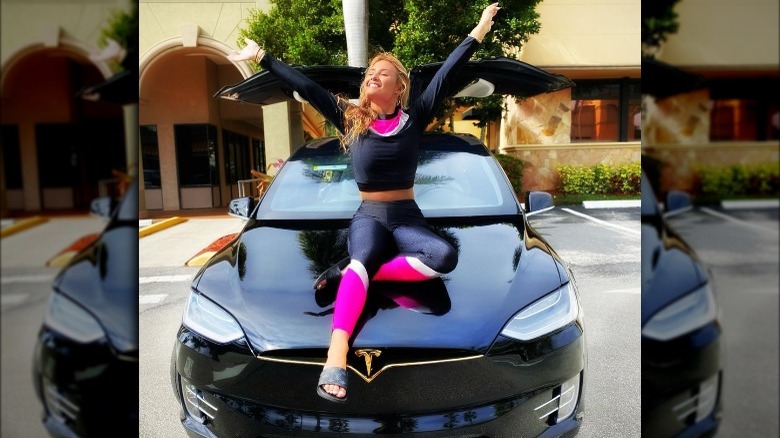 Montana Tucker isn't exactly flaunting her wealth. However, she's proud of what she's accomplished. At the end of December 2020, the star shared a special milestone with her fans. "NEVER GIVE UP! Dreams DO come true!" she wrote on Instagram along with a photo of herself sitting on the hood of a Tesla. She explained in the caption, "I bought myself my first car and I truly can't believe it!!!!! It has been a dream of mine to have this and I finally made it come true!"
Sharing videos of the car's flashing lights as well as one of the star signing what we assume are ownership papers, she went on in the caption that she's "never been a materialistic person," but still wanted to celebrate this purchase because it was "a huge accomplishment for [her]" and one that she had achieved because she had "worked so hard" for her "entire life." Admitting that she cried as she drove her new vehicle away from the dealership, she wanted her success to inspire others, writing, "Anyone reading this, PLEASE never give up on your dreams. You can do ANYTHING you set your mind to! I love you all so much thank you for supporting me!"
While Tucker's fans were happy to see her so thrilled with her car, they're likely just as amused to see her love of animals. Read on to see what kind of creatures this star hangs out with!
Montana Tucker went from cuddling with puppies to swimming with sharks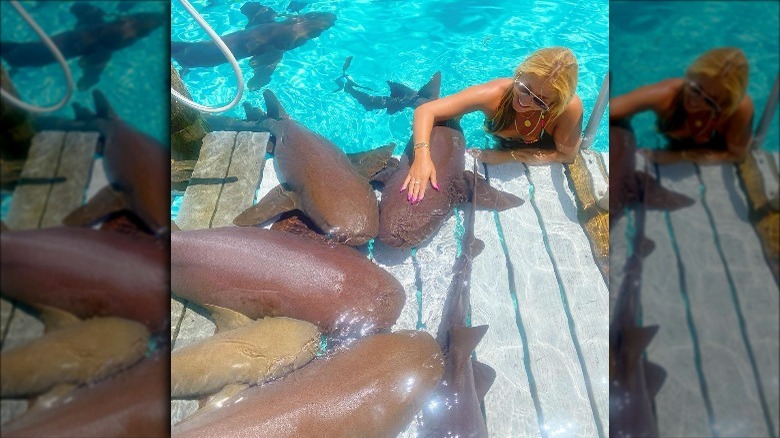 Montana Tucker may love animals almost as much as she loves to perform. Just take a peek at her Instagram posts and along with a fair share of videos that show off her dancing skills and fun-filled lifestyle, she also pops up glimpses of her encounters with animals. While the star has posed with a fluffy pup and also posted photos of herself on horseback both as a child and as an adult, in May 2019, she shared a collection of photos that saw her hanging out with a playful chimp, while a post from April 2021 found her doing the same.
However, Tucker may have created the most buzz among her social media followers when she shared pics of herself on a beach in Exuma, which is located in the Bahamas. While the scenery looked lovely and the weather appeared perfect, the photos' focus was the fact that the star was hanging out with baby pigs (or piglets, to be exact). Her fans were also stunned by the fact that other photos showed her in the water with a large group of somewhat scary swimmers. In the caption, she addressed the experience by writing, "I can officially check swimming with pigs & sharks off my bucket list."
As incredible as that post was, not all of Tucker's social media content is light-hearted. She has also posted about what her family members have been through and survived.
Montana Tucker's grandparents survived the Holocaust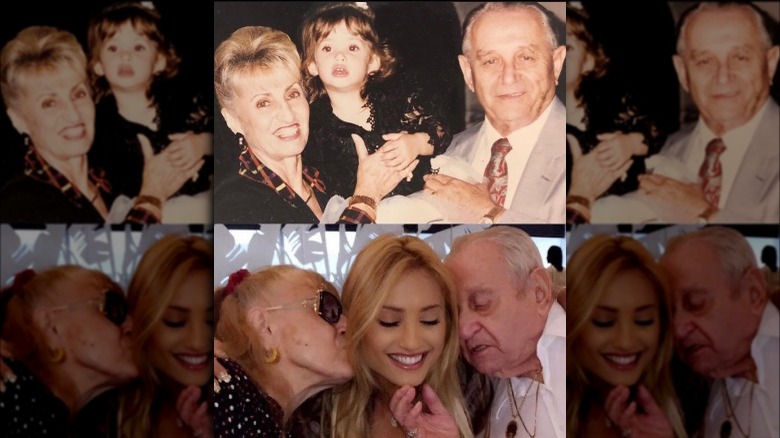 Montana Tucker may seem like she's living a glamorous life, but her family has been through tragedy and heartwrenching struggles. In January 2021, the star revealed on Instagram what her beloved grandparents had endured during the Second World War.
"1/27 HOLOCAUST REMEMBRANCE DAY… This day stands for so many things," Tucker began her message which accompanied pictures of herself with her grandparents. "76 years ago my Grandma Lilly, Zadie (grandpa), and so many others got liberated from Auschwitz and the Holocaust, yet antisemitism is at a high in the United States. How could a man wear a shirt to the capital attack this month that said 'Camp Auschwitz' & 'work brings freedom'?" Tucker went on to note that her grandmother and grandfather "were starved, tortured, and had to watch their family members and friends get killed right in front of their eyes, only because they were Jewish. No other reason."
Also revealing that her grandfather passed in 2019 at the age of 97 while her grandmother, who was 92 at the time, was still with us yet is "now surviving Alzheimer's," the loving granddaughter added, "That's what they both taught me. To never give up. We all, more than ever, NEED to respect and love everyone regardless of race, religion, and sexual preference. Please."